By Courtney Potter
Dragons. Mythological creatures that can inspire both terror and trust… part reptile, part serpent, part bird, all legendary. The word "dragon" first entered the English language in the 13th century, but the very idea of this creature has its roots in ancient civilizations like Mesopotamia—after which, it literally spread around the world. So its no wonder that Walt Disney was inspired to include both fearsome and friendly dragons in some of his most iconic works, including 1941's The Reluctant Dragon and 1959's Sleeping Beauty. Later, those dragons—and many others!—have materialized at Disney Parks around the globe… inside attractions, and even during parades and nighttime spectaculars.
Now that Disney's latest fire-breather (Pete's Dragon, starring Bryce Dallas Howard and Robert Redford) is heading to theaters, we thought we'd take a look at some of our favorite dragons seen at Disney Parks. There were almost too many to choose from, so we narrowed our list down to a select few… did your fave make the cut?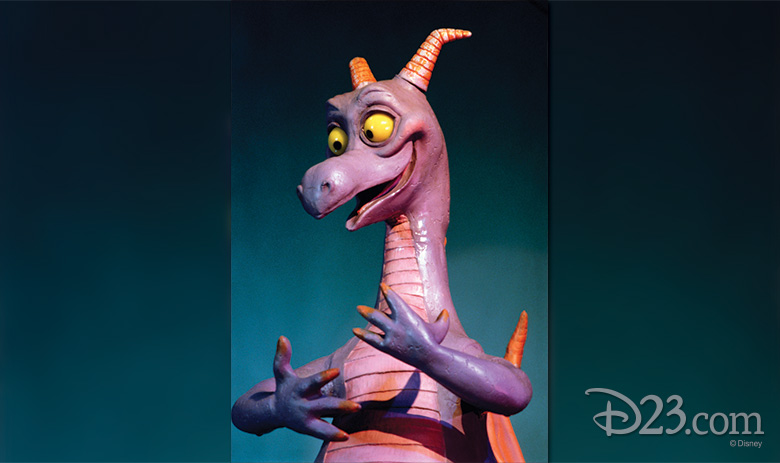 Figment in Journey Into Imagination With Figment (Epcot)
Obviously, we couldn't put together this list without including a character who's become a true "fan favorite" over the years: adorable Figment from Epcot's Journey Into Imagination! In the original version of the ride, the Dreamfinder teaches the mischievous little dragon how to put his own creativity to good use. Nowadays, Figment joins Dr. Nigel Channing (Eric Idle) as he explains how the five senses capture the imagination.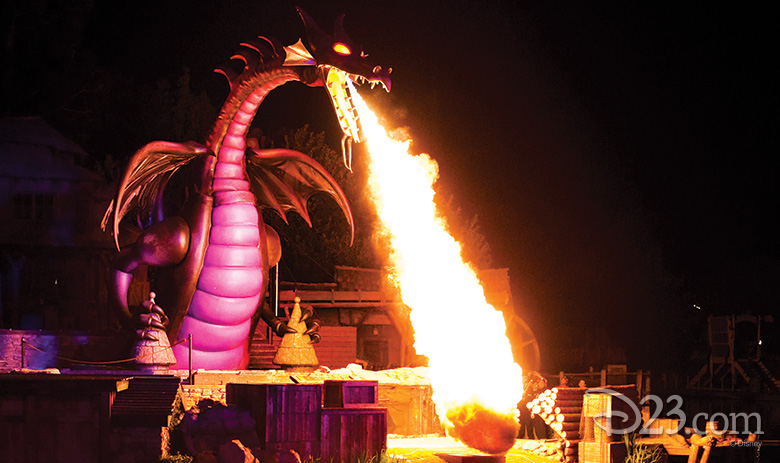 Fantasmic!'s Maleficent (Disneyland)
Much like Figment's adventures, the nighttime spectacular Fantasmic! takes us into the über-colorful imagination of Mickey Mouse. At every turn, Disney villains aim to turn Mickey's dreams into nightmares; in the show's penultimate scene, Maleficent appears in gigantic fire-breathing dragon form… and is vanquished by our hero! We're quite excited that this particular dragon will be returning to Disneyland Park soon—but even now, she can be seen at Disney's Hollywood Studios.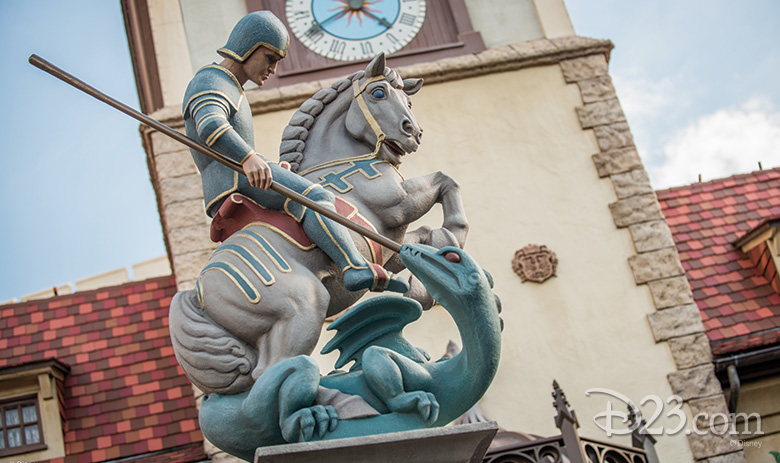 Saint George and the Dragon Statue in the Germany Pavilion (Epcot)
This is one of the more unique instances of a dragon inside a Disney Park! You can find this beautiful statue at the Germany pavilion inside Epcot; inspired by the "Saint George and the Dragon" statue in the medieval Bavarian town of Rothenburg ob der Tauber, it's based on a legend in which a Roman-soldier-turned-Christian-matyr saves a small town by vanquishing a lake-bound dragon. The more you know!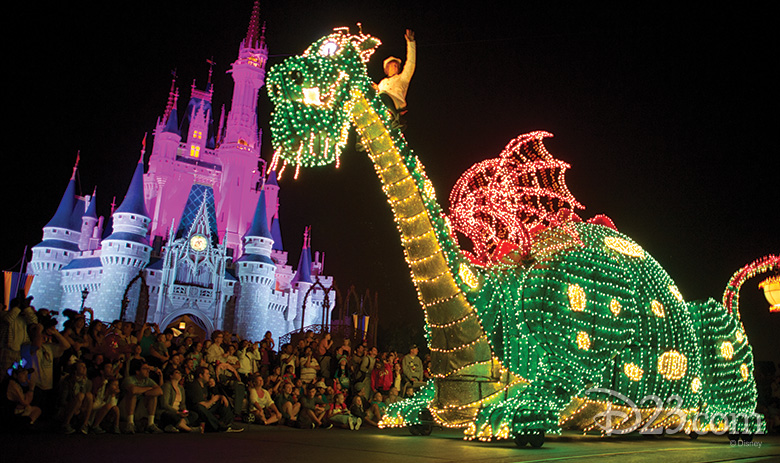 Elliott in the Main Street Electrical Parade (Magic Kingdom Park)
This parade has delighted Disney Park guests since it first traveled its Main Street, U.S.A. route more than four decades ago. One of its more memorable floats? Why, Elliott from the original 1977 Pete's Dragon, of course! The jaw-droppingly illuminated pink-winged creature weighs more than 5,600 pounds; is 16 feet tall and more than 10 feet wide; and is a whopping 38 feet long. He can also blow smoke through his nose… and he can even "disappear". Be sure to look for Elliott when the Main Street Electrical Parade returns for a limited time to Disneyland Park beginning early next year!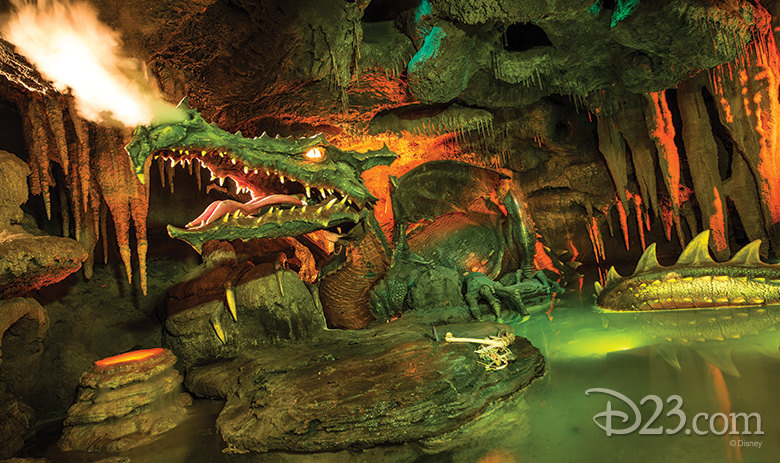 La Tanière du Dragon (Disneyland Paris)
Underneath Sleeping Beauty Castle, in a dark and ominous dungeon, lies a monstrous—albeit beautiful—creature… Once the ruler of the skies, this defeated dragon is chained against jagged rocks; sure, it could be sleeping, but tread carefully. One wrong move might lead to a big surprise! Known as one of the most intricate and lifelike animatronic figures in Disney history (and seen exclusively at Disneyland Paris), this dragon awoke from a special two-month refurbishment in 2012.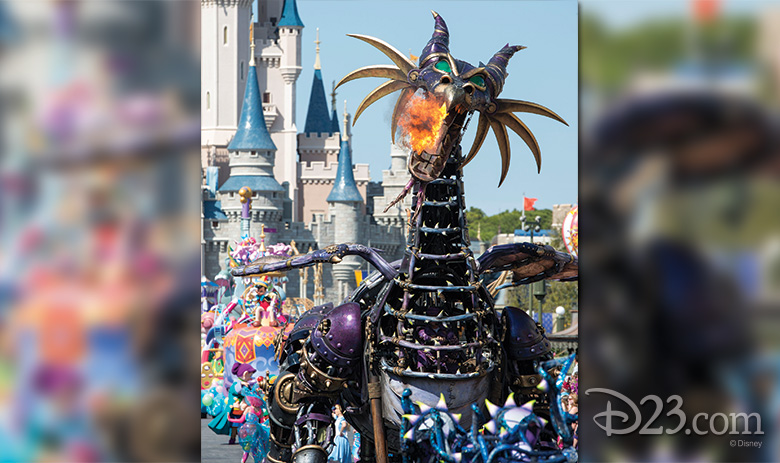 Maleficent in Disney's Festival of Fantasy Parade (Magic Kingdom Park)
This daytime parade at Magic Kingdom Park boasts one of our favorite dragon floats ever! Maleficent—as her fire-breathing, clockwork dragon alter ego—engages in battle with Prince Phillip and his mighty Sword of Truth. The rest of the parade is pretty spectacular, too; paying homage to the magic of Fantasyland and its many inhabitants, it features original music and performers on stilts and swings!