By Jocelyn Buhlman
Every Disney fan dreams of exploring the fabled Walt Disney Archives, where treasures of Disney's rich history are safely stored and preserved. From our favorite theme park Audio-Animatronics® figures to gorgeous matte paintings that brought movies to life, it is impossible to pick where to start first on a journey into the Archives' halls. Well, it's impossible for most Disney fans to pick—but John Gleim, writer and director of the documentary Adventure Thru the Walt Disney Archives, was up to the task of mapping out said adventure. The documentary, which will be available to stream starting Friday, November 19, on Disney+ and previously streamed exclusively in 2020 to D23 Gold Members, delves not just into the warehouses and libraries of the Walt Disney Archives, but to Disneyland, the Walt Disney Studios, and Walt Disney's former home—all to give Disney fans an inside look at how the Archives not only preserve the history of The Walt Disney Company, but also at how they share that history with Disney fans all over the world, bringing us together in enthusiasm and fandom.
We had a chance to chat with Gleim about his experiences making the documentary—so read on to discover what it was like to have the enviable chance to explore the Archives, meet Disney Legends, and send Don Hahn on an epic quest for a delicious snack: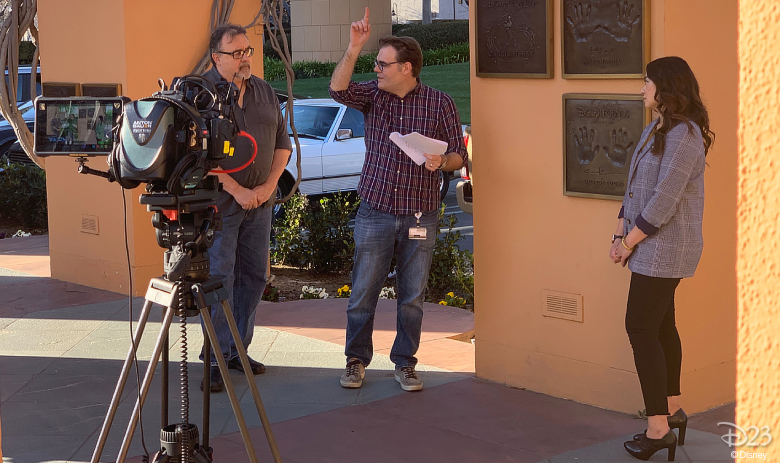 D23: The Official Disney Fan Club (D23): How did the idea for a documentary about the Walt Disney Archives come about?
John Gleim (JG): The idea for the film was sparked by the then upcoming 50th anniversary of the Archives, which was created in 1970. Rather than make a straightforward "talking head" historical documentary about the Archives with just names and dates, I wanted viewers to experience some of what I experience—the awe of seeing all these great Disney treasures and the joy in speaking with the Archives team about any corner of Disney history. This is truly a love letter to the Walt Disney Archives. I couldn't have made this happen without Archives director Becky Cline. Her enthusiasm and support for the film were crucial to its success.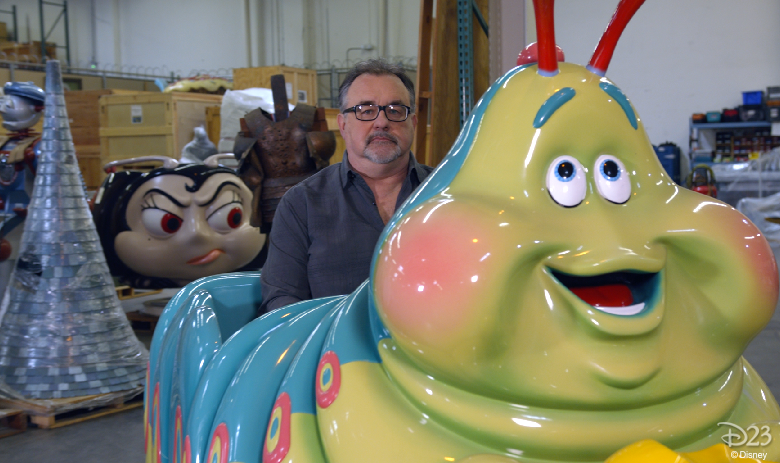 D23: The scope of the Archives is HUGE! How did you decide what and how to cover?
JG: The Archives is responsible for documenting and preserving the entirety of The Walt Disney Company, so to start I had to take a very pragmatic approach as far as what to cover. What are the broad types of artifacts the Archives preserves? What are the major locations where the Archives houses artifacts or does their research? And finally, what are some cool artifacts that either I or the Archives team would want to feature? Once I answered all those questions, I was able to begin structuring the film. From a story perspective, I was inspired by the 1941 Disney classic The Reluctant Dragon, where Robert Benchley tours the Studios to seek out Walt Disney. For our film, Don Hahn tours the various Archives locations to find Walt Disney's office, which has been lovingly restored by the Walt Disney Archives. Another big inspiration was the tone and style of the Disney anthology TV series: Disneyland, Walt Disney Presents, and The Wonderful World of Color. In those programs, Walt would inject a bit of fun and magic into what he was showcasing, and I tried to do the same.
D23: Do you have a favorite memory from making the film?
JG: They say "never meet your heroes," but that was not true while I worked on this film. As a lifelong Star Wars fan, having the opportunity to meet and interview Disney Legend Mark Hamill is something I will never forget. He was so genuine and gracious—and very patient as I talked about my handmade Luke Skywalker ornament that appears on my parents' Christmas tree every year.
Also, meeting with the Archives staff to decide what artifacts to feature was incredibly fun and overwhelming—in a good way. As excited as I was to see everything, the staff was even more excited to share and talk about these amazing treasures!
D23: What was it like meeting and interviewing Disney Legends and luminaries about the Archives?
JG: In addition to interviewing Mark Hamill, I was fortunate enough to interview many Disney Legends and luminaries who inspire me every day. I can't even begin to communicate how impactful that was. From speaking with Kurt Russell, Kathryn Beaumont, and Marty Sklar about their time in Walt Disney's office, to then speak with Bob Iger about restoring Walt's office, and then going deep into Disney lore with people like Floyd Norman, Leslie Iwerks, Pete Docter and Kevin Feige—it's very clear there is so much love for the Archives and what they do.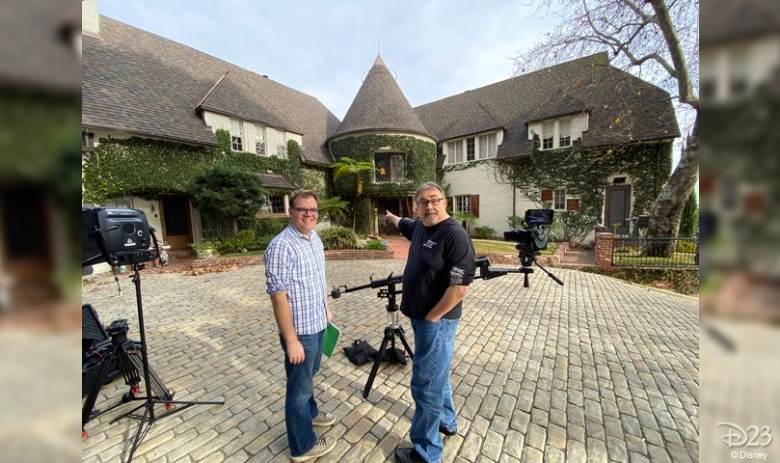 D23: You had access to a lot of unique locations—did you have a favorite place to film?
JG: I have been fortunate to spend time at many of the Archives' warehouses and research areas—and I can't discount how fantastic that is. However, I also wanted to show how the Archives staff works outside their offices and warehouses, and to film at one of Walt Disney's homes was an unparalleled experience. His "Woking Way" home was both exactly what I expected and surprising at every turn. Much of the house was designed by Walt Disney Studios artisans, and I never wanted to leave.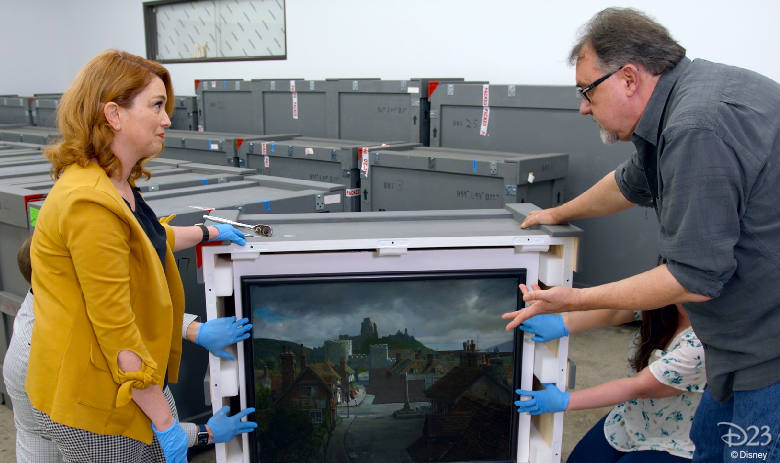 D23: Do you have a favorite item from the Archives that was featured in the film?
JG: It's impossible to name a favorite artifact from the film—there are just so many! There is a quick cameo of the actual bedknob from Bedknobs and Broomsticks that I love, in addition to the matte painting from the film. The Mickey Mouse doll that Walt Disney had with him on the opening day of Disneyland was incredible. The storybook from Sleeping Beauty, the dipmobile from Who Framed Roger Rabbit, the maquettes from Pinocchio—I could go on and on. There are so many fantastic artifacts packed into every frame of the film. To be fair, I had some input as to which artifacts were featured, and the staff of the Archives was kind enough to indulge upon many of my requests.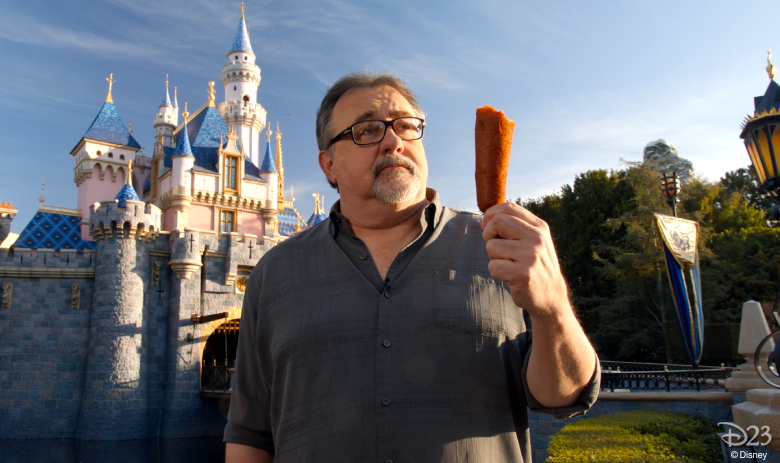 D23: Don Hahn spends much of the film on an epic quest for a Disneyland corn dog—do you have a favorite snack from the parks?
JG: I wrote the delicious Disneyland corn dog into the script, so, of course, that is my favorite snack from the Parks! Not that I didn't like corn dogs previously, but I never became obsessed with them until I sampled those from the Little Red Wagon—FYI, Dole Whip and Citrus Swirl are tied for second, and next the long beans from Trader Sam's. However, I must give credit to Don for turning the corn dog bit into the film's running gag.
Discover the adventure for yourself when Adventure Thru the Walt Disney Archives begins streaming on Disney+ starting November 19!