By Courtney Potter
See how you can feel the Force this weekend at Disneyland Resort, and catch up with Disney Channel favorites… Read more, along with other news from around Disney, in this week's news briefs!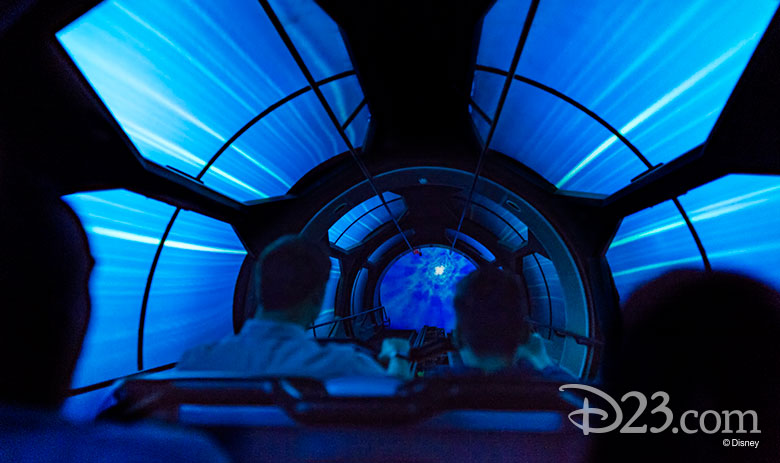 May the 4th Brings the Force to Disneyland Ahead of Star Wars: Galaxy's Edge
We can't believe there are just a few more weeks until the mega-grand opening of Star Wars: Galaxy's Edge at Disneyland Resort (read up on how to make your reservations by clicking here)… To say we're excited might be the biggest understatement in the galaxy! This coming Saturday happens to be May the 4th, the unofficial holiday when fans around the globe rejoice in all things Star Wars—so what better way to prepare for Galaxy's Edge than to experience some special May the 4th celebrations at Disneyland park?
The Force will be especially strong inside Tomorrowland on May the 4th, as Hyperspace Mountain, the popular Star Wars-themed overlay to Space Mountain returns for a limited time. Plus, Captain Phasma and a small legion of Stormtroopers will make their way through Tomorrowland in a memorable display of the might of the First Order. Make sure to grab a friend and snap a picture at the special photo opportunity inside Starcade, and then fuel up with some Star Wars-inspired snacks at Galactic Grill and Alien Pizza Planet. And you can bring some of the May the 4th fun home with you via special novelty steins, sippers, popcorn buckets, T-shirts, hats, and limited-edition pins available at locations throughout the land.
May the 4th be with you!
Save the Date!
Be sure to mark these upcoming Disney events on your calendar:
D23 and Walt Disney Archives


May 1, 2019


30 Years of Disney's Hollywood Studios – A D23 Celebration!


May 4, 2019


D23's Magical Screening Series: The Lion King at Walt Disney World


May 6, 2019


The Official Walt Disney Studios Tour – Presented by D23


May 11, 2019


D23's Magical Screening Series: The Lion King on the Lot


May 16, 2019


D23 Celebrates Mickey Mouse: From Walt to the World


June 1, 2019


D23's Behind-the-Scenes Experience: Return to Walt's Chicago


June 8, 2019


Lunch with a Disney Legend – Paige O'Hara


June 10, 2019


The Official Walt Disney Studios Tour – Presented by D23


June 13, 2019


Mickey Mouse's Roller Disco Party


June 22, 2019


The Official Walt Disney Studios Tour – Presented by D23


August 23-25, 2019


D23 Expo 2019
Parks


March 6-June 3, 2019




Epcot International Flower & Garden Festival




May 31, 2019


Star Wars: Galaxy's Edge Opening at Disneyland Resort


August 29, 2019


Star Wars: Galaxy's Edge Opening at and Walt Disney World Resort


August 29—November 23, 2019, 2019




2019 Epcot International Food & Wine Festival




November 29—December 30, 2019, 2019




2019 Epcot International Festival of the Holidays




Studios




May 24, 2019


Aladdin opens in U.S. theaters


June 21, 2019


Toy Story 4 opens in U.S. theaters


July 19, 2019


The Lion King opens in U.S. theaters


August 9, 2019


Artemis Fowl opens in U.S. theaters


October 18, 2019


Maleficent: Mistress of Evil opens in U.S. theaters


November 22, 2019


Frozen 2 opens in U.S. theaters


December 20, 2019


Star Wars: The Rise of Skywalker opens in U.S. theaters


Television




May 6, 2019


Big Hero 6 The Series kicks off season two on Disney Channel (3:30–4 p.m. EDT/PDT)


June 21, 2019


Final episodes of Andi Mack begin airing (8 p.m. EDT/PDT)


Summer 2019


Descendants 3 premieres on Disney Channel and DisneyNOW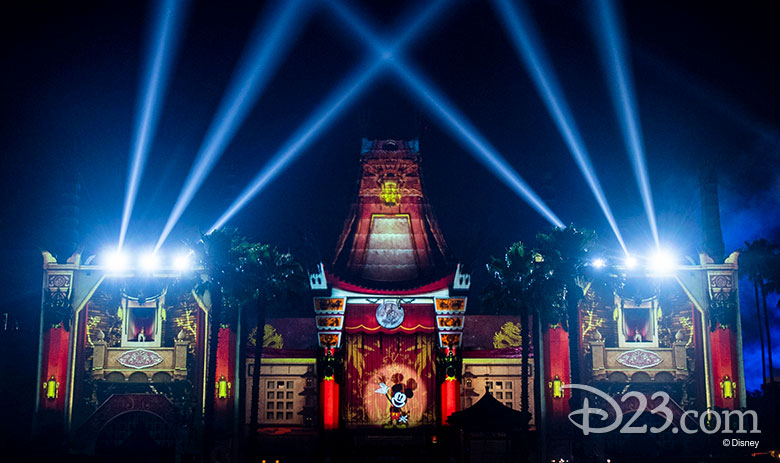 Get Animated at Disney's Hollywood Studios
As part of its 30th anniversary celebrations, Disney's Hollywood Studios has created a new show, Wonderful World of Animation, which will be projected onto the Chinese Theatre starting May 1. Highlighting over 90 years of Disney and Pixar movies, the show will include blasts from the past and rarely seen characters, as well as new favorites and classic stories. Each night, the new experience will lead into the popular Star Wars: A Galactic Spectacular.
Disney Channel Fan Fest: D23's Complete Rundown
D23 was lucky enough to attend this past weekend's Disney Channel Fan Fest at Disney California Adventure park—and, as you can probably guess, it was an absolute blast! Wanna know which Disney Channel favorites were in attendance? Or who took part in the star-studded cavalcade? And which panel featured a plethora of shaving cream and some fire hoses?! Check out our rundown of Fan Fest right here at D23.com.
New Avengers Experiences Coming to Shanghai Disney Resort
Now that Avengers: Endgame is thrilling audiences around the globe, it's no wonder that Shanghai Disney Resort wants to help guests get in on all that Marvel Super Hero action more than ever before…
This spring, as the Home of the Heroes, Shanghai Disney Resort is the place to enjoy immersive Marvel-themed experiences on the Chinese mainland. The all-new "Avengers Training Initiative" will give guests the incredible opportunity to train with their favorite heroes during an interactive and fast-paced training session inside the Pepsi E-Stage in Tomorrowland; don't be surprised to see the likes of Iron Man, Black Panther, and Captain Marvel as they help recruits learn new moves. Meanwhile, guests can come face-to-face with other Marvel favorites—such as Captain America, Spider-Man, and Thor—inside Shanghai Disneyland's Marvel Universe tent, where guests can also participate in a range of themed activities, including the Marvel Comic Academy, where they can learn to draw like a real Marvel comic book artist.
Shanghai Disneyland's Stargazer Grill has been transformed into a Marvel dining experience for the occasion—offering new fare like an Avengers Wagyu Beef Burger and a Captain America Soda Float… and make sure to look out for brand-new Marvel merchandise, available in honor of Avengers: Endgame.
It's more Marvel merriment than you can shake the Mjolnir hammer at!
Disney Channel's Descendants 3 Announces Premiere Date
Yup… the highly anticipated "trequel" for the uber-popular Disney Channel Original Movie is coming later this summer! Find out when Descendants 3 will debut, and see a brand-new teaser trailer—in which we meet the Villain Kids' latest foe, Hades (Cheyenne Jackson)—by clicking here.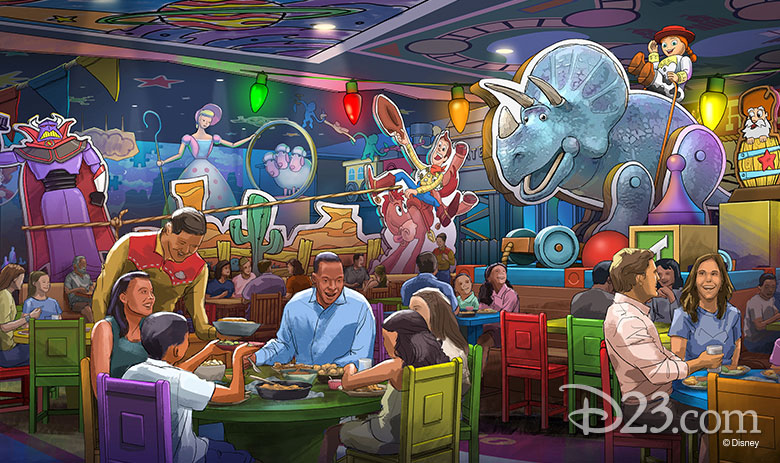 BBQ Delights Coming Soon to Toy Story Land at Disney's Hollywood Studios
"Yeehaw!" Are you ready to wrassle up some delicious vittles? Well, there's a brand-new restaurant coming soon to Walt Disney World Resort, and we can't wait to dig in.
The new Roundup Rodeo BBQ Restaurant, inside Toy Story Land at Disney's Hollywood Studios, will offer guests an immersive, family-friendly dining location that could only be seen in the middle of Andy's backyard. Upon entering Toy Story Land, guests have already been magically transformed to the size of a toy—and this new restaurant continues that adventure. It's Andy's latest play area: a rodeo arena made using three cardboard boxes cut and taped together. While some of the pieces inside are definitely western-themed, what makes this rodeo super special is the huge assortment of toys that have been brought together to create a colorful mashup-style atmosphere that only a child could imagine!
Once inside the restaurant, guests will be surrounded by all manner of rodeo festivities, as well as western town and train station play sets. And you might just spot a few of your favorite Disney•Pixar characters scattered throughout, in the form of toys and game pieces—including a toy version of Jessie riding on the back of a Trixie pull-toy, and unique toy versions of Bo Peep and her sheep.
Stay tuned for more info about Roundup Rodeo BBQ in the weeks and months to come…
Join the #FriendLikeMe Challenge in Celebration of Disney's Aladdin
Just this week, in celebration of World Wish Day®, The Walt Disney Company has once again partnered with the incredible folks at Make-A-Wish® to launch the #FriendLikeMe Challenge—a global campaign in honor of Disney's upcoming live-action Aladdin, debuting in theaters around the country on May 24.
With an assist from Aladdin star Will Smith (who, like Disney, has been a longtime Make-A-Wish wish granter), the #FriendLikeMe Challenge encourages fans to join the campaign and help show the world: Where there's a wish there's a way. To participate, tag a friend on Twitter and/or Instagram in a public post, hashtagged with #FriendLikeMe. For each one of those posts, from now through May 24, Disney will donate $5—up to $1 million!—to Make-A-Wish to help grant life-changing wishes to children battling critical illnesses all over the world.
Check out Will's video, kicking of the #FriendLikeMe Challenge, above—and make sure to join in the fun with a post on your own social accounts! For more information, visit FriendLikeMe.org.