By Zach Johnson
Something wicked this way comes.
Moments ago, during Disney Channel Fan Fest's final main stage session at Disney California Adventure Park in Anaheim, California, Descendants 3 stars Dove Cameron, Sofia Carson, Booboo Stewart, and Anna Cathcart announced the highly anticipated "three-quel" will premiere this August on Disney Channel! Descendants 3 newcomers Cheyenne Jackson (Hades, Lord of the Underworld) and Jadah Marie (Celia Facilier) joined them onstage, where Jackson introduced a thrilling teaser video that outlined Hades' plans to seek vengeance on the people of Auradon.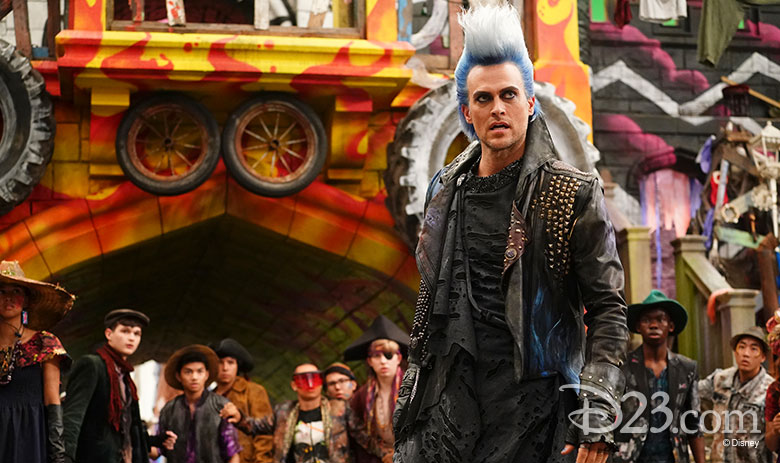 Years on the Isle of the Lost turned Hades into an even bigger hot-head. "I was Lord of the Underworld, not Lord of the Underground! I didn't want their world when they imprisoned me here, but after being caged up for years, maybe I do want to take everything from them," the villain says. "That's why I've been watching, waiting, planning for the precise moment to act…"
After watching the teaser, we're not alone in thinking August can't some soon enough!
Directed by Kenny Ortega, the Descendants 3 cast includes Cameron Boyce as Carlos, China Anne McClain as Uma, Mitchell Hope as King Ben, Sarah Jeffery as Audrey, Brenna D'Amico as Jane, Melanie Paxson as Fairy Godmother, Thomas Doherty as Harry, Dylan Playfair as Gil, Zachary Gibson as Doug, Jedidiah Goodacre as Chad, Dan Payne as Beast, Keegan Connor Tracy as Belle, Christian Convery as Squeaky, Luke Rossler as Squirmy, and Jamal Sims as Dr. Facilier.
After a barrier breach threatens the safety of Auradon during the VKs departure off the Isle, Mal (Cameron) decides to permanently close the magical barrier, fearing Uma and Hades will do irreparable damage. But an unfathomable, unforeseen dark force threatens the people of Auradon­—and it's up to Mal and the VKs to save everyone in the kingdom before it's too late.