By Zach Johnson
Ask any Disney Channel star to identify their favorite part of Disney Channel Fan Fest, and the answer was the same: "Meeting the fans!" said Ethan Wacker, who stars as Bernie Schotz on Bizaardvark. "The fact that we can make people happy by meeting them is amazing in itself."
Stars from hit television series like Andi Mack and Raven's Home, as well as stars from Disney Channel Original Movies like Descendants 3 and Kim Possible, brought joy to countless guests at Disney California Adventure on Saturday, April 27. The day began with a star-studded cavalcade, led by Mickey Mouse and Minnie Mouse. "Who gets to be in a Disney cavalcade?" asked an overjoyed Rebecca Metz, who stars as Jenna Wrather on Coop & Cami Ask the World. "I was sitting next to Donald Duck!" Miranda May, who stars as Lou Hockhauser on BUNK'D, agreed, adding, "It was very surreal to be in the cavalcade, because people were lining the street to wave at you. We were like, 'Whoa! This is kind of a moment! We all really need to take this in.'"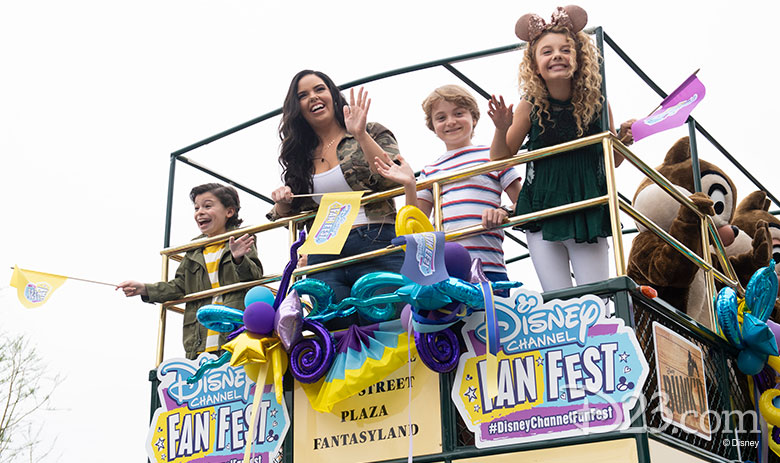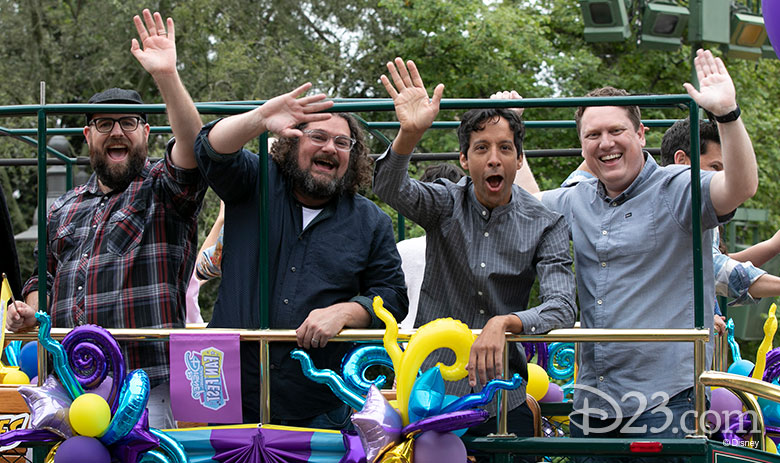 The cavalcade kickstarted an afternoon of fun panels on Pixar Pier, where Radio Disney host Morgan Tompkins interviewed the stars of DuckTales and Sydney to the Max and introduced fans to stars from the upcoming series Amphibia and Just Roll With It. When we caught up with BUNK'D star Will Buie Jr. afterward, he said he "especially" liked the panel, while co-star Mallory James Mahoney said, "We got to do some crazy 'Would You Wrather?' questions, too!"
The first main stage event was an interactive session with the cast of the upcoming series Just Roll With It. Because the comedy is part-scripted, part-improv, stars Tobie Windham, Suzi Barrett, Ramon Reed, and Kaylin Hayman wanted to preview what fans can expect when the series premieres June 14 on Disney Channel. To start, Windham proved he can, you know, "just roll with it" by taking a bite of a sandwich made with crispy grasshoppers, oysters, ants in gelatin, jalapeño peppers, mayonnaise, and lima beans—courtesy of chef Reed. Later, Barrett was tasked with opening three mystery boxes—and one of them sprayed yellow paint in her face! When she opened the last box and smoke billowed out, Reed and Hayman sprang into action and doused her with a fire hose (which lasted longer than necessary, for comedic effect).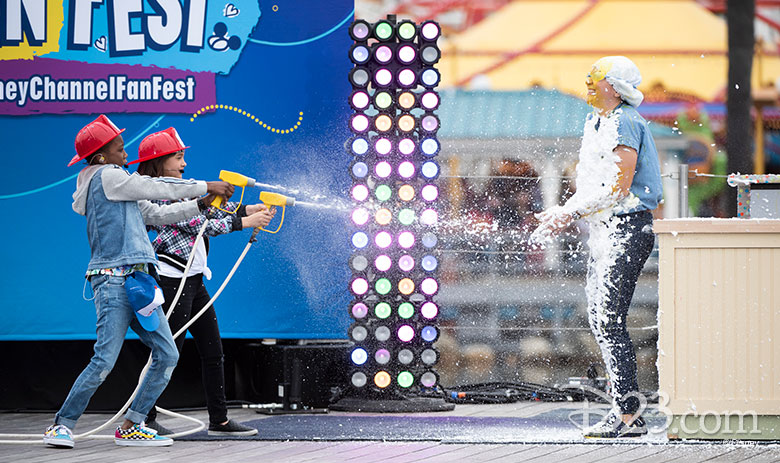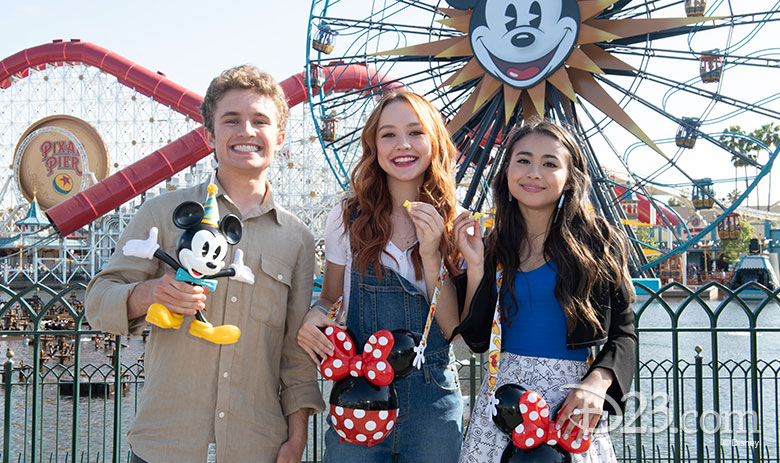 In between panels, Trinitee Stokes came onstage to host a live, exclusive edition of Disney Quizney, with pals like Mickey Mouse, Minnie Mouse, and Pluto making surprise appearances.
Next, Tompkins invited the stars from Coop & Cami Ask the World, BUNK'D, and Sydney to the Max to appear onstage to discuss the ins and outs of their respective shows. To the delight of fans, co-stars Dakota Lotus and Ruby Rose Turner stuck around to facilitate the audience Q&A. Then, Peyton Elizabeth Lee, Joshua Rush, and Lilan Bowden were greeted with thunderous applause as they discussed the final season of Andi Mack, which returns with two back-to-back episodes Friday, June 21, at 8 p.m. ET/PT. "I'm excited we all got to come out and represent our show, because we love it," Lee told us later in the afternoon. "It's really exciting to be around people who love it as much as we do. It's just been such a ride—this whole Andi Mack journey."
The Andi Mack cast remained onstage as the stars of Raven's Home came out to tease the upcoming third season. Returning for his second Disney Channel Fan Fest, Jason Maybaum, who stars as Levi Grayson, told us, "This one was next-level!" Co-star Navia Robinson, who plays Nia Baxter-Carter, echoed his sentiment, adding, "It's just getting bigger and better!"
The next session celebrated animation on Disney Channel with cast members from Amphibia, Big City Greens, and DuckTales. One of the highlights came when Bobby Moynihan and Danny Pudi, who voice Louie Duck and Huey Duck, respectively, improvised an eight-minute episode of DuckTales. As Moynihan later joked with us, "I'm pretty sure it is going to be animated word for word on the Disney airwaves immediately!" All jokes aside, he added, "We're very lucky we get to be here."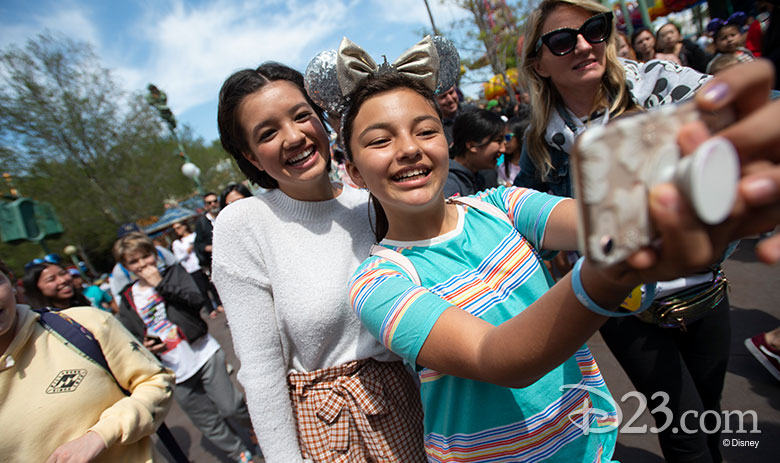 Indeed. All afternoon, fans had the opportunity to come face-to-face with some of their stars. "There was this little girl at the meet and greet and she made a beeline right to me. She ran up to me and just looked at me for like 15 seconds and said nothing," Ciara Riley Wilson, who played Athena in Kim Possible, told D23. "I was like, 'You are just the cutest little thing! I don't know what to do! Do you want a hug? Should we get a picture?' It honestly touched my heart."
"I've never been to Disney Channel Fan Fest before and this has been such a cool experience, getting to meet the fans," said Anna Cathcart, who reprises her role as Dizzy in this summer's Descendants 3. "Being here at Disney California Adventure is so much fun. It's been amazing!"
The fan-focused event also gave many of Disney Channel's biggest stars a chance to fan out over their peers. "It's really fun getting to connect with your other friends from the Disney community," said Jadah Marie, who stars as Celia (daughter of Dr. Facilier) in Descendants 3. "I've said this a million times today, but it's a dream come true. I'll say it a hundred, a thousand, a million times more!"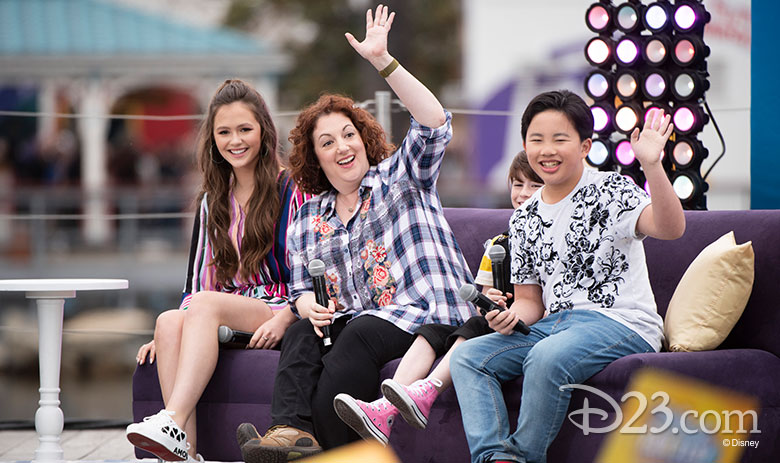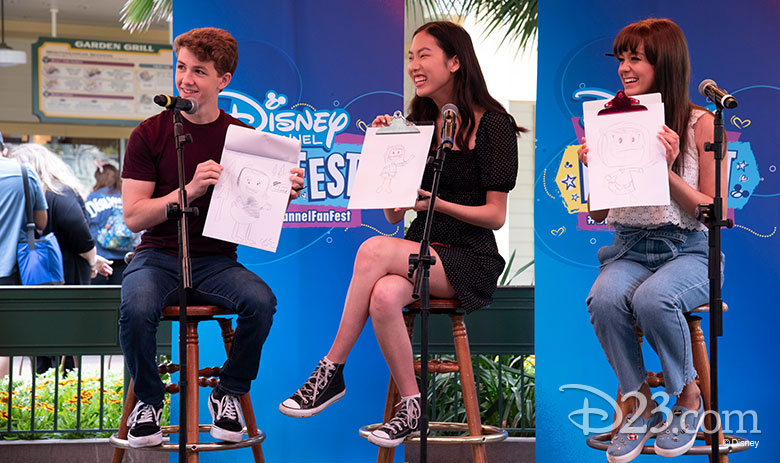 And yes, even the stars get nervous around other stars. As May admitted to D23, "We do a lot of things together, so I thought I'd met pretty much everyone. But then I saw Brenda Song walk by. I didn't get to meet her, but I did have an internal fangirl moment! And then I kept walking!"
As the sun began to set, the Disney Channel Voices Showcase got underway on Pixar Pier. Raven-Symoné and dozens of other stars nabbed front row seats to watch Booboo Stewart, Ruby Rose Turner, Isaac Ryan Brown, Kylie Cantrall, and Meg Donnelly perform, offering high-fives and hugs after each set. Stewart, who had never sung in public with That Band Honey until the showcase, stayed onstage afterward for the closing Descendants 3 session. As Tompkins introduced Stewart's co-stars—Cathcart, Jadah Marie, Dove Cameron, Sofia Carson, and Cheyenne Jackson—fans went wild. Not only did the cast answer fan questions, but they also made an exciting announcement: Descendants 3 will premiere this August on Disney Channel!
"Seeing the fans today and what it means to them… you realize what an impact your art can make," Jackson, who plays Hades in Descendants 3, told D23. Praising original cast members Carson, Cameron, and Stewart in particular, he added, "It was wild shooting with this cast. I didn't know what to make of them and how it was going to be. To be honest, I didn't realize how famous they were until the first time we were shooting in Vancouver and a couple of the cast members were completely surrounded, like they were the Beatles or they were Madonna."
"They're really cool kids and they're really great artists who know what this franchise means to people," Jackson continued. "They're great people—and they're really good! I was impressed."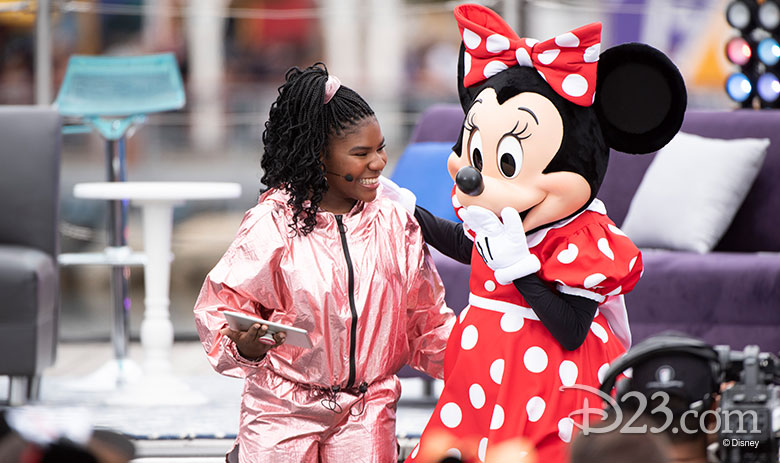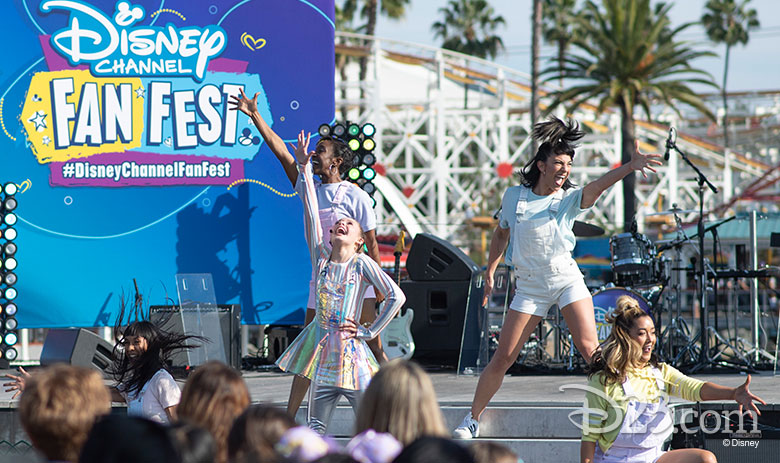 Fittingly, Disney Channel Fan Fest ended with a Descendants-themed dance party, complete with confetti, fog, and all your favorite Disney Channel stars—including Raphael Alejandro, Sean Giambrone, Sky Katz, Ava Kolker, Ruth Righi, and Albert Tsai—busting out their greatest moves.
As many actors admitted to D23, their favorite part of the day wasn't just being in the park—it was experiencing it with their biggest fans. "My favorite part about Fan Fest is the fans," said Sadie Stanley, who played Kim Possible. "I've never experienced an event like this, where it's made for the fans. We get to meet them, and they get to meet us, and we get to hear what they think about our show or our movie. It's such a lovely experience where we're all coming together and having fun. I've had an amazing day in the park just hanging out. We all love this!"