By Courtney Potter
The critically acclaimed series Andi Mack will air its final new episodes beginning June 21, and Disney's live-action Aladdin offers up a fresh new look… See more, along with other news from around Disney, in this week's news briefs!
Disney Channel's Andi Mack to Air Final Episodes This Summer
They say all good things must come to an end… and one of those very good things, Disney Channel's groundbreaking series Andi Mack, will be wrapping up its historic run with a string of brand-new episodes beginning Friday, June 21 (at 8 p.m. EDT/PDT on both Disney Channel and DisneyNOW), and concluding Friday, July 26. See the Andi Mack cast discuss the incredible significance of the series in a new video, above…
Disney Channel President Gary Marsh recently praised the series and its final episodes, saying, "We are forever grateful to Terri [Minsky, creator and executive producer], her talented team, and the outstanding cast, led by Peyton Elizabeth Lee, for delivering a meaningful and satisfying conclusion to three wonderful seasons of this brilliant series."
Andi Mack stars Lee as the title character, Lilan Bowden as Rebecca "Bex" Mack, Lauren Tom as Celia Mack, Joshua Rush as Cyrus Goodman, Sofia Wylie as Buffy Driscoll, Asher Angel as Jonah Beck, and Trent Garrett as Bowie.
Save the Date!
Be sure to mark these upcoming Disney events on your calendar:
D23 and Walt Disney Archives


May 1, 2019


30 Years of Disney's Hollywood Studios – A D23 Celebration!


May 4, 2019


D23's Magical Screening Series: The Lion King at Walt Disney World


May 6, 2019


The Official Walt Disney Studios Tour – Presented by D23


May 11, 2019


D23's Magical Screening Series: The Lion King on the Lot


May 16, 2019


D23 Celebrates Mickey Mouse: From Walt to the World


June 1, 2019


D23's Behind-the-Scenes Experience: Return to Walt's Chicago


June 8, 2019


Lunch with a Disney Legend – Paige O'Hara


June 10, 2019


The Official Walt Disney Studios Tour – Presented by D23


June 13, 2019


Mickey Mouse's Roller Disco Party


June 22, 2019


The Official Walt Disney Studios Tour – Presented by D23


August 23-25, 2019


D23 Expo 2019
Parks


March 6-June 3, 2019




Epcot International Flower & Garden Festival




May 31, 2019


Star Wars: Galaxy's Edge Opening at Disneyland Resort


August 29, 2019


Star Wars: Galaxy's Edge Opening at and Walt Disney World Resort


August 29—November 23, 2019, 2019




2019 Epcot International Food & Wine Festival




November 29—December 30, 2019, 2019




2019 Epcot International Festival of the Holidays




Studios




April 26, 2019


Avengers: Endgame opens in U.S. theaters


May 24, 2019


Aladdin opens in U.S. theaters


June 21, 2019


Toy Story 4 opens in U.S. theaters


July 19, 2019


The Lion King opens in U.S. theaters


August 9, 2019


Artemis Fowl opens in U.S. theaters


October 18, 2019


Maleficent: Mistress of Evil opens in U.S. theaters


November 22, 2019


Frozen 2 opens in U.S. theaters


December 20, 2019


Star Wars: The Rise of Skywalker opens in U.S. theaters


Television




May 6, 2019


Big Hero 6 The Series kicks off season two on Disney Channel (3:30–4 p.m. EDT/PDT)


June 21, 2019


Final episodes of Andi Mack begin airing (8 p.m. EDT/PDT)


Summer 2019


Descendants 3 premieres on Disney Channel and DisneyNOW

Feel a Connection with Latest Aladdin Spot
A street in Agrabah. A street rat meets an undercover princess… a connection is made, and the rest—as they say—is history. Check out the latest spot from Disney's upcoming live-action Aladdin, above.
Directed by Guy Ritchie, this new adaptation of the Disney animated classic stars Will Smith as the hilariously magical Genie; Mena Massoud as the charming scoundrel Aladdin; Naomi Scott as the self-determined Princess Jasmine; Marwan Kenzari as the nefarious vizier Jafar; Navid Negahban as the Sultan; Nasim Pedrad as Jasmine's friend Dalia; and Billy Magnussen as Prince Anders. Look for Aladdin to fly onto a movie screen near you on May 24.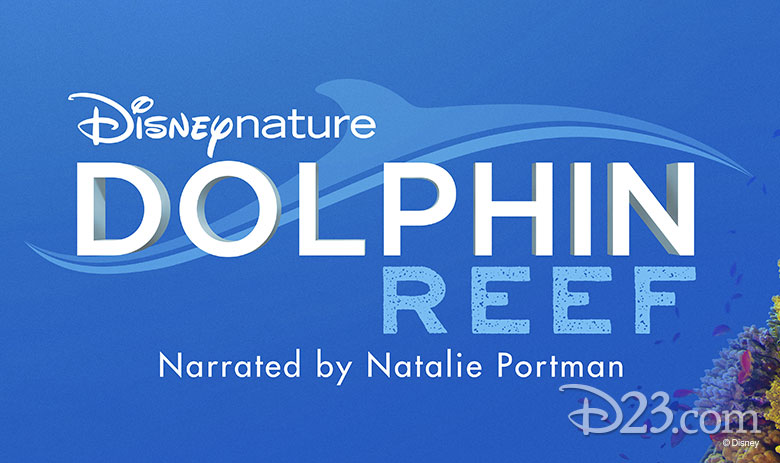 Coming to Disney+: Natalie Portman Narrates Disneynature's Dolphin Reef
We've already learned so much about all the incredible content to come on Disney+, Disney's brand-new streaming service, when it launches this November… but leave it to them to surprise us with something more!
In honor of this month's recent Earth Day celebration, Disney+ revealed that Academy Award®-winning actress Natalie Portman (Black Swan) narrates the next feature film from Disneynature, Dolphin Reef—which will debut on Disney+. The film dives under the sea to frolic with some of the planet's most engaging animals; created with Disneynature's signature storytelling style, the film introduces audiences to Echo, a young Pacific bottlenose dolphin who can't quite decide if it's time to grow up and take on new responsibilities. Dolphin society is tricky, y'see, and the coral reef that Echo and his family call home depends on all of its inhabitants to keep it healthy… But Echo has a tough time resisting all the adventures the ocean has to offer! Keith Scholey, director of Disneynature's Bears, helms the film.
Dolphin Reef will join Disney+'s crazy-cool slate of original nonfiction programming, including Be Our Chef, Encore!, Ink & Paint, The World According to Jeff Goldblum, and so much more. (Plus, Disneynature's most recent release, Penguins, will be available on Disney+ in 2020.) We can't wait to join Echo and his friends "under the sea"!
D23's Handy-Dandy Guide to Star Wars: Galaxy's Edge Reservations
So, you want to go to Star Wars: Galaxy's Edge when it opens at Disneyland park in just a few weeks' time? (As if the answer would be anything but a seriously resounding "yes"!) Thankfully, D23.com has a great rundown of everything you need to know to make a reservation… and have a truly out-of-this-world time. Read all about it by clicking here.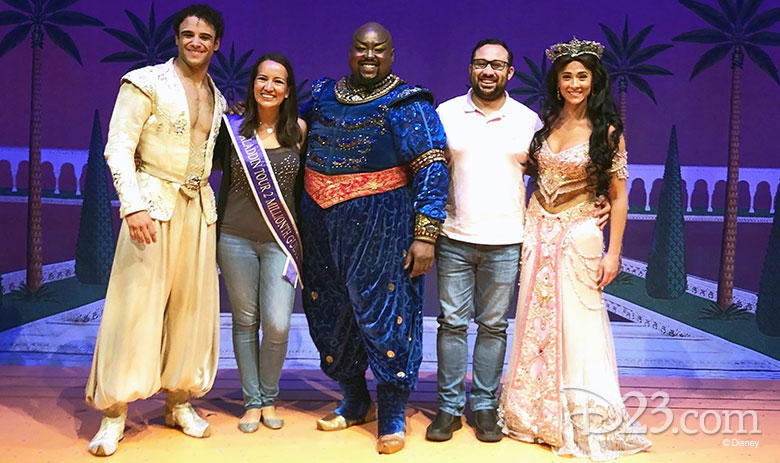 Disney's Aladdin Tour Welcomes Two Millionth Guest
Just a few days ago, the North American tour of Disney's Aladdin not only celebrated its second anniversary, but it also welcomed its whopping two millionth guest—a lucky gal by the name of Marcela Bloise—at The San Jose Center for the Performing Arts.
Marcela, who lives in San Jose, and her friend Manuel Ortiz were surprised with an upgrade to premium orchestra seats for the performance; later, they were treated to a special backstage tour, as well as a photo opportunity with the show's stars. (And the entire experience was nothing short of life-altering for Manuel—Aladdin was his first live theatrical experience ever!)
Since launching in Chicago at the Cadillac Palace Theatre in spring 2017, the critically-acclaimed Aladdin tour has played to packed houses in 25 cities, with more than 824 amazing performances. Future stops for the tour include Baltimore, Maryland; Durham, North Carolina; Houston, Texas; and Washington, D.C. And it's still delighting audiences eight times a week at the New Amsterdam Theatre in New York City.
Mickey & Minnie's Runaway Railway Coming to Disney California Adventure Park
It's full steam ahead for fun! Our good pals at the Disneyland Resort just announced that Mickey & Minnie's Runaway Railway—a brand-new attraction coming soon to Disney's Hollywood Studios at Walt Disney World Resort—is also set to make its big debut at Disneyland in 2022! Find out more right here at D23.com.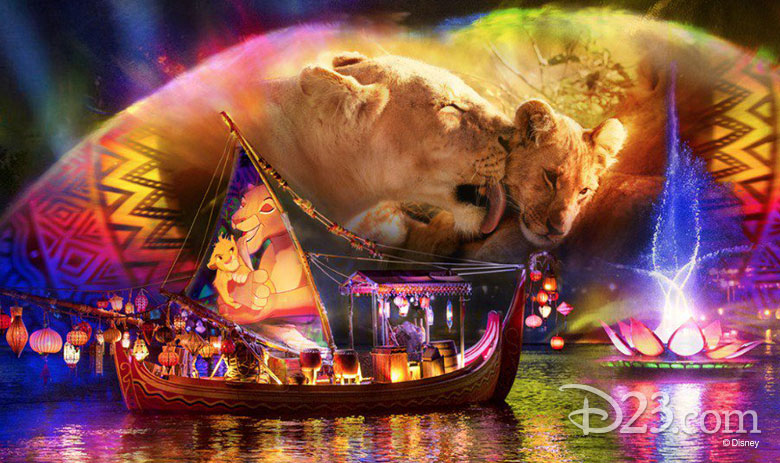 This Summer: Updated Rivers of Light at Disney's Animal Kingdom
If you're heading to Walt Disney World Resort this summer, make sure to keep your eyes peeled for the next chapter of Disney's Animal Kingdom's incredible nighttime pageant…
River of Light: We Are One will introduce dazzling additional imagery as well as familiar animal characters from favorite Disneynature films, along with classic moments from Disney animation—all to express our collective connection with animals, and the emotions and milestones shared as we journey together through the "circle of life." Additionally, the music for Rivers of Light: We Are One will weave together the show's original score with some familiar Disney themes.
Beautiful lantern floats, innovative special effects, all manner of memorable new additions… it's a nighttime celebration you just can't miss! Watch for it at Disney's Animal Kingdom beginning Memorial Day Weekend 2019.
Looking Forward to ARDYs: A Radio Disney Music Celebration
Music's biggest event for families is coming up quick—and this year, Radio Disney's yearly celebration is more interactive than ever before. Read up on what to expect from ARDYs: A Radio Disney Music Celebration (hosted by Descendants and Pretty Little Liars star Sofia Carson) by clicking here.