By Jim Fanning
Saddle up, pardners! Time to round up a few factoids as we go ridin', ridin' along with Walt Disney's A Cowboy Needs a Horse. Celebrating 60 years of rocking horses and western song, this stylishly animated "special" is special indeed. With the gentle clip-clop-like cadence of the title tune, Disney animation tells the tale of a little boy who, while fast asleep, dreams his way into some well-loved cowboy tropes, including stopping a stagecoach-robbing bandit and saving a train from crashing off a blown-up trestle. True to the cowboy code, this lovable little cowpoke refuses all rewards, even a kiss from a pretty little girl. So pull on yer fancy boots and shiny spurs and let's pan fer the pure gold nuggets that have made this animated adventure a real gem ever since its release six decades ago on November 6, 1956.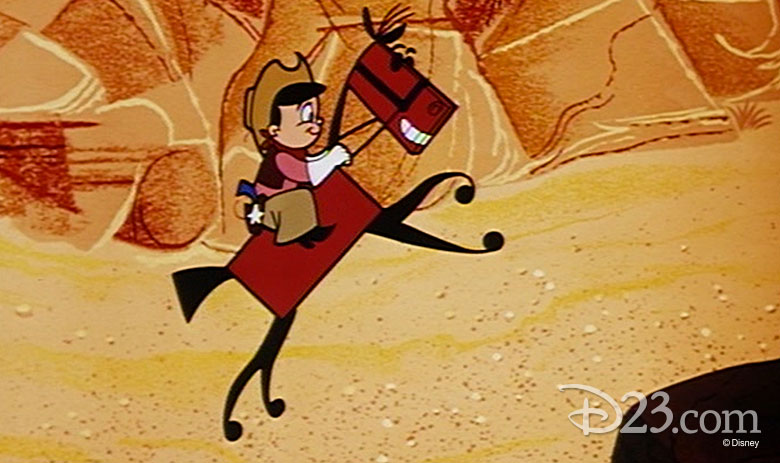 Like fellow animator Ward Kimball, Disney Legend Bill Justice was a talent Walt turned to when he wanted something different. During the 1950s, Bill directed several experimental shorts, created during a time when Disney cut back on production of animated shorts because of rising costs. Walt asked Justice to oversee some productions that would maintain quality Disney animation in short form but at a reduced expense. One of the results was A Cowboy Needs a Horse, a simple but stylish short that relied on strong design, a distinctive premise, and a captivating main character—all tied to an irresistible song. In addition to directing, Justice animated such key scenes as the boy waking up, the bed becoming a horse, the boy riding a horse, and the young cowpoke receiving his western props—each of them drawn in by an oversized animated pencil. Corralling the comical antics were veteran story artists Dick Kinney, who had gagged up many a cartoon starring Donald or Goofy, and Roy Williams, who was gaining fame as the Big Mooseketeer on the phenomenally popular Mickey Mouse Club television series.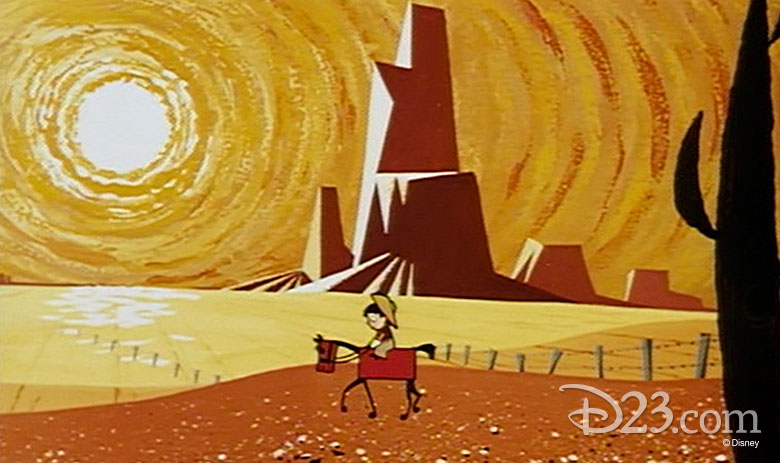 Beginning in 1953, with Adventures in Music: Melody, Walt began producing animated shorts with highly stylized designs. Unlike his more traditional animated films, these visually sophisticated shorts drew on modern design and contemporary styles for a more graphic look. The supreme example is the Academy Award®-winning Toot, Whistle, Plunk and Boom (1953)—but A Cowboy Needs a Horse is also among these artistic experiments. Abstract shapes combine with stylized designs to form impressionistic mesas, canyons, and deserts, and bold color choices, such as burnt sienna skies, help tell this whimsically western yarn. While the backgrounds—the long pan background of the mid-century modern penthouse that begins and ends the film is a work of art itself—are credited to old hands Ralph Hulett and Al Dempster, Justice relied on his frequent collaborator, Xavier "X" Atencio, who is credited with layout and styling, to create the modernist-design eye candy. In 1965, Walt asked both Justice and Atencio to lend their talents to WED Enterprises, Inc. (now known as Walt Disney Imagineering), where, in addition to many other attractions, they brought their Disney artistry to Pirates of the Caribbean.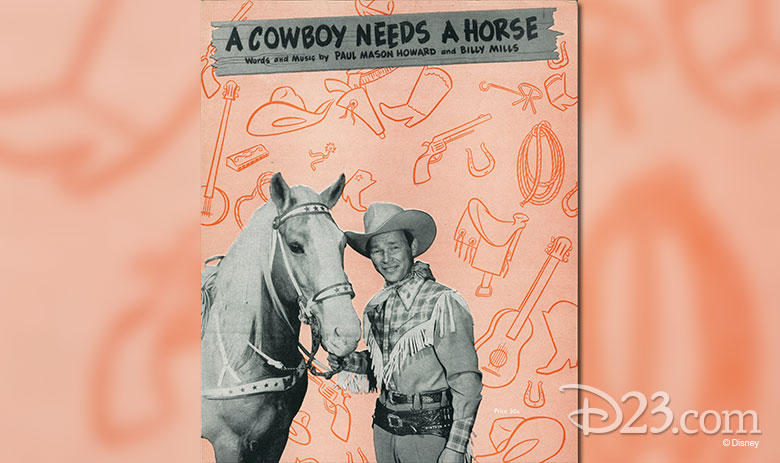 The lullaby-like title tune was written by Billy Mills, a prolific Big Band leader who reportedly made 10,000 radio performances, and Paul Mason Howard, composer of such hits as "Shrimp Boats." The song was recorded by Fess Parker (star of Walt Disney's "Davy Crockett") on Disneyland Records (now known as Walt Disney Records) and Jimmie Dodd, the head Mouseketeer on the Mickey Mouse Club TV series, as well as famed singing cowboy star Roy Rogers, who had narrated the "Pecos Bill" segment of Walt Disney's Melody Time (1948). The score, by turns evocative, exciting, and gently satirical, was composed by Disney Legend George Bruns.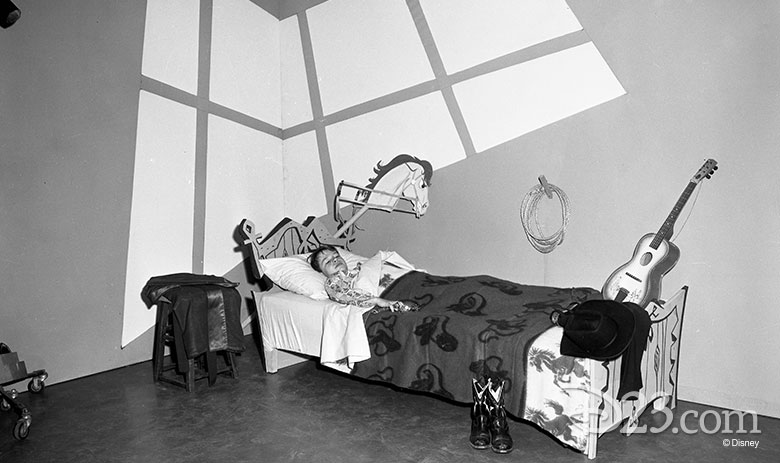 The title song from A Cowboy Needs a Horse was performed on "Fun With Music Day" (plain old Monday to non-Mouseketeers) on the Mickey Mouse Club TV series. Originally broadcast on December 5, 1955—almost an entire year before the animated short was released to theatres. This production number paralleled the basic format of the cartoon, with Mouseketeer Dennis Day at first fast asleep in bed and then dreaming of life as a cowboy in a stylized western set complete with dancing cactus plants (full body costumes with Dennis' fellow Mouseketeers inside). By the way, Mouseketeers, the famed Mickey Mouse Club title sequence was directed by A Cowboy Needs a Horse director Bill Justice.
On the March 27, 1959, episode of Walt Disney Presents, entitled "Toot, Whistle, Plunk and Boom," Walt showcased not only the Oscar®-winning short of the same name but also other music-centric cartoons, including A Cowboy Needs a Horse. All-new animation was created to introduce the short, including our little cowpoke—who we learn is named "Johnny"— panning for gold with a frying pan in the kitchen sink. Later generations were introduced to this unique little horse opera on Disney Channel and on the popular Walt Disney Home Video Sing Along Songs series—because as the title tune says, "the good Lord knows that a cowboy's gotta keep ridin', ridin' along."