By Jocelyn Buhlman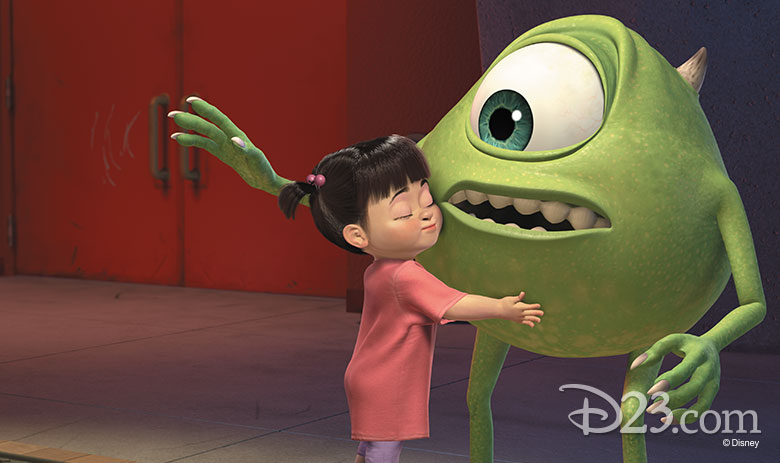 1. The Friendships
On its surface, Monster's, Inc. is a story about the monsters who hide in our closets. But at its heart, Monsters, Inc. celebrates the bond of friendship and how we can find it even in the strangest places. Not only do we watch the heartwarming longtime friendship of Mike and Sulley continue to grow throughout the film, but the budding friendship between Sulley and Boo proves that not even coming from two different worlds can stop love.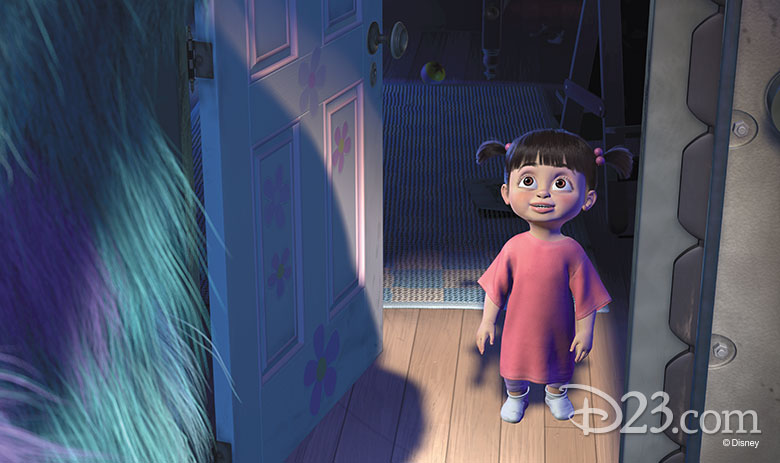 2. Boo's Big Adventure
Mary Gibbs, the 5-year-old actress who voiced the loveable Boo, was too young to stand in a recording booth all day delivering her lines. Instead, Pixar staff followed Mary around the studio, recording her as she spent the day playing and giggling. The result was the adorable performance we hear in the final movie and an authentic performance of everyone's favorite little "monster."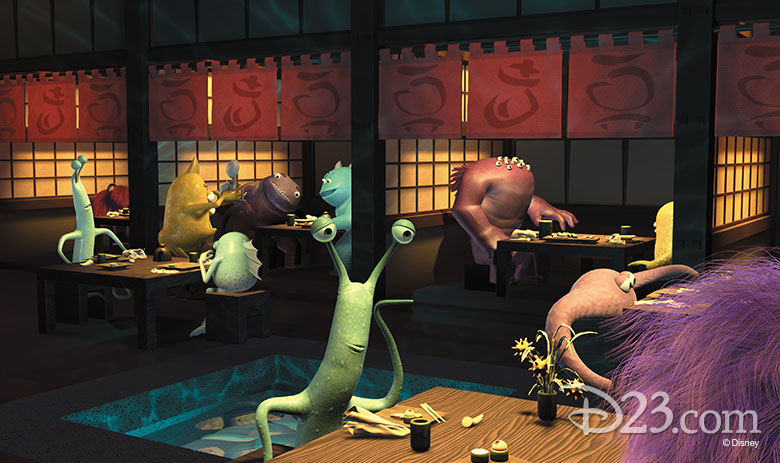 3. A Monstrous Tribute
Mike Wazowski has a date-turned-disaster at a sushi restaurant called Harryhausen's. That name has a special meaning­: The restaurant was named in honor of Ray Harryhausen, a famous visual effects master best known for his monster creations from Jason and the Argonauts and Clash of the Titans. It's only appropriate that such a master of monsters would be honored in a movie about monsters' secret lives!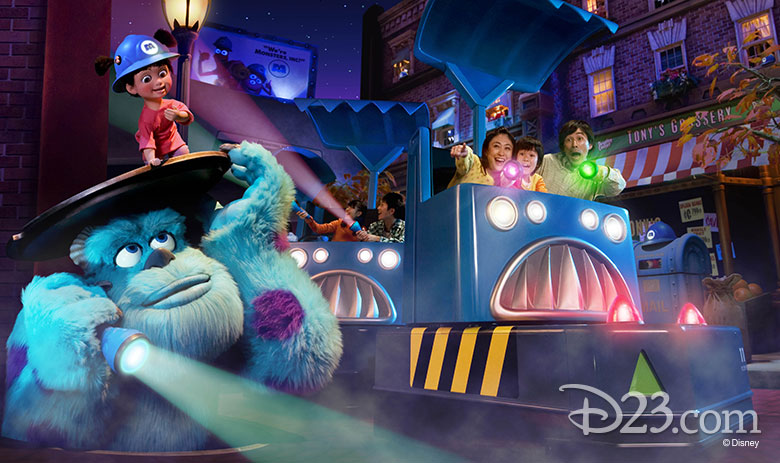 4. Monsters, Inc. Adventures at Disney Parks
We can finally experience Monstropolis in real life at Disney theme parks all over the world! Monsters, Inc.: Mike and Sulley to the Rescue! at Disney California Adventure lets you experience the events of Monsters, Inc. for yourself, riding through scenes from the movie and the streets of Monstropolis. The Monsters, Inc. Laugh Floor at Magic Kingdom lets you into an exclusive comedy show hosted by the monsters from the movie (plus some new faces), only now you are the star! And Monsters, Inc.: Ride and Go Seek at Tokyo Disneyland invites you to be part of a game of hide-and-go-seek that takes place across all of Monstropolis! No matter which park you go to, you know you'll have a fun and furry good time entering the world of Monsters, Inc.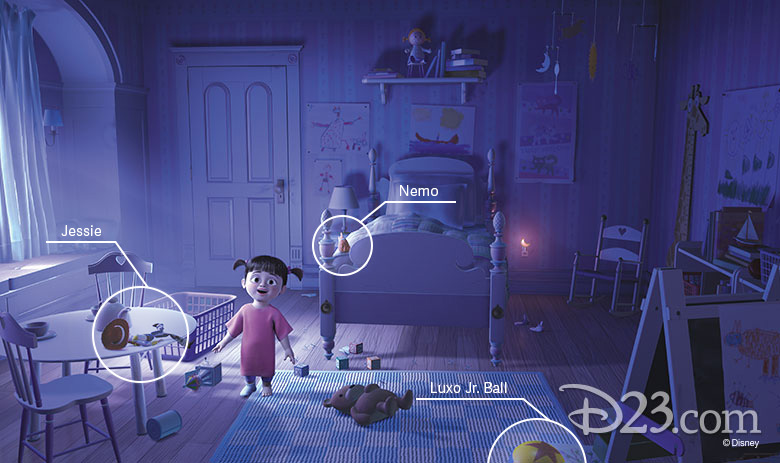 5. Hidden Pixar Secrets
Can you find the Pizza Planet truck in Monsters, Inc.? Did you know that Jessie the yodeling cowgirl has a new home in Boo's room? Do you know where the famous Luxo Jr. ball is hidden? Pixar loves to hide references to their past movies and shorts in their current films, and Monsters, Inc. is full of fun and silly shoutouts to Pixar's classic films.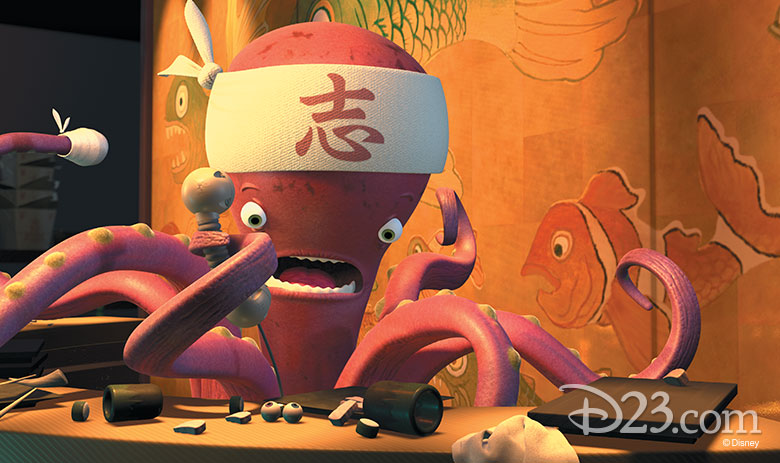 6. Finding Familiar Friends
Speaking of hidden secrets in Pixar films, did you know that Pixar will sometimes hide a character from the next movie they are working on in the current film? For example, you can find Dug from Up barking at Remy in Ratatouille and Lots-O'-Huggin' Bear is owned by a girl watching Carl's house fly by in Up. This tradition all started with Monsters, Inc., when animators hid a character from the next film as a toy in Boo's room. So the question is: Can you find Nemo? He actually appears more than once in the movie, if you have a sharp eye.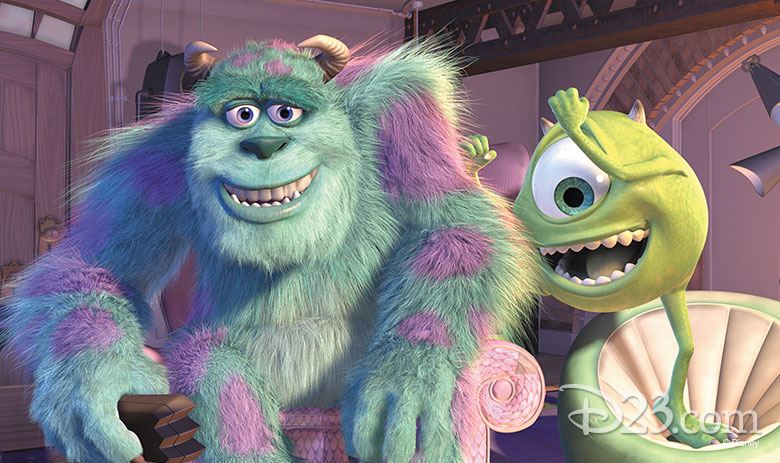 7. The Chemistry of the Cast
Usually for an animated film, each performer records their lines by themselves. However, in order to capture the true camaraderie between Mike and Sulley, Billy Crystal and John Goodman recorded all of their lines together. Steve Buscemi and Frank Oz, the voices of scarer/assistant pair Randall and Fungus, also recorded lines together for certain scenes as well.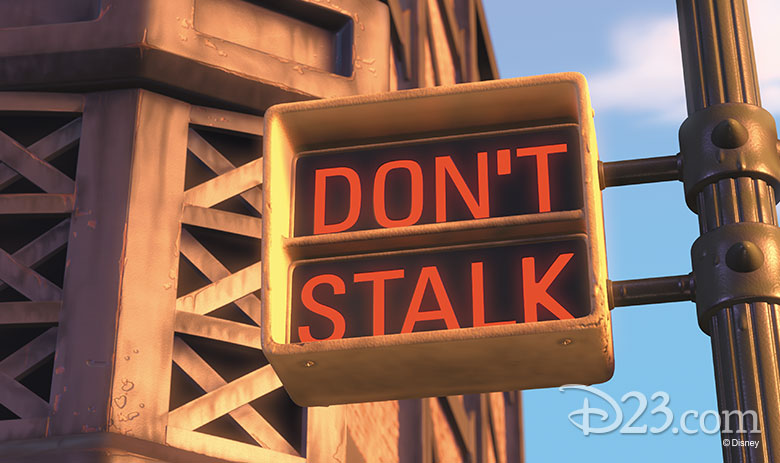 8. A World Built for Monsters
Pixar is always known for creative concepts, from imagining what our emotions are doing inside our head to illustrating the journey of an old man in his balloon-powered house. Monsters, Inc. demonstrates this creativity with the monster-fied technology and design in Monstropolis. Every detail reflects a world where everyone is big, hairy, scaly, and scary! From the "Stalk" and "Don't Stalk" street signs, to Mike's little teddy "bear," to Sulley's big armchair with a hole for his tail, Pixar thought of it all when it came to designing the world beyond our closet doors!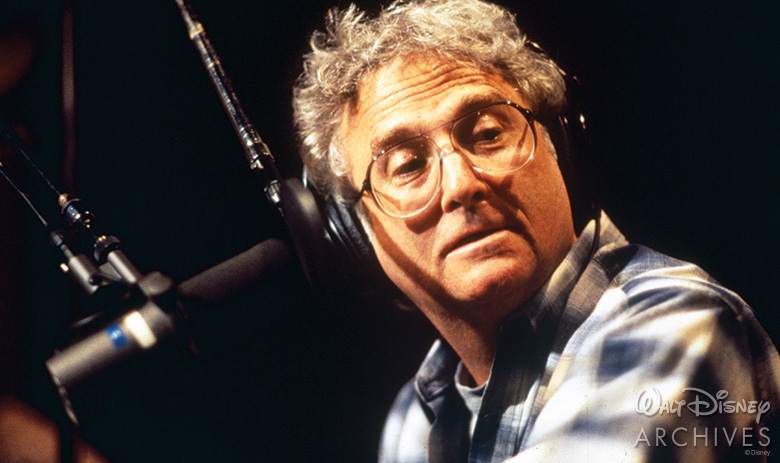 9. Randy Newman's Big Win
Musician and composer Randy Newman already had a friend in Pixar with his work on the Toy Story films and a bug's life, but he had never won an Academy Award® until he wrote his monster of a hit, "If I Didn't Have You," for Monsters, Inc., which went on to win the award for Best Original Song at the 2002 Academy Awards.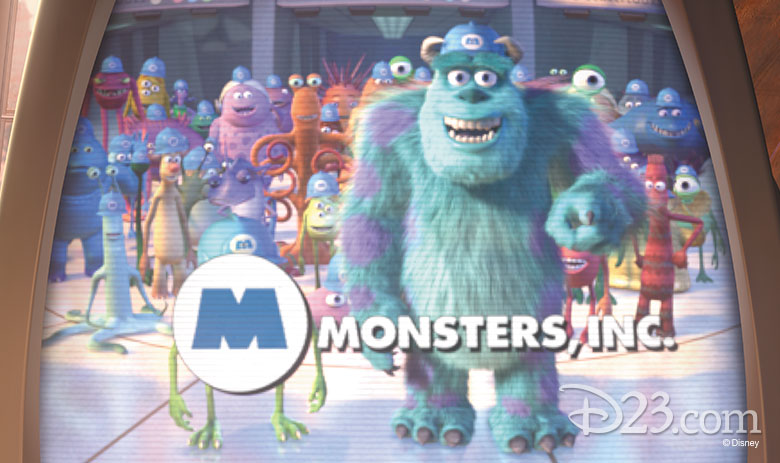 10. A Silly Recurring Gag
One of the most famous running gags in Monster's, Inc. made us love Mike Wazowski—who may be tiny, but he has a big heart. Poor Mike can't seem to get a break on any of Monsters, Inc.'s promotional material, getting covered by a bar code on a magazine cover or by a logo in a TV commercial. "I can't believe it!" he says, "I'm on TV!" His upbeat attitude makes us laugh every time and makes us love him even more.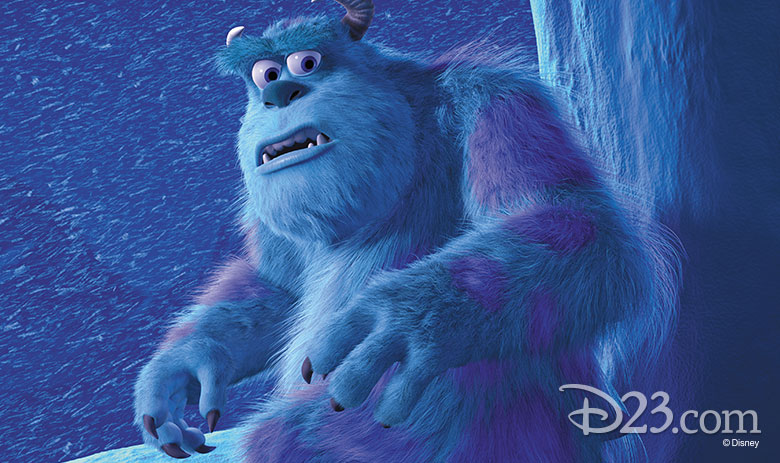 11. Sulley's Spectacular Hair
Always open to challenging themselves and putting forward their best work, the filmmakers at Pixar decided for Monsters, Inc. to try their hand at animating a main character that was covered in bright blue hair! The result was, of course, our favorite, huggable top scarer, and his 2,320,413 blue hairs were all rendered in the physics engine Fitz, which Pixar created specifically to animate Sulley.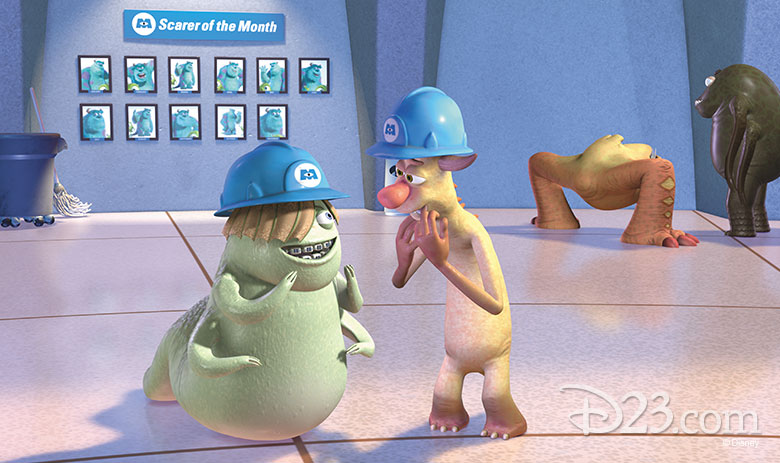 12. Fun Outtakes
In Pixar's early days of feature film, they became known for animating outtakes from their movies and including them in the closing credits, giving audiences a reason to stay in the theater until the very end. Monsters, Inc. was the last Pixar movie to include outtakes, and what great outtakes they were! The whole audience was screaming with laughter over the wacky pranks, silly mistakes, and fun shoutouts the Pixar staff included during the end credits.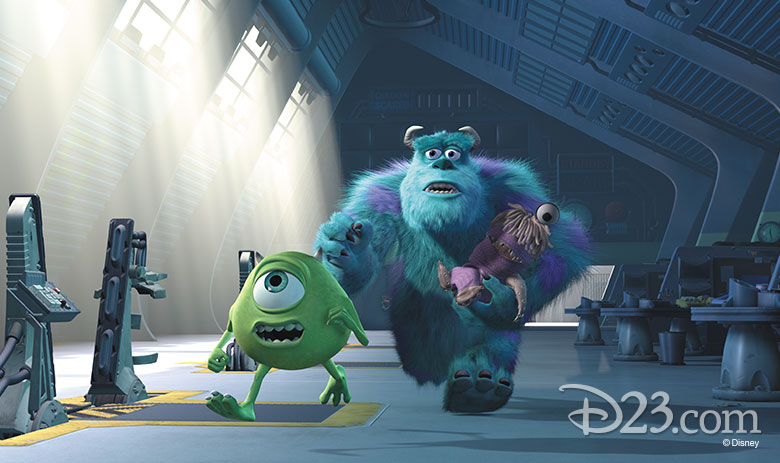 13. A Chase We Won't Forget
One of the most iconic scenes of the movie was when Sulley, Mike, and Boo evaded Randall's pursuit through the door vault. The resulting chase through the closet doors is dizzying and striking and left a visual impact in the mind of viewers everywhere.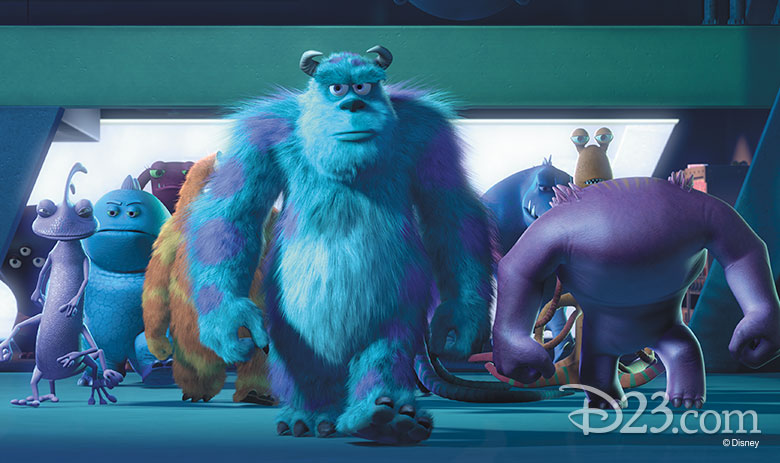 14. The Magnificent Monsters
The most important part of creating the world behind our closet doors is making the monsters, of course! There are so many scary cool designs featured in the film, from Celia's stylish snake hairdo to the spider-esque Henry J. Waternoose. Whether they are monsters you'd rather not see in your closet or monsters who are more of a fuzzy friend than foe, the world of Monstropolis is full of interesting characters designed by the talented Pixar team.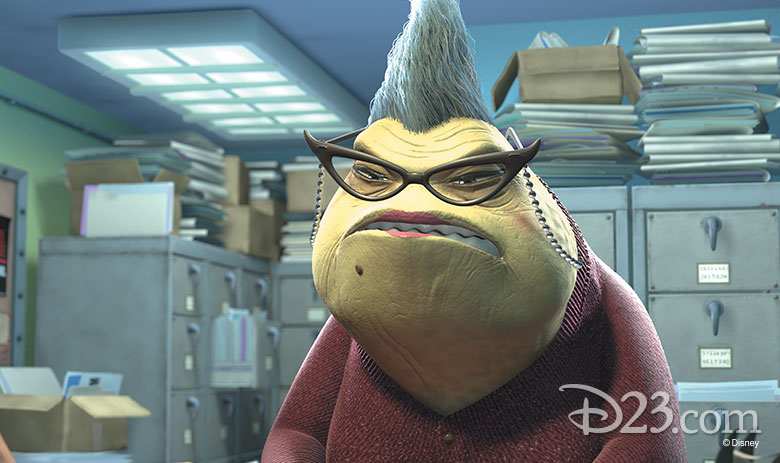 15. A Familiar Voice
Everyone was in stitches over Roz's distinct vocal intonations, but did you know that the creator of her iconic sound is also responsible for another memorable Pixar character? Bob Peterson, animator, writer, and director for Pixar, was also the voice of everyone's favorite chatty canine, Dug, from Up! Despite being so incredibly different from each other, both characters share the same, talented voice actor.