By Beth Deitchman
As the current TV season draws to a close, we've been riding a California Screamin'-esque roller coaster of emotions watching the season finales of our favorite ABC shows. And as sad as we are to have to say goodbye for the summer, today our spirits are climbing—in part because tonight brings a two-hour season finale of Marvel's Agents of S.H.I.E.L.D., but mainly because ABC has just announced its primetime schedule for the 2016–17 season. The new lineup is an E-Ticket Ride filled with suspense, romance, and imagination. Here's a sneak peek at five new shows we can't wait to see:
Designated Survivor
Have you ever noticed during a major presidential event, like the State of the Union or an inauguration, that there's always one lower-level cabinet member missing? That's the "designated survivor," the person who would step in and become the U.S. President in the event of a catastrophic event. In the new show Designated Survivor, Kiefer Sutherland (24) assumes that role—and must assume the presidency after a devastating attack on Washington. Will he be able to prevent the country—and his own family—from falling into chaos? We know it's going to be fun to find out.
Why We're Excited: Emmy® and Golden Globe® winner Kiefer Sutherland had us on the edge of our seats with his portrayal of Jack Bauer on the political thriller 24. We have 12 seconds of Designated Survivor, in the teaser above, and we're dying to know what happens next!
Conviction
Hayes Morrison (played by Hayley Atwell of Marvel's Agent Carter) is a lawyer and a former First Daughter of the United States (with a mother who's running for the U.S. Senate). To avoid hurting her mother's campaign—and jail time for cocaine possession—Hayes takes a job with the brand-new Conviction Integrity Unit, where she'll use her brilliant legal mind to turn over cases where there is credible suspicion of wrongful conviction. Plus, she'll have the chance to turn things around with her high-profile family.
Why We're Excited: We loved Hayley Atwell as Agent Peggy Carter and as the mother who taught Cinderella to "have courage and be kind" in the 2015 live-action feature, Cinderella. This role feels like a departure for the actress, who we would follow anywhere.
Still Star-Crossed
William Shakespeare's iconic Romeo and Juliet ended—SPOILER ALERT!—not-so-happily. But what about the feuding families left behind? Still Star-Crossed, which is based on a book by Melinda Taub, picks up where Shakespeare left off and charts the treachery, palace intrigue, and ill-fated romances of the Montagues and Capulets in the wake of the young lovers' tragic fate.
Why We're Excited: The period drama comes from Shondaland, the production company that's brought us Grey's Anatomy, Scandal, and How to Get Away with Murder. With stunning costumes, blood feuds, and Shonda Rhimes' astounding track record, this is a show we know we don't want to miss.
Time After Time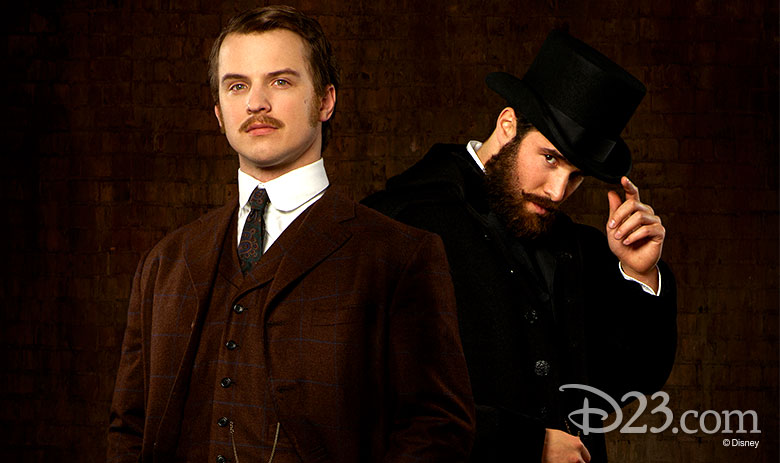 Based on a popular novel and movie, Time After Time follows famed science fiction writer H.G. Wells through time to modern day Manhattan in pursuit of Jack the Ripper. Once he arrives in New York City, H.G. Wells (played by Freddie Stroma of the Harry Potter films) finds a world he never thought possible and a young woman who captivates him.
Why We're Excited: This cat-and-mouse adventure comes from executive producer and writer Kevin Williamson, the creative force behind Dawson's Creek, Scream, and Vampire Diaries, so we're counting on a thrill ride through time.
Imaginary Mary
This live-action CGI hybrid focuses on a single career woman, Alice (played by Jenna Elfman of Dharma & Greg), who falls in love with a single father of three and gets help navigating the transition from single life to family life with the help of an unlikely source: the imaginary friend she dreamed up as a child.
Why We're Excited: The CG animation for the show was designed by the creator of Walt Disney Animation Studios' Academy Award®-winning short, Feast, Patrick Osborne. We wish our own imaginary friends had been as fun as Alice's is!