By Beth Deitchman
Zorro began as a "side project" for Walt Disney, who had licensed the rights to writer Johnston McCulley's character through WED Enterprises—the precursor to Walt Disney Imagineering that Walt founded to help create Disneyland. A longtime fan of the masked avenger, Walt hoped a Zorro series could provide the funds he needed to expand the park.
Work on the production began in 1953, though Walt balked at network demands that he shoot a pilot episode for the series. His response, as recounted in the Winter 2009 issue of Disney twenty-three: "I've been in the picture business for 30 years, don't you think I know how to make a film?"
Eventually the ABC Network—home to the successful Davy Crockett serial—signed on. But before Zorro's swashbuckling could commence, there was one feat to be accomplished: re-creating the Pueblo La Reina de Los Angeles on the Burbank studio lot.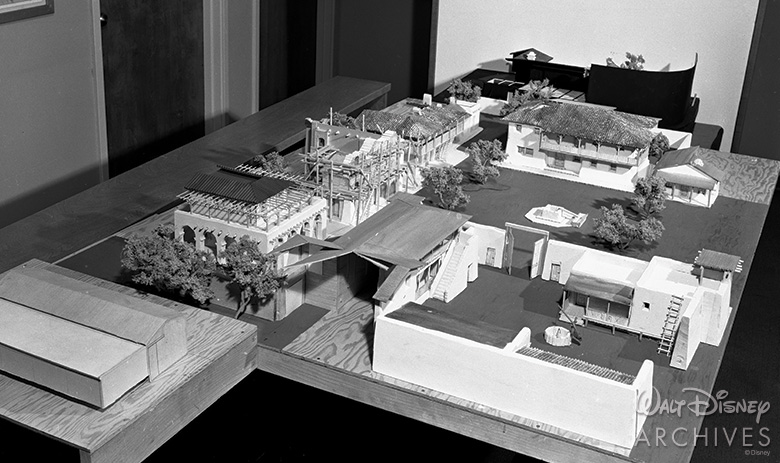 "Walt wanted to do the series with some notable authenticity," Bill Cottrell, Zorro producer and WED president, once explained. "He wanted a show that would teach people about the time when Zorro lived. He wanted realistic sets, props, clothing, food… everything!" Actor Britt Lomond, who played the villainous Captain Monasterio, recalled, "Walt wanted to make sure everything was right, even the smallest item in the room."
Disney historian and author Bill Cotter hosted a presentation in celebration of Zorro during this past summer's D23 Expo 2017. He recalled for Disney fans how the team began with elaborate models, both to determine where the sets could fit on The Walt Disney Studios backlot and to begin planning camera angles. "Three months later, this whole city of Los Angeles was there," Bill said. The finished sets were amazingly detailed, including touches such as wrought-iron fixtures that would likely go unnoticed by even the most avid viewers. "Walt wanted it done as authentically as it possibly could be," Bill explained.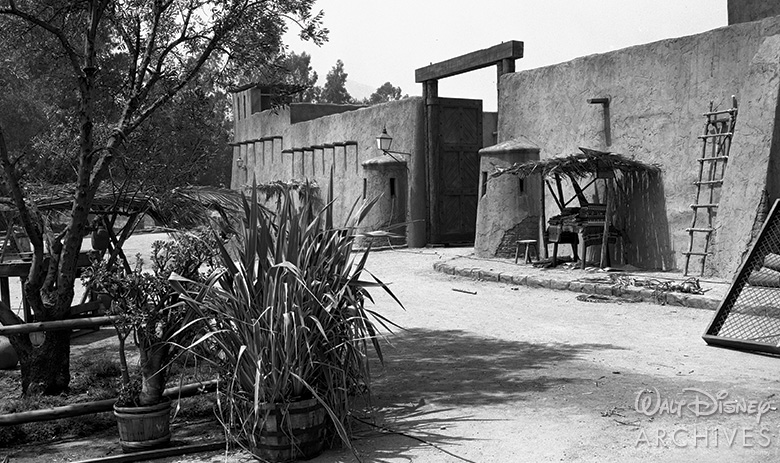 According to Bill, one key observer was watching the sets go up—built where the Zorro parking structure now stands, along Riverside Drive at the edge of the Studios: Armando Catalano, a model from New York who was struggling to make a career as an actor in Hollywood. Bill shared, "He was just about ready to give up, and he would tell the story later on how he would sit up in the hills of Griffith Park, watching the studio building those sets down below, and he said, 'Well, I'm going to try it. If it doesn't work, I'll go back to New York and do something else.'" Armando—known better by his stage name of Guy Williams—was an accomplished fencer who could deftly navigate between comedy, drama and action.
On September 11, 1957, Walt previewed what was ahead for the Disneyland anthology series during The Fourth Anniversary Show episode. When a young guest asked, "What about Zorro?" Walt "confidentially" revealed that Zorro wouldn't be appearing on the Disneyland show—he would be the star of a brand-new, completely different series. "A long time ago, there was a masked rider who rode the countryside," Walt began. "This was in old Spanish California, back in the days of high adventure and low, soft guitars…"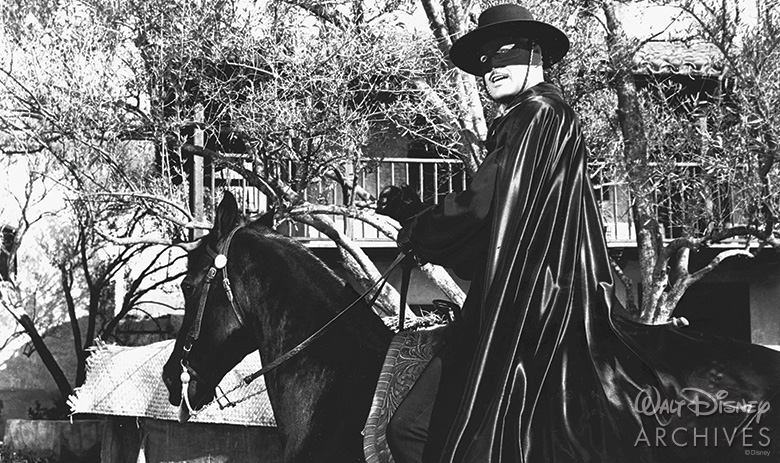 Just a few weeks later, on October 10, 1957, Disney's bold renegade officially rode onto TV screens. It has now been 60 years since Zorro first made "the sign of the Z," and a lasting impression on the hearts of Disney fans everywhere.