By Francesca Scrimgeour, Walt Disney Archives
"Hi-ho!", everyone! Muppet Treasure Island has been sailing for adventure on the big blue wet thing for the last twenty-five years and has been a classic in our homes ever since! This movie was Brian Henson's second feature length film, after The Muppet Christmas Carol (1992), and he pledged to pack it with humor, absurdity, and action. And did he ever deliver on his promise! With over four hundred Muppets and Mr. Bimbo – the man who lives in Squire Trelawney's (Fozzie Bear) finger – close at hand, this film is a Muppet-tasic addition to the other classic movie adaptations of Treasure Island and Muppets feature length films.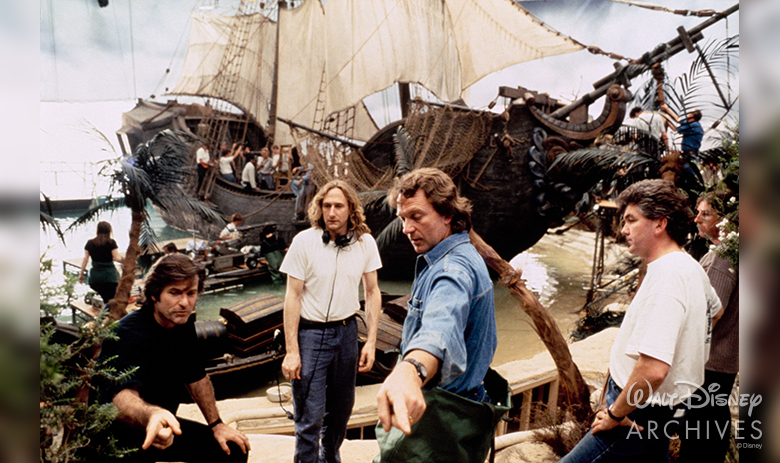 The massive production was filmed over fourteen weeks and required impressive sets. Shot at Shepperton Studios in London, filmmakers utilized seven different production stages. The Muppets team even "stepped up to the helm" with the giant Hispaniola ship created by Production Designer, Val Strazovec. Using the forced perspective camera technique, they were able to fit the entire ship in one stage. The fiberglass ship weighed over 18 tons and was controlled by a gimbal – which was so realistic that some crew actually got seasick! Distinctive in its unique build, the ship's shape was bent almost like a banana, which provides for the surreal angles we see in the film. All the interior ship scenes were built on other stages with the galley, brig, and Captain's cabin also built on a gimbal to match the ship's movements. A smaller version of the vessel was created on a one-to-five scale for shot sequences on the high sea, some of which were filmed on location in the Virgin Islands where Robert Louis Stevenson wrote the original Treasure Island story. Using the newest technology at the time, the production filmed a giant sailboat that was the same size as the Hispaniola and used visual effects to digitally replace that ship with a model that had been shot against a blue screen.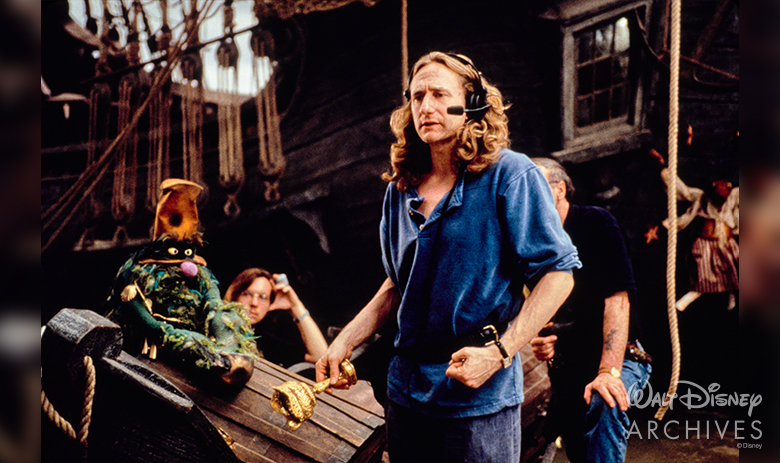 Legendary actor Tim Curry was Brian Henson's first choice to play lovable Long John Silver. Curry shared some insightful advice from a previous actor (who had appeared in The Muppet Christmas Carol), declaring, "Michael Caine said that the great thing about doing the Muppets is that you wear your own shoes. They tend to be shot shoulder height and your feet rarely appear on screen." This was certainly an interesting perspective that you would only gain from filming with the Muppets!
Kevin Bishop, who played Jim Hawkins, was the first candidate who auditioned for the role (among 100 other boys), and this was his first feature film experience. Not only did he have a supportive cast, but it was action-packed fun filming with the whole group. He recalled, "There is absolutely no limit to the amount of fun you can have a on Muppet set!" Other cast members, like Billy Connolly, shared this sentiment affirming, "Working with the Muppets has been the most joyous experience for me because Gonzo has been a hero of mine from way back!" That's high praise from the famous stand-up comedian, who played Billy Bones in the film.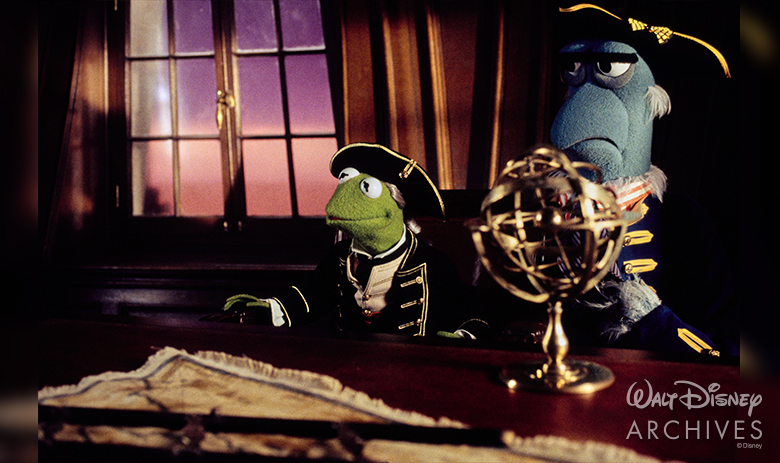 Jennifer Saunders, the comedian who portrayed Mrs. Bluveridge, expressed that, "In my kids' eyes, celebrity status does not compare to the fact that I am in a Muppet movie! As far as they are concerned, I have finally made it. This is my entry to Hollywood!" Saunders was such a huge fan of the Muppets that she accepted her part immediately. This was a first time any of the human actors in the film had worked with the Muppets, but all got the hand of it pretty quickly.
An interesting hurdle that the Muppets had to overcome was to portray the art of fencing, but stunt coordinator and professional instructor, Nick Powell, was able to make their matches look realistic. Powell recognized that "[when] you see puppets fighting, they usually bash swords together like knitting needles because puppeteers don't know how to fence." He wanted to make the sparring as authentic as possible and first choreographed the scene with real people, later transferring it to the Muppets. Some of the trickiest scenes featured Kermit the Frog (Captain Smollett) facing off against his human performer counterparts. However, the crew was able to pull it off with lightweight aluminum swords, and even 14-year-old Kevin Bishop learned moves that make the entire production more believable. Miss Piggy (Benjamina Gunn), of course, used her routine martial arts moves to attack the unruly pirates, with Powell assisting with those scenes as well.
Shiver my timbers, shiver my bones! We hope our quick look back at the production of this swashbuckling classic inspired your Gonzo-like adventurous spirit to sail the high seas, search for buried treasure, or set out to discover the multi-armed Zanzibanian shark women and their exploding wings of death!
Happy 25th anniversary, Muppet Treasure Island, and don't forget to grab your margaritas at the midnight buffet and watch Muppet Treasure Island on Disney+!