By Jim Fanning
What says "Halloween" better than a witch flying on a broomstick through a moonlit sky?
How about three witches—one riding a broom, another a mop, and a third flying… a vacuum cleaner? And when these kooky witches are played by Bette Midler, Sarah Jessica Parker, and Kathy Najimy in a movie named Hocus Pocus, you have a cinematic trick-or-treat sack overflowing with Halloween fun.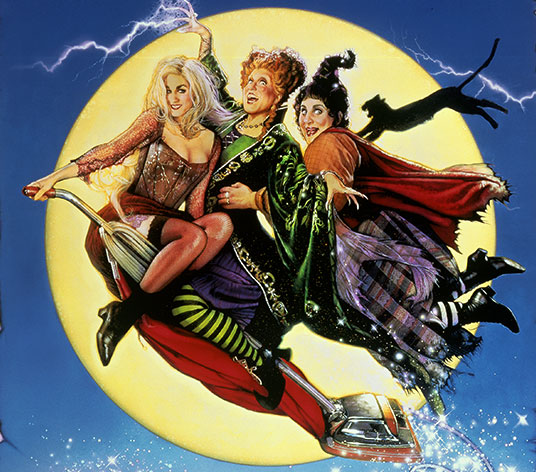 Taking place on one very eventful October 31st, this wicked comedy tells the tale of three witchy sisters—hanged for their evil deeds in 1693 Massachusetts—who are accidently resurrected by teenage Max Dennison (Omri Katz) in modern-day Salem.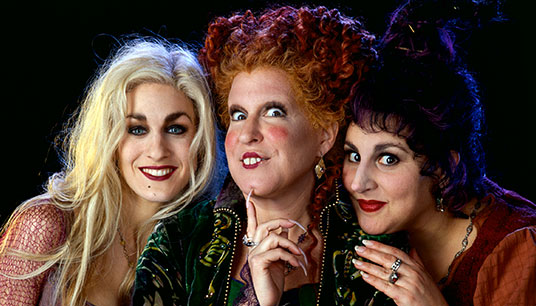 From then on, it's nothing but bubble, bubble, toil, and trouble for Max as he battles the witches, who are hell-bent on stealing the life essence from the town's children—including his little sister, Dani (Thora Birch, in an early role)—so they can live forever. Toss in a "living" book of spells, a reluctant zombie, and a talking cat, and you have a hilarious "horror" movie that's now a cult classic.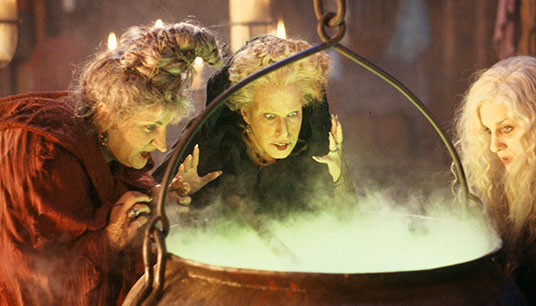 For many fans, this spooky spoof starring the sinister Sanderson sisters spells (so to speak) Halloween—it just wouldn't be October without it. Disney's Hocus Pocus first haunted movie houses on July 16, 1993, so let's celebrate with a frightened but fascinated look back over our shoulders at how this cinematic witches' brew was mixed to perfection.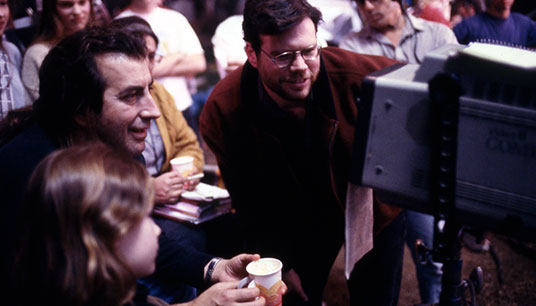 Conjuring up a Halloween Classic
Like many a scary story, Hocus Pocus started with a simply told tale.
"All my films start out as anecdotes for my kids,"
said producer David Kirschner. "I'm forever telling them legends and lore." One night, David and his young daughter were sitting outside their house when a neighbor's pet, a black cat named Sam, happened by. David began to spin a yarn about how Sam the cat was once a teenager who was changed into a feline. "I contrived a legend that 300 years ago, a young boy was trying to protect his little sister from three witches who then cast a hex on him. The story terrified and delighted her." This engrossed reaction inspired David to flesh out the concept into a feature film treatment, and the story starring three wacky witches was spawned.
The Hocus Pocus screenplay's embracement of a holiday often overlooked by family-friendly filmmakers immediately intrigued executive producer Ralph Winter. "There has really been no movie like this with a Halloween theme," he said at the time of the film's release. "Usually when you think of Halloween, you think of a horror picture; you don't think of a family picture. That's the first thing that attracted me to the project. It has a little more edge to it than your average Disney film, but in no way is it a horror movie. Younger kids might get a little scared… there is a zombie in it. But what's a Halloween movie without a zombie?"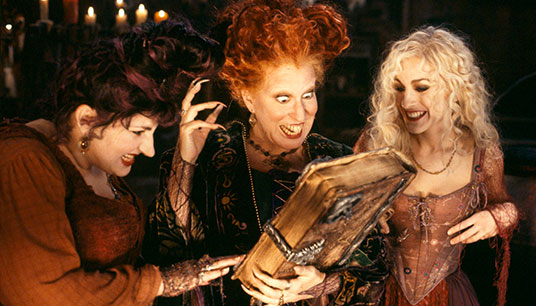 Those Witchy Women
At the ghoulish ground zero of this funny fright-fest are those bewitching enchantresses whose outrageous performances bring the Sanderson sisters to life: Bette Midler as Winifred, Sarah Jessica Parker as Sarah, and Kathy Najimy as Mary. From their colorful costumes to their outsize antics and caricatured make-up, these Halloween "hags" are as silly as they are scary. An important Disney star—thanks to her leading roles in such hits as the Touchstone films Down and Out in Beverly Hills (1986) and Beaches (1988), as well as her vocal role as Georgette the pampered poodle in Disney's Oliver & Company (1988)—Bette Midler is an Oscar®-nominated and Emmy, Grammy, and Tony award-winning mistress of all media. Sister sorceresses Sarah Jessica Parker and Kathy Najimy were both longtime fans of the Divine Miss M. "She's an idol of mine," said Kathy, who had scored a hit as one of the singing nuns in Disney's Sister Act (1992). Sarah Jessica, whose signature role as Carrie Bradshaw in the Sex and the City TV series (1998–2004) was still to come, agreed: "I didn't even have to look at the text of the script to know that I wanted to do this film, because it was a chance to work closely with Bette."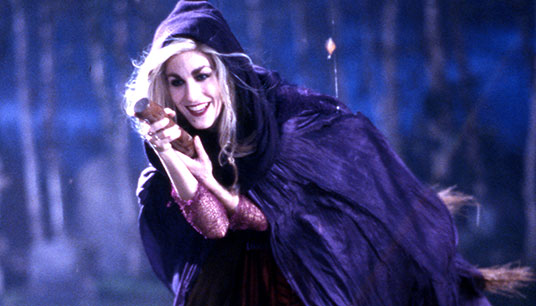 Before long, the talented trio had embarked on a six-week rehearsal period to craft their own perfect performance potion.
"Bette, Sarah, and Kathy all wanted to be witches,"
noted art director Nancy Patton. "They all wanted scary noses and warts, and the studio was saying, 'Bette, we love your face; Sarah, you're sexy; Kathy, you're fantastic. We want you to be recognizable.' We went the whole gamut in terms of their look and then pulled back. That's part of the design process. We ended up with a storybook approach. The women are themselves, but with a tweak." Director Kenny Ortega (fresh from directing Disney's live-action musical Newsies, 1992) revealed, "The witches were born out of a lot of fun research, from cartoons to storybooks to fabulous men and women, real and fictitious, throughout time. Each actress found something unique and original to bring to her character."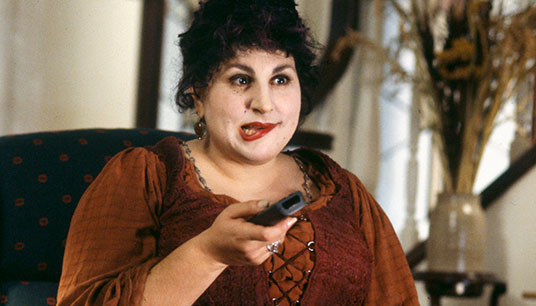 "My idea for Mary was to make her immediately identifiable," said Kathy Najimy. "Sarah's hair is long and blonde, and Winifred had a great big pile of red hair. Because of the character's keen sense of smell, there had to be something distinguished about my face, so we put an extension on my nose to make it more pronounced. But I wanted the audience to be able to see Mary's shadow and know it was her. One day during rehearsals, I saw a pumpkin that someone in the art department had made. It had a great stem that was big on the bottom and curled up like a decrepit branch at the top, ending with a twist. I thought 'there's my hair!' Now I have a great twisting purple wig that looks like it's a branch growing out of my head with spiders and dirt."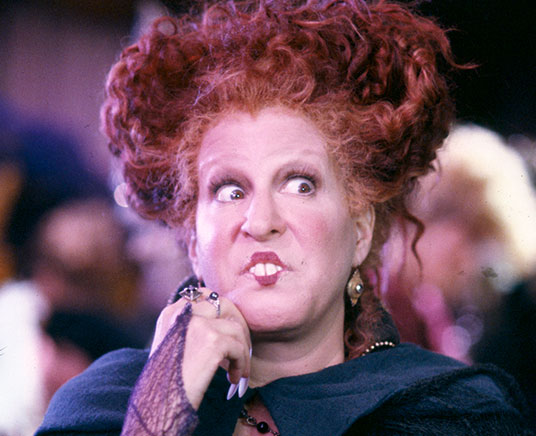 As if summoning a spirit, Sarah Jessica Parker worked to materialize just the right voice for the character of Sarah Sanderson. "It would have been inexcusable to use my regular voice because these are such fantasy characters and there's nothing about them that's real. I wanted Sarah to be a bit like the Shakespearean nymphs, with a little Lolita and bit of a half-wit thrown in. I came up with the voice, and once we started shooting there was no going back."
"If you think of the Three Stooges, the witches are those kind of characters,"
laughed Ralph Winter. "Sarah's character is a little ditzy; Kathy's character is distracted by little things. There's comedy in all that as they bounce off of Bette, who kind of slaps them around, the way Moe used to do to Curly and Larry."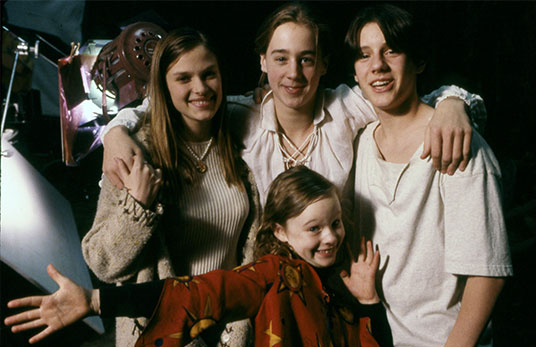 Terrified Trick Or Treaters: The Kids
Every spooky story needs a strong hero to defeat wickedness, and three talented young actors portrayed the saviors of the children of Salem in Hocus Pocus. Speaking of Thora Birch, who would go on to such films as American Beauty (1999) and Ghost World (2001), Kenny Ortega said, "she is a very dynamic little girl, and once we met her, we knew she was our Dani. Then we had to find her a brother. We saw more than 600 boys. It was like Newsies all over again."
Max has a crucial role in the film, for he must outwit and ultimately vanquish the silly-but-supernaturally empowered witches. Omri Katz was the perfect Max, not only due to the teen's acting abilities but also because of his weird-movie chops as the star of the paranormally themed Erie, Indiana TV series (1991–1992), and the sci-fi/schlock-film comedy, Matinee (1993). "We actually passed on Omri at one point," Kenny continued. "He was sick during his first audition and a sparkle was missing from him. He recovered and came back a second time and we were absolutely sure he was right for the role of Max. Teen model Vinessa Shaw was also chosen for the part of Allison, Max's romantic interest, after a long process. We were really fortunate to end up with a strong ensemble of young actors."
Adding some tricks to the casting treats were some surprises. In the scene where the Sanderson sisters meet "Satan," the Salem resident wearing a devil costume and his uninterested wife are played by well-known film directors and real-life brother and sister Garry and Penny Marshall. Veteran character actor Kathleen Freeman also makes a cameo appearance as Max and Allison's teacher, Miss Olin, who tells the spellbinding legend of the Sanderson sisters (while wearing a witch costume, naturally).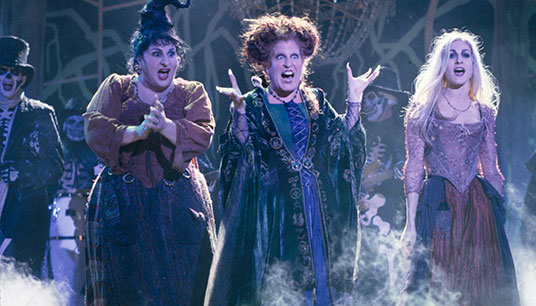 Creepy Costumes
Central to the witches' appearances are their outlandish yet historically accurate costumes. "I read many books about Salem, Massachusetts, in the time of our story," designer Mary Vogt said. "I even read diaries of women who were hanged as witches. I went on to read fairy tales, and that is where our real inspiration for the story came from. The first thing Kenny and I decided was that the women should wear colors instead of the typical puritanical black. Because the film is a fairy tale and a fantasy, we wanted it to be lively and colorful. We decided that Bette's character, Winifred, was a timeless, medieval magician. She is dressed in a deep velvet green with a purple lining and various symbols embossed on the gown. She has striped tights and layers of silk around her. Sarah was more like Shakespeare's Ophelia, floating around, child-like, slightly mad. Her clothes are fluid, sexy, and lighter. Kathy Najimy's character, Mary, was the opposite of that. I pictured her as an herbalist, staying home cooking and concocting potions. She is dressed in earthy colors with rings on her belt where, I imagined, she could hang herbs or dead rodents for her most recent brew."
Scaring Up The Sets
Hocus Pocus was shot at The Walt Disney Studios where production designer Bill Sandell built the Sandersons' spooky house and the old cemetery where the final confrontation between the witches and the kids takes place, on Stage 2, the studio's largest soundstage. Bill and his team spent months researching houses until they came up with some creepy curb appeal for the witches' house. "We looked at a number of restored and preserved houses in Salem, including The House of the Seven Gables. We examined many books and illustrations, but the architecture was always fairly simple and stark. Nothing compared with the Hansel and Gretel witch-type motif we wanted.
Our house ended up being an amalgam of everybody's vision of a witches' house—from fairy tales to Mother Goose."
To get the right mash up of reality and fantasy, Sandell actually constructed the house using some of the same techniques Salem settlers employed in building their homes 300 years ago. When not shooting at the Disney Studio, the production filmed throughout the Los Angeles area and for one week on location in Salem, Massachusetts.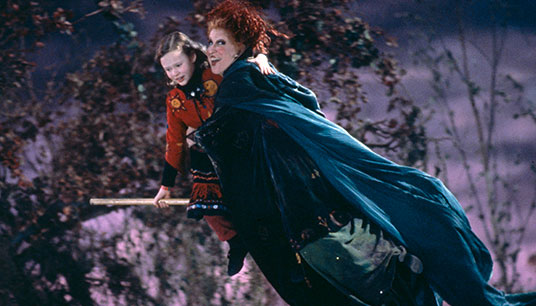 Fright Takes Flight
The filmmakers knew from the start the importance of getting their Halloween anti-heroines off the ground, via broomstick, mop, vacuum, and some Disney movie magic. The same tried-and-true wire technique that made Julie Andrews fly in Mary Poppins (1964) and Angela Lansbury soar as apprentice witch Eglantine Price in Bedknobs and Broomsticks (1971) was used to make the leading ladies levitate. Choreographer Peggy Holmes worked closely with the three stars to create the wild ways in which they would fly. "Each actress flew in character," explained Peggy. "Winifred is in charge and much more aggressive than the other two. She's always leading the way and looking for children. Sarah loves to fly. She's always lifting up with her mop and can't wait to get up in the air, whereas Mary is more cautious. Like a good driver, she signals with her hand. Mary is the safe and steady flier."
The three stars insisted on doing much of their own wirework, but stunt artists were required for some of the trickier aerial acrobatics. "Generally, when you do flying scenes, you use stunt people who are very muscular and strong," pointed out Ralph Winter, "and who can withstand being in an uncomfortable rig, but we decided to use dancers. They know how to send the message that their body is doing something that's irrelevant to the wires. We started rehearsing them in September [1992] and shot the flying stuff in December; that rehearsal time, and using dancers who know how to move their bodies, made a big difference."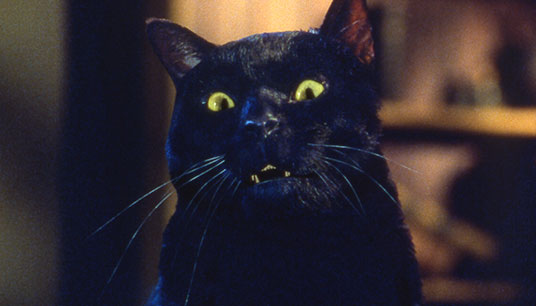 Black Cat To The Rescue
Aiding and abetting the modern-day kids is the wisecracking cat, who is actually a kid: Thackery (not Zachery, as is sometimes thought) Binx who starts out as a 17th century boy (Sean Murray, now known for his roles on TV's Jag and NCIS) before being turned into a feline by the Sandersons in the film's prelude. Binx the talking cat is an early and impressive example of a computer-generated effect. "This character did not exist on the set," noted Ralph. "We had a little stuffed cat that the cameraman used to light with, but it was truly created in post-production. We did the cat's lines like they do in animation. We recorded the audio lines first and then matched that up with the picture, so the dialogue's the same length and it all fits. Then, it goes to the computer guys and they animated to the dialogue. We had to make it believable, because much of America has one of those furry little things running around their houses—
you see cats everyday, so we had a real challenge to make our talking cat blend into the movie."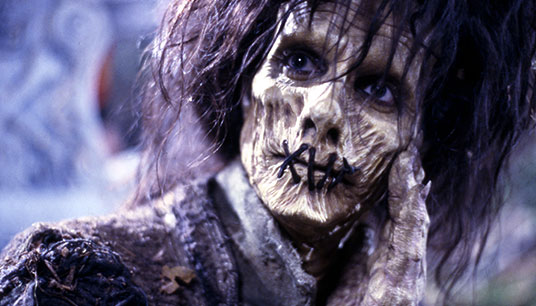 Outrageous witchcraft, talkative black tabbies, pursuing zombies, plus the traditional Halloween trappings of jack-o'-lanterns, candy, and costumes—topped off with wackily witchy performances from Bette, Sarah Jessica, and Kathy—all mix together to make Hocus Pocus a favorite of Disney fans and lovers of merrily macabre movies alike for more than 20 spellbinding years.