A vacant roadside motel, suffocating coffin-like suitcase, and a monster lurking in the shadows make ABC's Halloween special the most terrifying adventure our Toy Story characters Woody, Buzz, and Jessie have faced yet. Toy Story of Terror! picks up where Toy Story 3 left off, sending Bonnie, her mom, and the toys on a road trip to grandma's house with an unexpected overnight stop along the way. It's Pixar's first made-for-television short and wraps in a Halloween theme that gave Pixar creators the freedom to pay homage to their favorite classic horror films such as The Shining, Predator, and Silence of the Lambs.
The scariest thing about Toy Story of Terror! or any horror/thriller flick is the unknown.
And with television commercial breaks sprinkled throughout the short, director Angus MacLane and his team had a great time figuring out just where to leave you before the commercials hit. "One of the most satisfying format differences was having the ability to end on a down beat," laughs Angus, who also directed Pixar's Small Fry and BURN-E shorts. "We had to figure out how to put the characters in bad situations right before the commercial break. And each gets progressively worse. So we kept trying to outdo each one." It became a game for his team to come up with story arcs to leave you hanging during each break. "I'm personally very excited about seeing it with commercials because I think it might play unintentionally hilarious when you cut to a fabric softener commercial right after Jessie gets buried alive." It allows the characters to get picked off one by one as the story is told.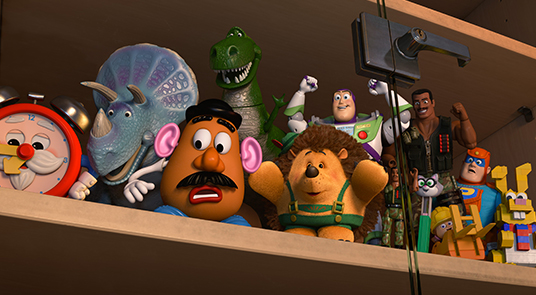 The short brings back the A-list Toy Story cast, including Tom Hanks as Woody, Tim Allen as Buzz, Joan Cusack as Jessie, and reintroduces Combat Carl, who appeared briefly in the original Toy Story. "I wanted to bring him back because he worked so well in the first movie as far as elevating the danger and telling the audience what's at stake," Angus explains. "He's the ultimate personification of the '80s action movie hero—this amalgam of a superhero military character who has one liners, a can-do attitude, and humor that comes only in irony." Angus was inspired by the G.I. Joe Adventure Team action figure for the character.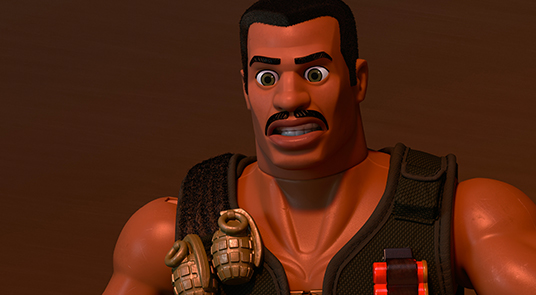 As for the horror references throughout Toy Story of Terror!, they're everywhere. The motel key seen in the short was inspired by the one used at the Overlook Hotel from The Shining. And Angus points out that this isn't the first time Pixar has made reference to that film.
"Sid's house from the first Toy Story movie also makes reference to The Shining with its carpet,"
he says. Then there is Combat Carl, voiced by Carl Weathers, who played Dillon in 1987's horror film Predator. "The introduction of Combat Carl in the short is a direct reference to a line in Predator, when Carl says 'over here, look over here,'" Angus says. There's another line in Toy Story of Terror!, "I'm coming to get you Betsy," that references "I'm coming to get you Barbara" from Night of the Living Dead.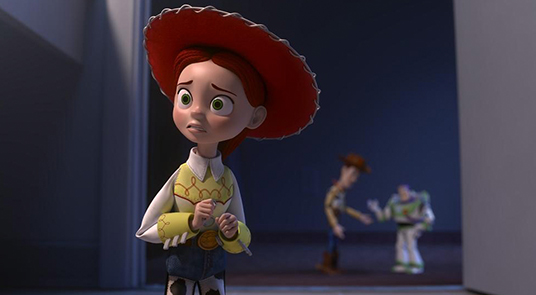 And a Pixar short wouldn't be complete without hidden references to other Pixar projects. "All of the gravestones in the horror film scene have deceased Pixar character names on them," Angus continues. "It's hard to read them, but if you look carefully, you can see one says 'Gusto' from Ratatouille, 'Coral the Clown Fish' from Finding Nemo, and you get a close-up of a gravestone that reads 'Simon J. Paladino' (Gazerbeam), who died in The Incredibles." The gravestone says, "a public servant with a unique vision," which is a reference to the character's laser-blasting eyes.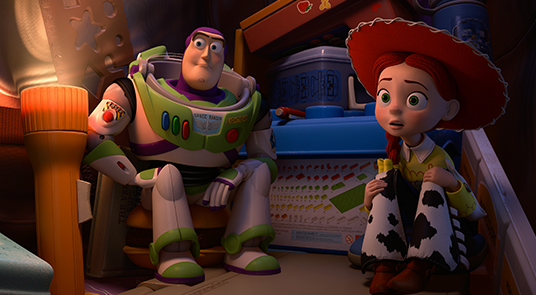 While all the references to horror and Pixar films are fun, Toy Story of Terror! delivers on the heart and unique storytelling we've come to love about Pixar. "First and foremost, it's emotionally about Jessie's journey and revisiting her unfinished fears of being abandoned and being stuck in a box," Angus says. "She's overcoming those fears and finding her own voice—becoming the superhero that she can be."
And there's nothing scarier than fear itself.