When D23 EXPO 2015 blasted off on August 14, guests received a giant welcome from Buzz Lightyear—
…giant because the space ranger appeared as a giant character helium balloon, measuring 67.7 feet long, 39.9 feet wide, and 34.3 feet tall.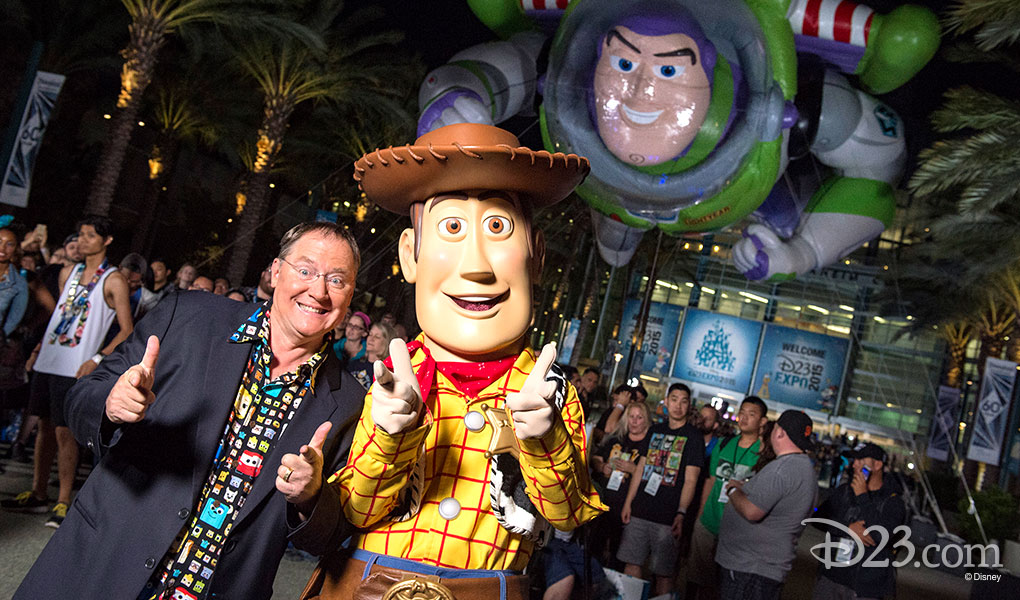 The Buzz Lightyear balloon was straight from New York City's famed Macy's Thanksgiving Day Parade®, where he has taken flight six times. Buzz made his first trip ever to the West Coast to celebrate the 20-year anniversary of Toy Story. At D23 EXPO 2015 Pixar Animation Studios offered Toy Story: 20 Years Later, the Original Crew Looks Back. Filmmakers including John Lasseter, Pete Docter, Andrew Stanton, Lee Unkrich, and Ralph Eggleston shared epic stories of the first-ever computer-animated feature film.
Four years in the making, Toy Story combines the talents of 27 animators, 22 technical directors, and 61 other filmmakers. In crafting the novel tale of a world where toys have a life of their own when people are not present, the story team created sketches that would eventually amount to more than 25,000 storyboards. Little known fact: Toy Story started out as a holiday television special. "We [at Pixar] were making commercials with an eye toward doing a 30-minute Christmas TV special based on John Lasseter's short film Tin Toy, which we thought would be the perfect step toward making a full-length movie," recalls writer/ supervising animator Pete Docter. But when Disney essentially said, "Let's make a movie," the Pixar team suddenly had to come up with a concept for an entire feature. The germ of their new and expanded story was a single visual: a toy at a highway rest stop as its family unknowingly leaves it behind. "It's such an emotional thing because everybody has lost a toy, that they wanted so desperately to find, that they wished the toy was looking for them," explains story co-creator Andrew Stanton. Tinny, the one-man band from Tin Toy, was teamed with a ventriloquist's dummy for a sprawling odyssey in a genre never before explored in animation: the buddy picture.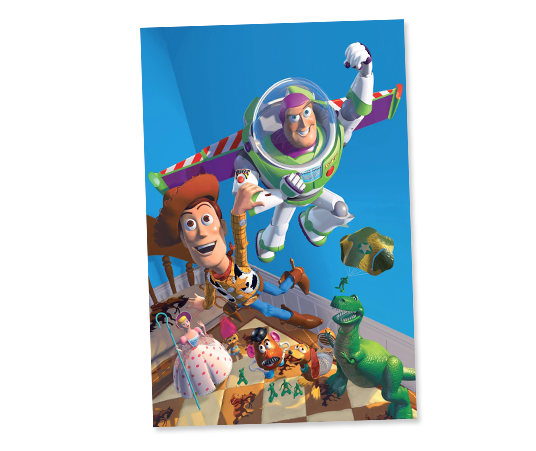 "We knew we wanted an old toy and a new toy," director John Lasseter recalls. "The initial idea was that the dummy was a hand-me-down that Andy had gotten from his father, and then on his birthday he gets Tinny as a new toy. But as the story evolved it became clear that Tinny was too antiquated. So we started to analyze what a little boy would get these days that would make him so excited that he stopped playing with everything else." Lasseter hit on the concept of a G.I. Joe-type action-figure (his boyhood favorite) and from that evolved the idea of a space superhero. "It's kind of a combination of G.I. Joe and Star Wars," notes John. "Since it was a buddy picture we wanted the dummy to be the complete opposite of a space toy so we made him a cowboy. Buzz Lightyear represents whatever cool flashy toy you owned at one time. Woody represents whatever worn-out doll nobody else would want but you had an affection for." Woody was inspired in part by John's own pull-string doll of Casper the Friendly Ghost from his childhood.
To create their characters on the screen, the Pixar filmmakers were blazing trails through CG imagery. It's no coincidence that Buzz (original name: Tempus from Morph) was named for Buzz Aldrin, the NASA astronaut who piloted Apollo, the first manned craft to land on the moon. The name "Woody" was inspired in part by Woody Strode, the actor best known for his roles in John Ford westerns.
Twenty years and two enormously successful sequels later—with Toy Story 4 in development—it's more apparent than the name "Andy" scrawled on the bottom of Woody's boot that Toy Story is more than groundbreaking, critically acclaimed, and popular; it's one of the most beloved films ever produced. Observes Andrew Stanton: "We were the lucky stiffs who tapped into the universal desire to believe that your toys are alive when you're not in the room." But as D23 EXPO guests who attended the Toy Story: 20 Years Later, the Original Crew Looks Back presentation will undoubtedly attest, luck had nothing to do with it—it was imagination, innovation, and ingenuity that took a story of toys with a life of their own to infinity and beyond.