By Beth Deitchman
Cricket Green and his sister, Tilly, grew up racing around on their tractor; embarking on wild adventures in the country; and spending time with their dad, Bill. But they've never experienced anything as exciting as life in a bustling metropolis, where they've just come to live with their Gramma Alice, a force to be reckoned with as well as the most affectionate grandmother you're likely to meet. The siblings' adjustment to their new surroundings is at the heart of the new animated comedy Big City Greens, from comic book creators and brothers Chris and Shane Houghton, which debuts on Disney Channel on Monday, June 18 (9:30 a.m. EDT/PDT), as well as on DisneyNOW and Disney Channel VOD.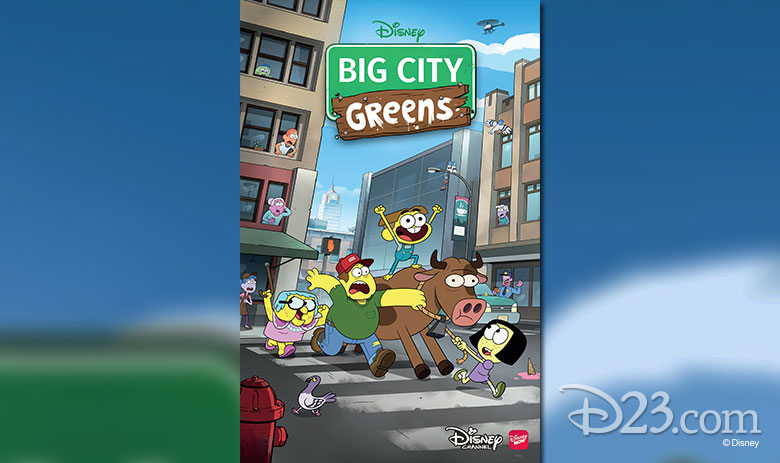 Disney Channel recently announced that a second season of the series is already in the works, a testament, no doubt, to the Houghtons' determination to create a series with real characters, genuine emotion, and a premise that Disney fans of all ages will relate to. We spoke with Shane and his younger brother, Chris, about putting heart, soul, and even their own childhood into Big City Greens.
The Muppets are a major influence on Big City Greens.
"We wanted the look of the show to really represent the fish-out-of-water aspect of the Greens moving to the big city," Chris says. The Greens, with their signature bright yellow hue, stand out amongst the other city dwellers, who are a rainbow of greens, blues, purples, and more. "There's something so charming about that Jim Henson design," Shane emphasizes, and Chris notes that the Muppets' impact goes beyond Big City Greens' production design. "There are humor and clear, lovable characters and really unique relationships between them," says Chris of the similarities between the Muppets and their new series.
The premise of Big City Greens was inspired by the "big city" Houghtons.
Chris and Shane Houghton grew up in the rural community of St. Johns, Michigan, and didn't venture very far from their small town until they left for college. "That was a big, eye-opening experience, and it was kind of a lonely and strange time, but also exciting and full of change," older brother Shane recalls. Chris made the big move several years later, camping out on his brother's living room floor for a few weeks while he got situated. "We wanted to explore what that felt like through the Green family. They at least have each other, but everything else is brand new."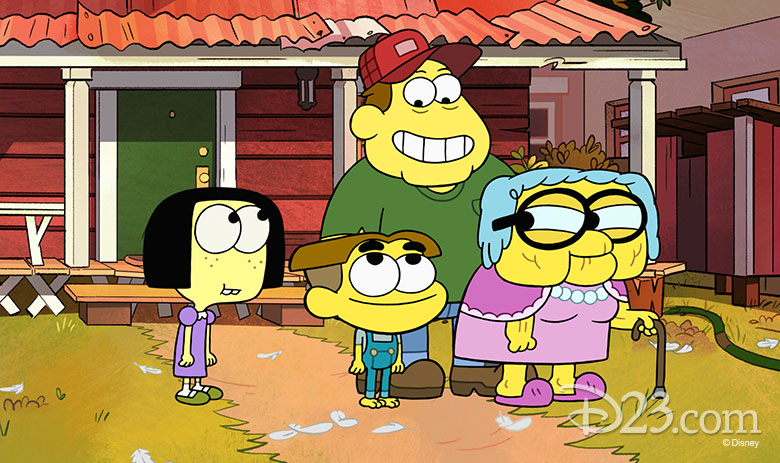 The series' characters are based on true-life characters the Houghton brothers grew up with.
There's a lot of Chris Houghton in Cricket, the series' protagonist. "There's a third Houghton brother," Chris explains, "and we were always getting into trouble—so a lot of that trouble-making, free-spirited childhood is embodied in Cricket. We try to bring a great, boisterous carefree energy to him. He's a bit of a rapscallion."
Cricket's father, Bill, and sister, Tilly—a passionate advocate for animals—have their roots in the Houghtons' real-life family members and neighbors from St. Johns. There is, indeed, a real Gramma Alice, who Chris describes as "a cantankerous, sweet-and-sour grandma who could whip back and forth between being the most terrifying grandmother you've ever met and a very, very sweet grandmother."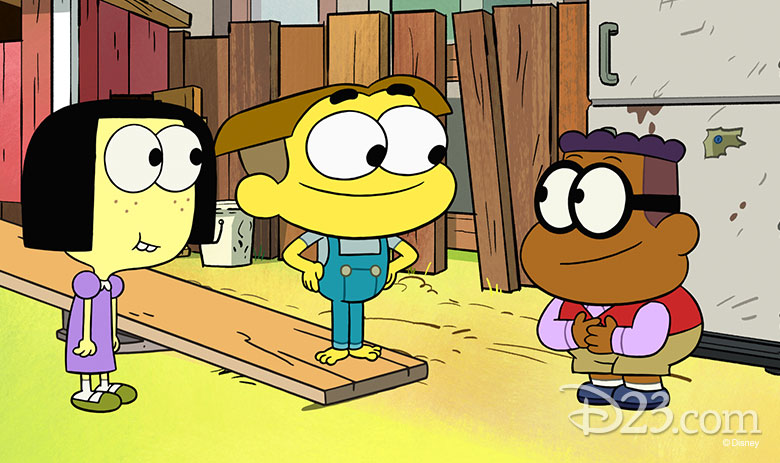 Big names are in the Big City Greens guest voice cast.
Though Big City Greens is a brand-new show, its guest voice cast is filled with huge stars. Emmy® Award-winner Jon Hamm (Mad Men) voices store manager Louis; Emmy Award-nominated Raven-Symoné (Raven's Home) is set to play news reporter Maria Media; Grammy® Award-nominated Busta Rhymes lends his voice to a wise fish; Danny Trejo (Spy Kids) guests as bodyguard Vasquez; and Academy Award® winner Jim Rash (The Descendants, Community) is waiter Ted, to name just some of the talented voice actors. Chris stresses, "It was a huge vote of confidence for us and the show to have these really talented, funny folks that we all look up to respond to the material of the show."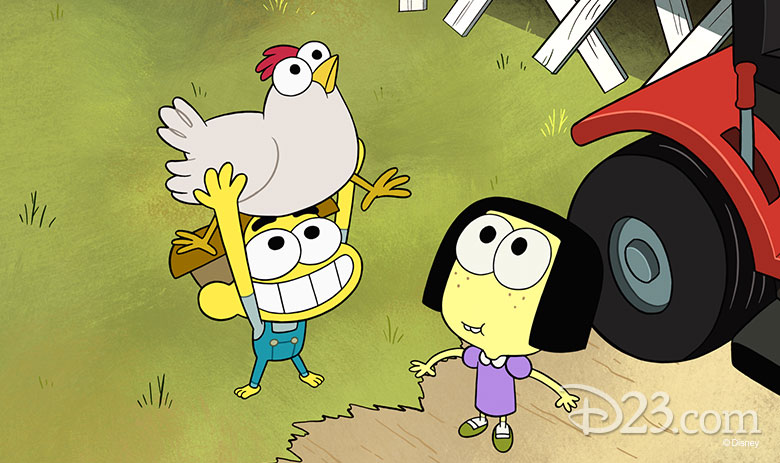 Shane and Chris want Big City Greens to be a series that anyone can jump into at any time.
Shane tells D23, "Coming from comic books, we would walk into a comic shop and see, for example, Spider-Man No. 527, and we would ask ourselves, 'Can I start here? Can I open this up and understand what's going on? And a lot of times, the answer is no.'" Chris and Shane purposefully structured their hit comic book series, Reed Gunther, so that each issue could stand on its own as a complete story, and that's what they want audiences to experience with Big City Greens. "We want the show to be two parts funny and one part heart," says Shane, a lifelong Pixar fan who says that Toy Story changed his life. "Those movies are so funny and so sweet, and I don't ever want to make anything that doesn't resonate with somebody on an emotional level."