By Jim Frye
San Diego Comic-Con celebrated its 50th year this past weekend, drawing fans from across the world with panels and events spotlighting TV, movies, comic books, and all aspects of pop culture. The brands of Disney—Marvel, Lucasfilm, ABC, FX, Fox, Disney Channel, and National Geographic—showed up in force, producing some of the biggest and most exciting moments of the convention. There's no way to feature everything, but here's just a sample of the excitement.
Walt Disney Television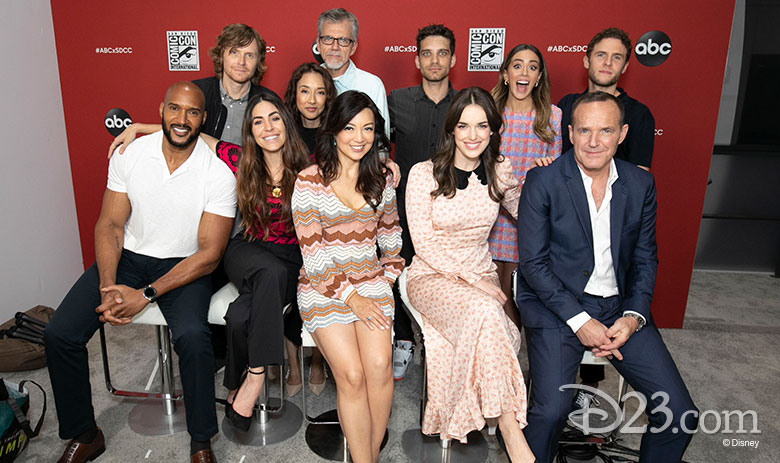 ABC kicked off the action on Thursday, the first day of Comic-Con, with the all-star Marvel's Agents of S.H.I.E.L.D. panel, taking place in the 6,500-seat Hall H. Jeph Loeb, executive producer and Marvel's head of Television, moderated the panel that included actors Clark Gregg, Ming-Na Wen, Chloe Bennet, Elizabeth Henstridge, Iain De Caestecker, Henry Simmons, Natalia Cordova-Buckley, and Jeff Ward, along with executive producers Maurissa Tancharoen, Jed Whedon, and Jeff Bell. The panel was a look back and a celebration of the show, featuring video clips showcasing some of the biggest and most memorable moments of the series. And even though the long-running series—Marvel's longest, actually—is ending its run after the upcoming seventh season, the cast and producers promised an exciting ride and epic conclusion that fans will love.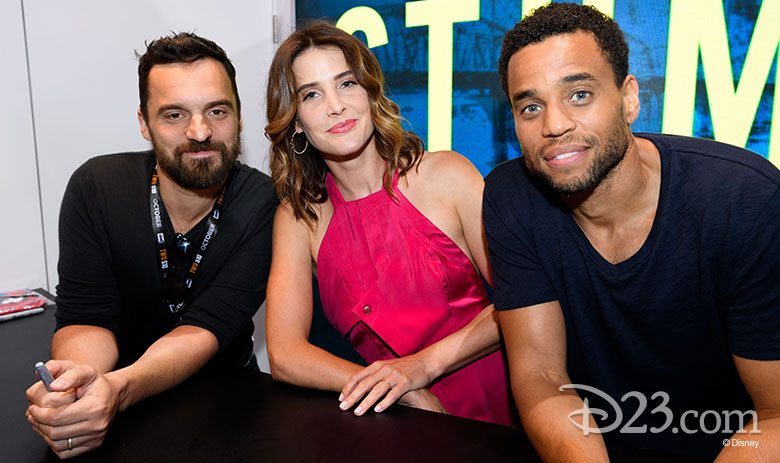 ABC's soon-to-premiere new drama Stumptown, staring Cobie Smulders, (who also portrays agent Maria Hill of S.H.I.E.L.D. for Marvel Studios) and based on a graphic novel about a bold private investigator in Portland, Oregon, also hosted a panel on Thursday, including cast members Smulders, Jake Johnson, Michael Ealy, Camryn Manheim, Tantoo Cardinal, Cole Sibus, and Adrian Martinez, with executive producer Jason Richman and Stumptown graphic novel author Greg Rucka.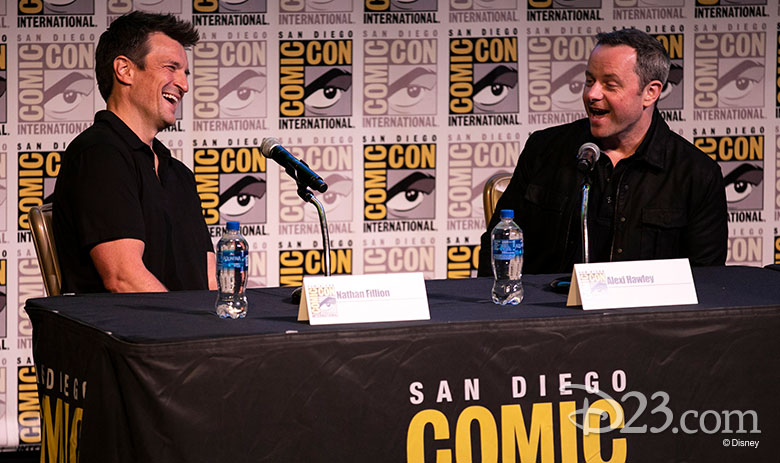 But ABC wasn't done! It also brought the cast and producers from shows The Rookie—with perennial fan-favorite Nathan Fillion and showrunner Alexi Hawley—and brand-new series Emergence, with stars Allison Tolman, Alexa Swinton, Owain Yeoman, Ashley Aufderheide, Robert Bailey Jr., Zabryna Guevara, Donald Faison and Clancy Brown, as well as executive producers Michele Fazekas and Tara Butters.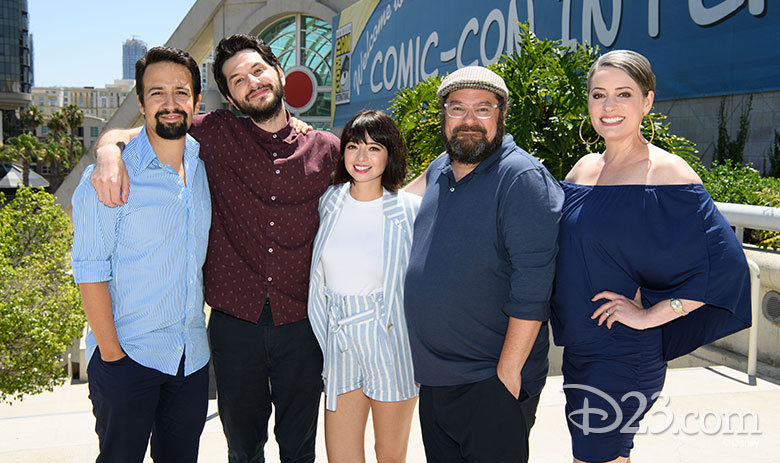 Thursday morning also saw the return of the DuckTales panel, its theme song woo-ooing loud-and-clear above the commotion of the convention! But in addition to cast members Paget Brewster (Della Duck), Bobby Moynihan (Louie Duck), Ben Schwartz (Dewey Duck), and Kate Micucci (Webby Vanderquack), fans were treated to a huge surprise appearance by Lin-Manuel Miranda, the multi-talented Broadway sensation (and star of Mary Poppins Returns) who voices Gizmoduck/Fenton Crackshell. It caused enough of a ruckus to ruffle the most dignified duck's feathers.
Fox and FX delivered laughs and chills in droves in San Diego with their panels and off-site activation events. The nearly impossible-to-get-into Bob's Burgers panel (the line of wannabe-attendees stretched all the way down the waterfront behind the Convention Center!) shoveled out laughs by the barrel, with creator/executive producer Loren Bouchard and executive producer Nora Smith previewing the upcoming season, along with actors H. Jon Benjamin, Dan Mintz, John Roberts, Kristen Schaal, Larry Murphy, and Megan Mullaly.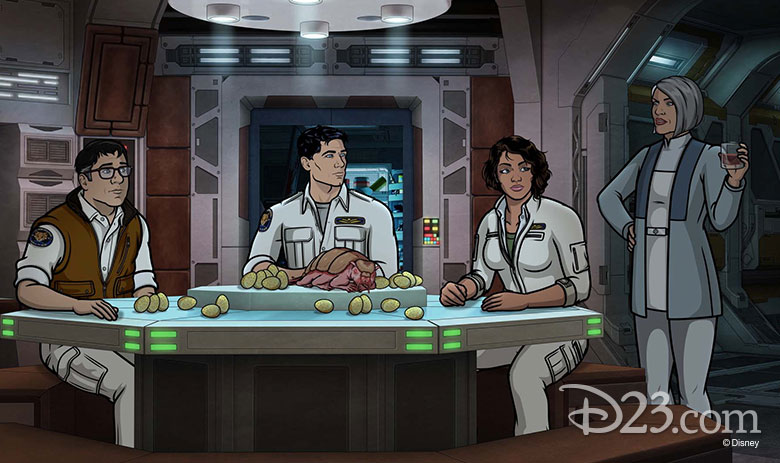 After the Bob's Burgers panel concluded, H. Jon Benjamin returned to the stage as the star-voice actor for the immediate next panel, Archer, FXX's award-winning animated comedy series, now in its 10th season. After a sneak peek of a season 10 episode, fans were treated to a hilarious Q&A with the voice cast, including Benjamin, Aisha Tyler, Jessica Walter, Chris Parnell, Judy Greer, Amber Nash, and Lucky Yates, plus executive producers Matt Thompson and Casey Willis.
Other popular shows spotlighted at Comic-Con, included Fox's Family Guy and The Orville, both with executive producer Seth MacFarlane and cast. And the intriguing documentary-style comedy series about vampires called What We Do in the Shadows on FX showed up for its first appearance.
In addition to the panels, major off-site activation experiences were created to promote these series. The Orville Experience offsite museum had props, costumes, models, and more. The Fox Fan Fair featured free carnival games, super-sized lawn games, an ice cream truck, and a hulking 70-foot ferris wheel, all themed to The Simpsons, Bob's Burgers, and Family Guy. The massive FX Fearless Forum installation featured activations for It's Always Sunny in Philadelphia, Archer, and What We Do in the Shadows at a space adjacent to the Convention Center.
MARVEL
Heading into the weekend, all eyes were on Marvel, and the House of Ideas didn't disappoint! The Saturday night unveiling of Marvel Studios' next two years of films was the undisputed king of the con. Marvel Studios President Kevin Feige presided over the 90-minute extravaganza with special guests that included Angelina Jolie, Benedict Cumberbatch, Jeremy Renner, Chris Hemsworth, and Mahershala Ali. From films Thor: Love and Thunder and Doctor Strange in the Multiverse of Madness, to Disney+ series WandaVision and The Falcon and The Winter Soldier—not to mention the surprise announcement of the film Blade!—Marvel Studios' panel completely dominated Saturday night.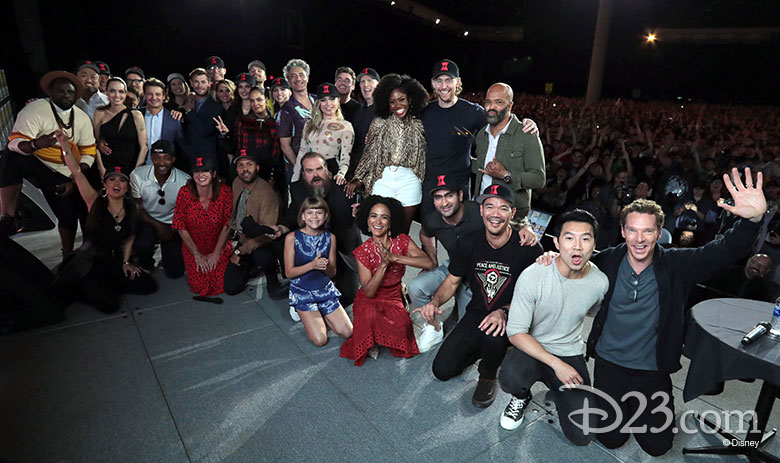 Immediately following the panel, Feige discussed one of the marquee announcements of the night—the new film Black Widow! "It's a remarkably unique story," he said. "People think they know everything there is to know about the Black Widow, but I promise you they do not." The Black Widow herself, Scarlett Johansson, added, "Even when times are impossible and they [the Avengers] are facing the unface-able, she [Black Widow] has a certain sense of her own mortality and how fragile that is, and she's accepted it. So she kind of laughs it off and takes it with a grain of salt—which grounds her."
Elsewhere during the convention, Marvel publishing unveiled details about its Issue No. 1000, one of the biggest Marvel Comics projects ever assembled. Additionally, editors and writers from Marvel's storied "bullpen," including Marvel editor-in-chief C. B. Cebulski, also delivered panels on Spider-Man, what comes next for the X-Men after the senses-shattering revelations of the House of X and Powers of X, and a behind-the-scenes look at how a Marvel comic book is made.
Of course, this being the 80th anniversary of Marvel, a few celebrations marked the occasion (including D23's Gold and Gold Family Member Mixer). In the world of Marvel Animation, Cort Lane (senior vice president, Animation and Family Entertainment), Kalia Ramirez (director, Family Entertainment, Development and Partnerships), writers Mark Hoffmeier (Spider-Man: The Animated Series) and Marty Isenberg (X-Men: The Animated Series), and voice actors Josh Keaton (Spectacular Spider-Man, Marvel's Avengers Assemble) and Jennifer Hale (Wolverine and the X-Men, Marvel's Guardians of the Galaxy) celebrated five decades of Marvel cartoons.
Mickey Mouse and D23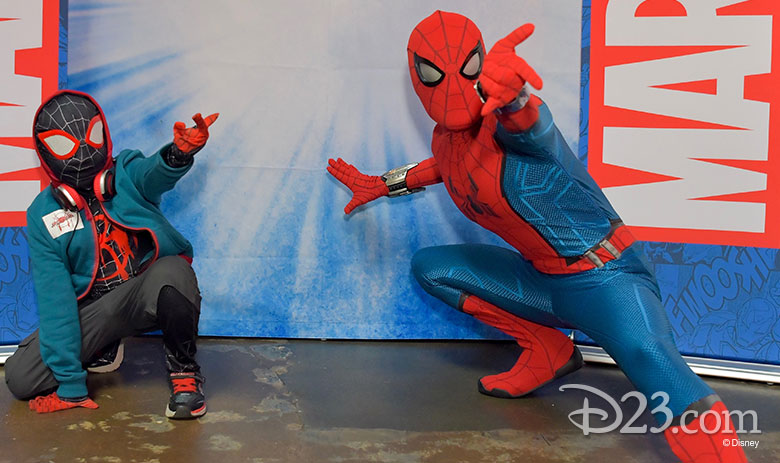 Speaking of D23, the Official Disney Fan Club boogied the night away at a party in honor of the 40th anniversary of the multiplatinum Mickey Mouse Disco album. Earlier that day, the grooves were flowing at the panel, "Mickey on Vinyl: D23 Celebrates the Mouse, the Music, and the Movement," which took attendees on a funky trip through Mickey Mouse's influence on pop culture.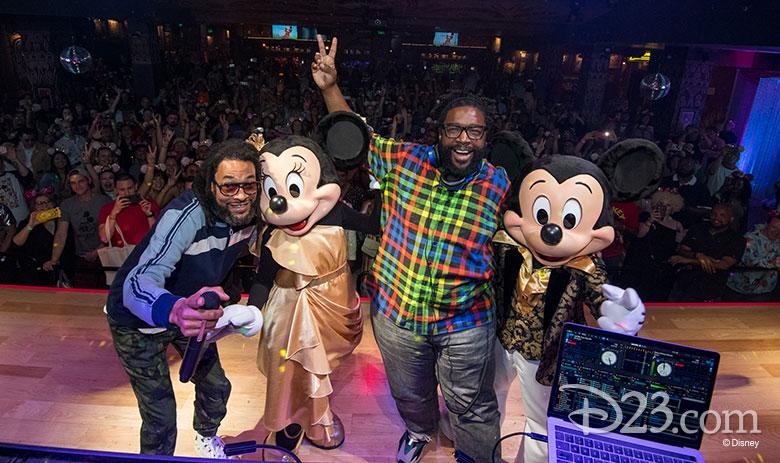 The list goes on and on, with too many presentations and panels and events to mention, but we'll end with this one. On Saturday, Marvel's Avengers: Endgame directors Joe and Anthony Russo climbed aboard the IMDB boat, docked just behind the convention center, and kicked off the Marvel We Love You 3000 tour, celebrating the home release of Avengers: Endgame (now the BIGGEST box-office champion of all time!). The tour, featuring special guests, will hit several cities and culminate at D23 Expo 2019 in Anaheim—which means all D23 fans will get a chance to celebrate this amazing film, along with all the other worlds of Disney. It's the largest gathering of Disney fans on the planet—we'll see you there!