By Jocelyn Buhlman
Every year, all the nerds, fans, know-it-alls, and enthusiasts make the trek to San Diego for a celebration of our favorite classic and upcoming pop culture icons—so, naturally, the Official Disney Fan Club was there to join in the fun with three unique events.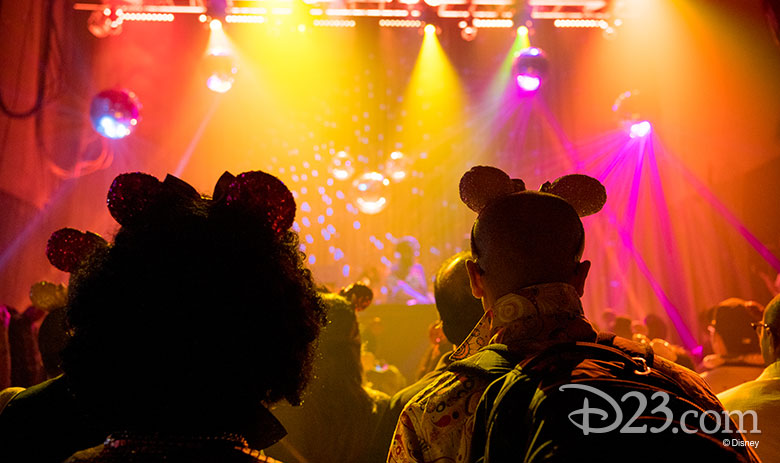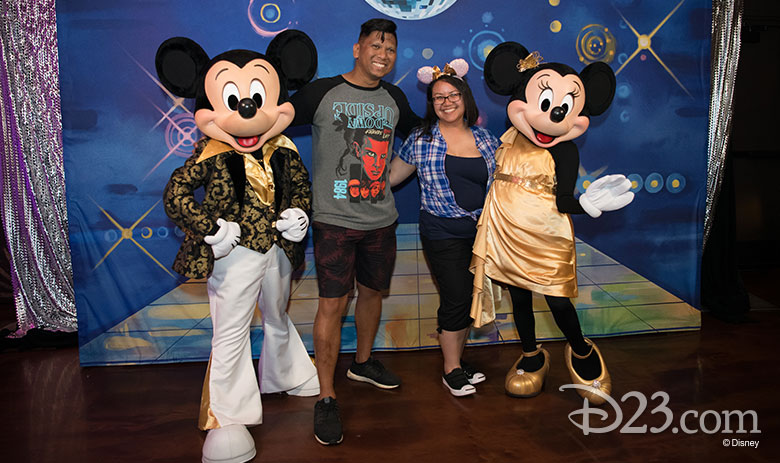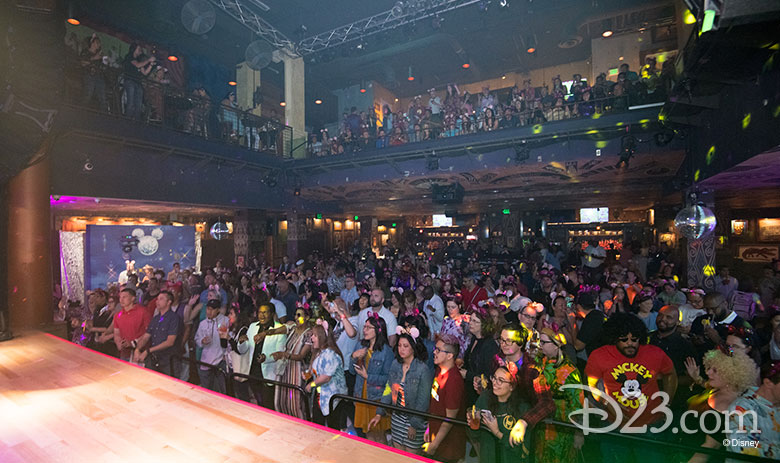 Friday, July 19
Our first stop on our epic San Diego extravaganza was the House of Blues, where Disney fans put on their boogie shoes and their disco best for Mickey's Disco Night, a glittering, groovin' party celebrating the 40th anniversary of the Mickey Mouse Disco album. Joining us to spin some tunes was 4-time Grammy® Award-winning musician, drummer, producer, culinary entrepreneur, and best-selling author Questlove, who spent the night DJ-ing the party with all the disco, soul, and funk classics and hits perfect for cutting a rug. The night wouldn't be complete without our guests of honor—Mickey and Minnie took to the stage in disco-inspired outfits and dazzled guests with a dance routine set to the song "Disco Mickey Mouse." Guests grooved to complimentary appetizers, funky photo opportunities, and marveled at a disco ball forming a very familiar silhouette! Mickey and Minnie stopped to take photos with our guests (and with Questlove, himself a big fan of both Mickey and the album) before we all headed out for the night—we had a big day ahead of us tomorrow, after all.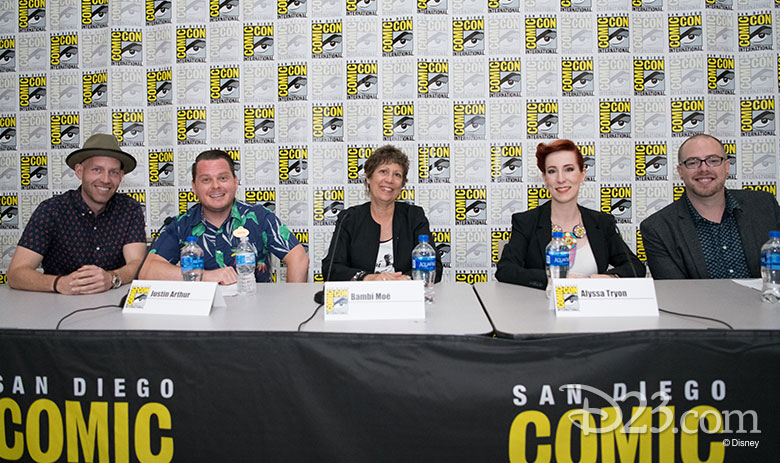 Saturday, July 20
The disco fever kept burning on the next morning for our Mickey on Vinyl: D23 Celebrates the Mouse, the Music, & the Movement panel inside San Diego Comic-Con. Hosted by voice actor Bret Iwan (Kingdom Hearts III, Mickey and the Roadster Racers), the panel featured music and TV producer Bambi Moé (Mousercise, The Little Mermaid) and D23's own Justin Arthur. Joining the musical maestros was Alyssa Tryon, who oversees the Mickey Mouse brand for The Walt Disney Company, and costume design and development manager Trevor Rush.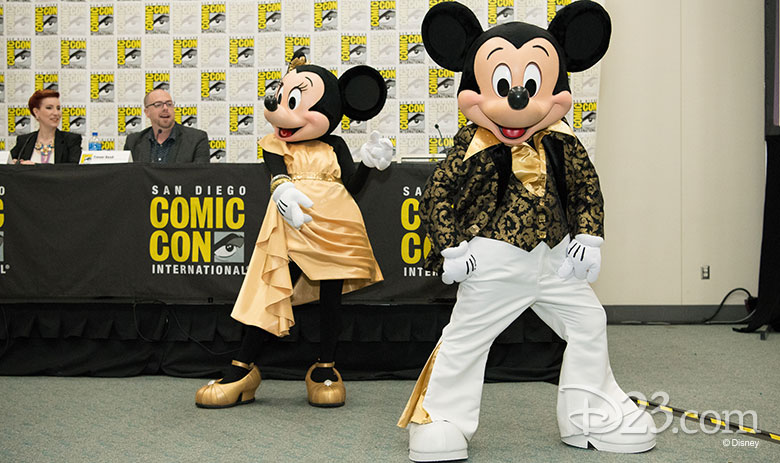 Our panelists provided an inside look at Mickey's musical history, including fan-favorite albums like Mousercise and Totally Minnie, before debuting the newly restored Disco Mickey Mouse short. Finally, Mickey and Minnie made a surprise appearance, once again showing off their disco-inspired duds to an enthusiastic crowd of convention attendees.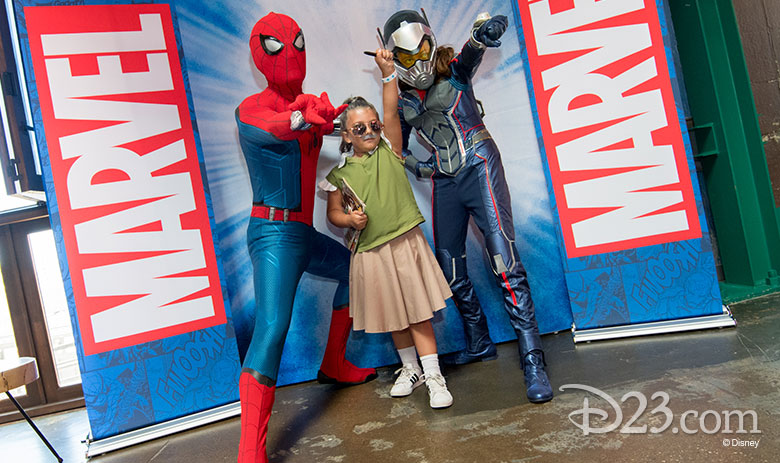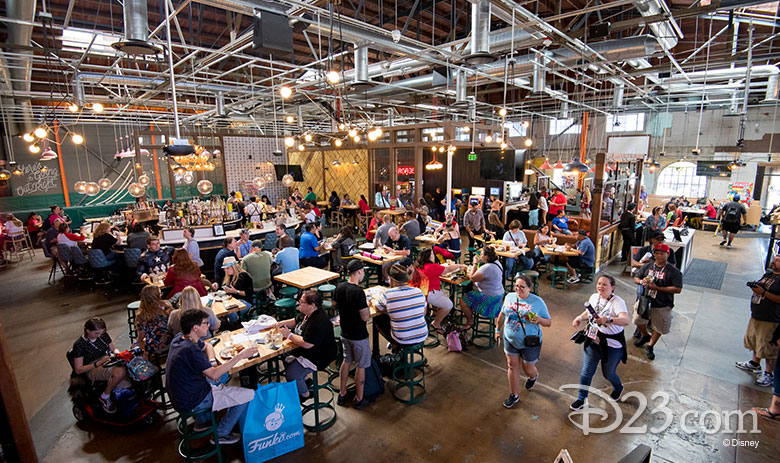 After all that disco celebration, it was time for us to celebrate another classic—Marvel Comics! D23 Members and their guests joined us at Punch Bowl Social for our Member Mixer celebrating 80 years of Marvel Comics. Guest enjoyed delicious superpowered snacks while playing arcade games, bowling, singing karaoke, and more! If that wasn't enough action, two Avengers assembled to our mixer to take photos with guests—Spider-Man and Doctor Strange! Once it was time to say goodbye, we gifted guests with a special commemorative patch honoring Marvel Comic's milestone anniversary and a D23 beach towel to continue the summer of fun!