By Jim Frye
It was a double dose of bittersweet at the Marvel's Agents of S.H.I.E.L.D. panel in the cavernous Hall H at San Diego Comic-Con, the giant fan and pop-culture convention now celebrating its 50th year. ABC's popular series, based on characters first introduced in the Marvel Cinematic Universe (or, more accurately, in Marvel comics), stars Clark Gregg as Phil Colson, an agent who leads a special forces-style team of agents on missions for the Strategic Homeland Intervention, Enforcement and Logistics Division—better known as S.H.I.E.L.D. It is the longest-running Marvel television series.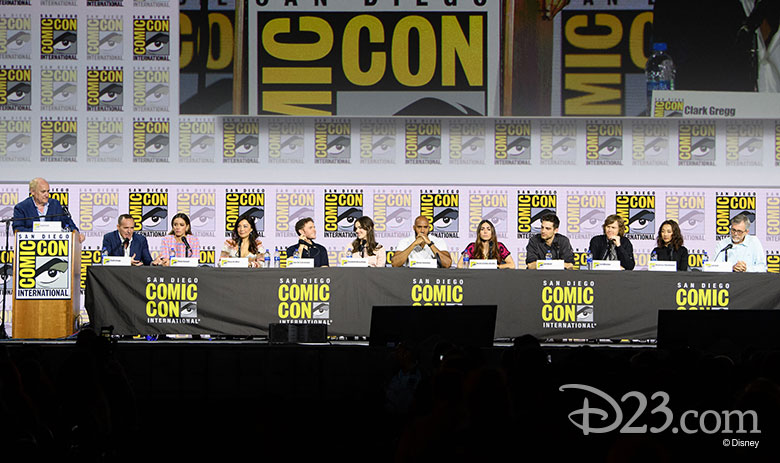 Just before the panel began, word broke that Agents of S.H.I.E.L.D. would conclude its epic run at the end of season seven. "It will be bittersweet saying goodbye to Marvel Television's flagship series," said Jeph Loeb, executive producer and Marvel's head of Television. "Our success is a true testament to the extraordinary fans and we remain forever indebted to them for their endless support. We want to end on a very high note and complete the incredible saga after seven amazing seasons and 136 hours of quality television."
What made it even more bittersweet—a double dose, in fact—is that, according to co-creator/executive producer Jed Whedon, the cast and crew were in the middle of filming the final episode. "We just found out about season seven being the last," said Whedon, "which is why it's even more emotional for most of the cast, because we're shooting the final episode right now."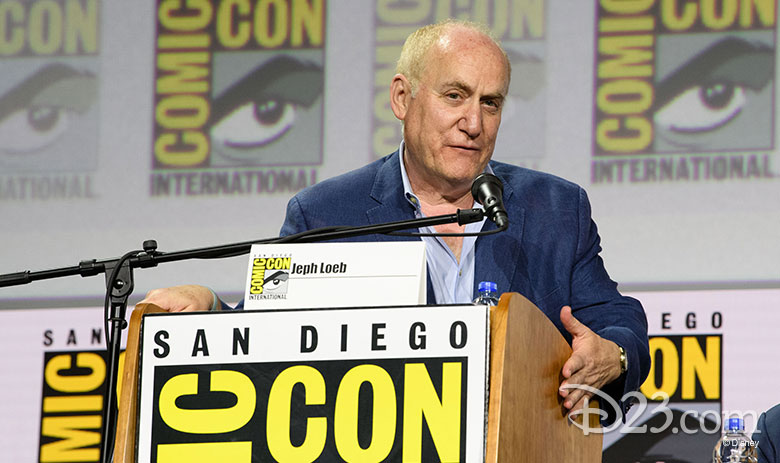 "Today is really a celebration of the stories we told and an ending all of you deserve," said Loeb, "because Agents of S.H.I.E.L.D. fans rock."
In addition to Gregg, cast members Ming-Na Wen, Chloe Bennet, Iain De Caestecker, Elizabeth Henstridge, Henry Simmons, Natalia Cordova-Buckley, and executive producers Jed Whedon, Maurissa Tancharoen, and Jeffrey Bell participated in the panel, which was moderated by Jeph Loeb. It wasn't just any panel—nope, it was special because Marvel gave fans a look back at six action-packed seasons of the series, complete with extensive video clips from each season. The season six finale of Marvel's Agents of S.H.I.E.L.D. airs Friday, August 2 (8 p.m. ET/PT).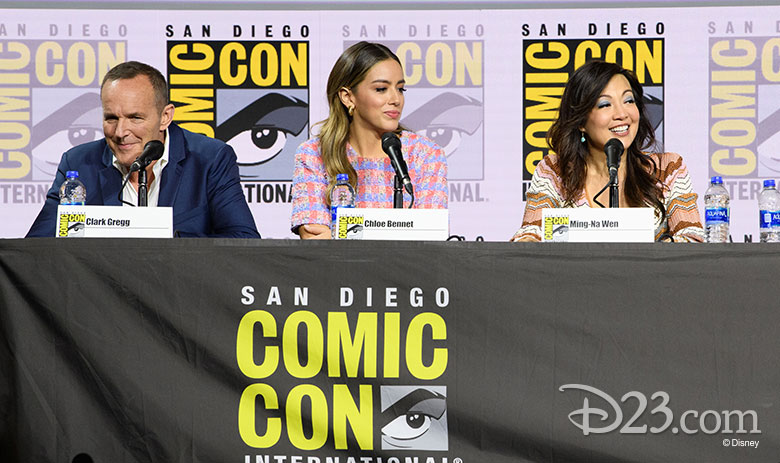 "It's just so remarkable that we made every episode in eight days and I don't think we would have really forced ourselves in every department to do something so miraculous if it wasn't for you guys," said Wen to the fans in Hall H, holding back the tears. "It's just to entertain you guys, but it is such a family and it's so miraculous when I look back at it… It brings back a lot of memories."
Marvel's Agents of S.H.I.E.L.D. was co-created by Joss Whedon, Jed Whedon and Maurissa Tancharoen, who also serve as executive producers along with Jeffrey Bell and Jeph Loeb.