By Jim Frye
Let's hear it for Huey, Dewey, Louie, Webby, and the whole gang from Duckburg, as they take off on brand-new adventures in DuckTales, the fresh new take on the fan-favorite 1987 animated series. DuckTales follows the adventures of Huey, Dewey, Louie, Webby Vanderquack, Donald Duck, Della Duck, Launchpad McQuack, and Scrooge McDuck. Executive produer Matt Youngberg and co-producer/story editor Frank Angones gave attendees at the DuckTales San Diego Comic-Con panel an exclusive peek behind the feathers at the rest of Season 2 and the upcoming third season, including a mid-season trailer:
Perhaps the biggest surprise of the day came when Lin-Manuel Miranda—who voices Gizmoduck/Fenton Crackshell—showed up and joined stars Paget Brewster (Della Duck), Bobby Moynihan (Louie Duck), Ben Schwartz (Dewey Duck), and Kate Micucci (Webby Vanderquack) on the panel. Sitting with his fellow voice cast, he said, "All of the Disney Afternoon theme songs are perfect," before singing a few lines himself.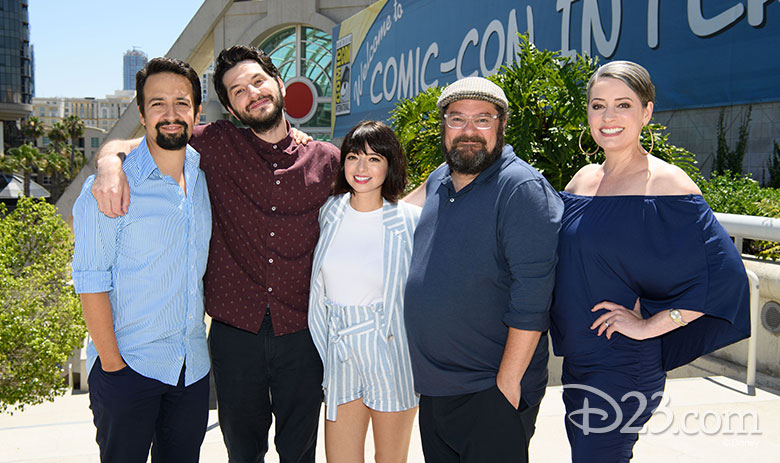 But Miranda wasn't the only surprise, as the producers showed off a parade of characters who would be making their way to Duckburg this next go-round. They included beloved characters Daisy (yay!), Goofy, Gadget, Chip, Dale, and Monterey Jack from Chip 'n Dale: Rescue Rangers; a grown-up Kit and Molly from TaleSpin; Gosalyn Mallard from Darkwing Duck; and more.
A new poster for the upcoming season 2 of DuckTales was also revealed.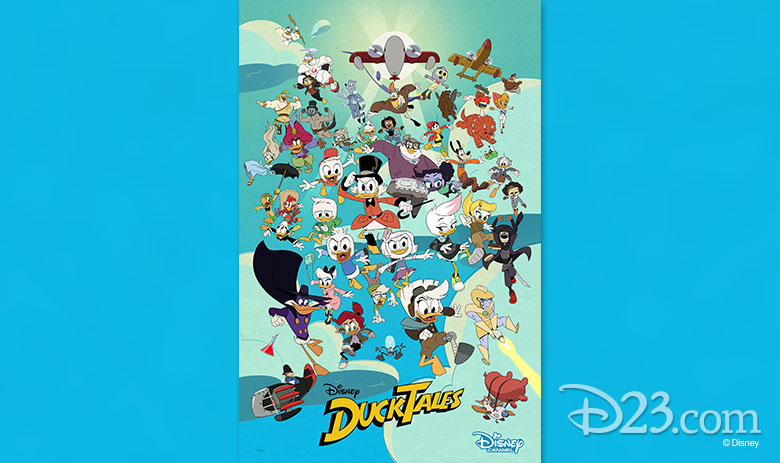 The "woo-oo" that so embodies the show was altered in unforgettable ways as Scrooge's arch nemesis, Flintheart Glomgold, took over the iconic DuckTales theme song with his own unique rendition. It's part of Disney Channel's "Disney Theme Song Takeover" short-form series, which spotlights animated characters doing their own unique take on series theme songs.
New episodes of DuckTales will premiere in September on Disney Channel and in DisneyNOW.
Fans also got a special exclusive first look at two upcoming new series: First up was The Rocketeer, based on the live-action film favorite, which tells the story of Kit, a young girl who receives a jetpack for her birthday and becomes the namesake Rocketeer to protect the citizens of Hughesville, along with the help of her best friend, Tesh, bulldog sidekick, Butch, and airplane mechanic grandfather, Ambrose Secord. It will air on Disney Junior later this year.
Next up was The Owl House, which premieres early in 2020 on Disney Channel. Created and executive produced by Dana Terrace (Gravity Falls), the series is an animated fantasy-comedy that follows Luz, a teenage human girl who accidently stumbles upon a portal to a magical new world where she befriends a rebellious witch, Eda, and an adorably tiny warrior, King.