By Greg Ehrbar
More than a decade before Walt Disney welcomed guests into his land of fantasy and two decades before author Roald Dahl penned his excursion into The BFG's cave and Willy Wonka's chocolate factory, these two creative legends crossed paths in 1942 when The Walt Disney Studios optioned Dahl's first book, The Gremlins, for an animated feature. With Disney's The BFG coming to theaters on July 1, D23 takes a look at the connection between these two creative visionaries.
The Gremlins was fashioned from stories told by English airmen who attributed equipment failures and other mishaps to mischievous little saboteurs. From these tales, Dahl—then a Flight Lieutenant for the Royal Air Force—created a story and specific characters for his book.
Like many visionaries, Walt and Dahl had each experienced childhood challenges that infused their creative output. They shared some traits—neither suffered fools well, and both refused to talk down to their audiences—but they were vastly different in many other ways. Nevertheless, they became friends when Walt invited Dahl to work inside his magical, marvelous Studio—a "golden ticket" offered to a very select few (do you see where I'm going with this?).
"Walt jokingly nicknamed Dahl 'Stalky' because the author was an impressive six feet six inches tall, like a stalk of corn," explains Disney historian Jim Korkis, author of the Vault of Walt book series. "That became the name Dahl was called around the Studio."
Over the course of the association, Walt became concerned about Dahl's tendency to get distracted. "Walt was often upset that the dashing, handsome British airman seemed more interested in flirting with the Studio's female staff than in getting down to work," Korkis continues. "He also continually became frustrated that Dahl couldn't be pinned down on the exact details about the Gremlins so that work could proceed on the project."
Dahl, in turn, had formed his own impressions of Walt. In the 2010 book Storyteller, Dahl biographer Donald Sturrock writes, "Dahl came to admire [Walt], although he described him as 'quite an erk' [RAF slang for non-flying staff members]." Nevertheless, any idiosyncrasies each might have perceived in the other were minimal in comparison to their mutual respect and appreciation.
The Gremlins, as visualized by the Disney artists (bearing a slight resemblance to those cute little bees who would later pester Donald Duck), appeared in published form in 1943 (reprinted in 2006 with an introduction by Leonard Maltin). The little folks could be seen on a few merchandise items, including a jigsaw puzzle and dolls by Charlotte Clark, who also manufactured the early Mickey Mouse dolls.
However, the Gremlins film was never produced. Polls indicating waning public interest in the abundance of war movies were among the reasons. The Gremlins live on through war insignias, two classic Bugs Bunny cartoons, and, more recently, some comic book and video game appearances, but it's unlikely we'll ever see Gremlins, Fifinellas, and Widgets cavorting in a Disney theme park anytime soon.
Now, if one were to allow one's imagination to stretch, there might be one other result of this creative partnership. When Dahl visited the Studio in 1943, the general public only really knew Walt Disney and his studio through photos, newsreels, and radio broadcasts. It would be years before Walt was a regular TV guest in people's homes. Even in 1941's Studio "docu-comedy" The Reluctant Dragon, Walt appears for a very brief time.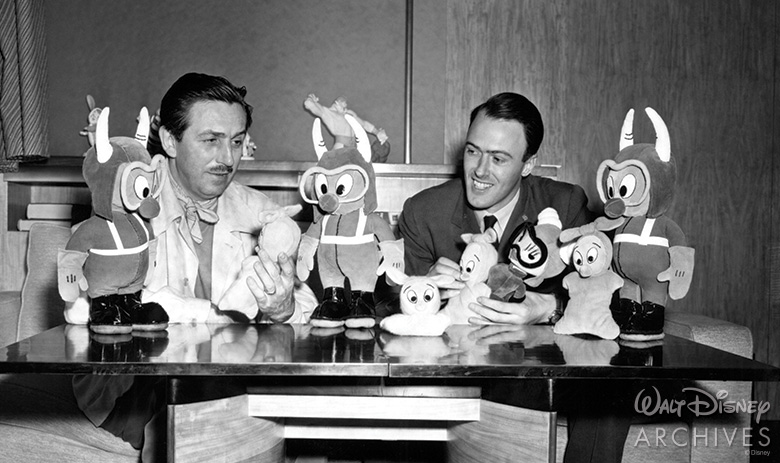 This is complete conjecture, mind you, but is it possible that Dahl's exhilarating experience at The Walt Disney Studios—becoming friends with Walt and having a grand time exploring the behind-the-scenes wizardry at the most magical movie studio on earth—led to the author's creation of one of the world's greatest fantasy characters?
Hmm… a mysterious, fantastic factory where wondrous things became reality, overseen by an imaginative, enigmatic dreamer?
Or maybe that's just pure imagination.