By Beth Deitchman
Amphibia's unfrogettable first season introduced Disney fans to Anne Boonchuy, a spirited and independent teen who found herself magically transported to a fantastical world inhabited by frog people, including the Plantars—a family that would come to love Anne (voiced by Brenda Song) as one of their own. Anne's adventures last season were a true "frog out of water" story, centered around her sometimes rocky adjustment to life in Wartwood and her growing bond with her new best friend, Sprig (voiced by Justin Felbinger); his polliwog sister, Polly (voiced by Amanda Leighton); and their curmudgeonly but lovable grandfather, Hopadiah Plantar, aka Hop Pop (voiced by Disney Legend Bill Farmer). Now, as we look ahead to Amphibia's second season—which kicks off this Saturday, July 11 (8:20 p.m. EDT/PDT) on Disney Channel and DisneyNOW—the world of the show is expanding far beyond the mountains that surround Wartwood. The mystery of how Anne ended up in Amphibia is deepening as well, along with the question of how—or whether—she will ever find her way home.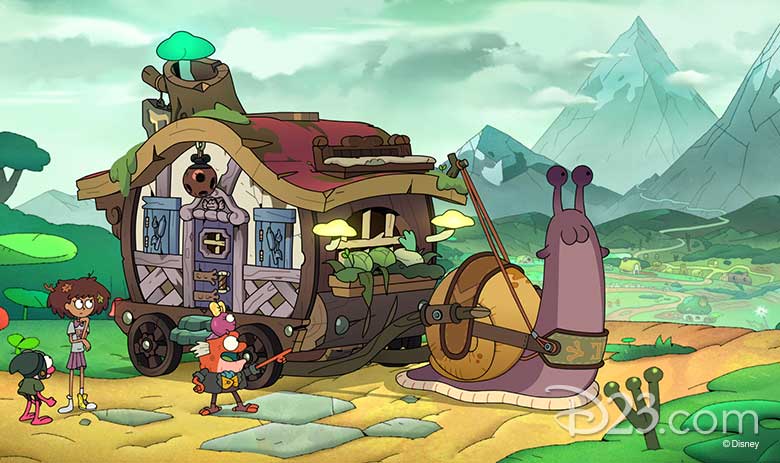 In Amphibia's season two premiere, Anne and the Plantars leave the rural marshland of Wartwood for the distant metropolis of Newtopia. "We're letting them loose on the entire continent, if you will," says Amphibia creator and executive producer Matt Braly of the epic snail-powered road trip. "They're going to be traveling around, meeting new characters, exploring new locations, and looking for a way to get Anne home. It's quite distinctly different from the first season right off the bat."
Of course, as the new season begins, we've realized that Anne isn't the only human in Amphibia. The enchanted music box that brought her to this strange new world also worked its magic on her friends, Sasha and Marcy, who were zapped into Amphibia at the same time that she was. Anne was reunited with Sasha late in Amphibia's first season, and we quickly discovered that their relationship is… complicated. Through flashbacks, we learned that Sasha is the trio's forceful leader, with Anne a more submissive follower—a dynamic that was surprising, given the strong personality she exhibits when she's among the frogs. "I think that was something that we were really trying to communicate, that feeling of you're one way with this group of people and completely different with another group," Braly says, noting that he wants the friendship between Anne, Sasha, and Marcy to feel like something that was very real before magic and mystery upended their lives. "There is a lot of story to follow with all three of the girls, and in this season we are touching on all of them."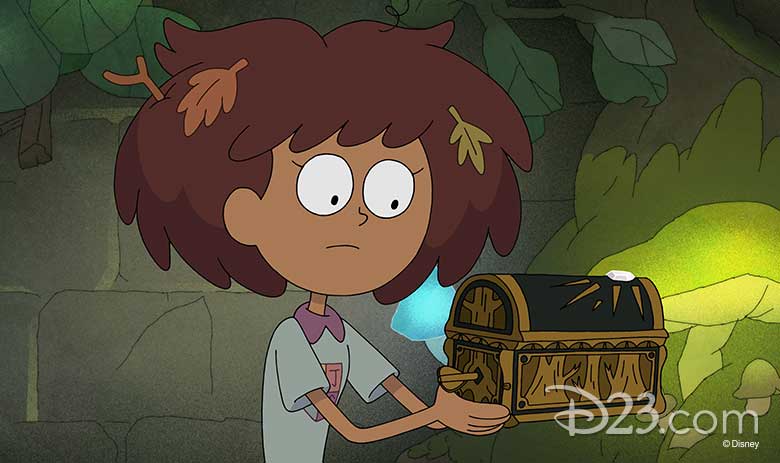 The executive producer promises that this season will also reveal what Hop Pop might or might not know about Anne's "calamity box," as the magical music box was labeled in one of Plantar's scholarly tomes. Braly remains tight-lipped as to why Hop Pop decided to secretly bury the music box, saying only, "It's something that I can't wait for audiences to experience. It all really does come to a head this season."
Season two's shenanigans will also include an homage to Disney Channel's 2012–'16 fan-favorite animated series Gravity Falls. Braly, a storyboard artist on the earlier series, will only tease, "I probably shouldn't say much, but I will just say that two very familiar faces will be showing up in the show in a way that no one will be expecting."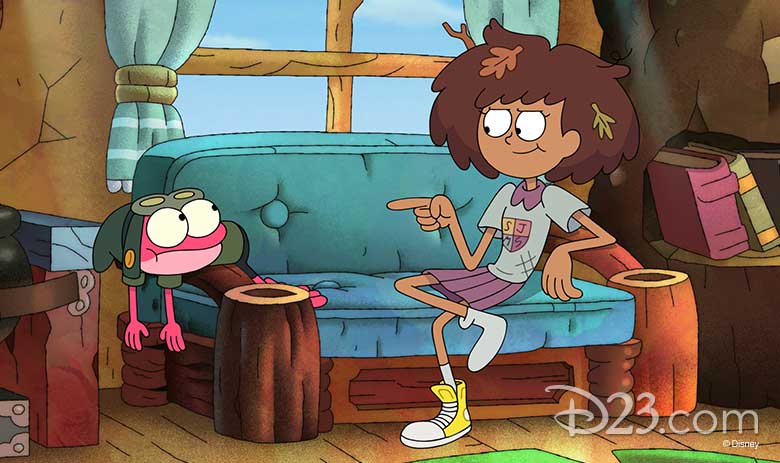 Amphibia viewers can also keep an ear out for a lineup of guest stars that includes Kermit the Frog; Jenifer Lewis and Keith David, both of The Princess and the Frog; George Takei (Star Trek); Downton Abbey's Hugh Bonneville and Michelle Dockery; the voice of Daisy Duck, Tress MacNeille; Marlow Barkley, Mia Allan, and Ella Allan of ABC's Single Parents; Haley Tju of Big Hero 6 The Series; Susan Egan, the voice of Meg from Disney's Hercules; and Flula Borg of Pitch Perfect 2.
There's so much excitement to come, promises Braly, who shares that in the coming season fans can look forward to four special episodes that each have single 22-minute stories (unlike most episodes of Amphibia, which have two 11-minute stories each). Disney Channel also announced recently that Amphibia has been picked up for a third season—proof that Anne and the Plantars' ribbeting adventures are only just beginning. "There are so many twists and turns. I am on the edge of my seat myself waiting to see what people think of this stuff," Braly says. "We've been planning, and we've been sitting on this stuff for so long. We touch on it lightly in the first season but in the second season it really gets kicked into high gear. I can't wait for you guys to see it."