By Beth Deitchman
The new animated fantasy-comedy series The Owl House, which makes its Disney Channel (and DisneyNOW) debut Friday, January 10 (8:45 p.m. EST), is a vibrant celebration of life outside the box. The series is centered around Luz, a teenage girl with a fondness for scary stories and anime, whose teachers and mother believe that her imagination has gotten "out of hand." With the help of a mysterious owl, Luz stumbles upon a portal to a magical realm where she meets Eda the Owl Lady, the (self-proclaimed) "most powerful witch on the Boiling Isles," and tiny King, who was once a mighty ruler until his crown of power was stolen.
"I'm very much interested in horror and scary movies and I wanted to develop a show for kids that felt surreal and nightmarish but was still fun and exciting to watch," shares Dana Terrace, The Owl House's creator/executive producer.
Terrace has also had a fascination for owls since childhood, and she reveals that she was drawn to the bird because it's so often misjudged. She tells D23, "When I was younger, I learned that owls seem wise to humans because they have front-facing eyes like we do, so we see intelligence in that. But in reality, they're actually super dumb."
Luz, who is voiced by Sarah-Nicole Robles (Billy Dilley's Super-Duper Subterranean Summer, Olaf's Frozen Adventure), is also frequently misunderstood by the adults in her life as they try to rein in her creativity, which is often inspired by fantasy novels and horror movies. "I see her as someone who's trying to make sense of herself and make sense of the world around her, and at the same time help those around her—and that kind of makes her more heroic," Terrace says of this unconventional hero. "She's kind of just a regular, weird little teenager."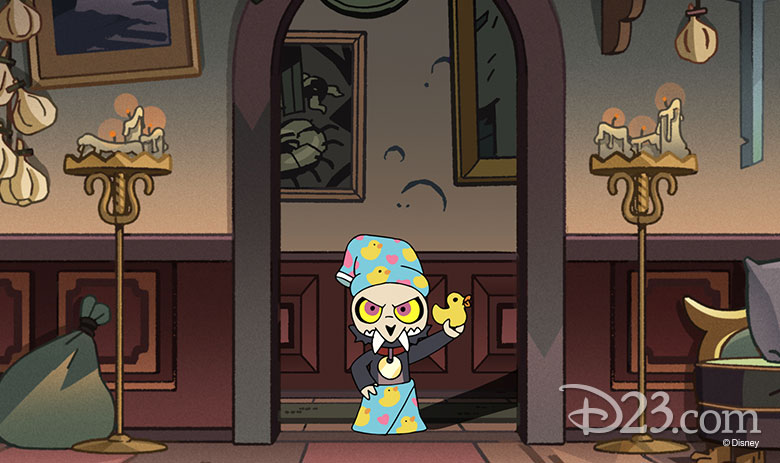 Wendie Malick (ABC's American Housewife) voices Eda with what Terrace describes as "the right balance of wisdom, experience, and sass." And Terrace, whose Disney career began on Gravity Falls (and also includes a stint as director of the Emmy®-nominated DuckTales), had only one choice to play the indescribable yet adorable King: "I always knew that Alex Hirsch was going to be King," she says. "On Gravity Falls, I used to see him pitch and voice act a lot, and he just had the most hilarious delivery to everything."
The character designs for The Owl House are largely inspired by anime, and the mysterious realm is populated by a bizarre group of otherworldly characters who, along with Eda and King, become a kind of family for Luz as she studies magic under Eda's tutelage.
The Owl House's creative team was driven to humanize the series' fantastical characters and make them feel like "normal day-to-day people. It just so happens that one has three eyes and one has a mouth for a face," Ricky Cometa, The Owl House's art director, shares.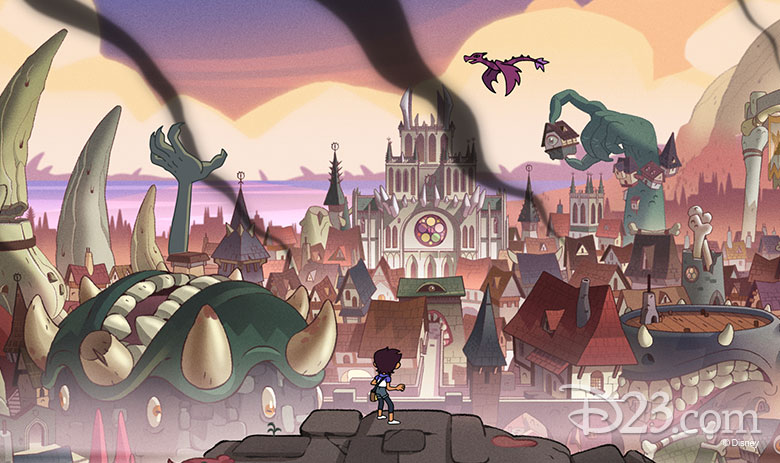 For both Terrace and Cometa, the show's "found family" parallels the tight-knit community they've become part of through their art. "I always felt like, oh, I'm too weird for my hometown and no one gets me," Terrace, who hails originally from Connecticut, shares. "It wasn't until I came out here [to Los Angeles] that I was like, 'Ah, my people!'"
Terrace enlisted Cometa to help design a world that would be home to not just the Owl House—a place where Luz feels she can truly be herself—but the dreaded Conformatorium, a prison-like place for people who don't fit in and are considered "unsuitable for society." The Owl House's surrealist-inspired look is influenced by artists such as Hieronymus Bosch, Remedios Varo, and John Bauer. "We wanted to make this place feel off-putting and a little weird, but still feel like home. There's little bit of eeriness to it, but also a lot of comfort," Cometa points out.
Viewers will be as captivated by the Owl House as Luz is. It's filled with trinkets and treasures that Eda has collected—or conjured—and there's much to look at in every frame. "Every little detail is there for a reason, is all I can say," Terrace teases.
We're happy to hoot that a second season of The Owl House is already in the works! And before you meet owl of the new faces on Disney Channel tomorrow night, meet Luz, Eda, and King—and get your first look at the dreaded Conformatorium—in this exclusive clip: