By Jeffrey R. Epstein
In honor of the 50th anniversary celebration of Walt Disney World Resort, we're sharing a classic Walt Disney World article that was originally printed in Disney twenty-three magazine in 2011 for the 40th anniversary of Walt Disney World. Stay tuned to D23.com for more stories celebrating the past, present, and future of Walt Disney World Resort!
On the opening day of Disneyland on July 17, 1955, Walt Disney made history in countless ways. One of those enduring achievements was combining popular stars of the day with his classic talent for storytelling. So, along with Snow White, Dumbo, and Mr. Toad, on hand that day was Davy Crockett star Fess Parker, who led the parade and the Mouseketeers made their debut (their Mickey Mouse Club wouldn't premiere until that October). And of course, Walt himself was there—already a huge celebrity to millions of people around the globe.
The tradition of blending storytelling with celebrities has continued to this day. D23 had the chance to speak with some of the talented individuals who have appeared in Walt Disney World attractions from the past and present, lending their voices, bodies, and sometimes hours of time in a makeup chair to create magic for park guests.
Check out the first half of this story here, featuring quotes from Steven Tyler, Allison Janney, and more!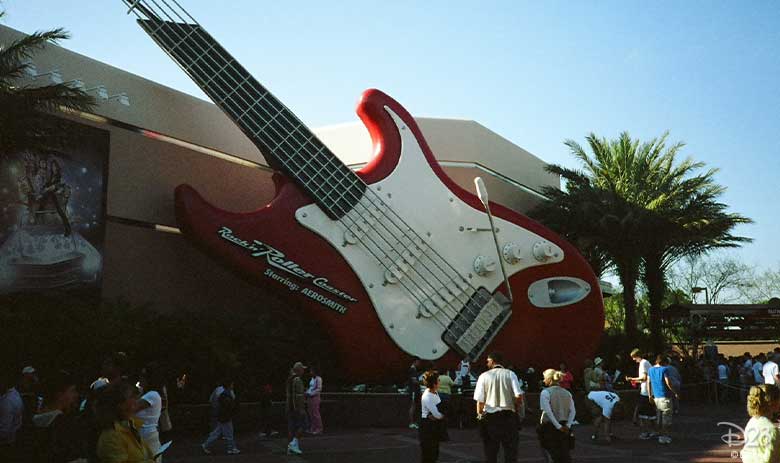 Illeana Douglas
Manager, Rock 'n' Roller Coaster Starring Aerosmith, Disney's Hollywood Studios (2000 – present)
What was your reaction when you got the call to play Aerosmith's manager?
At first I thought it was a joke, Growing up, Aerosmith was my favorite band ever! It was the first or second concert I went to. So, of course, I wanted to do it. How I was cast has been a total mystery to me. You wouldn't think I'd be the choice. I was doing The Drew Carey Show at the time playing his girlfriend. So it may have come from that. Drew did something for Disney [Sounds Dangerous] and it was right around the same time. Whoever pitched me, I'm glad that they did.
What was it like filming with Aerosmith?
The shooting of it was absolutely hysterical. Aerosmith couldn't remember any of the words. We had to do the whole thing as one take. So if somebody messed up you had to do it again. Between the four guys in Aerosmith, I'd walk on and then they'd say, "Maybe we should ask our… " And I'd say "Manager! I'm the manager! OK, let's take it again." They messed up so many times, I think Steven just put it in his own words. "Yeah, make it happen!" They were the nicest group of people.
What was it like going on the attraction for the first time?
When it came time for the ride, we had to go down to Walt Disney World. It was one of the scariest things I've ever done in my life, I guess because of the lights being out! And they had an Aerosmith concert at the opening. They were just the best. I have such fond memories of that. I got autographs from everybody. And more times than not, people have come up to me and ask me about it. I think they're going to mention a movie I'm in. And they say, "You're on a ride in Walt Disney World!"
What's it like being a part of Disney history?
Growing up in Massachusetts I think I went to Walt Disney World once, but I was such a huge fan of the animation. Who doesn't want to be a part of Disney? I hadn't gone to the parks so much but I was a fan of Snow White and the Seven Dwarfs and all the movies. I didn't think about it at the time. I was thinking more about the fun Aerosmith thing. As the years have gone by and the way people keep coming up to me, I am thrilled to have been a part of it. It's such an elite group—somehow I got snuck in there.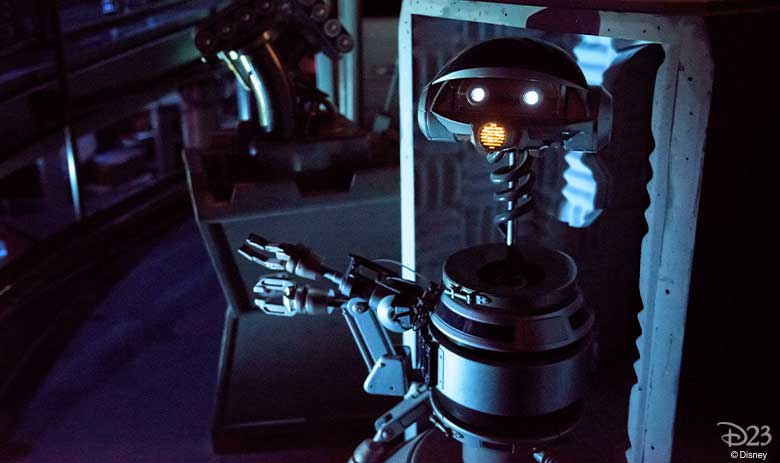 Paul Reubens
Captain RX-24 (Rex), Star Tours, Disney's Hollywood Studios (1990 – 2010)
DJ R3-X (DJ Rex), Oga's Cantina, Disney's Hollywood Studios (2019-present)
Had you been a fan of Disney World and Disneyland?
I am a huge fan of Walt Disney World and Disneyland! Like most baby boomers, these parks and the Mickey Mouse Club played a significant role in my childhood. I was about 3 years old when I watched the opening of Disneyland live on TV. That moment was like the moon landing for little kids. I still remember it. I think every kid in America went to their parents and said, "Take me to Disneyland," after that broadcast. I finally got to go when I was 12, when my family took a trip out west. It blew my mind back then and still does every time I go. I have family in Florida, and when I go back, we often visit the parks, and I'm always struck by something new. There is nothing like it anywhere. I am in awe of the concept, execution, and technology of Walt Disney World. One of the perks I got from working on Star Tours and other Disney projects was a yearly pass, and I used it a lot. I took a lot of friends to the park and have many great memories from our visits. I've even had a helicopter tour of the Florida property, and I was struck by the vastness of the place. I'm also a graduate of California Institute of the Arts, conceived and endowed by Walt Disney himself. So I guess you could say Disney helped start my career.
What did you think when you were approached about being a part of Star Tours?
I was beyond thrilled and said "yes" right away. First, it was a chance to work with George Lucas, someone I admire very much. And it was getting to work with Disney and be part of a theme park ride that was going to change the way people experience theme park rides. It was so cool. It was the first flight simulator ride, which is still very much the standard today. There were so many reasons to be involved with Star Tours; honestly, I couldn't say "yes" fast enough. I'm so happy I did.
What did you think of Rex when you saw him?
Unlike other animated projects I have worked on, I got to see the character pretty close to complete. Usually, it's just a rough mock-up. But this was far along. I think George Lucas heard my voice in the film Flight of the Navigator and then I got asked to work on it. Regarding the performance, I tapped into the enthusiasm of someone getting to go on this fantastic ride. It was very easy, since I was pretty blown away by the whole experience. I was having the time of my life, as I imagine Rex was.
How was the recording process?
The recording process was pretty straightforward. I only improvised a tiny bit. It was more about fitting a particular reaction into a specific amount of time. With this kind of work, I trusted the creative team behind creating the ride and followed their lead. It was such a joy to see the finished product. Friends called me and said, "The wait time is 45 minutes for this ride, is it worth it?" I said, "Absolutely! It will be a few of the coolest minutes of your life!"
Are people surprised to know you recorded Rex?
People bring it up to me and ask me about it quite often. It's a variation on Pee-wee's voice, altered electronically, so it's not that hard to connect the dots. It's one of those things I am really happy to be a part of and thrilled to be recognized for.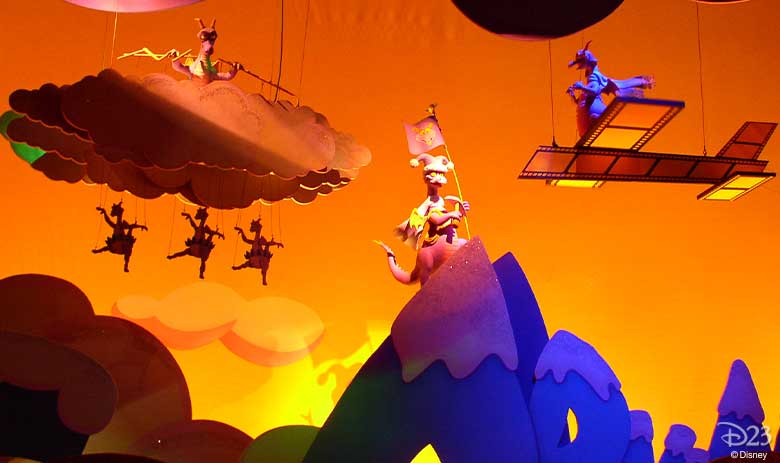 Eric Idle
Dr. Nigel Channing, Honey I Shrunk the Audience and Journey Into Imagination with Figment (1994 – 2010, 2002 – present, respectively)
What was it like filming Honey I Shrunk The Audience?
We shot it all in one take, because all the action is contained in that wide shot. Like a play really—no close ups and huge 70 mm camera. We would set up the whole piece and then go again.
What was your first reaction when you saw the film?
I found it very impressive. I liked the interaction gags, the mice and so on. Disney kindly flew us all to EPCOT for the opening, and since we had kids they loved it.
Then they flew me and my family to France for the opening at Euro Disney, which was also a great time.
How did they approach you about joining the Imagination attraction?
Bit by bit they would ask me to come back and shoot the character Nigel Channing—to help with links and entertain the audience while they were waiting. It was always just a day shoot. The final time with Figment I was made up as the moon, which took a while. I was happy to meet [Disney Legend Richard] Sherman who wrote that and so many songs.
How do you feel being a part of Disney history—featured in not one but two popular attractions?
I am proud to be in two attractions. I love being able to appear 15 times a day without having to turn up!
Kathy Najimy
Dr. Femus, The ExtraTERRORestrial Alien Encounter, Magic Kingdom (1995 – 2003)
The makeup process must have taken quite a while?
It was about a four-hour application to make our heads and faces green. It was so much fun. At the time we were trying to figure out what was happening—they showed us sketches of the monster. But it sounded like a ride we'd never seen before. The ground was shaking and you feel the breath of the monster on your neck. So that was so cool.
Did you have fun while shooting?
We had done two days of filming. It was the second day and we were done. Kevin Pollak (Spinlok) had taken the green makeup all off—it took about an hour to get it off. Then the director walked in and said, "I've got some bad news… We need to reshoot." And Kevin literally lost it. He was freaking out. The director and I turned to Kevin and said, "April Fools!" That was one of my best ones ever.
Do you remember what your reaction was seeing it for the first time?
I went and saw it with my now-husband, and I loved it. It was almost a little too scary for me. I thought it was so innovative. I had never experienced anything like it before, and I had been to Disneyland a thousand times. I thought the combination of the live action, the movie, the breaking of the tube the monster was in, the stomping around and the breath on your neck—I thought it was genius. The only thing I'm bummed about is that my daughter never got to see it. But I still have a picture of me and my dog sitting on the director's chair with the big green watermelon head.