By Jeffrey R. Epstein
In honor of the 50th anniversary celebration of Walt Disney World Resort, we're sharing a classic Walt Disney World article that was originally printed in Disney twenty-three magazine in 2011 for the 40th anniversary of Walt Disney World. Stay tuned to D23.com for more stories celebrating the past, present, and future of Walt Disney World Resort!
On the opening day of Disneyland on July 17, 1955, Walt Disney made history in countless ways. One of those enduring achievements was combining popular stars of the day with his classic talent for storytelling. So, along with Snow White, Dumbo, and Mr. Toad, on hand that day was Davy Crockett star Fess Parker, who led the parade and the Mouseketeers made their debut (their Mickey Mouse Club wouldn't premiere until that October). And of course, Walt himself was there—already a huge celebrity to millions of people around the globe.
The tradition of blending storytelling with celebrities has continued to this day. D23 had the chance to speak with some of the talented individuals who have appeared in Walt Disney World attractions from the past and present, lending their voices, bodies, and sometimes hours of time in a makeup chair to create magic for park guests.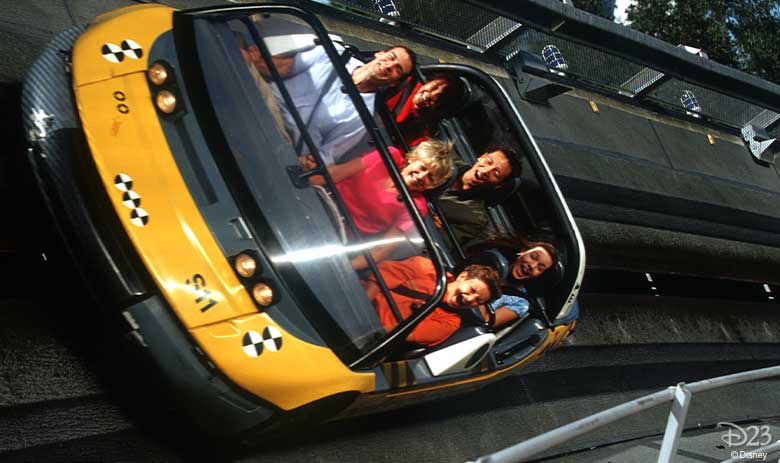 John Michael Higgins
Supervisor, original Test Track, EPCOT (1998 – 2012)
I'm often stopped at grocery stores by rabid Test Track fans who say how much they like the ride, and it always takes me a few minutes to figure out what they're talking about—I did the Test Track job in 1997. I remember we shot the "security cam" footage in one day at a stage in Hollywood. The footage itself had to be one continuous take because it was a security cam and there were no cuts! So, if I messed up five minutes into it, I had to start over from the beginning. Very arduous, but we eventually got it.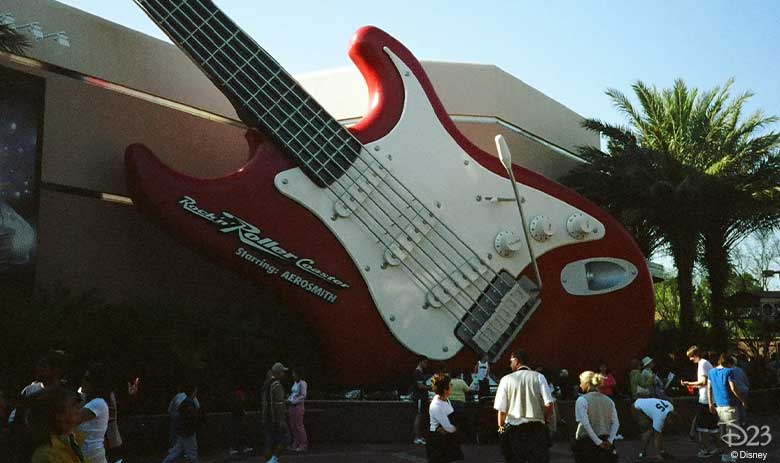 Steven Tyler
Himself, Rock 'n' Roller Coaster Starring Aerosmith, Disney's Hollywood Studios (2000 – present)
You know you've made it when… you are at your own roller coaster! Joe Perry and I got on it and we rode it 29 times just to get the sound right. Then we were like this [eyes wide and shaking], so I said, "Joe, let's go do the Tower of Terror and it will get us straight!" And we did, and we were able to walk home after that! What a joy! And I can go down there and ride it whenever I want!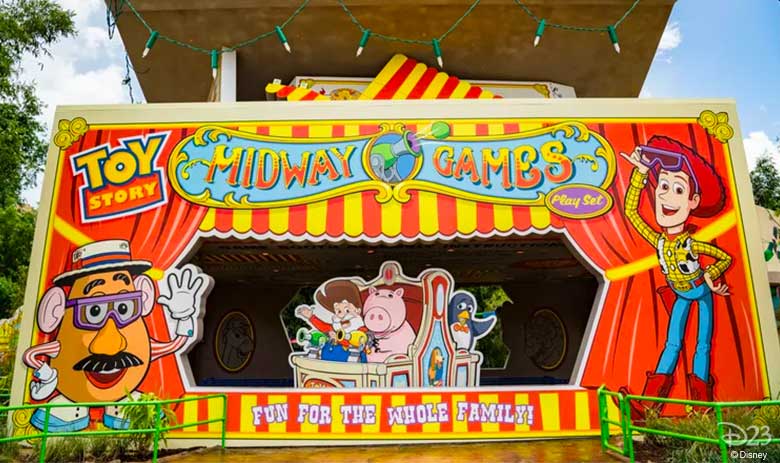 Don Rickles
Mr. Potato Head, Toy Story Mania, Disney's Hollywood Studios (2008 – present)
Sixteen years I've been doing Mr. Potato Head! It was one of the finest things I've ever had happen to me. My grandchildren know me as Mr. Potato Head. For the ride, I was just in a sound booth by myself. Lee [Unkrich], who directed it, would direct me. I recorded about 300 or 400 lines. "You sir, step out of the line!" And the ride is a big draw! I was there when it opened. It was great. My grandkids love the ride. It's fun for kids. They thought it was very exciting. I was very pleased with that.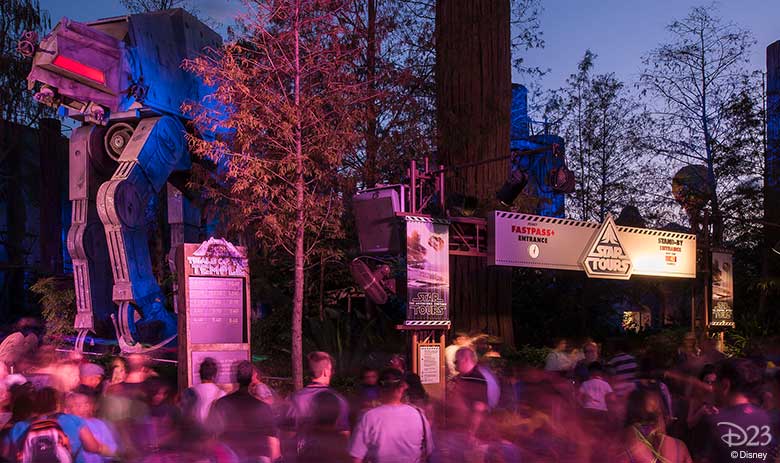 Allison Janney
Peach, The Seas with Nemo and Friends, EPCOT (2007 – present)
Aly San San, Star Tours: The Adventures Continue, Disney's Hollywood Studios (2011 – present)
I have always been a huge fan of Disney. Being able to play Peach in Finding Nemo was really a dream come true. But then to be asked to voice a character on a Disney attraction—especially one as legendary as Star Tours—was unbelievable. The Disney parks have a lot of meaning for me, and to now be a part of their history is truly magical. Recording the role was so much fun—I was able to play around, and all the Imagineers were incredibly inspiring to work with. I was really flattered to hear that George Lucas named the character Aly San San after me. How great is that? I don't think she looks very much like me, though.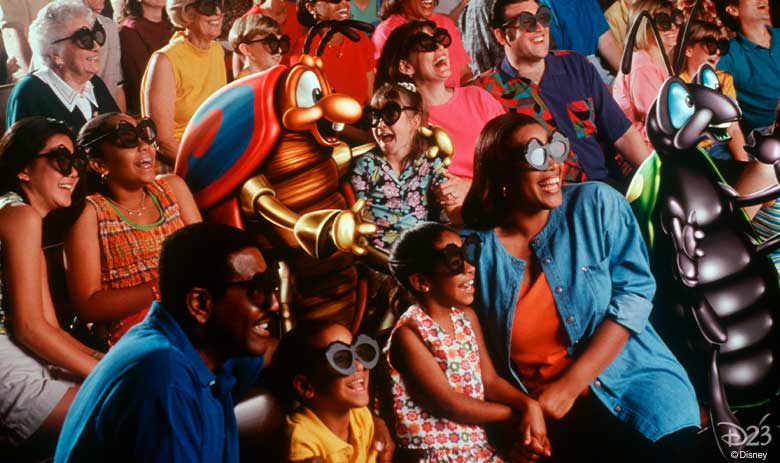 Dave Foley
Flick, It's Tough to Be a Bug, Disney's Animal Kingdom (1998 – present)
As a child growing up in Toronto, I always dreamed of visiting Disney World but I never got the chance. On the other hand, I never dreamt I would one day play a part in a Disney World attraction. Bringing my own children to the opening of Disney's Animal Kingdom was one of my proudest days as a father. Even if they were terrified by Hopper. Oh, and the spiders.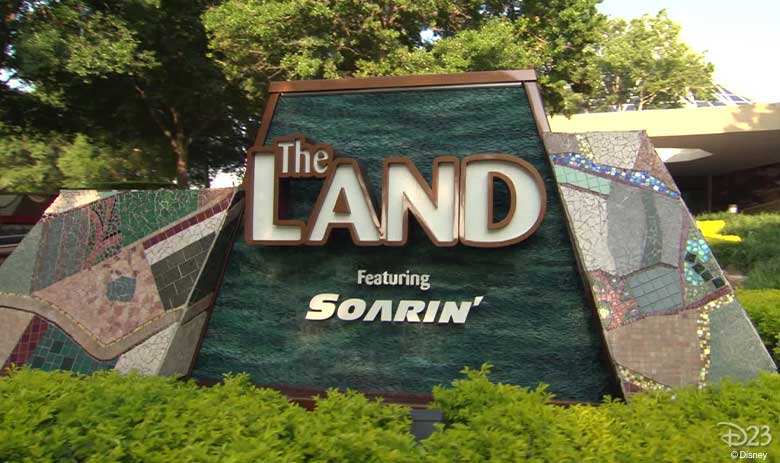 Patrick Warburton
Chief Flight Attendant Patrick, Soarin', EPCOT (2005 – present)
Getting to be a part of a ride at Walt Disney World has been one of the most special opportunities that I have been granted while working in the industry. Disneyland has always been so magical. It was a special place for me to go to as a child, and now it's a special place for me to share with my children. It's been an honor to be associated with a Disney ride.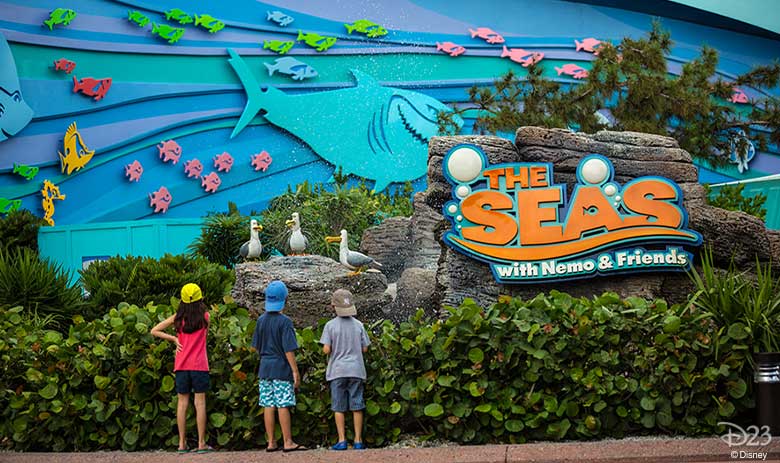 Alexander Gould
Nemo, The Seas with Nemo and Friends, EPCOT (2007 – present)
The whole Nemo experience was amazing, I started with the film at age 7, and at age 12, I completed my Nemo life with The Seas with Nemo and Friends. My biggest memory of voicing the ride was recording the song "In the Big Blue World." My pitch wasn't the greatest back then, but I think it added to the charm of the character. My little sister did the commercial advertising the Seas ride, so she got to experience it before I did. She thought it was awesome. I actually experienced the ride for the first time… in 2010 when I spent winter break in Florida with my youth group. Weird at age 16 to hear yourself at 12. My friends were singing "In the Big Blue World" all day just to annoy me.
Stay tuned to D23.com for more ways to celebrate Walt Disney World's milestone anniversary, and let us know on social media what your favorite Walt Disney World Resort attraction is using the hashtag #DisneyWorld50.