By Zach Johnson
The magic is calling!
For its 50th anniversary, Walt Disney World Resort on Friday kicks off "The World's Most Magical Celebration," an 18-month event that ushers in an array of new attractions, nighttime spectaculars, and more. To celebrate the milestone occasion, we attended a virtual press event earlier this morning that began with a welcome from Josh D'Amaro, Chairman, Disney Parks, Experiences and Products. "As you can imagine, this celebration is packed with new experiences that will connect you to the stories and characters you love most; connect you to each other as you share magical moments together as friends and families; and connect you to the magic in ways you may never have dreamed of before, with new attractions, entertainment, merchandise, dining experiences, and more," he said. "This celebration will also give us opportunities to continue to invest in our surrounding communities, sharing Disney magic in meaningful ways with children and families who need it most."
D'Amaro then introduced Disney Legend Julie Andrews, who reflected on being part of the grand opening of Magic Kingdom in 1971 and also shared fond memories of Walt Disney, who hand-picked her to star in Mary Poppins. "All these years later, I'd like to wish everyone at Walt Disney World many more years of joy, love, and wishing upon stars," she said in a special video message. "Happy 50th anniversary to The Most Magical Place Earth."
With that, the announcements came pouring in! Here are just five of the many highlights: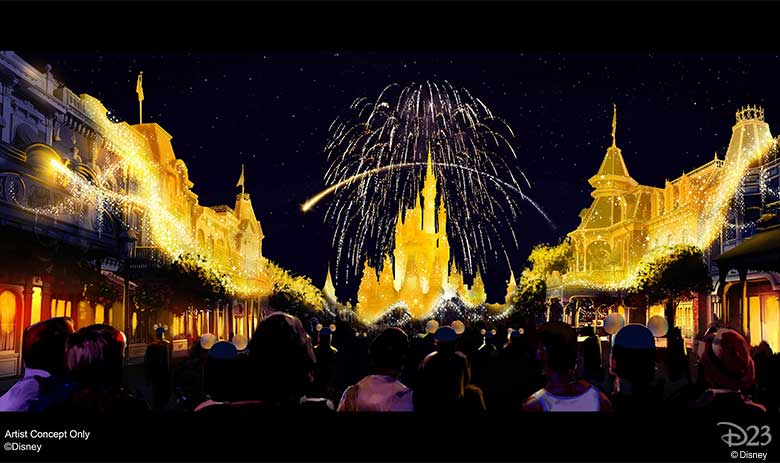 1. Disney Enchantment Adds an Iconic Voice Performer: Angela Bassett
Spreading magic across the sky, over a castle, and down a bustling street, Disney Enchantment debuts October 1, 2021, at Magic Kingdom Park to help kick off "The World's Most Magical Celebration." Today, it was announced that Angela Bassett, star of Marvel Studios' Black Panther and Disney and Pixar's Soul, will narrate the new nighttime spectacular. Disney Enchantment features a breathtaking spectacle of Disney music, stunning fireworks, enhanced lighting, and immersive projection effects that extend for the first time from Cinderella Castle down Main Street, U.S.A. Inspiring everyone to believe in the magic that lives within them, Disney Enchantment features characters, moments, and music from beloved Walt Disney Animation Studios and Pixar Animation Studios films. The show's stirring soundtrack is anchored by an emotional original song, "You Are the Magic," written and performed by eight-time Grammy Award® winner Philip Lawrence, whose stellar career began as a Disney cast member who performed in Walt Disney World shows.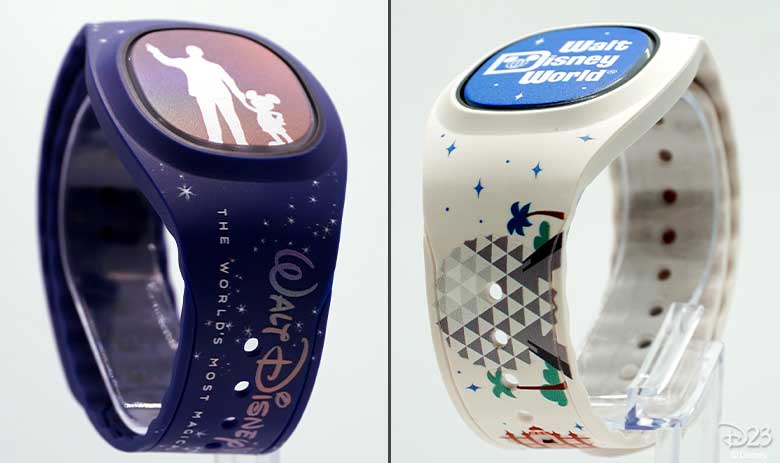 2. The State-of-the-Art MagicBand+ Will Debut in 2022
Innovation is essential to The Walt Disney Company story, dating back to its inception nearly a century ago. Two new technological achievements are destined to carry its theme park and resort guests' imaginations into the future: The MagicBand+ wearable and the "Hey Disney!" voice assistant. Both cutting-edge innovations will debut in 2022 at Walt Disney World Resort as part of the vacation destination's 50th anniversary celebration.
These innovations continue to build upon the Disney "theme park metaverse," where technology is part of the magic—seamlessly integrating the physical, digital, and virtual worlds to help guests navigate Disney properties and platforms. Here, guests immerse themselves in Disney stories, connect with characters they love and share unforgettable experiences with the world, creating new magic in ways only dreamed of before.
The MagicBand+ will retain the popular features of the original MagicBand, introduced in 2013, and add new functionality to unlock experiential moments of magic across the theme parks and resorts. "In celebration of Walt Disney World's 50th, we've come up with some really cool designs celebrating this magical place," said Dan Soto, Vice President, Technology & Digital. And, after a guest enters a theme park, MagicBand+ will come alive at various times with color-changing lights, haptic vibrations, and gesture recognition, enhancing the environment's immersive storytelling. The wearable will allow guests to engage with Disney moments in new ways and discover interactive experiences, including:
Playing like a bounty hunter in a galaxy far, far away and find virtual bounties throughout Black Spire Outpost in Star Wars: Galaxy's Edge at Disney's Hollywood Studios
Interacting with the "Disney Fab 50 Character Collection," the golden sculptures spread throughout the Walt Disney World theme parks
Experiencing nighttime spectaculars in a new way as they see their bands light up and complement the magic in the skies, including the new Harmonious at EPCOT and Disney Enchantment at Magic Kingdom Park
More details about MagicBand+ and its capabilities will be revealed in the future.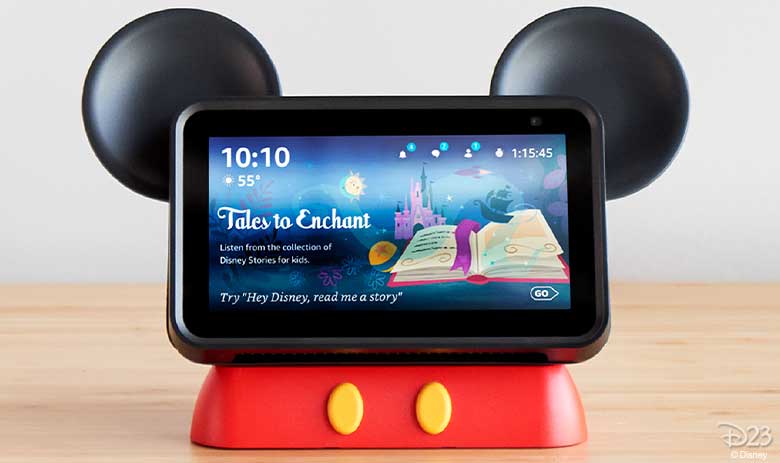 3. A New Magical Voice Assistant Will Enhance Resort Stays Beginning in 2022
Disney is creating its own custom voice assistant using Alexa technology for supported Amazon Echo devices. Called "Hey Disney!", this voice assistant will work alongside Alexa to respond to vocal prompts, bringing Disney characters and stories to life in magical new ways to make guest stays even more convenient, engaging, and enjoyable. "Hey Disney!" will begin rolling out in Disney Resort hotel guest rooms across Walt Disney World in 2022. Access will be offered as an optional, complimentary feature during guest stays. "Hey Disney!" will make traditional Alexa services, such as alarms, timers, weather forecasts, etc., feel magical with the help of characters including Mickey Mouse, Olaf, C-3PO, and more.
"Hey Disney!" also features an all-new character, the Disney Magical Companion, to help guests discover more than 1,000 magical interactions, such as hearing special greetings and jokes from authentic Disney character voices, asking trivia questions, and exploring audio environments inspired by Disney films and destinations. Disney Resort guests can learn helpful information about their vacation ("Hey Disney! When does the next bus to EPCOT depart?"), order amenities ("Hey Disney! Can we have some extra towels?"), and more.
"For those looking to bring the magic home, it will also be available as an Alexa skill for purchase through the Amazon Alexa skill store, which you can use with supported Amazon Alexa smart speakers and displays," said Soto. In addition, two new exclusive Mickey-inspired stands are coming for the Echo Show 5; these durable OtterBox Den Series stands feature Mickey ears in playful designs inspired by either Mickey's 50th anniversary celebration outfit (which will appear in Disney Resort hotel rooms) or his classic red shorts.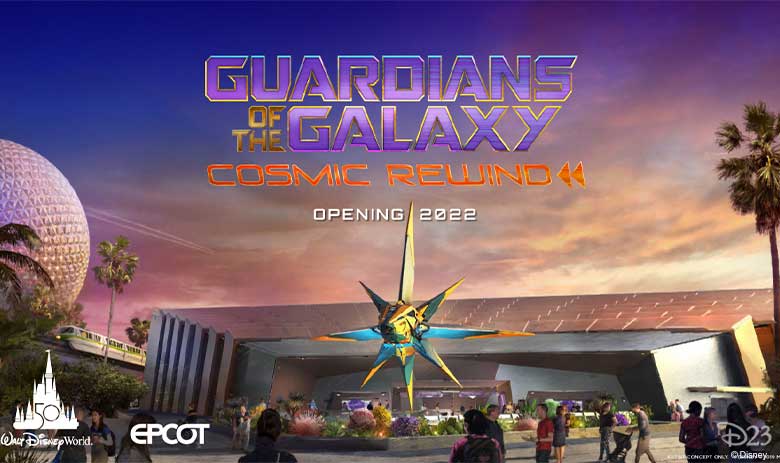 4. Guardians of the Galaxy: Cosmic Rewind Coming in 2022
Walt Disney once said EPCOT "would always be in a state of becoming" as a place that changes with the times. Its biggest transformation yet is currently underway, bringing the next generation of immersive storytelling to life through a plethora of new attractions and experiences. Among them is Guardians of the Galaxy: Cosmic Rewind—set to open in 2022!
The first "other-world" showcase pavilion at EPCOT, the family-friendly adventure will begin in the Galaxarium, a planetarium-like exhibition that explores the similarities and mysteries of the formation of Earth's galaxy and Xandar. "The Galaxarium is only one piece of the wonders of Xandar," Disney Imagineer Tom Fitzgerald said. There, guests will learn a bit more about the treasures Xandar has to share—until the moment when the Guardians of the Galaxy arrive, and guests go on an intergalactic chase through space and time! The attraction will feature a new innovation from Walt Disney Imagineering: a storytelling coaster that rotates 360 degrees to focus guests on the action, including the first reverse launch on a Disney coaster. "It's like something you've never experienced before," Disney Imagineer Scot Drake said. "We can't wait to show you more and more details as they unfold."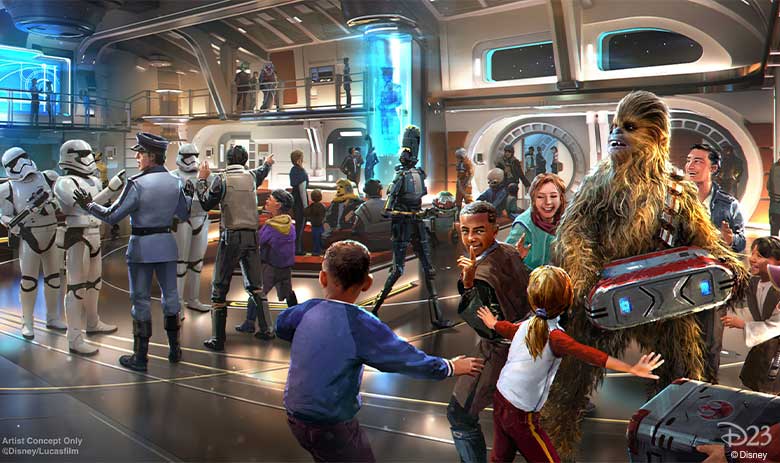 5. Star Wars: Galactic Starcruiser Will Depart for a Galaxy Far, Far Away in 2022
We intercepted an important transmission during the virtual press event: The inaugural voyage of Star Wars: Galactic Starcruiser at Walt Disney World Resort will depart March 1, 2022! General bookings for this first-of-its-kind immersive adventure will open October 28, 2021. Some fans, including Disney Vacation Club members, Disney Passholders, and Disney Visa Cardmembers, will receive special booking opportunities ahead of the general booking date.
Star Wars: Galactic Starcruiser is a vacation experience that goes beyond anything Disney has created before, inviting guests to become the heroes of their own stories during a two-night adventure where they see, feel, and live Star Wars. Guests will travel the galaxy in style aboard the glamorous Halcyon starcruiser, known for its impeccable service and exotic destinations; stay in well-appointed cabins; experience exquisite dining and out-of-this-world entertainment; visit Star Wars: Galaxy's Edge at Disney's Hollywood Studios; and more. "As this is a Star Wars adventure, you can be pretty sure that not everything is going to go as planned," said Disney Imagineer Ann Morrow Johnson. "Passengers will find themselves right in the middle of the action, making choices unexpected story moments. Do you help the Resistance, or do you tell the First Order? Your choices determine what happens for you during your voyage, including exciting activities and missions, character encounters, and adventures that go beyond any ordinary vacation experience." These decisions make will affect how guests' individual stories unfold as they seize control of their destinies… and potentially impact the fate of the entire galaxy!