By Courtney Potter
There is nothing better than a lazy summer day spent by the pool—soaking in some rays (safely covered in sunscreen, of course!)… splashing in the water… maybe even enjoying some tasty food or an icy beverage. And that extends to a Disney vacation! You'll find some of the most spectacular pools ever created at Disney resorts (and onboard Disney Cruise Line) around the world, and they're waiting for your arrival.
Sticking close to home this summer? No sweat! It almost doesn't matter when you take your trip; you'll want to visit these pools all year 'round. Wondering which ones we wish we were lounging by right this very minute? Read on for a rundown of D23's favorite ways to have some fun in the summer sun!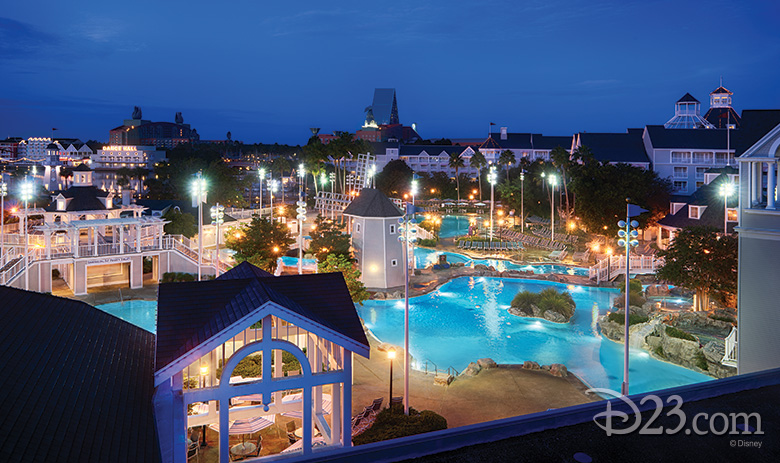 Stormalong Bay at Disney's Yacht and Beach Club Resorts
Sitting on a whopping three acres, Stormalong Bay is really a mini-water park, boasting almost 800,000 gallons! A sand-bottomed pool welcomes swimmers of all ages, while a lazy river and an elevated tanning deck invite true relaxation. Those of a more adventurous persuasion can fly down an amazing 230-foot-long waterslide that starts at the mast of a life-sized replica shipwreck. You'll feel positively pirate-y when you're through!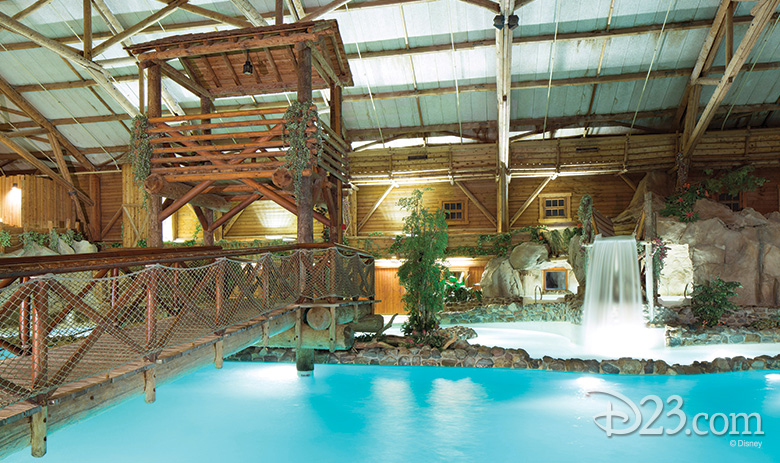 Disney's Davy Crockett Ranch Pool at Disneyland Paris
Guests can paddle around (or enjoy some real-deal length swimming) in between trips to Disneyland Paris Resort's parks at this indoor pool. Kids and adults alike will enjoy the western-themed surroundings (based on Disney's Davy Crockett 1950s TV miniseries) that include a wooden bridge and a slide. And don't forget to check out the nearby Crockett-themed ropes course!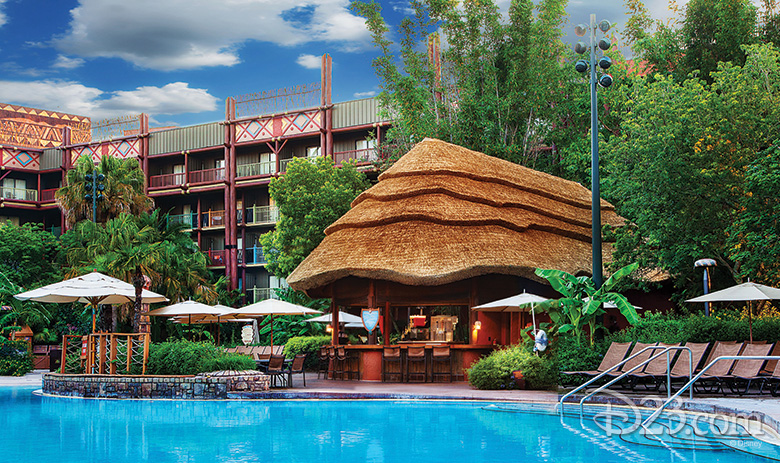 Uzima Pool at Disney's Animal Kingdom Lodge
This pool comes in at 11,000 square feet and is surrounded by beautiful Floridian palms and canopy trees. It boasts a very cool zero-depth entry point—similar to that of a natural beach (and much easier for little ones to enter the water)—along with a 67-foot-long waterslide, and a nearby lounge offers up delicious food and drinks. Perfect for relaxing after a long day out on the Animal Kingdom savanna…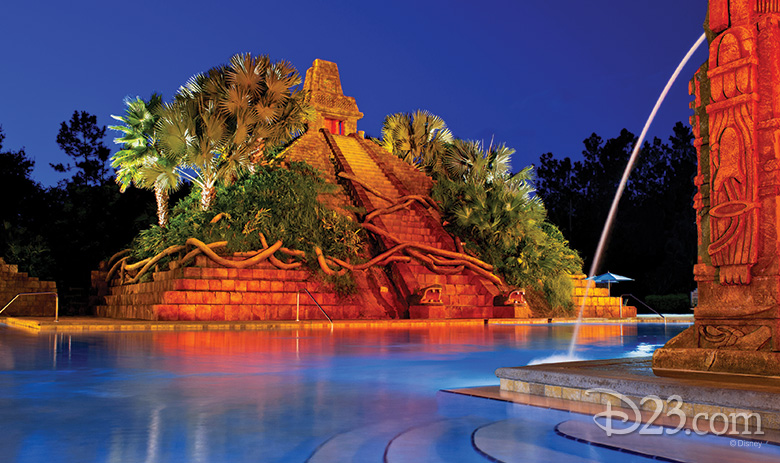 The Dig Site at Disney's Coronado Springs Resort
The Dig Site pool complex is particularly fabulous, as far as Disney pools go. Never been? Here's why we love it: It boasts the largest hot tub on Walt Disney World Resort property; the centerpiece of the Lost City of Cibola pool is a gigantic pyramid; there's a 123-foot-long waterslide that features a spitting jaguar "spirit animal"; and it's got a white sand volleyball court, a kiddie pool, and an arcade. You could seriously spend the whole day there!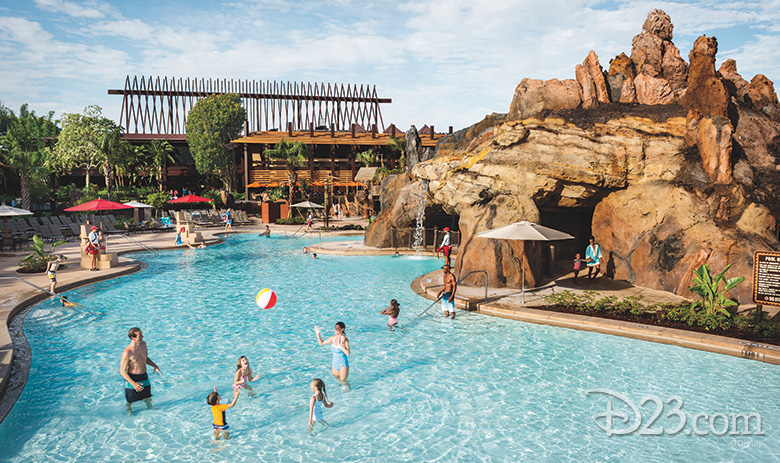 Lava Pool at Disney's Polynesian Village Resort
Befitting its tropical locale, this pool features an amazing "volcano," a waterfall, and even a 142-foot-long waterslide. There's food and drinks available at a lounge nearby—but if you want an ultra-cool way to acclimate to the indoors once your time at the pool is done, why not go for a Krakatoa Punch at Trader Sam's Grog Grotto?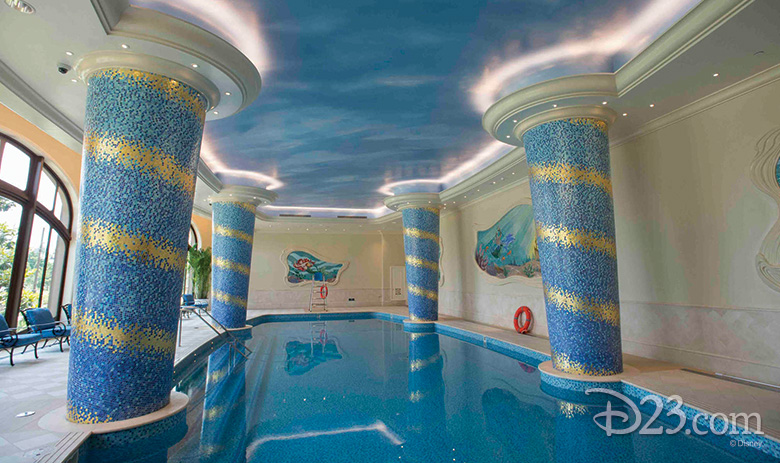 King Triton Pool at Shanghai Disneyland Hotel
One of Disney Parks and Resorts' newest watering holes, the King Triton Pool is inspired by Disney's The Little Mermaid. Perhaps most notably, this pool is indoors—so you can enjoy a dip before heading to Shanghai Disneyland for the day, or before heading out to Disneytown for the night, even when it's raining! Murals and mosaics around the pool area beautifully depict several characters from The Little Mermaid.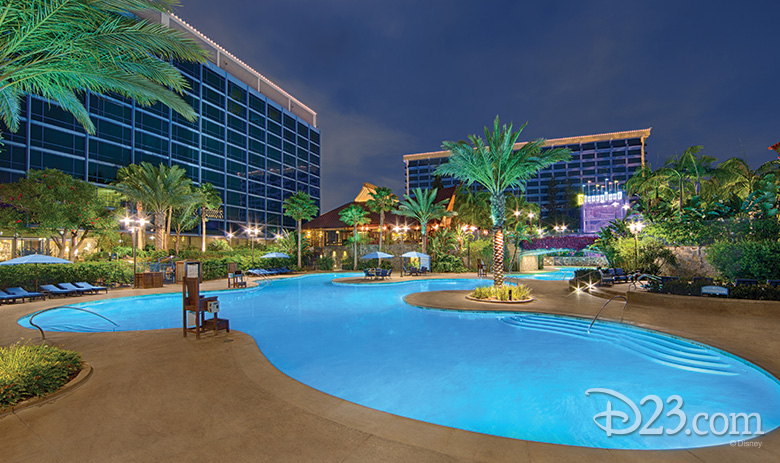 E-Ticket Pool at Disneyland Hotel
After a refurbishment in 2011, Disneyland Hotel's pool complex now features two places to take a dip—including a pool themed after the park's early days, with lots of decorative signs resembling the theme park "E-tickets" of the past. Bonus: For the adults in your group, take a post-pool trip over to the legendary Trader Sam's Enchanted Tiki Bar for some tasty tropical beverages.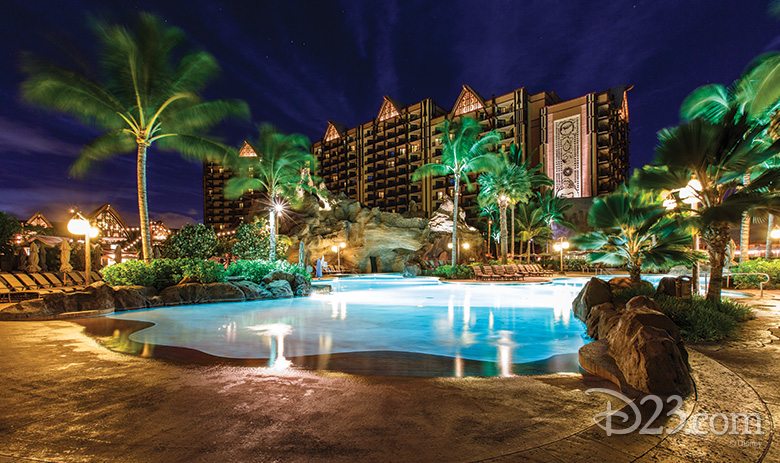 Waikolohe Pool at Aulani, A Disney Resort & Spa
Sure, this 8,200-square-foot pool (named after the Hawaiian word for "mischievous water") is near some world-class beaches… but it offers so many cool amenities, you just have to take a dip! Look for poolside parties featuring all your favorite Disney characters, as well as the "Volcanic Vertical" slide and interactive fun and games for kids, tweens, and teens.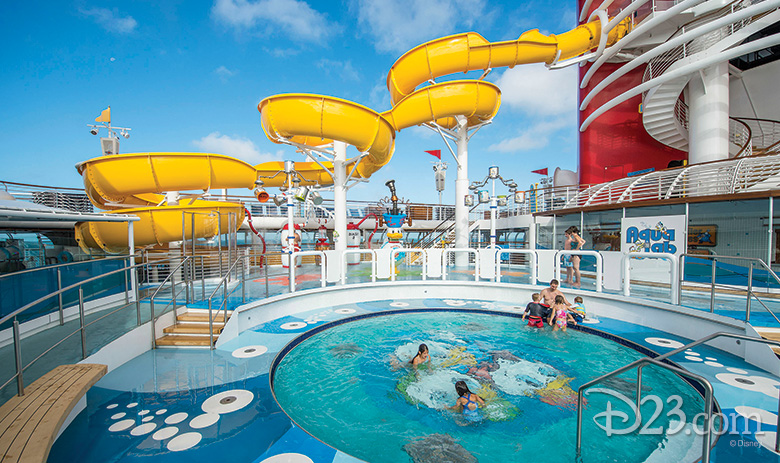 AquaLab Pool on the Disney Magic (Disney Cruise Line)
Onboard the Disney Magic cruise ship, you'll find the AquaLab—a pool devised by Huey, Dewey, and Louie (Donald Duck's three mischievous nephews) that's especially "ducky" for the little ones in your vacationing clan. Upon entering the Lab, you'll be met with three sets of still-wet duck prints, indicating that the boys have stepped away… Who's in charge now? Why, you of course! There are plenty of cool interactive elements, including leaky pipes, pouring paint cans, and "Donald's Boiler", where pushing buttons may cause Donald to blow his top, drenching everyone in his path!