Did you just feel that cool breeze? Catch that scent of gardenia in the air? Don't worry, it's not your imagination—it's the opening of Trader Sam's Grog Grotto at the recently reimagined Disney's Polynesian Village Resort at Walt Disney World! The themed lounge celebrated its soft opening on March 28, and is already welcoming explorers thirsty for fun. (The official opening is slated for late April.)[/caption]
Fans have been clamoring for Adventureland's "head" salesman to bring some of the exotic flavors of his famous Enchanted Tiki Bar at the Disneyland Resort to the East Coast—and the wait is finally over. Located just off the Great Ceremonial House lobby, Trader Sam's Grog Grotto serves "magical tropical drinks and food" and offers picture-perfect views of both the marina and the Seven Seas Lagoon. But while the Grog Grotto will have some similarities to its California cousin, it also reflects its alluring new location.
According to chef Lenny DeGeorge, the world-famous Trader Sam cocktails at the Grog Grotto are a delightful mix of old and new: Straight from the Enchanted Tiki Bar, guests can enjoy drinks like the HippopotoMai-Tai, the Shrunken Zombie Head, and the Krakatoa Punch… but new to the Grotto are delicious (and exclusive!) additions like the Polynesian Pearl, the Dark & Tropical Stormy, the Castaway Crush, and the Tahitian Torch. And for those who prefer their refreshments alcohol-free, "Sam's No-Booze Brews" include the Skipper Sipper and the Schweitzer Falls.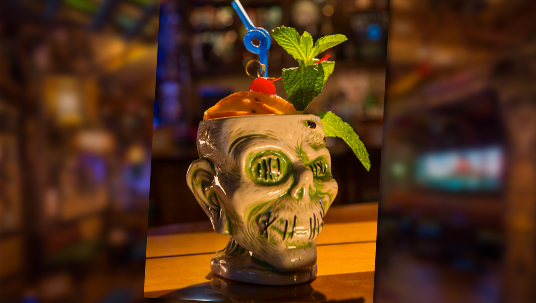 What goes great with delicious tropical drinks? "Small bites," of course—all perfect as a light main course, or something to share with friends. Inspired by the Trader Sam's California menu are the chicken lettuce cups with tasty hoisin ginger sauce, and the Hawaiian poke with spicy Sriracha aioli and crispy wonton chips. Brand-new dishes to the Grog Grotto table include pan-fried dumplings with soy-sesame dipping sauce, Vietnamese "bánh mì" sliders with pickled vegetables, savory corn-battered Portuguese sausages with curry ketchup, and even a special "Headhunter" Sushi Roll!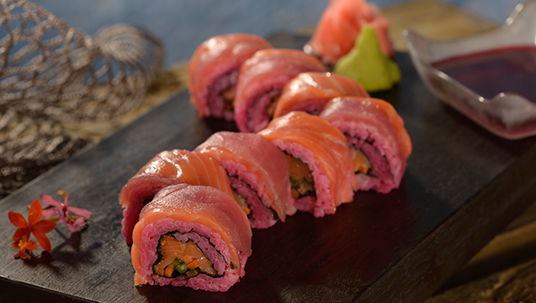 Trader Sam's Grog Grotto isn't the only new bloom in the Polynesian Village Resort's garden; after undergoing extensive entrancing renovations, the resort now boasts Disney's Polynesian Villas and Bungalows—including amazing, South Pacific-inspired Disney Vacation Club bungalows (a first of their kind on any Disney property!) that can sleep up to eight guests, complete with views of the fireworks over Magic Kingdom Park.
The next time you're at Walt Disney World, make sure to stop by Trader Sam's Grog Grotto for some tropical delights. And when you do, keep an eye out for Sam and his friends—but don't lose your head about it!