By Courtney Potter
There's no shortage of memorable views inside a Disney Park—from the attractions to the shows to the characters, there's something amazing around every corner. So it stands to reason that Disney would create some of the most spectacular fountains anywhere! These water features can be found at Disney Parks and Resorts all over the world… which got us to thinking: We're heading into the "dog days of summer," so why not cool off a bit by choosing a few of our favorites?
See if your water-fountain fave(s) made the list, below—and don't forget to let us know your picks over on Facebook and Twitter.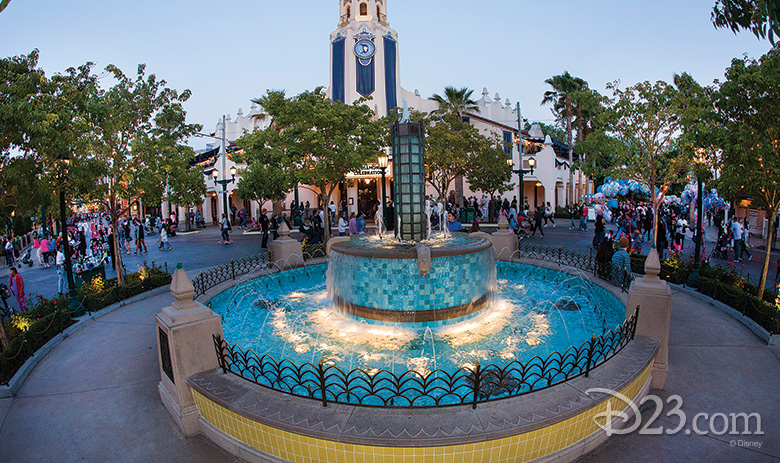 Carthay Circle Fountain (Disney California Adventure)
This particular fountain debuted to Disney California Adventure visitors in mid-2012, and the design was born out of extensive research, by Walt Disney Imagineers, into Los Angeles of the early 20th century—the period in which Walt Disney first arrived in California. Its design was influenced by the William Mulholland Memorial Fountain. You'll find it in front of Carthay Circle Restaurant; make sure to look out for the Red Car Trolleys as you take a pic!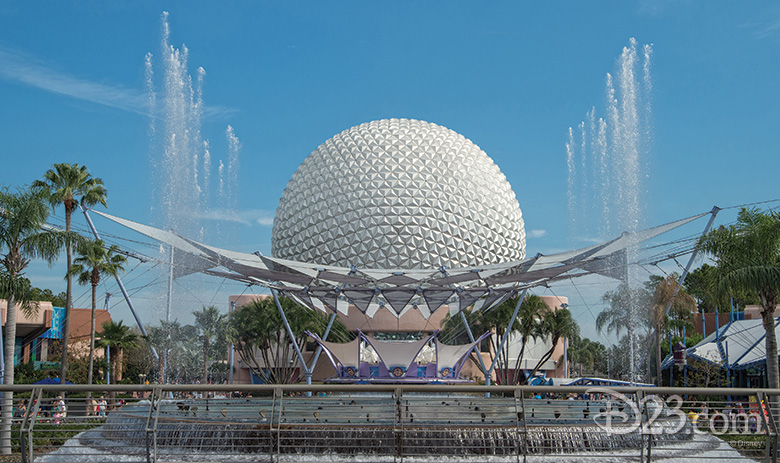 Fountain of Nations (Epcot)
Now this fountain is pretty special, as far as Disney water features go. Nearly 34 years ago, cultural representatives—selected by their home countries—traveled to Epcot with a container of water from their nation and poured it into the Fountain of Nations during its dedication. Twenty-five bodies of water, representing 29 nations, were included! Each hour, the water dances to music with dynamic precision.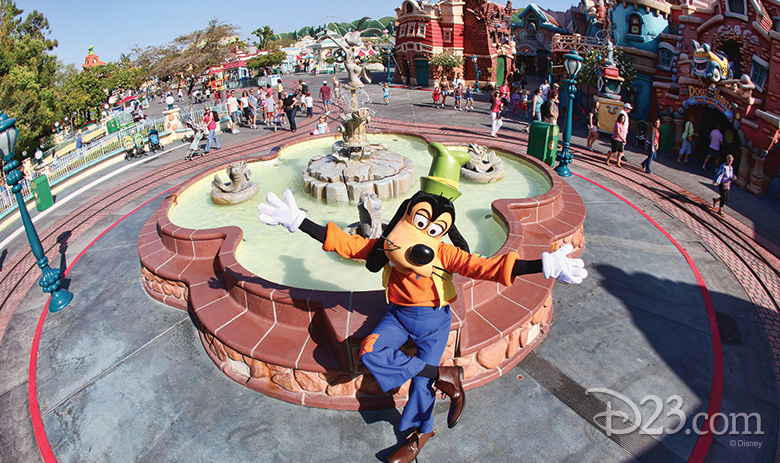 Roger Rabbit Fountain in Mickey's Toontown (Disneyland Park)
"Shave and a haircut, two bits!" Roger Rabbit is such a larger-than-life character, it makes sense he'd get an attraction (Roger Rabbit's Car Toon Spin) and a fountain! Goofy knows a kindred spirit when he sees one, so Roger's fountain is the perfect place for him to take a lil' Toontown break.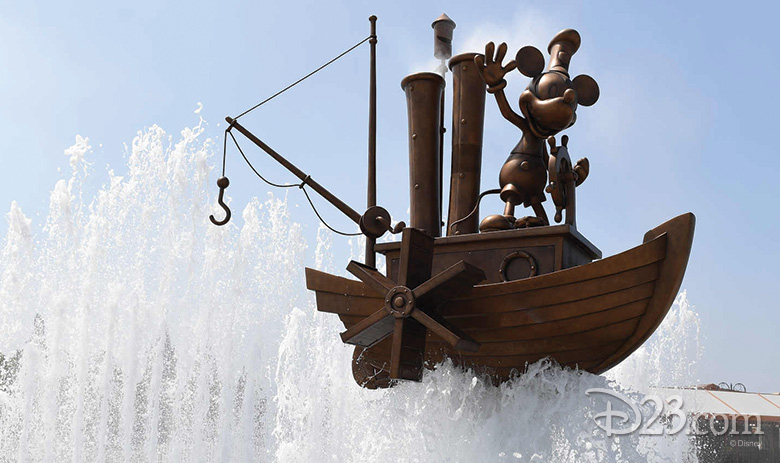 Main Entrance Steamboat Willie Fountain (Shanghai Disneyland)
One of the newest fountains on our list, this ode to 1928's Steamboat Willie (the first Mickey Mouse cartoon ever released, and the first cartoon with synchronized sound) is found in the entrance plaza to Shanghai Disneyland Park.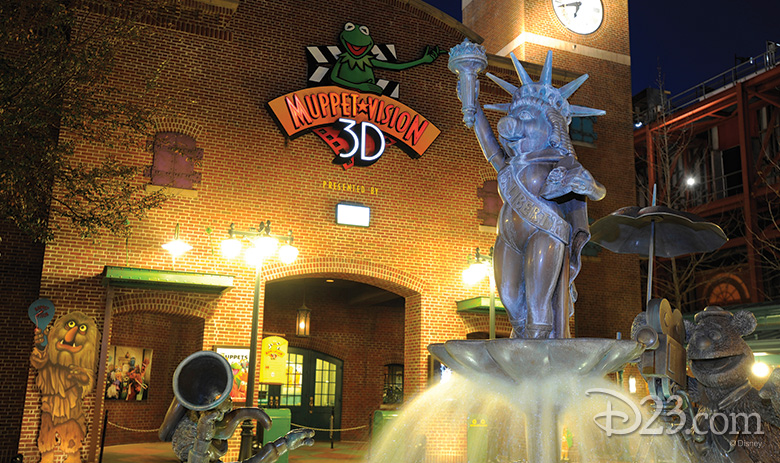 Muppet*Vision 3D Fountain (Disney's Hollywood Studios)
We particularly enjoy this fountain, themed to celebrate all things Hollywood—it just has so many hilarious features! Miss Piggy as the Statue of Liberty; Fozzie Bear as a cameraman (Are we sure he knows how to use that thing?!); Gonzo the Great as the director. If only we could see the movie this trio would've made…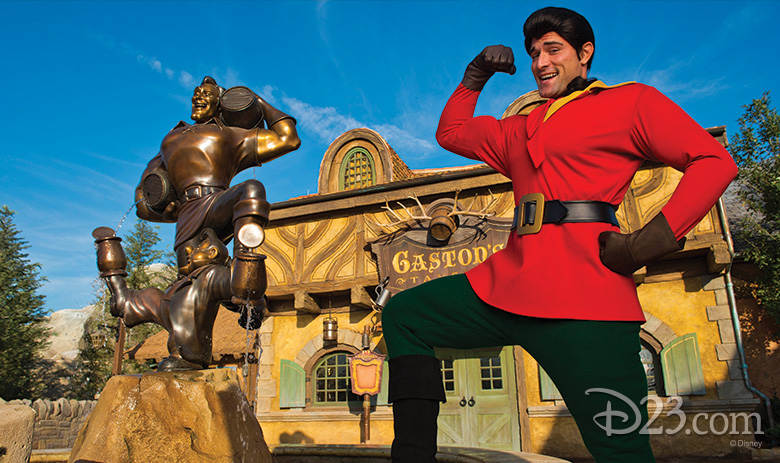 Gaston's Fountain at Fantasyland (Magic Kingdom Park)
"My, what a guy!" Gaston becomes an actual work of art (not just the "work of art" he thinks he is) with this bronze fountain, which also features his sidekick Lefou. It's right outside of Gaston's Tavern—honestly, is there no end to his ego?—which opened in 2012 inside the Magic Kingdom's New Fantasyland.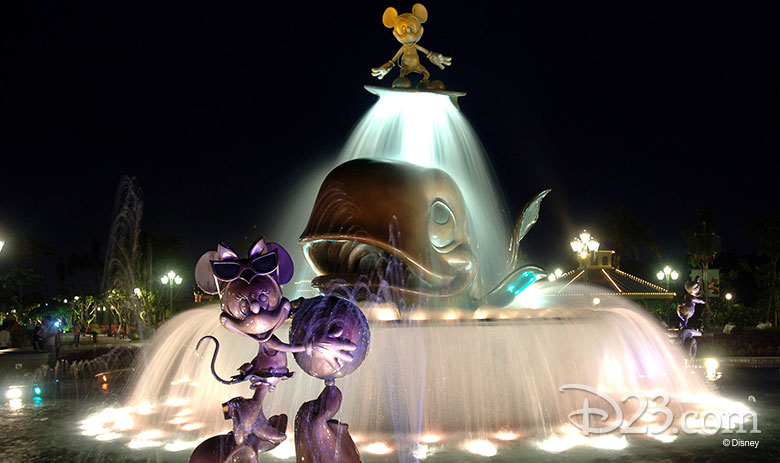 Grand Plaza Fountain (Hong Kong Disneyland)
Leave it to a Disney fountain to look even more beautiful at night! This water feature—which depicts Mickey on a surfboard, precariously "hangin' 10" on top of a (thankfully friendly) whale—is found near the main entrance to the park. You can find a few of Mickey's friends, including Minnie Mouse and Goofy, around the fountain, too.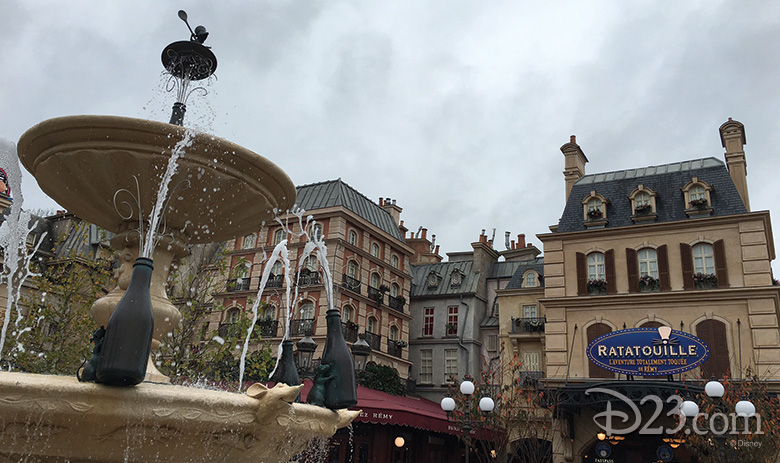 Ratatouille Champagne Fountain at Walt Disney Studios Park (Disneyland Paris)
This adorable fountain is located in La Place de Rémy, a central plaza inspired by the iconic architecture of Parisian neighborhoods like Place Dauphine and Boulevard Haussmann. The fountain itself is based on one found in Place des Vosges—only this time, there are rat heads (instead of lion heads) spouting water, and overflowing champagne bottles.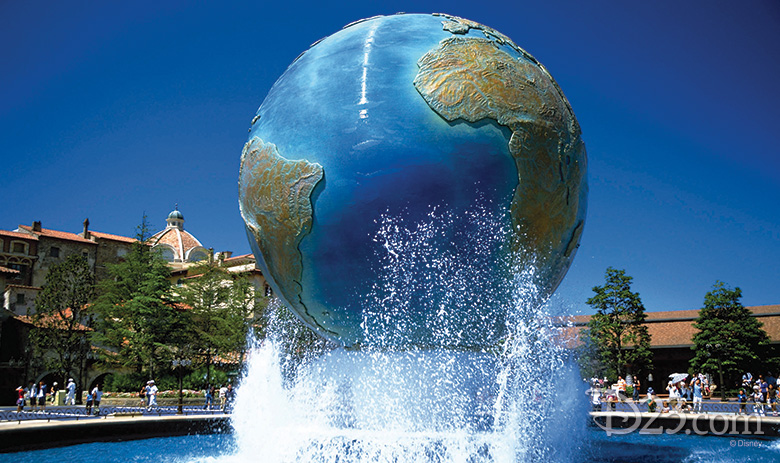 AquaSphere (Tokyo DisneySea)
It should come as no surprise that Tokyo DisneySea would have a large, iconic water feature in its entrance plaza, right? Designed as a symbol that showcases Earth as the "water planet," the AquaSphere rotates slowly around as distinctive theme music (by legendary Japanese composer Isao Tomita) plays. It's a truly "picture-perfect" photo (and video) opportunity!