By Courtney Potter
See Belle, Gaston, and the Beast in New As Told By Emoji
Here at D23, we've just begun our huge, amazing, full of delicious "grey stuff" Fanniversary, themed after Beauty and the Beast's 25th jubilee… and they're celebrating Belle and the Beast's big 2-5 over at Disney Interactive as well! Case in point: the brand-new Beauty and the Beast As Told By Emoji short! "Be our guest" and take a gander, above. (We especially like the use of the enchanted rose as the phone's battery-life indicator. Super clever!)
All month long, D23 will be honoring Disney's groundbreaking 1991 animated classic, so keep a keen eye on our Fanniversary page for more fun and frolic… and don't forget to check out the new 25th-anniversary edition of Beauty and the Beast from the Walt Disney Signature Collection—available now on Digital HD and Disney Movies Anywhere, and Blu-ray® on September 20!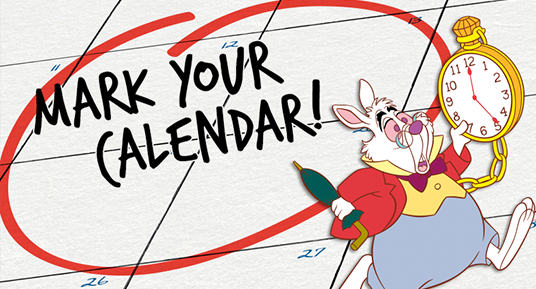 Save the Date!
Be sure to mark these upcoming Disney events on your calendar:
D23 and Walt Disney Archives


September 10


Be Our Guest as Fanniversary Celebrates Beauty and the Beast Across the Country


September 17


Be Our Guest as Fanniversary Celebrates Beauty and the Beast Across the Country


September 23


Lunch with a Disney Legend: Bill Sullivan


September 24


D23 Presents Bedknobs and Broomsticks: 45 Bewitching Years (Florida)


October 5


D23's Sip & Scream


October 5


D23 Behind-the-Scenes Experience: A Midnight Soirée at the Tower of Terror


October 8


D23's Age of Believing: 45 Years of Bedknobs and Broomsticks (California)


November 19–20


D23 Destination D: Amazing Adventures


July 14-16, 2017


D23 Expo 2017


Studios




September 23, 2016


Queen of Katwe opens in theaters


November 4, 2016


Doctor Strange opens in theaters


November 23, 2016


Moana opens in theaters


December 16, 2016


Rogue One: A Star Wars Story opens in theaters
Parks


September 2, 8, 11, 13, 16, 18, 20, 23, 25, 29, 30; October 2, 4, 6, 7, 10, 11, 13, 14, 16, 18, 20, 21, 23, 25, 27, 28, 30, 31




Mickey's Not-So-Scary Halloween Party at Walt Disney World Resort


September 23, 26, 28, 30
October 3, 5, 7, 10, 12, 14, 17, 19, 21, 24, 26, 29, 31


Mickey's Halloween Party at Disneyland Resort




September 2–October 29 (Friday and Saturday Nights, plus October 31)




Club Villain, special ticketed event at Disney's Hollywood Studios




September 14–November 14, 2016




Epcot International Food & Wine Festival




November 7, 8, 10, 11, 13, 15, 18, 27, 29; December 1, 2, 4, 6, 8, 9, 11, 13, 15, 16, 18, 22




Mickey's Very Merry Christmas Party at Walt Disney World Resort




Television




September 18




68th Emmy® Awards broadcast on ABC at 7 p.m. ET/4 p.m. PT




October 3


Milo Murphy's Law premieres on Disney XD at 8 p.m. EDT
"Go Rogue" with the Reveal of New Star Wars Toy Line
Star Wars superfans recently united to help reveal a slew of new toys based on the highly anticipated film Rogue One: A Star Wars Story—and they did it in just about the coolest way possible… with the first of a series of fan-made animated shorts, launching on the Star Wars YouTube channel! Check out the inaugural installment, above; new shorts will roll out through September. The stories follow the adventures of Rogue One toys from Hasbro, LEGO, FUNKO, JAKKS Pacific, Mattel, and Disney Store as they try to track down the building instructions to the LEGO Star Wars Death Star set, which have been misplaced by the Empire. Fans can now pre-order a handful of select items seen in the "Rogue Stories" at mass retailers, Disney Store locations, and disneystore.com; the full range of new Rogue One and Star Wars products will be available globally starting on September 30.
As part of a competition in collaboration with creative network Tongal, a (very lucky) team was assembled to write, direct, and produce these original, fan-made stop-motion shorts starring toys from the new line… and it's all to kick off a global contest that asks fans to share their own "Rogue Stories." The contest, which also begins September 30, invites fans to share short stories or skits set "in a galaxy far, far away"; winning entries from around the world will be chosen by a panel that includes Rogue One: A Star Wars Story director Gareth Edwards.
For more info, lightspeed to StarWars.com/GoRogue—and kids ages 8 through 12, here in the States (and in parts of Canada), can get in on the action as well by visiting Disney.com/MyRogueStory. Winners will be invited to Lucasfilm in San Francisco to attend a screening of Rogue One, and see their short story on the big screen. How cool is that?! Ready to enter, are you?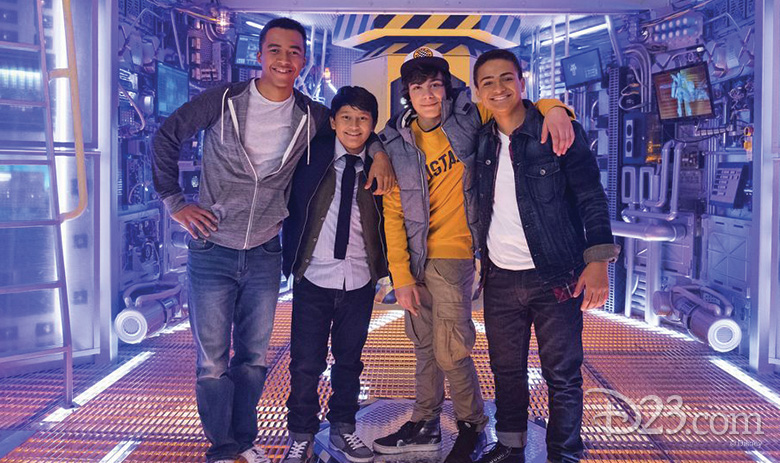 Disney XD's MECH-X4 Gets Second Season—Before its Big Debut!
Looking forward to Disney XD's cool new live-action sci-fi adventure series, MECH-X4? We are too! And we've got some great news: Well before its premiere episode (okay, actually two episodes simulcast on Disney XD and Disney Channel on Saturday, November 12, at 8 p.m. ET), the show has already been picked up for a second season! Plus, beginning Friday, October 28, a preview episode will debut on several online platforms, including the Disney XD App, Disney XD VOD, and the Disney XD YouTube Channel. Get a head start on all the fun!
MECH-X4 follows Ryan Walker, a freshman at Bay City High, as he discovers he's a "technopath" with the extraordinary ability to control technology with his mind. His superpower mysteriously awakens a 150-foot robot known as MECH-X4, over which Ryan has full control… When another monster suddenly begins to attack Bay City High, Ryan recruits his two best friends and older brother to help; the team of unlikely heroes must quickly learn to work together under dire circumstances in order to save their school, and ultimately the world, from mass destruction.
New Queen of Katwe Featurette: "Never Surrender"
Disney's Queen of Katwe opens in theaters on September 30… thankfully, we've recently been privy to several intriguing featurettes to help tide us over. The latest, "Never Surrender" (above), looks at how one young girl's story can inspire others to greatness.
Directed by Mira Nair (Monsoon Wedding) and based on the book by Tim Crothers, Queen of Katwe the colorful true story of a girl from rural Uganda whose world rapidly changes when she is introduced to the game of chess—and, as a result of the support she receives from her family and community, is instilled with the confidence and determination she needs to pursue her dream of becoming an international chess champion. The film stars Lupita Nyong'o, David Oyelowo, and newcomer Madina Nalwanga.
Walt Disney Studios has also partnered with Grammy®-winning recording artist Alicia Keys on a song from the film. "Back to Life," written by Keys, Carlo Montagnese and Billy Walsh and produced by Illangelo and Keys, appears in the film and on the motion picture soundtrack from Walt Disney Records. Take a look and a listen in the video below, which provides a special first look at the song and how the film's powerful story inspired Alicia Keys.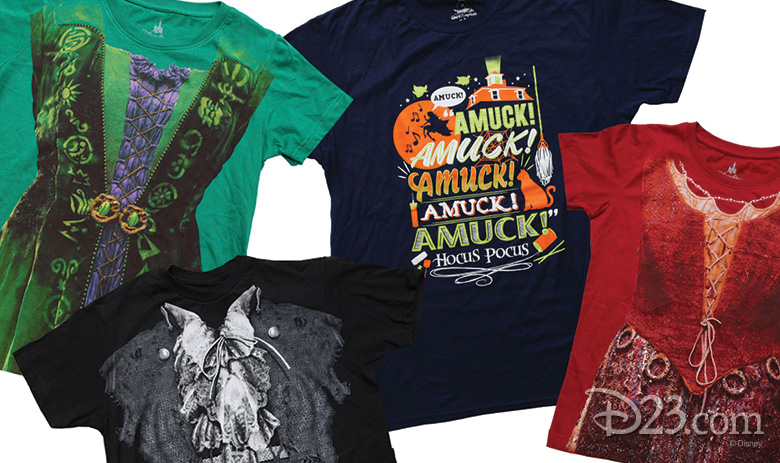 Hocus Pocus Apparel Returns, Just in Time for Halloween!
Last year, Disney Parks Online Store introduced some spooktacular T-shirts that resembled the outfits worn by the hilarious Sanderson Sisters in Disney's 1993 film Hocus Pocus… and they proved so popular, they're bringing them back—but only for a short time!
Disney Design Group artist Richard Terpstra used high-resolution images of the actual dresses from the live-action film to design the T-shirts—and they're releasing those shirts again, for guests who may have missed them the first time around. Plus, for the first time, fans can procure a costume T-shirt inspired by the character William "Billy" Butcherson, as well as a new graphic T-shirt and hooded sweatshirt with artwork (created by Disney Design Group artist Cortney Williams) featuring dialogue and other iconic elements from the film.
So get 'em while the getting is good: These limited-release items will be offered only until September 11, and only on DisneyStore.com/ParkEvents. But if you're heading to Mickey's Not-So-Scary Halloween Party at Magic Kingdom in Walt Disney World, look for some additional Sanderson-inspired items. Truly an embarrassment of "spell-rific" riches!