---
Have a Ball Watching a New Trailer for Cinderella
We're officially counting the hours, waiting for the clock to strike 12. But we're not waiting for our coach to turn back into a pumpkin, we're eagerly awaiting the release of Cinderella, which opens in theaters on March 13, 2015.
A new trailer debuted this morning on ABC's Good Morning America, and we have it for you to watch, above. There's a Fairy Godmother (Helena Bonham Carter)! A handsome and charming prince (Richard Madden)! And, of course, Cinderella herself (played by Lily James) in a beautiful blue gown that will no doubt inspire countless Halloween costumes next fall. Best of all, the trailer answers the question that has nagged at folks for as long as there has been a Cinderella: Yes, glass slippers can be comfortable.
---

Save the Date!
Be sure to mark these upcoming Disney events on your calendar:
D23 and Walt Disney Archives




November 22-23


Destination D: Attraction Rewind at Disney's Contemporary Resort in Walt Disney World


Fall 2014-2015


D23 Member Nights at Newsies—On Tour


Through January 4, 2015


Treasures of the Walt Disney Archives, presented by D23: The Official Disney Fan Club at the Museum of Science and Industry, Chicago


August 14-16, 2015


D23 Expo 2015 returns to Anaheim, California
Television


December 1–25




ABC Family's "25 Days of Christmas"




December 2


Toy Story That Time Forgot premieres on ABC at 8 p.m. ET


January 6


Marvel'sAgent Carter premieres on ABC at 9 p.m. ET
Parks


November 7, 10, 13, 14, 16, 20, 21, and 30; and December 2, 4, 5, 7, 9, 11, 12, 14, 16, 18, and 19


Mickey's Very Merry Christmas Parties at Magic Kingdom Park


Studios




December 25


Into the Woods opens in theaters.


February 20, 2015


MacFarland, USA opens in theaters.


March 13, 2015


Cinderella opens in theaters.


May 1, 2015


Avengers: Age of Ultron opens in theaters.


May 22, 2015


Tomorrowland opens in theaters.


June 19, 2015


Inside Out opens in theaters (along with the short Lava).
---

Turn Yourself Inside Out—One Emotion at a Time
Each day this week, Disney•Pixar is releasing a new character video from Inside Out, the upcoming animated film that chronicles the lives of the emotions that live in Headquarters, the control center inside an 11-year-old girl's head. On Monday, we met Sadness (voiced by Phyllis Smith):
Monday brought us Sadness (Phyllis Smith):

Tuesday brought us Disgust (Mindy Kaling):

And today we've seen Anger (Lewis Black) in action:
"Excitement" isn't a character in Inside Out, but it's for sure the emotion that's taking over the Headquarters in our minds here at D23! Inside Out opens in theaters June 19, 2015 and in the meantime, we're going to do everything we can to keep our Excitement, Impatience, and Enthusiasm in balance from now until then.
---
Enjoy Marvel's Guardians of the Galaxy on Blu-ray Soon—It's Educational!
Marvel's Guardians of the Galaxy is now available on 3D Digital and Digital HD—and it's coming to 3D Blu-ray, Blu-ray, DVD, and On-Demand on December 9. Yes, you can watch the movie again and again. Sure, you'll laugh at the gag clip and you'll love watching the deleted scene. But believe it or not, you will learn something you didn't know before: how to speak "I am Groot" in 15 different languages. Check out the video above for a sneak peek!
---

Into the Woods Soundtrack Will Be Released Before the Film Opens
Into the Woods—the film—opens in theaters December 25, 2014. The film's soundtrack is set for release December 16, 2014. That gives you nine days—nine—to try to master the songs from the film, which is based on the musical stage production by legendary eight-time Tony®, Grammy®, and Oscar®-winning composter and lyricist Stephen Sondheim and Tony Award winner James Lapine. The two-disc Into the Woods Deluxe Edition also includes the film's score.
---

New Merchandise and Collectibles from a Galaxy Far, Far Away
Star Wars fans can get excited about a number of new items that are available for purchase. The Disney Style blog featured a collection of Darth Vader jewelry for those who lean toward the dark side, as well as an R2-D2 collection for Rebel Alliance supporters. The collections are from Her Universe.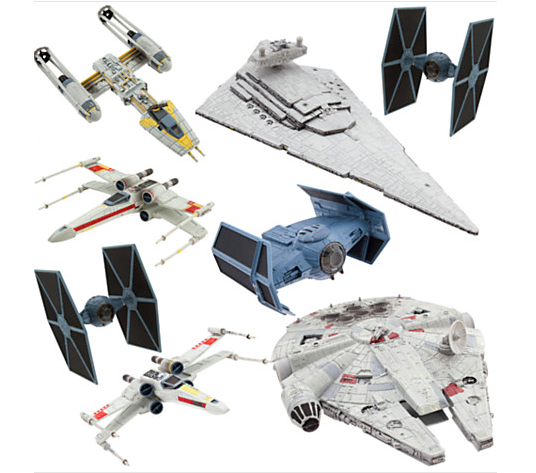 For Star Wars fans who would rather show their allegiance to the force via play rather than via accessorizing, this holiday season Disney Store is featuring Star Wars merchandise for the first time. This month, Disney Store launched a series of exclusively-designed die cast vehicles inspired by the original Star Wars saga. The collection includes the Darth Vader TIE fighter, X-Wing Fighter, and Speeder Bike. Each perfect replica of the iconic films' vehicles boasts movable parts (like wheels that roll and landing gear that drops). Deluxe die cast—including the Millennium Falcon—are also available.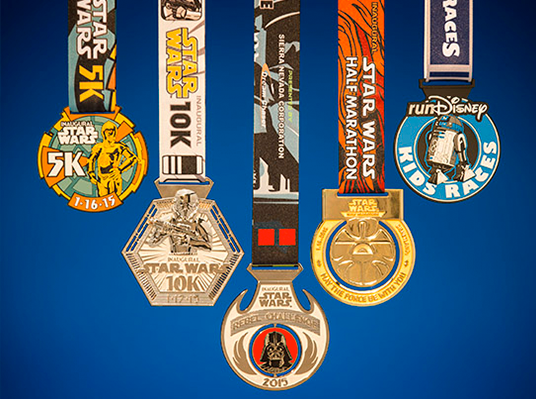 And there's one more Star Wars item that was unveiled this week that can only be found at one location: the finish line of a race taking place during the inaugural Star Wars Half Marathon weekend, January 15–18 at the Disneyland Resort. Finisher medals feature many of your favorite Star Wars characters, and half marathon finishers might think their medallion reminds them of the Medal of Bravery awarded to Luke Skywalker and Han Solo at the end of Episode IV. Runners, may the force be with you!
---

MagicBands Get Infinite-ly More Magical
Have you dreamed of bringing the Disney Parks to your Disney Infinity Toy Box? Walt Disney Parks and Resorts announced last week at The Walt Disney Company's Mobile Product Showcase that plans are underway to incorporate the MagicBand into the Disney Infinity experience. Guests will be able to place a MagicBand over the Disney Infinity base, which then unlocks the it's a small world download. Visit D23.com to learn more about this and the other announcements from the event. ►

See Concept Art for Shanghai Disney Resort Hotels and Disneytown
We're always super excited to get an early look at anything new that's on its way to Disney Parks and Resorts, and the concept art released last week for two hotels at Shanghai Disney Resort didn't disappoint. To see all of the art and also learn about Disneytown, visit D23.com. ►