Disney Chairman and CEO Bob Iger and leaders from across The Walt Disney Company revealed new updates on interactive technology from Disney Consumer Products, ABC, Walt Disney Studios, ESPN, Disney Parks, Maker Studios and Disney Interactive in a mobile showcase event at the Walt Disney Studios on Friday, November 14.
Here's a recap on some of the biggest announcements: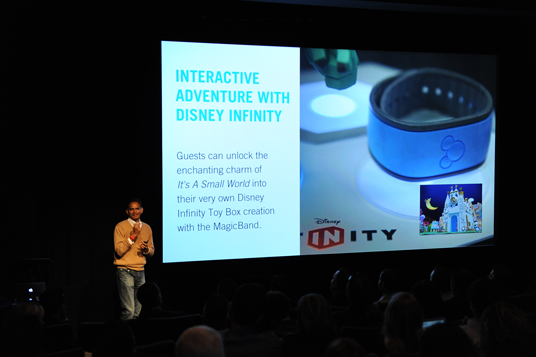 Walt Disney Parks And Resorts
Walt Disney Parks and Resorts announced plans to incorporate the MagicBand into the gaming experience of Disney Infinity. MagicBands will unlock an it's a small world experience. Worn on the wrist, the MagicBand is the key to unlocking the magic of a Walt Disney World vacation, connecting guests to all the choices they make online at MyDisneyExperience.com.
The MagicBand serves as park admission, access to FastPass+ experiences and Disney PhotoPass photo association—all rolled into one. For Walt Disney Resort hotel guests, it also serves as a room key and optional payment method. One touch of the MagicBand and the colorful Mickey-shaped readers deliver guests' selected experiences.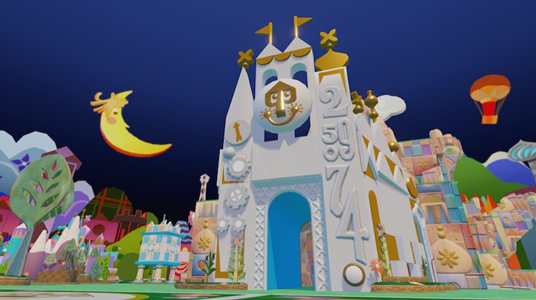 Guests unlock the download of it's a small world for their Toy Box by placing a MagicBand over the Disney Infinity Base. The Base will detect the presence of a MagicBand, and then will instantly unlock the "it's a small world" download with no online connectivity required. Additionally, you'll be able to enchant other players with the iconic music from the it's a small world attraction in the background. Once you've created a saved game, you will always have access to the new content.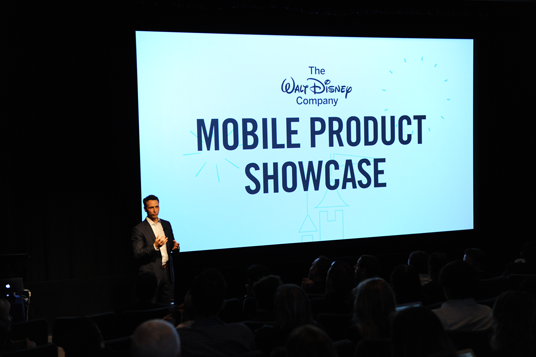 Disney Interactive
Jimmy Pitaro, president, Disney Interactive, discussed Disney Interactive's role in rebuilding Disney.com with its responsive design for mobile, which has resulted in significant traffic increases across mobile and web. Disney Interactive is also the No. 6 mobile games publisher worldwide.
A mobile version of Disney Infinity 2.0 for iOS was announced. The app is built using Metal, which offers significantly higher performance and console-quality graphics. The app includes multi-player functionality and will be available on iPhone for the first time this year.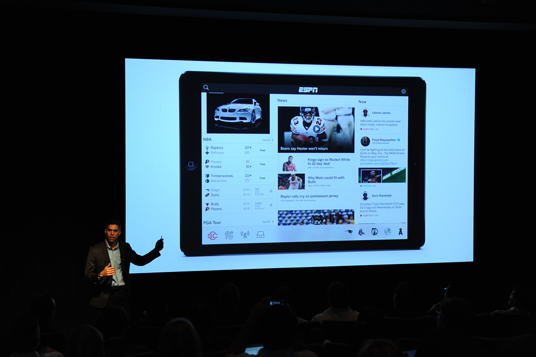 ESPN
John Kosner, executive vice president, Digital and Print Media, ESPN, and Ryan Spoon, senior vice president, Digital Product Management, ESPN, outlined how the ESPN Digital team has utilized mobile to turn the tremendous value of live sports into outstanding growth and category leadership.
In 2015, ESPN's industry leading SportsCenter app will change its name to ESPN, so that the company's No. 1 website, No. 1 mobile website and No. 1 mobile app will all have the same name. In time for the Super Bowl, ESPN will combine its native application and web development into one personalized experience.
On April 1, 2015—the 20th anniversary of ESPN.com—ESPN will officially launch the new ESPN.com in the U.S. and U.K.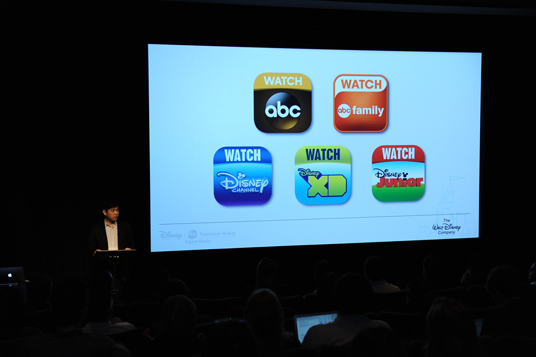 Disney/ABC Television Group
Albert Cheng, executive vice president and chief product officer, Digital Media, Disney/ABC Television Group (DATG), shared data and key learnings from their recently relaunched WATCH services.
Across DATG's five networks (ABC, ABC Family, Disney Channel, Disney Junior and Disney XD), the WATCH apps have been downloaded more than 50,000,000 times, on 40 different devices and, on average, viewers watch 20,000,000 hours of content a month on WATCH.
For the new Social Lens feature on WATCH ABC, the most activity is currently taking place on Scandal, Once Upon a Time, How To Get Away with Murder, Black-ish and Modern Family. The new FastShare feature on WATCH ABC is currently enabled on Scandal, Modern Family, Black-ish, The Goldbergs, The Middle and Nashville. So far, the most shared clips are from Scandal and Black-ish.
DATG also announced that it will deliver another slate of Disney Junior Appisodes next year, including the first ever appisode for Sheriff Callie's Wild West and the network's new show Miles from Tomorrowland.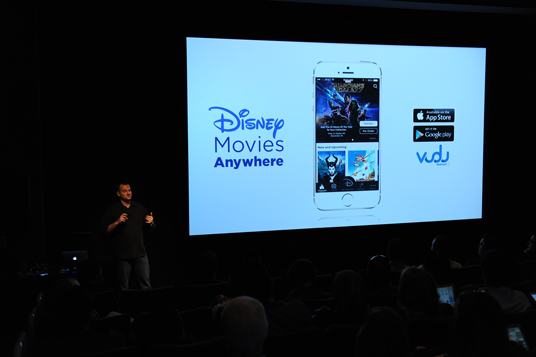 The Walt Disney Studios
Jamie Voris, chief technology officer, The Walt Disney Studios, gave an overview of Disney Movies Anywhere (DMA), and announced that it has now partnered with Walmart's VUDU digital video service as a participating retailer.
DMA will be available through VUDU beginning November 18. You can now access their Disney digital movie collections on all VUDU-enabled devices including set-top boxes, gaming systems and smart TVs; on iOS devices via iTunes and on Android devices through the recently announced partnership with Google Play, as well as through the Disney Movies Anywhere website.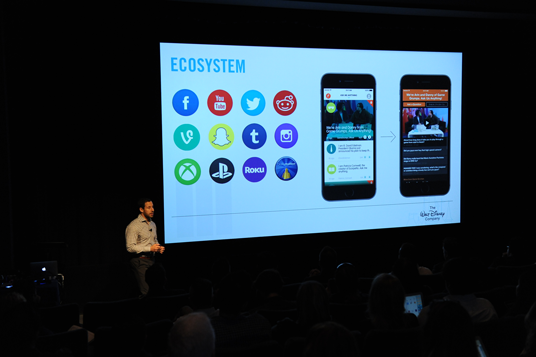 Maker Studios
Maker Studios discussed its Maker Axis platform, which allows for custom video hub creation across a vast network of creators. Ryan Lissack, chief technology officer, Maker Studios, spoke about the more than 10 video hubs launched both with responsive web destinations and native mobile apps on iPhone, iPad and Android.
The Maker Axis platform allows for growing scale through efficiencies in hub creative and streamlined end-to-end process automation. Now independent creators can create their own video hub apps and mobile-friendly websites in a matter of minutes.

Disney Consumer Products
Disney Consumer Products (DCP) discussed its focus on meeting the needs of consumers on mobile devices through the convergence of play, storytelling and learning. Andrew Sugerman, executive vice president, Disney Publishing Worldwide (DPW), announced its position as the No. 1 publisher of Kids Apps in 2014.
DPW unveiled its plan to launch an entirely new learning brand, Disney Imagicademy, which is designed to meet the needs of parents and address an existing gap in the marketplace. More details will come at an event in New York on December 4, 2014.