By Courtney Potter
Disney Channel orders more magical fun from its latest animated series, and Jack London's iconic novel gets a big-screen treatment starring Harrison Ford… Read more, along with other news from around Disney, in this week's news briefs!
Disney Channel's The Owl House Summons Second Season Ahead of Premiere
Big news, animation fans! (Hey, that's us!) Ahead of its big series premiere on Friday, January 10 (at 8:45 p.m. on Disney Channel and DisneyNOW), our friends at Disney Channel just revealed that The Owl House—their all-new fantasy-comedy created and executive-produced by Dana Terrace (DuckTales)—will get a second season! See the just-released trailer for the colorful series, above.
The Owl House follows Luz (voice of Sarah-Nicole Robles), a self-assured teenage girl who stumbles upon a portal to a magical realm where she befriends a rebellious witch, Eda (voice of Wendie Malick), and a tiny warrior, King (voice of Alex Hirsch, Gravity Falls). Despite not having magical abilities, Luz pursues her dream of becoming a witch by serving as Eda's apprentice at the Owl House—and ultimately finds a new family in a very unlikely, but totally amazing, setting. Guest voices for Season 1 include the likes of Matthew Rhys (The Americans), Issac Ryan Brown (Raven's Home), Mae Whitman (Parenthood), Parvesh Cheena (Crazy Ex-Girlfriend), and Eden Riegel (All My Children).
Coinciding with the series premiere, the DisneyNOW app will debut an adventure game set in the supernatural world of The Owl House, where players can join Luz on her mission to become a witch by completing tasks, collecting relics, and playing mini-games. Plus, new shorts featuring Luz, Eda, and King will begin rolling out in the spring on Disney Channel and Disney Channel YouTube—and an exclusive The Owl House t-shirt (designed by the series' art director, Ricky Cometa), is currently available at Amazon.com/DisneyChannel, with additional designs debuting in January.
Jack London's iconic novel gets a big-screen treatment starring Harrison Ford, and a new poster for Mickey & Minnie's Runaway Railway is revealed… Read more, along with other news from around Disney, in this week's news briefs!
Harrison Ford Heeds The Call of the Wild in February 2020
It's based on a Jack London classic; it stars Harrison Ford; and it's coming to the big screen early next year… 20th Century Fox's The Call of the Wild vividly tells the story of Buck, a big-hearted dog whose blissful domestic life is turned upside down when he is suddenly uprooted from his California home and transplanted to the exotic wilds of the Alaskan Yukon during the Gold Rush of the 1890s. (And that, as you'll see, is where he meets John Thornton, as portrayed by Ford.) As the newest rookie on a mail delivery dog sled team—and later its leader—Buck experiences the adventure of a lifetime, ultimately finding his true place in the world and becoming his own master. Check out the brand-new trailer, above.
As a live-action/animation hybrid, The Call of the Wild uses some truly cutting-edge visual effects and animation technology to render the animals in the film as fully photorealistic, and emotionally authentic, characters. Directed by Chris Sanders and produced by Erwin Stoff—with a screenplay by Michael Green—the film also stars Dan Stevens, Omar Sy, Karen Gillan, Bradley Whitford, and Colin Woodell. Look for it in a theater near you beginning February 21, 2020.
Save the Date!
Be sure to mark these upcoming Disney events on your calendar:
D23 and Walt Disney Archives
November 20, 2019
Attend Disney's Frozen 2 Red Carpet Premiere in Toronto.


November 23, 2019


D23's Magical Screening Series: Up on the Lot


December 1, 2019


Disney's Frozen 2 Enchanted Forest Experience at Saks—in New York City!


December 8, 2019


Light Up the Season with D23—2019
December 14, 2019
Lunch with a Disney Legend: Tom Nabbe
December 14, 2019
D23's Merriest Mixer at Walt Disney World
January 8, 2020
D23 Gold Member Mixer in Kapolei, Hawai'i


January 17, 2020


Get VIP Tickets to Disney's Frozen The Hit Broadway Musical


January 31, 2020


Disney's Aladdin the Hit Broadway Musical VIP Tickets


August 9, 2020


Adventures by Disney Rhine River Cruise Presented by D23
Parks
August 29—November 23, 2019
2019 Epcot International Food & Wine Festival
November 8, 11, 12, 14, 15, 17, 19, 21, 22, 24;


December 1, 3, 5, 6, 8, 10, 12, 13, 15, 17, 19, 20, 22, 2019


Mickey's Very Merry Christmas Party at Magic Kingdom park


November 8—January 6, 2020


Holidays at the Disneyland Resort
November 29—December 30, 2019
2019 Epcot International Festival of the Holidays
December 5, 2019
Star Wars: Rise of the Resistance opens at Disney's Hollywood Studios
January 17, 2020
Star Wars: Rise of the Resistance opens at Disneyland park
January 17—February 9, 2020
Lunar New Year returns to Disney California Adventure park
February 28—April 21, 2020
Disney California Adventure Food & Wine Festival returns to the Disneyland Resort


March 4

—

June 1, 2020
Epcot International Flower & Garden Festival at Walt Disney World Resort



Studios




November 22, 2019


Frozen 2 opens in U.S. theaters


December 20, 2019


Star Wars: The Rise of Skywalker opens in U.S. theaters


March 6, 2020


Onward opens in U.S. theaters


March 27, 2020


Mulan opens in U.S. theaters


May 29, 2020


Artemis Fowl

opens in U.S. theaters




Television


November 28, 2019 (8–10 p.m. EST)
The Wonderful World of Disney: Magical Holiday Celebration airs on ABC
December 13, 2019 (8-8:30 p.m. EST)
Disney Channel Holiday Party @ Walt Disney World premieres on Disney Channel and DisneyNOW
December 25, 2019 (10 a.m.—12 p.m. EST, 9—11 a.m. CST/MST/PST; airtimes vary, check listings)
Disney Parks Magical Christmas Day Parade airs on ABC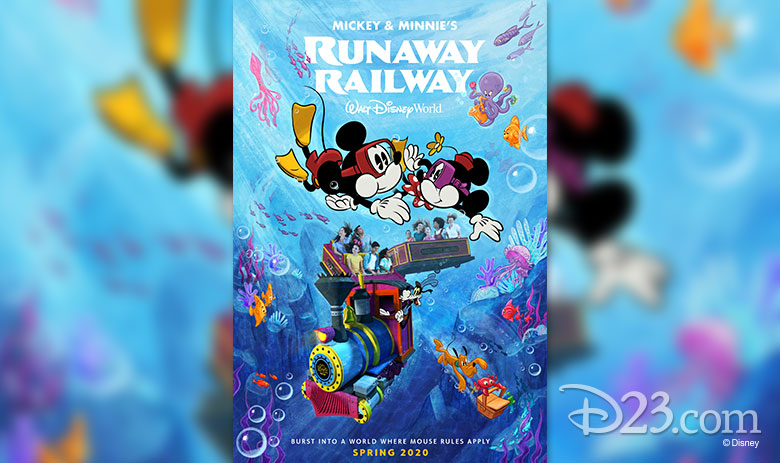 Colorful New Poster for Mickey & Minnie's Runaway Railway
This week, Disney fans around the world have been celebrating another trip 'round the sun for Mickey Mouse and Minnie Mouse—and our pals at Walt Disney World Resort got in on the party by releasing a brand-new poster for Mickey & Minnie's Runaway Railway, the attraction coming soon to Disney's Hollywood Studios. Take a gander at all the colorful (and underwater!) fun, above!
On Mickey & Minnie's Runaway Railway, guests will step through the movie screen and join Mickey, Minnie, and friends like never before—bursting into a world where mouse rules apply… and y'know what that means? Anything can happen! Mickey & Minnie's Runaway Railway will transport folks into the wacky and unpredictable world of Disney Channel's Emmy® Award-winning Mickey Mouse cartoon shorts—where they're the star! Disney's Hollywood Studios' iconic Chinese Theatre will serve as the magic portal through which we'll get to step from the human world directly into an unforgettable cartoon world.Stay tuned for more info about Mickey & Minnie's Runaway Railway—including the debut of several more posters—in the coming weeks, and watch for the attraction to debut in spring 2020.
Freeform's Turkey Drop Debuts This Weekend
Thanksgiving isn't just a time for family gatherings replete with delicious food and plentiful naps (be honest; we know you get in some serious couch time, too!)… it's also full of fun TV viewing, from big parades to adorable dog shows—and now, thanks to Freeform, a brand-new romantic comedy! If you haven't already, do check out the trailer for Turkey Drop, above.
Debuting this Saturday, November 23, at 9 p.m. EST/PST, Freeform's first Thanksgiving-themed feature stars Olivia Holt (Marvel's Cloak & Dagger) as Lucy Jacobs, a small-town girl who's just started her freshman year at a big-city university. When she returns home for Thanksgiving break, she suspects she's about to get "turkey dropped"—dumped by her high school sweetheart—during their holiday visit. To avoid a Turkey Day travesty, Lucy gets out of her comfort zone, proving she's not the same play-it-safe girl she was with her H.S. boyfriend. As she takes control of her own life and makes choices that put herself first, she learns to let go of what's been holding her back, helping achieve what she really wants out of life. Cheryl Hines (Curb Your Enthusiasm) costars as Lucy's mother, Nancy—along with Ben Levine (Legacies) and Tyler Perez (LA's Finest).
(By the way: In case you need something fun to watch while you're basting your own sure-to-be-delicious bird, look for an encore airing of Turkey Drop on Thanksgiving Day, November 28, beginning at 11 a.m.)
Also From Freeform: Don't Miss Wrap Battle, Premiering Next Week!
Well, with Thanksgiving just around the corner, it's soon to be "all holidays, all the time"—not that we're complaining in the slightest. It's legitimately the most wonderful time of the year! (Case in point: D23 Days of Christmas, and all its fun content and giveaways, kicks off in a little over a week.) And naturally, Freeform is getting in on the action too, with the debut of its brand-new competition series, Wrap Battle, next week. Watch the merrily magnificent trailer, above.
The three-week-long series follows nine contestants as they battle to become the ultimate wrapper—and take home the coveted grand prize, valued at $50,000. Wrap Battle will be hosted by comedian Sheryl Underwood (The Talk), with Carson Kressley (RuPaul's Drag Race) and Wanda Wen (founder of fine stationery and luxury paper brand Soolip) serving as judges. Celebrity guest judges include Tony® Award-winning Broadway producer Candy Spelling, Food Network star Sandra Lee, Sherry Cola (Good Trouble), Diggy Simmons (grown-ish), Lala Kent (Vanderpump Rules), and designer Sabrina Soto.
Get wrapped up in Wrap Battle beginning Monday, November 25, at 9 p.m. EST/PST on Freeform.
ICYMI: Gordo Will Return in Disney+'s Lizzie McGuire
As far as "TV best friends" go, there are few more supportive (and hilarious) as David "Gordo" Gordon—portrayed by actor Adam Lamberg—on Disney Channel's fan-favorite series Lizzie McGuire. So we're tickled pink to hear he's returning to the upcoming Lizzie McGuire series on Disney+, once again featuring Hilary Duff as the (now grown-up) title character. Get all the scoop by clicking here!
Disney Festival of Holidays—Now Underway at DCA!
The Disneyland Resort is positively resplendent for the holidays, and will be through January 6… so, should you be making a trip there in these next few months—you have plenty of time to enjoy the mirth and merriment! And if you do visit, you positively must spend some time reveling in the Disney Festival of Holidays—showcasing the sights, sounds, and tastes of Christmas, Navidad, Hanukkah, Diwali, Kwanzaa, and Three Kings Day (January 3–6) throughout Disney California Adventure park.
Inspired by the incredible cultural diversity of Southern California, Disney Festival of Holidays features contemporary music and dance performances, as well as a truly scrumptious array of holiday food and drink at the Festival Foods Marketplace. Wanna see some of it in action? Check out this new video, featured by our friends over at the Disney Parks Blog, above—and we'll see ya there. (Pro tip: Come hungry!)