Beauty and the Beast . . .  and Maurice . . .  and Mrs. Potts . . .  and a Release Date!
At D23.com, we've been so eagerly anticipating the release of Cinderella that we weren't sure what we were going to do with ourselves now that the film is in theaters—until now. Hot on the glass-slippered heels of Cinderella's release, Walt Disney Studios has given us a new date to mark on our calendar: March 17, 2017, the day that Beauty and the Beast will be released in theaters in 3-D.
Along with the film's release date, we also learned about some exciting casting news. Emma Thompson has joined the Beauty and the Beast cast in the role of Mrs. Potts, and Kevin Kline will be playing Belle's father, Maurice. Eight-time Oscar®-winner Alan Menken—who won two Academy Awards® for the 1991 animated classic—will score the film, which will feature new recordings of the original songs in addition to several new songs written by Menken and Sir Tim Rice. Bill Condon will direct from a script by Stephen Chbosky, and the film will be produced by Mandeville Films' David Hoberman and Todd Lieberman. Production begins in May at Shepperton Studios in London.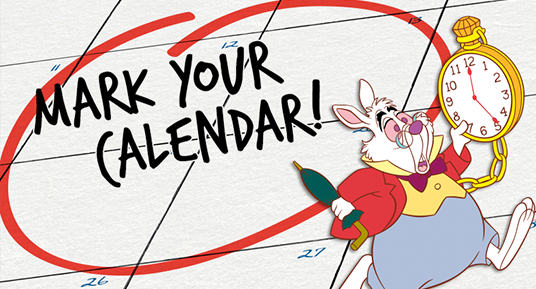 Save the Date!
Be sure to mark these upcoming Disney events on your calendar:
D23 and Walt Disney Archives


Fall 2014-2015


D23 Member Nights at Newsies—On Tour


March 27




Lunch with a Disney Legend: Orlando Ferrante




April 25


D23 Day at Walt Disney Studios and Archives


August 14-16


D23 Expo 2015 returns to Anaheim, California
Television


March 21–22




Princess Funday on ABC Family begins at 5 p.m. ET/PT




April 3


Muppet Moments Premieres at 8:25 a.m. ET/PT
Parks


March 4–May 17




22nd Epcot International Flower & Garden Festival.




May 15–June 14


Star Wars Weekends Returns to Disney's Hollywood Studios.


May 22–23




24-hour event kicking off Disneyland Resort Diamond Celebration at Disneyland Resort




May 22–23




24-hour event kicking off "Coolest Summer Ever" at Walt Disney World Resort




September 15, 18, 20, 22, 25, 27; October 1, 2, 4, 6, 8, 9, 12, 13, 15, 16, 18, 20, 22, 23, 25, 27, 29, 31; and November 1

Mickey's Not-So-Scary Halloween Party at Magic Kingdom Park


November 8, 10, 12, 13, 15, 17, 19, 20, 29; and December 1, 3, 4, 6, 8, 10, 11, 13, 15, 17, 18


Mickey's Very Merry Christmas Party at Magic Kingdom Park


Studios




April 17


Disneynature's Monkey Kingdom opens in theaters.


May 1


Avengers: Age of Ultron opens in theaters.


May 22


Tomorrowland opens in theaters.


June 19


Inside Out opens in theaters (along with the short Lava).


July 17


Ant Man opens in theaters.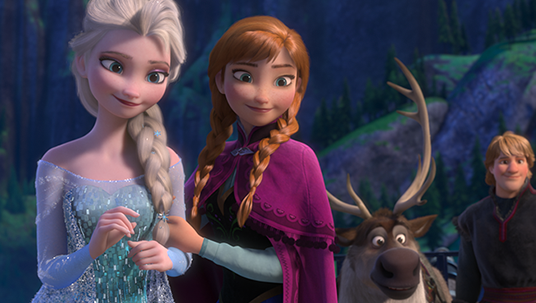 News Worth Melting For!
At The Walt Disney Company's annual meeting last week, Disney Chairman and CEO Robert A. Iger revealed the coolest news ever about Frozen. Iger told shareholders—and D23 Members in attendance—that Walt Disney Animation Studios is officially developing Frozen 2 with the Oscar-winning team from Frozen, directors Chris Buck and Jennifer Lee and producer Peter Del Vecho. "We enjoyed making Frozen Fever so much and being back in that world with those characters," said John Lasseter, Chief Creative Officer, Pixar and Disney. "Jennifer Lee and Chris Buck have come up with a great idea for a sequel and you will be hearing a lot more about it, and we're taking you back to Arendelle. We are so excited about that." We are, too!
---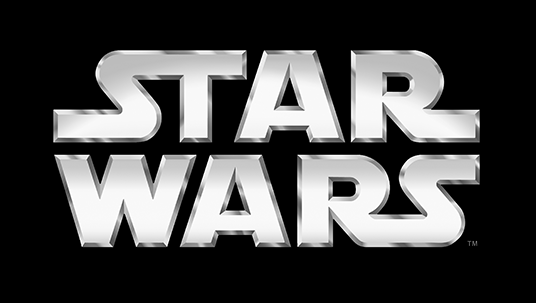 And the Saga Continues!
You could have heard our cheers from a galaxy far, far away when Iger also announced at the annual meeting that the first stand-alone film from the world of Star Wars will be titled Rogue One and will star Felicity Jones (The Theory of Everything). Gareth Edwards (Monsters, Godzilla) is directing from a script written by Oscar nominee Chris Weitz (Cinderella, About a Boy). And adding to our very important dates for 2017 is the release date for Star Wars: Episode VII, which will open in theaters May 26, 2017—40 years and a day after the release of Star Wars: A New Hope in 1977.
---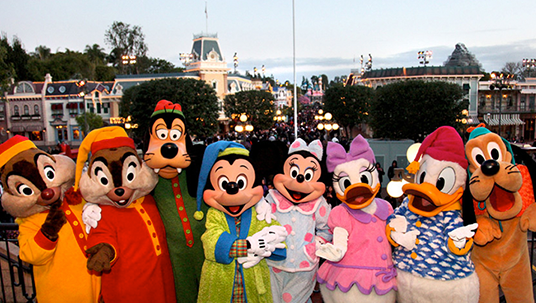 Start the Summer with 24 Hours of Disney Parks Fun!
When do you finally feel like summer has begun? The summer solstice? The end of school? Or when it starts feeling like summer at a Disney park? Last week, Walt Disney Parks and Resorts unveiled plans to kick off the summer season with 24-hour events at both Disneyland Resort and Walt Disney World. Disneyland Resort will launch its Diamond Celebration on Friday, May 22, at 6 a.m. PT; while Walt Disney World officially beings the "Coolest Summer Ever" at 6 a.m. ET. Both parks will stay open continuously for 24 hours, until 6 a.m. Saturday, May 23, local time. Visit
>D23.com for all of the details.
---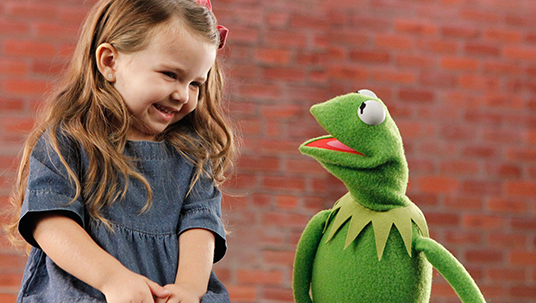 Wocka Wocka! Fozzie, Kermit, Miss Piggy, and More to Star in Muppet Moments
You know that old saying, "kids say the darnedest things"? Well, so do Muppets. And now Disney Junior is giving us the opportunity to watch kids and Muppets have fun conversations about everyday topics like "apologies," "favorite foods," and "manners." Muppet Moments, a new short-form series premieres on Disney Channel at Friday, April 3, at 8:25 a.m. ET/PT, with additional shorts airing at 8:55 a.m., 9:25 a.m., and 9:55 a.m., all ET/PT. A new short will air daily through Friday, May 8, with additional shorts debuting throughout 2015. They'll also be available on WATCH Disney Junior. And it turns out the Muppets are fans of Disney Junior shows, too. Enjoy this "leaked audition tape" of some of your favorite Muppets auditioning to play some of your favorite Disney Junior characters:
---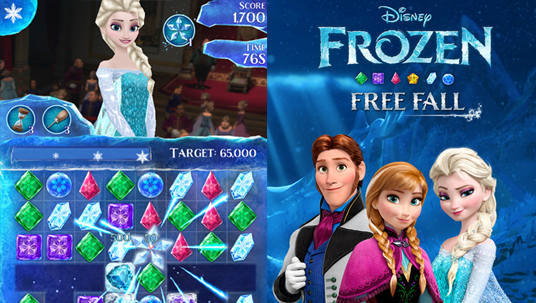 Disney Interactive Launches Cinderella Free Fall, Updates Frozen Free Fall
Match-3 games can be such a wonderful diversion at times, when, say… you're waiting in line to go and see Cinderella or Frozen Fever. This is why we're so happy to report that Disney Interactive has launched Cinderella Free Fall, a free-to-play puzzle adventure game that allows players to transform into the most iconic princess of all time, connecting and matching butterfly jewels on an epic journey through the kingdom. This brand-new match-3 app is available now on the Apple App Store, Google Play, Windows Phone Store, and the Windows Store. And if, like us, you've already been enjoying Frozen Free Fall, there's a new update in celebration of the release of the short, Frozen Fever. The update offers 45 new levels, an Elsa's Snowgies Power-up, and an Anna's sunflower Power-up. You can create ice sculptures, follow the string and enjoy different surprises, and signal the arrival of the solstice with the Alpine Horns. There are even collectible cake pieces that unlock dazzling dresses for Anna and Elsa. This update is available now in Frozen Free Fall on mobile devices.
---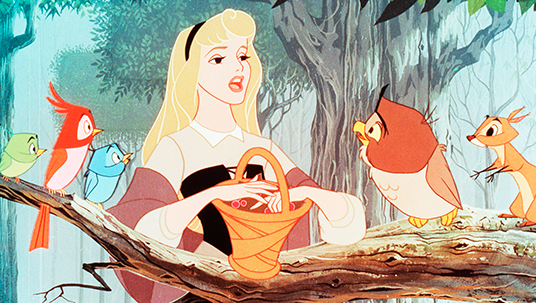 Celebrate "Princess Funday" with ABC Family This Weekend
Beginning this Saturday, March 21, at 5 p.m. ET/PT, ABC Family will be presenting "Princess Funday." Princesses of all ages are encouraged to don their tiaras, raise their goblets, and celebrate "girl power" with a princess-packed viewing schedule of animated Disney classics. The Princess and the Frog kicks things off at 5 p.m. ET/PT, followed by The Little Mermaid (7 p.m. ET/PT), Sleeping Beauty (8:45 ET/PT), Cinderella (10:30 p.m. ET/PT), and Pocahontas (12:15 a.m. ET/PT on Sunday, March 22). You and your "princess posse" can have even more fun in the social media space with the fundayapp.com, where you'll find ways to share your fan love and photos and enter sweepstakes.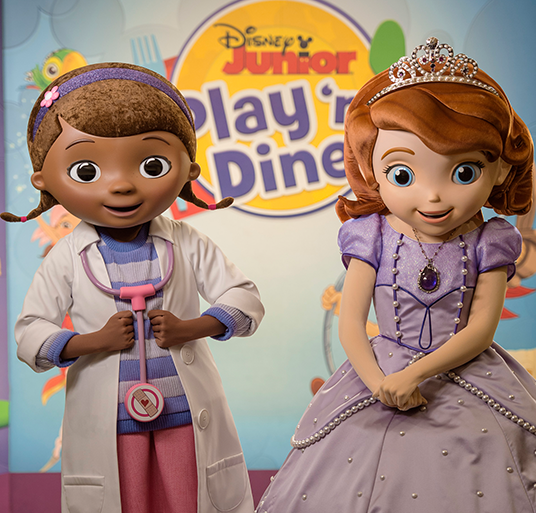 Check-Ups and Meet-Ups With Doc McStuffins at Disney's Hollywood Studios
Kids love watching Doc McStuffins care for her stuffed animals and toys on the popular TV show from Disney Junior; and they love watching her in person at Disney Junior—Live on Stage! at Disney's Hollywood Studios at Walt Disney World. Now, starting this summer, kids will be able to visit with Doc in a dedicated space for her in the park's Animation Courtyard, adjacent to Disney Junior—Live on Stage! According to the Disney Parks Blog, Doc will be "on call" beginning in May.
Walt Disney World Gingerbread Houses Still Creating Quite a Buzz…
We oohed and aahed over the amazing gingerbread creations on display around the Walt Disney World Resort this past holiday season. And we wondered what happens to these delicious-looking works of art when the holidays are over. The Disney Parks Blog satisfied our curiosity with the video above, which shows that the gingerbread houses are shared with what must undoubtedly be the happiest bees on earth, to help them pollinate the spectacular flowers that are in bloom right now at Epcot, as part of the Epcot International Flower & Garden Festival. No wonder the flowers at Epcot smell so sweet!