The Good Dinosaur: See Arlo the Apatosaurus in Action
Need a dose of "adorable" today? Look no further than the brand-new trailer for Disney•Pixar's upcoming The Good Dinosaur, which will roar into theaters on Thanksgiving Day (November 25).
Directed by Peter Sohn (fun fact: he's a Disney•Pixar veteran on whom helpful Wilderness Explorer Russell from Up is based), the film asks one simple—but very big—question: What if the asteroid that forever changed life on Earth missed the planet completely, and dinosaurs never became extinct? The Good Dinosaur will take you on an epic journey where a terrifically cute Apatosaurus named Arlo (voiced by Raymond Ochoa) makes an unlikely human friend. While traveling through a harsh and mysterious landscape, Arlo learns the power of confronting his fears and discovers what he is really capable of.
---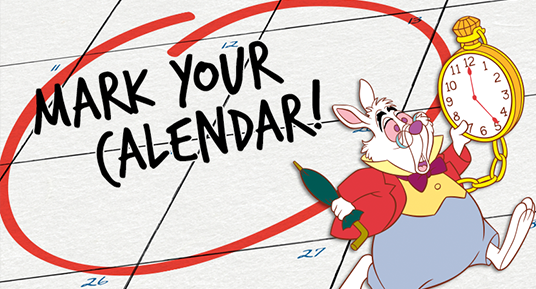 Save the Date!
Be sure to mark these upcoming Disney events on your calendar:
D23 and Walt Disney Archives


August 14-16


D23 Expo 2015 returns to Anaheim, California


Fall 2015


D23 Member VIP Nights at The Lion King


September 26


The Art of Disney—Featuring 75 Years of Pinocchio


October 3


D23's Sip & Stroll


Studios




November 25


The Good Dinosaur opens in theaters.


December 18


Star Wars: The Force Awakens opens in theaters.


January 29


The Finest Hours opens in theaters.


March 4


Zootopia opens in theaters.

Parks


September 15, 18, 20, 22, 25, 27; October 1, 2, 4, 6, 8, 9, 12, 13, 15, 16, 18, 20, 22, 23, 25, 27, 29, 31; and November 1


Mickey's Not-So-Scary Halloween Party at Magic Kingdom Park


September 25, 28, 30; October 2, 5, 7, 9, 12, 14, 16, 19, 22, 23, 25, 27, 29, 31


Mickey's Halloween Party 2015 at Disneyland


September 25-November 16




Epcot International Food & Wine Festival




November 8, 10, 12, 13, 15, 17, 19, 20, 29; and December 1, 3, 4, 6, 8, 10, 11, 13, 15, 17, 18


Mickey's Very Merry Christmas Party at Magic Kingdom Park


Television




July 31


Disney's Descendants premieres at 8 p.m. ET/PT on Disney Channel


September 5


Marvel's Guardians of the Galaxy premieres at 9:30 p.m. ET/PT on Disney XD
---
Celebrating Opening Day: Disneyland's 60th Anniversary Continues
On Friday, July 17, Disneyland commemorated the official 60th anniversary of their opening with a huge party! Guests were able to take fabulous, memory-filled pictures at special photo locations around the Park, and thousands of delicious cupcakes were handed out to young and young-at-heart. Some attendees even dressed in 1950s-themed outfits, "traveling" back in time to when Walt Disney threw open the gates in 1955.
But that's not all: The celebrations also featured an announcement about Disneyland Resort's new Million Dollar Dazzle program. Each month during the Resort's Diamond Celebration, the Million Dollar Dazzle Crew will surprise one (or more) Southern California nonprofits with a $60,000 gift, totaling more than $1 million. Girl Scouts of Orange County was surprised with the first gift at a special ceremony on Friday morning.
In case you weren't able to visit the Park on July 17 in person, we've got the next best thing: Check out this fun recap video, above, from our friends over at the Disneyland Resort.
---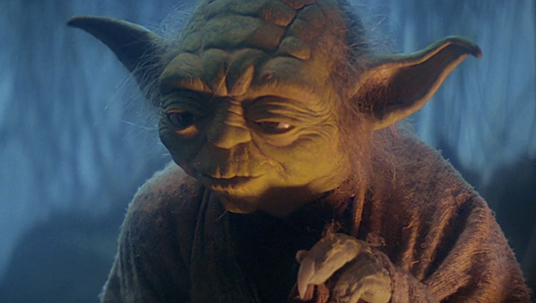 Strange But True Star Wars Trivia
The original Star Wars trilogy is beloved by fans throughout the world—and many of them know amazing, minute details about every frame. But the good folks over at StarWars.com have found a selection of very-peculiar-but-true trivia facts… ones that'll be fantastic to break out at the next cocktail party you attend.
For instance, did you know that The Empire Strikes Back and The Shining (the 1980 film based on the Stephen King novel, starring Jack Nicholson) were shot right next to each other at London's Elstree Studios? See the complete, fascinating list here to find out more.
---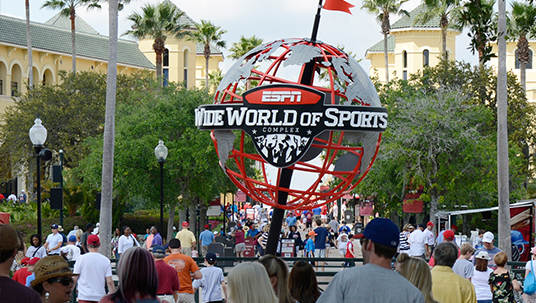 Play Ball! Team Mickey All-Star Baseball Tour Kicks Off July 26
Summer's in full swing—and you know what that means, right? More baseball action than you can shake a bat at. Mickey Mouse himself is looking to get in on all the fun, so Disney is suitin' him up and hittin' the road…
The Team Mickey All-Star Baseball Tour allows fans of all ages to celebrate two beloved all-American icons: baseball and Mickey! Fans can join the fun-filled celebration in three weekend games in 2015: Atlanta Braves at St. Louis Cardinals on July 26; Boston Red Sox at Detroit Tigers on August 9; and San Diego Padres at Colorado Rockies on August 16. At each game, attendees will enjoy exciting Mickey-themed activities, a huge on-field celebration, giveaways, and special surprises throughout the day.
Each team is offering a special ticket package (all available for purchase now) that includes a limited-edition Mickey Mouse hat from New Era and access to that game's Disney fun—like all-new baseball-themed Mickey Mouse animated shorts on the jumbotron! Plus, fans are invited to enter a national sweepstakes for a chance to win a trip for a youth baseball team of up to 15 people to visit ESPN Wide World of Sports Complex at Walt Disney World Resort and play in a select baseball tournament. Head over to www.Disney.com/teammickey for your chance to win, and for more info!
---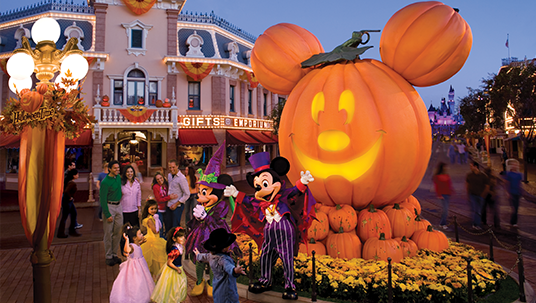 Mickey's Halloween Party at Disneyland: Bigger and Better in 2015
Halloween at Disneyland has become its own "spooktacular" tradition over the years… and in 2015, the Park's got even more frightful fun in store. Mickey's Halloween Party—a separate ticketed event with trick-or-treat stations, themed photo opportunities, and a big dance party for fans of all ages—has been expanded to 17 nights! On those special evenings, guests will be able to enjoy the new Paint the Night parade plus the Halloween Screams fireworks spectacular.
But if you can't make it to a Mickey's Halloween Party night, fret not! Halloween Time at Disneyland Resort features all the spine-chilling seasonal attractions you've come to know and love—including the Nightmare Before Christmas-themed Haunted Mansion Holiday, Space Mountain Ghost Galaxy, and Mickey and all his friends in their Halloween finery. There'll also be special Halloween-themed Diamond Celebration décor sprinkled throughout the Park, and both Paint the Night and the new Disneyland Forever fireworks will delight guests on non-party evenings.
Mickey's Happy Haunts materialize for a creepy good time during Halloween Time, from September 11 until November 1! Care to join them…?
---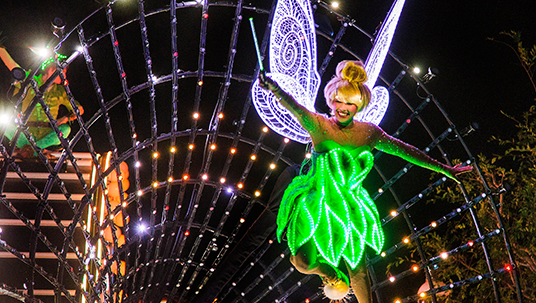 Making a Disney Parks Parade Even More Memorable
Speaking of the new Paint the Night parade, which debuted in honor of Disneyland Resort's Diamond Celebration, you probably know it delights the Park with music, magic, and a whopping 1.5 million colorful LED lights. But did you know it's also the first time a Disney Parade has been made available through both Audio Description and Handheld Captioning? That means the new nighttime spectacular can be a more inclusive (and more memorable!) experience for guests with visual or hearing disabilities.
This service works by providing guests with a small handheld device that utilizes amazing Disney-patented wireless technology, which recognizes its location in the Park and triggers pre-programmed actions. For example, during Paint the Night, guests with visual disabilities who use the device hear descriptions of the visual elements of the parade. It receives signals from each parade float as it passes by, prompting it to play pre-recorded audio that describes the float. The device, offered at no cost (with a refundable deposit), also provides amplified audio for assistive listening. The next time you're at Disneyland, visit City Hall on Main Street, U.S.A., for more information.
---
Gravity Falls Comes to Life on Nintendo 3DS
Calling all Gravity Falls fans! Disney Interactive is helping bring the Disney XD animated hit to life this fall with Gravity Falls: Legend of the Gnome Gemulets, a brand-new video game for Nintendo 3DS. Created in collaboration with Ubisoft and the show's creator and executive producer, Alex Hirsch, the game delivers Gravity Falls' hilariously quirky humor in an interactive way, letting fans play as Dipper and Mabel as they set out to solve mysteries and restore order to the Gnome kingdom. Along their journey, players will encounter many more characters from the show and will explore locations like the town of Gravity Falls, the Mystery Shack, and much more. Alex himself designed the game's original key art! (He's multi-talented, that guy.)
Check out the new trailer for the game, above.