By Courtney Potter
Main Street Electrical Parade Returns to Disneyland for a Limited Time!
Look! See there? Those twinkling lights on the horizon? They're not a mirage… They're part of the truly legendary, positively world-renowned Main Street Electrical Parade, which is returning to Disneyland park early next year!
It's been two decades since the parade last wound its glittering way down Main Street, U.S.A.—and now, it's returning for a limited-time encore engagement. Most recently, this "spectacular festival pageant of nighttime magic and imagination" has been dazzling guests at Walt Disney World Resort.
Fans of the equally luminous Paint the Night, take note: That popular parade, first introduced as part of the Disneyland Resort Diamond Celebration, will continue nightly performances before the Disneyland Forever fireworks through September 5—plus, it'll return on select nights during the 2016 holiday season! So keep your eyes peeled to the entertainment calendar at Disneyland.com for more information… and stay tuned for more details about the Main Street Electrical Parade's return as they become available.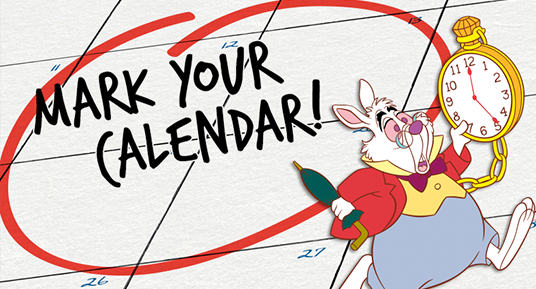 Save the Date!
Be sure to mark these upcoming Disney events on your calendar:
D23 and Walt Disney Archives


August 20


The Reluctant Dragon 75th Anniversary on the Lot


August 22


D23 Presents Aloha Aulani!


September 23


Lunch with a Disney Legend: Bill Sullivan


September 24


D23 Presents Bedknobs and Broomsticks: 45 Bewitching Years (Florida)


October 5


D23's Sip & Scream


October 5


D23 Behind-the-Scenes Experience: A Midnight Soirée at the Tower of Terror


October 8


D23's Age of Believing: 45 Years of Bedknobs and Broomsticks (California)


November 19–20


D23 Destination D: Amazing Adventures


July 14-16, 2017


D23 Expo 2017


Studios




August 12, 2016


Pete's Dragon opens in theaters


September 23, 2016


Queen of Katwe opens in theaters


November 4, 2016


Doctor Strange opens in theaters


November 23, 2016


Moana opens in theaters


December 16, 2016


Rogue One: A Star Wars Story opens in theaters
Parks
September 2, 8, 11, 13, 16, 18, 20, 23, 25, 29, 30; October 2, 4, 6, 7, 10, 11, 13, 14, 16, 18, 20, 21, 23, 25, 27, 28, 30, 31
Mickey's Not-So-Scary Halloween Party at Walt Disney World Resort
September 23, 26, 28, 30
October 3, 5, 7, 10, 12, 14, 17, 19, 21, 24, 26, 29, 31
Mickey's Halloween Party at Disneyland Resort
September 2–October 29 (Friday and Saturday Nights, plus October 31)
Club Villain, special ticketed event at Disney's Hollywood Studios
September 14–November 14, 2016
Epcot International Food & Wine Festival
November 7, 8, 10, 11, 13, 15, 18, 27, 29; December 1, 2, 4, 6, 8, 9, 11, 13, 15, 16, 18, 22
Mickey's Very Merry Christmas Party at Walt Disney World Resort


Television




September 18


68th Emmy® Awards broadcast on ABC at 7 p.m. ET/4 p.m. PT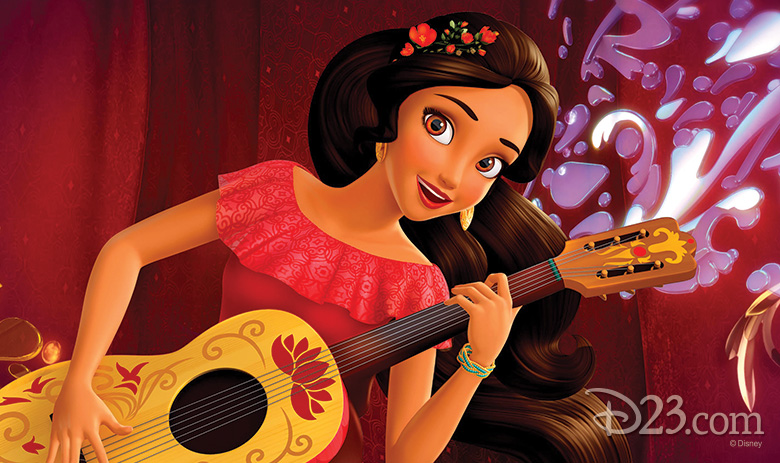 Elena of Avalor Gets a Second Season on Disney Channel and Disney Junior
Great news regarding our favorite new Disney Princess! A second season of Elena of Avalor—a story inspired by diverse Latin cultures and folklore—has been ordered, after its amazingly popular premiere on Disney Channel and Disney Junior just last month. Additionally, the Princess Elena character recently debuted at Walt Disney World, with her Disneyland Resort debut coming soon.
Elena of Avalor stars Aimee Carrero, Jenna Ortega, Chris Parnell, Yvette Nicole Brown, Carlos Alazraqui, and Emiliano Díez, with recurring guest voices including Constance Marie, Lou Diamond Phillips, Gaby Moreno, and Justina Machado. The show was created by and is executive produced by Craig Gerber; Silvia Cardenas Olivas is the story editor, and will also serve as co-producer for the second season.
New Christmas Cheer at Tokyo Disneyland Resort
Sure, we're in the throws of August—and many schools around the country have just kicked into their fall semester—but it always pays to plan ahead… especially when it comes to the holidays! If a jaunt to Tokyo is on your radar, we've got some cheer-full news: Tokyo Disney Resort is set to host a slew of fun Christmas-themed special events, programs, and activities from November 8 through December 25.
As part of its "Tokyo DisneySea 15th Anniversary: The Year of Wishes" celebration, Tokyo DisneySea will offer its annual special event, "Christmas Wishes"; in keeping with the theme, this holiday event will glimmer with even more symbolic Crystals of Wishes, adding extra-special sparkle. Additionally, after dark, "Colors of Christmas: Nighttime Wishes" will be presented on the waters of Mediterranean Harbor, and the S.S. Columbia (as well as the American Waterfront) will be decorated for both the holidays and the park's big anniversary.
Over at Tokyo Disneyland, guests will enjoy "Christmas Fantasy," a special event themed to "pop-up storybooks full of the Disney Friends' Christmas fun." And along the park's parade route, "Disney Christmas Stories" will bring to life pages from storybooks—showing the Disney characters having fun at Christmastime.
Deck the halls, indeed!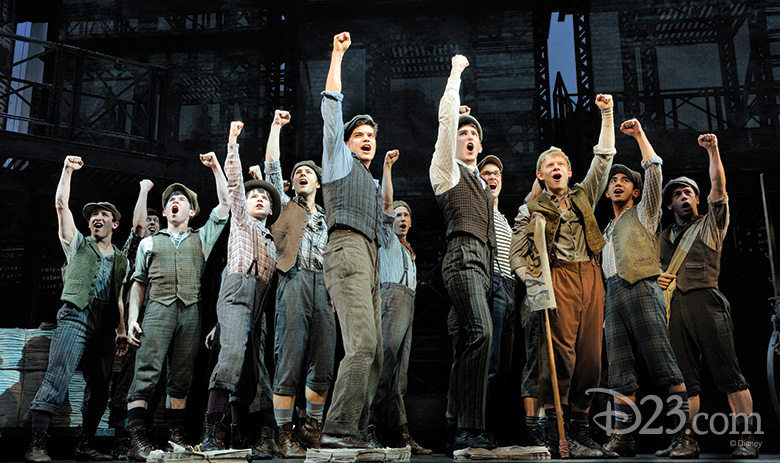 Disney Theatrical Productions' Newsies Coming to Movie Theaters in 2017
Soon, you'll get to "seize the day" in a whole new way! Recently, Disney Theatrical Productions and Fathom Events announced that the Tony® Award-winning musical Newsies will make its worldwide cinema debut in early 2017, starring Jeremy Jordan, reprising his Tony Award-nominated performance as Jack Kelly.
He'll be joined by fellow original cast members Kara Lindsay (Katherine), Ben Fankhauser (Davey), and Andrew Keenan-Bolger (Crutchie)—plus Newsies North American tour stars Steve Blanchard (Joseph Pulitzer) and Aisha de Haas (Medda Larkin). Additional cast from the Broadway and North American tour ensemble will also return, filling the stage with more "newsies" and more (ridiculously acrobatic) dancing than ever before.
Jordan and the returning original Broadway cast members will join the cast of the North American tour for one performance only that will be filmed on Sunday, September 11, 2016, at the Hollywood Pantages Theatre… in front of a very lucky invited audience!
Sounds fantastic, right? Look for more info on the Newsies 2017 in-cinema release later this year.
New Queen of Katwe Featurette
Opening across the country this fall, Disney's Queen of Katwe is an amazing and totally heartwarming true story based on Tim Crothers' best-selling book of the same name. A young girl selling corn on the streets of rural Uganda finds her world rapidly changing when she's introduced to the game of chess—and, as a result of the support she receives from her family and community, she's instilled with the confidence and determination she needs to pursue her dream of becoming an international chess champion.
This new featurette, from our friends at Oh My Disney, introduces us to the characters of chess prodigy Phiona (played by newcomer Madina Nalwanga), her mother, Harriet (Oscar® winner Lupita Nyong'o), and her supportive coach Robert (Golden Globe® nominee David Oyelowo). The film, directed by Mira Nair (Monsoon Wedding), comes to theaters on September 23.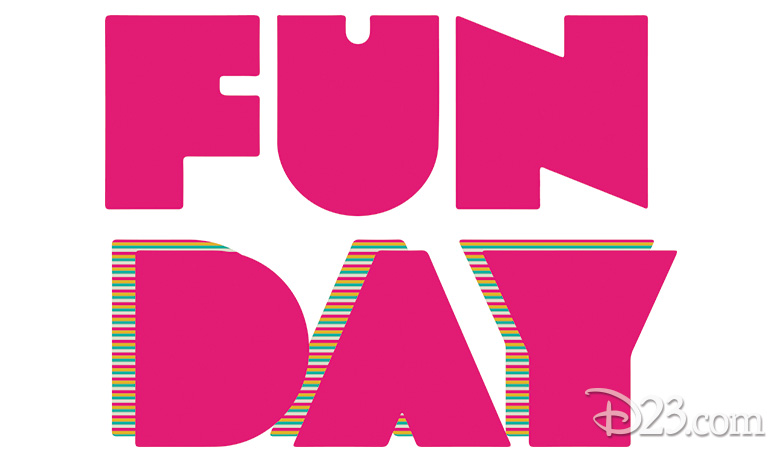 Freeform's Latest Funday Programming Event: September 17 and 18
Nothing says "relaxation" like a weekend spent watching some of your favorite movies… thankfully, over the weekend of September 17 and 18, Freeform will help you kick off those proverbial shoes and settle in for some comfy, cozy time on the couch.
Highlights of this latest Funday programming event include Disney's Tarzan (2:15 p.m. EDT on Saturday, September 17); Snow White and the Seven Dwarfs (4:30 p.m. EDT on Saturday, September 17); Disney•Pixar's The Incredibles (9:00 p.m. EDT on Saturday, September 17); and Aladdin (9:45 p.m. EDT on Sunday, September 18). Pop up some corn and enjoy!