By Beth Deitchman
The reign of a brand-new princess kicks off tomorrow night on Disney Channel and Disney Junior with the premiere of Elena of Avalor at 7 p.m. ET/PT. The new series follows the story of Elena, a brave and adventurous 16-year-old who is ruling her kingdom as its crown princess—advised by a Grand Council made up of trusted friends and relatives—until she's old enough to be queen. Avalor is a pretty magical place—and we mean that both literally and figuratively—but we think you'll find that the kingdom is in good hands with this confident and compassionate princess on the throne. Each episode of Elena of Avalor incorporates Latin and Hispanic cultures and traditions, and these influences can be seen in Avalor's architecture, music, and food. Before you tune in Friday night, here are just a few things to know about this spectacular new kingdom and its leader.
1. Elena's story is universal.
Elena is a young princess who was trapped for 41 years by an evil sorceress—inside a magical amulet—while her grandparents and sister were protected within a magical painting. Now that she's free, Elena must now learn to rule as crown princess. The lesson Elena is learning is universal—despite her royal status and a backstory that's anything but universal!— creator and executive producer Craig Gerber says. "How do you learn to be a good leader while learning how to be a good sister and a good granddaughter and a good friend?"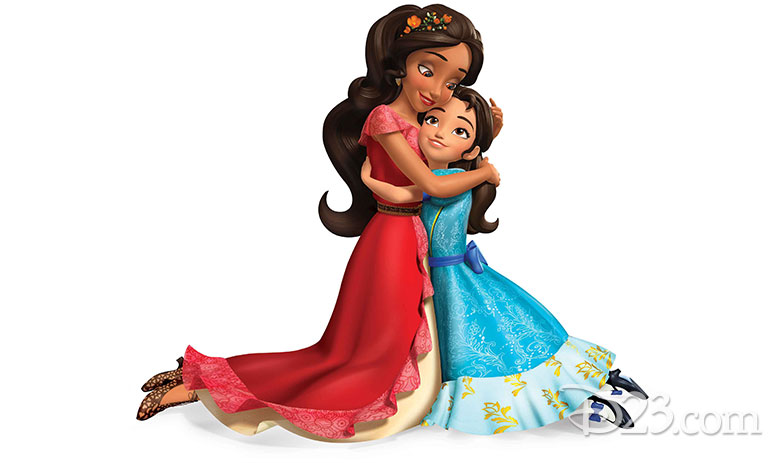 2. Elena is a true leader.
"Elena is the type of princess who's going to save her own kingdom—she's not going to order anyone to do it for her," Gerber stresses. But at 16, Elena is still figuring out who she is while she's figuring out how to lead. Friends and family always come first for Elena, but over the course of the series, she will sometimes struggle with balancing the needs of her loved ones while also considering what's best for Avalor.
3. The port city of Avalor is influenced by diverse Latin cultures and folklore.
The Mesoamerican pyramids of Teotihuacan inspired Avalor's Mooncliff Mountain and Suncliff Temple, and the wrought iron and tile found in Elena's palace evokes Caribbean, Spanish colonial, and Mexican architecture. Avalor even has its own detailed history, including its own Mesoamerican-influenced ancient civilization, "Maru."
4. The music you'll hear in Elena of Avalor also reflects a wide range of diverse Latin styles.
Mariachi, Latin Pop, Salsa, Banda, and Chilean Hip Hop are just a few of the musical styles you'll hear over the course of the season. Emmy® winner John Kavanaugh, the series' songwriter/music director, says, "We always want the songs to be integral to the storytelling. The song starts at a certain place, and by the time it finishes we want the story to be further along. So we've learned something, the character has learned something, and hopefully the audience has been entertained in the meantime!" Each episode features at least one new original song, and Latin Grammy® winner Gaby Moreno performs the series' theme song.
5. Inspiration for many of Elena's adventures can be found in the mythology and folklore of Latin and Hispanic cultures around the world.
Elena has a spirit guide named Zuzo, which is based on the Mayan belief that every person has an animal double in the animal world. In the premiere episode, viewers will meet Noblins—shapeshifting creatures based on a Chilean peuchen myth. "As I began developing Elena, I started reading all the myths and folklore I could find from all these different regions—from Mayan creation myths to Chilean folklore," Gerber explains. "We researched all these different cultures and all these different places, and read up on the history and tried to create a magical place that felt very authentic but was also unique."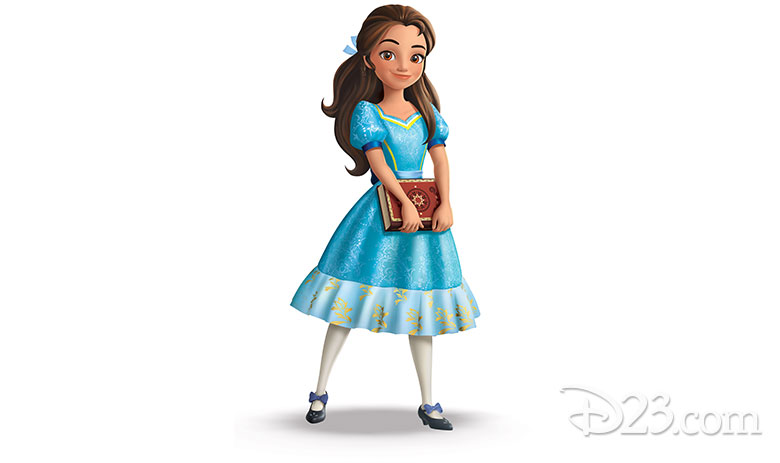 6. Disney fans are going to love Elena, but they'll find a world full of characters they'll surely embrace.
Story editor Silvia Cardenas Olivas admits that she enjoys writing Elena's grandparents—Francisco and Luisa—because they remind her of her own family. "I really wanted Elena's grandparents to be just as feisty and funny and full of life as my grandparents were. I always knew they were speaking from wisdom and experience and so I always listened," she says warmly. That, Olivas explains, is in part why Elena values her grandparents' opinion so much that she puts them on her Grand Council. Elena's sister, Isabel, is a budding inventor; best friend Mateo is a wizard-in-training; and new friend Naomi provides the perspective of the "non-royal"—she's anything but average!—Avalorian. Gerber also suspects that Elena's scheming older cousin, Esteban, will be a fan-favorite. "He's on Elena's Grand Council and he thinks he knows better than anyone and isn't afraid to let anyone know it," Gerber observes.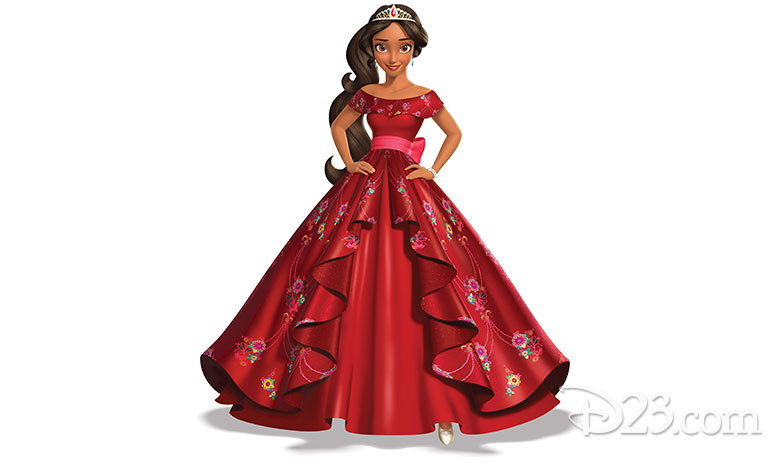 7. Elena has style!
The breathtaking ball gown that Elena wears in the series—and which is also inspiring the gown Elena will wear at Walt Disney World's Magic Kingdom and at Disney California Adventure in the coming months—was designed by Project Runway All Stars designer Layana Aguilar. Aguilar turned to a memory of her own grandmother's embroidery as she conceived a design for Elena. "The feeling to it is very Peruvian, Inca-like," Aguilar says. "When they first showed me Princess Elena and I read a little bit about that story, it took me back to that memory."
Tune in Friday night for this special television event—which includes sneak peeks at upcoming Disney films Pete's Dragon, Beauty and the Beast, and the short-form animated series LEGO Frozen Northern Lights. Elena of Avalor airs immediately following Walt Disney Animation Studios' Frozen (beginning at 5:15 p.m.) at 7 p.m. ET.