By Courtney Potter
Go behind the scenes of Disney's upcoming The Nutcracker and the Four Realms, and see who's been added to Epcot's Candlelight Processional narrator lineup… Read more, along with other news from around Disney, in this week's news briefs!
Go Behind the Scenes with The Nutcracker and the Four Realms
Creating a movie truly "takes a village," especially a movie as epic as Disney's upcoming holiday adventure The Nutcracker and the Four Realms. Luckily, we get to take a quick peek behind-the-scenes in the film's latest featurette—a look at the incredible craftsmanship that went into conceiving everything within the Land of Flowers, Land of Snowflakes, Land of Sweets, and the mysterious Fourth Realm. Check it out, above.
In The Nutcracker and the Four Realms, all young Clara (Mackenzie Foy) wants is a key—a one-of-a-kind key that will unlock a box that holds a priceless gift from her late mother. A golden thread, presented to her at godfather Drosselmeyer's (Morgan Freeman) annual holiday party, leads her to the coveted key—which promptly disappears into a strange and mysterious parallel world.
It's there that Clara encounters a soldier named Phillip (Jayden Fowora-Knight), and together they must face the tyrant Mother Ginger (Helen Mirren) in order to retrieve Clara's key and hopefully return harmony to an unstable world. Also starring Keira Knightley, and with a special performance by iconic ballerina Misty Copeland, the film twirls into theaters November 2.
Save the Date!
Be sure to mark these upcoming Disney events on your calendar:
D23 and Walt Disney Archives


October 6-21, 2018


D23's Spooktacular Fanniversary Complimentary Screenings


October 19, 2018


Lunch with a Disney Legend: Ron Logan


October 22, 2018


D23's Sip and Stroll at Epcot


October 28, 2018


D23 Celebrates 25 Spooktacular Years of Hocus Pocus


November 16-18, 2018


Destination D: Celebrating Mickey Mouse


August 23-25, 2019


D23 Expo 2019
Parks
August 17, 24, 28, 31
September 3, 7, 9, 11, 14, 16, 18, 21, 23, 25, 28, 30
October 2, 4, 5, 8, 9, 11, 12, 14, 16, 18, 19, 21, 23, 25, 26, 28, 30, 31


Mickey's Not So Scary Halloween Party at Magic Kingdom Park


September 19, 21, 24, 26, 28
October 2, 5, 9, 12, 16, 19, 23, 26, 29, 31


Mickey's Halloween Party at the Disneyland Resort




August 30-November 12, 2018




Epcot International Food & Wine Festival




September 7-October 31, 2018




Halloween Time at the Disneyland Resort




Summer 2019


Star Wars: Galaxy's Edge Opening at Disneyland Resort


Fall 2019


Star Wars: Galaxy's Edge Opening at and Walt Disney World Resort



Studios




November 2, 2018


The Nutcracker and the Four Realms opens in U.S. theaters


November 21, 2018


Ralph Breaks the Internet opens in U.S. theaters


December 19, 2018


Mary Poppins Returns opens in U.S. theaters


March 8, 2019


Marvel Studios' Captain Marvel opens in U.S. theaters


March 29, 2019


Dumbo opens in U.S. theaters


April 19, 2019


Penguins opens in U.S. theaters


June 21, 2019


Toy Story 4 opens in U.S. theaters


Television




September 21, 2018


Elena of Avalor: Song of the Sirenas premieres on Disney Junior (7–8 p.m. EDT/PDT)


November 4, 2018


Mickey's 90th Spectacular airs on ABC (8–10 p.m. EST)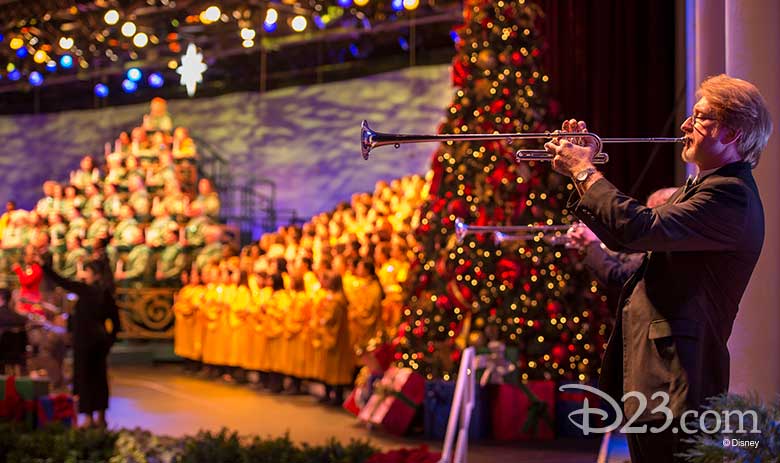 Mark Those Calendars: New Stars Added to Epcot's Candlelight Processional
Speaking of the holidays, the much-anticipated Candlelight Processional at Walt Disney World's Epcot is just around the corner… and this week, our friends at Disney Parks shared a few more amazing celebrities who'll be joining the roster. Honestly, there's now more star power than you can shake a pear tree at!
Joining previously announced narrators including Chita Rivera, Neil Patrick Harris, and Whoopi Goldberg are Oscar® winner Helen Hunt for November 24 and 25 (wow, right?); America's Funniest Home Videos host Alfonso Ribeiro for November 26 and 27; Moana's Auli'i Cravalho from December 21 to 23; and still one more to be announced. Plus, new this year, the Candlelight Processional will actually begin on Thanksgiving Day, November 22.
Looking to jingle all the way to Epcot this holiday season? Don't miss new food offerings at their Festival of the Holidays—like sofrito-marinated beef with sweet plantains and olives at the Feast of the Three Kings marketplace, or black forest roulade with cherry whipped cream at the Bavaria Holiday Kitchen. But that's not all: Take some holiday magic home with you with the brand-new Festival of the Holidays t-shirt and hoodie featuring Chip & Dale! Visit DisneyWorld.com/Holidays for more info on how you can join the festive fun.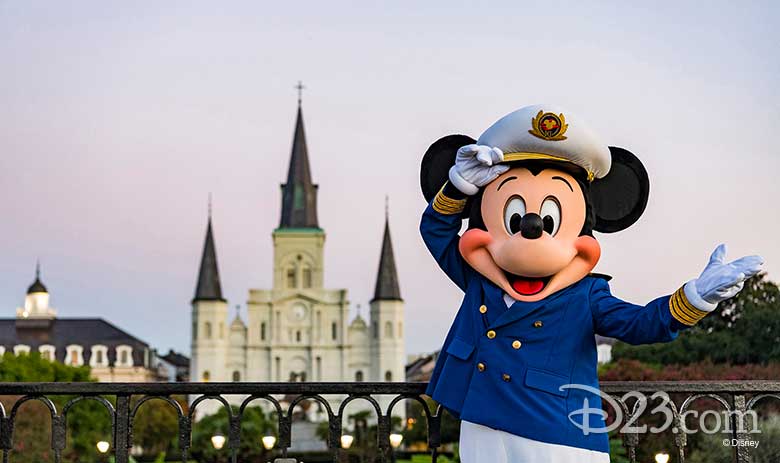 Disney Cruise Line Adds Brand-New Port and Itineraries for 2020
Ready to set sail? Our friends at Disney Cruise Line just announced some fantastic itineraries for 2020… plus the addition of a brand-new home port!
Families will have even more ways to explore the world together with the addition of a home port in historic New Orleans, from which the Disney Wonder will embark on a variety of Caribbean and Bahamian cruises. Before or after their cruise, guests can venture into the city to savor the distinct flavors of famous "N'Awlins" cuisine; visit family-friendly museums and parks; and delight in world-renowned jazz music. Travelers might even recognize some iconic sights and sounds that inspired Disney's beloved animated hit The Princess and the Frog!
Additionally, DCL will make a highly anticipated return to the Hawaiian Islands in 2020 for two special Disney Wonder cruises—as well as make a return to Puerto Rico, and continue guest-favorite itineraries from Florida and San Diego, CA, to several sun-drenched tropical destinations.
For more information on DCL's new port and 2020 itineraries, visit DisneyCruise.com.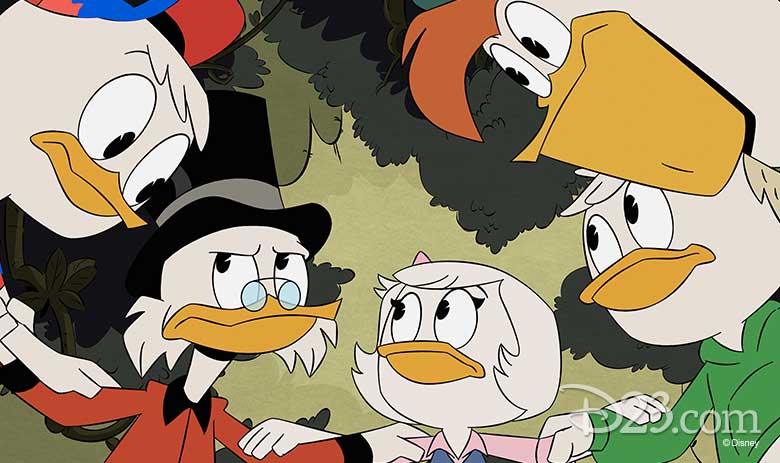 Get Quackin' When DuckTales Returns for Season Two… and Three!
Big news from Duckburg: Season Two of Disney Channel's mega-hit animated series DuckTales will look for more adventure beginning Saturday, October 20. Plus, the cast recently helped the show announce that there's a third season to come! See Huey, Dewey, Louie, and Scrooge—well, actors Bobby Moynihan, Ben Schwartz, Danny Pudi, and David Tennant—make the big announcement here at D23.com.
ICYMI: Coco's Miguel Now Appearing at Disney California Adventure Park
There's a new performer at Disneyland Resort, and he's already delighting audiences of all ages! Talented little Miguel from Disney•Pixar's Coco can be seen as part of Plaza de la Familia, Disney California Adventure park's special seasonal festivity celebrating the Oscar®-winning animated film as well as the everlasting bonds of family. See Miguel in action—and peek into what you can expect from the event—in the clip above.
New for 2018, Miguel joins "A Musical Celebration of Coco," an entertaining street show presented several times a day. Singing host Mateo is joined by the Grammy®-winning Mariachi Divas, authentic Folklórico dancers, and townspeople from Coco's Land of the Dead—who all engage the audience with beloved songs from the film. Miguel himself appears in the form of an amazing hand-animated figure!
Make sure to visit Miguel, and to take part in all the "Un Poco Loco" events available at Plaza de la Familia, at Disney California Adventure park now through November 4.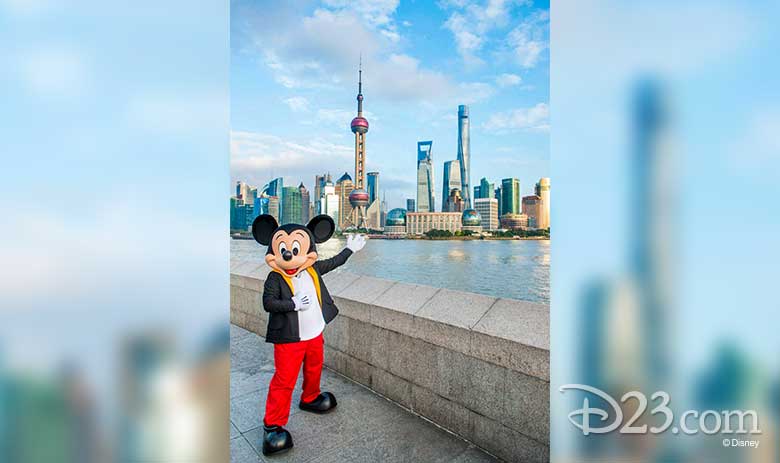 Shanghai Disney Resort Welcomes World's Biggest Mouse Party
Unless you've been living on the International Space Station (in which case, welcome back! And also, thanks for reading D23.com!), you've probably heard all about the incredible events planned to celebrate 90 years of Mickey Mouse over these next few months. Well, even our pals at Shanghai Disney Resort are getting in on the fun…
The "leader of the club" himself arrived in style at the Shanghai Tourism Festival's recent kick-off on board a brand-new, festival-exclusive Shanghai Disney Resort float called "Mouse Party." And this new float—featuring Mickey and all his friends, including Pluto, Donald, Daisy, and Chip & Dale—officially marks the resort's launch of the World's Biggest Mouse Party, celebrating #Mickey90 in a big way!
"Mouse Party" will dance its way across the city of Shanghai (delighting visitors and citizens alike) through October 6, when the Shanghai Tourism Festival marks its closing at Shanghai Disney Resort's Disneytown (a first for both the event and the resort). Look for more info on the World's Biggest Mouse Party—at Disney Parks across the globe—in the coming weeks.
You Won't Believe This Toy Story Land-Themed Domino Maze is Real
Now here's something totally mind-bending… Toy Story Land at Disney's Hollywood Studios, inside the Walt Disney World Resort, opened to much fanfare just a few months ago. The party continues, however, now that popular YouTuber and domino artist Lily Hevesh has revealed an epic 32,000 domino maze commemorating the new land. Check out the you-have-to-see-it-to-believe-it clip above. Talk about "playing big," right?
Hevesh, herself a Disney uber-fan, started the chain reaction by rolling the iconic Pixar ball into the first of the dominoes. It took Lily and her team of four additional domino builders nearly a week to set the maze up at the ESPN Wide World of Sports Complex… but it toppled in less than five minutes! Keep your eyes peeled for several complicated domino "tricks" within the maze, including Slinky Dog propelling a ball though a Slinky toy, and a domino fall that activates a Buzz Lightyear Bubble Blower toy.