By Jocelyn Buhlman
Mickey Mouse has been shaping our lives and winning our hearts for 90 years, and we think an icon like him deserves to celebrate his anniversary longer than just one day. And we're not the only ones who think that—just announced today, Disney is opening an interactive art exhibit in New York in honor of the 90th anniversary of Mickey Mouse. Titled Mickey: The True Original Exhibition, the exhibit is an immersive, pop-up art exhibition inspired by Mickey's status as a "true original" and his global impact on popular culture and art. But that's not the only announcement celebrating Mickey: To begin the 90-day countdown, there will be all sorts of exciting, new product collaborations spanning fashion, food, consumer electronics, toys, and accessories so you can celebrate Mickey 24/7. Here's some of the excitement in store:
Mickey: The True Original Exhibition
Running from November 8, 2018 – February 10, 2019, Mickey: The True Original Exhibition will be open Tuesday-Sunday from 10 a.m. to 8 p.m. at 60 10th Avenue, New York. Tickets are available for $38 per person at Disney.com/MickeyTrueOriginal.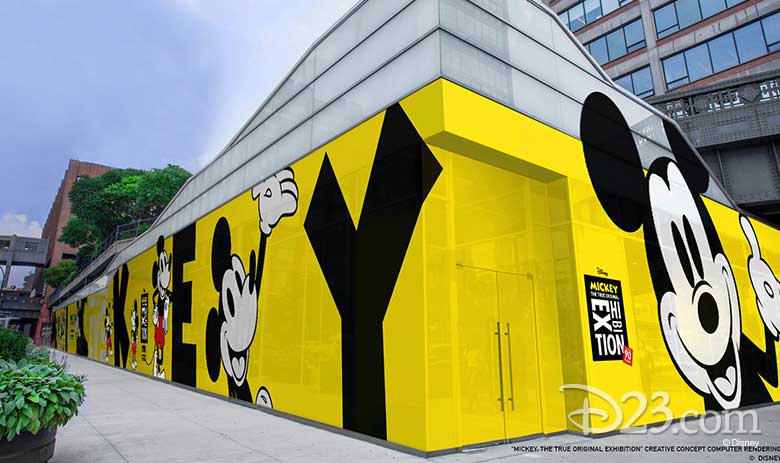 With 16,000 square-foot of interactive experiences, you can experience the magic of Mickey through original work from renowned and emerging contemporary artists. Curated by designer Darren Romanelli, the exhibit will feature exclusive original artwork from contemporary artists including Kenny Scharf, Amanda Ross-Ho and Shinique Smith, with more artists to be announced in the coming weeks. The experience will captivate the senses to surprise and delight guests, evoking the inspiration, creativity, and true original spirit of Mickey Mouse. The exhibit will span from Mickey's beginning in black and white in Steamboat Willie to the technicolor world of more than 100 cartoon shorts. Get ready to step into an unforgettable journey unlike which you have ever experienced—all to celebrate Mickey!
If you're looking to check out this stunning exhibit early, keep paying attention for up-and-coming Mickey news! Before the official opening in November, three artists will preview their installations in three pop-up locations across the country. The installations pay tribute to three iconic pieces of Mickey Mouse merchandise that have withstood the test of time—the Mickey Mouse watch, T-shirt, and plush.
Kenny Scharf – Scharf rose to prominence in the early 1980s as a New York street artist and muralist. His interdisciplinary practice consisted of design, sculpture, installations, performance and video as well as painting. From now until September 1, Kenny's installation will be on display at the Minnesota Street Project, located at 1275 Minnesota St in San Francisco. Inspired by one of Disney's first licensed products, the Mickey Mouse watch, this Cosmic Cavern is an immersive, day-glo, fluorescent black light world. Kenny Scharf's work is a surreal journey into his personal connection with the character and the timelessness of both Scharf and Mickey's contributions to visual culture. Fans at home can experience a 360° tour of the installation at Disney.com/MickeyTrueOriginal.
Amanda Ross-Ho – Ross-Ho is a Los Angeles-based artist who has exhibited widely, both nationally and internationally including solo exhibitions at Cherry and Martin and The Museum of Contemporary Art Los Angeles. She has presented large-scale commissioned public work at The Museum of Contemporary Art in Chicago, City Hall Park New York City and the Parcours Sector of Art Basel Switzerland. She will create a large-than-life classic Mickey tee to be on display during Art Expo in Chicago in September. Location is Chicago Athletic Association Hotel Lobby. Her installation will be on display from now through October 25th.
Shinique Smith – Known for her monumental sculptural works of bundled fabric and clothing, and her exuberant calligraphic collaged paintings, Smith has been featured in exhibitions and collections of prestigious venues such as Brooklyn Museum, Denver Art Museum, LACMA, MFA Boston, The Frist Center, Kemper Museum and The Whitney Museum among others. Shinique's installation will honor the impact of the Mickey Mouse plush through decades and will be on display in Los Angeles in October. Location is DTLA Art District on 4th Place. Her installation will be up from October 10-24th.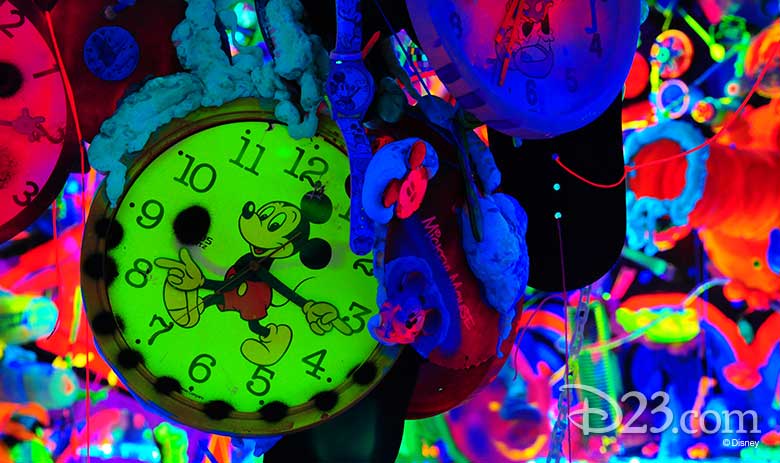 "We hope guests will enjoy the exhibition's larger-than-life multimedia art installations, photo-worthy experiences, and even a few surprises," says Ken Potrock, president, Consumer Products Commercialization, Disney Parks, Experiences and Consumer Products. "We've partnered with the best muralists, sculptors, artists, and designers to create original works that convey Mickey's optimism and imagination."
"As Walt said, 'I only hope that we never lose sight of one thing—that it was all started by a mouse,'" said Bob Chapek, chairman of Disney Parks, Experiences and Consumer Products. "From The True Original Exhibition to a yearlong celebration in our parks around the world, we are honoring the deep connection that families and fans have made with Mickey and Minnie Mouse for nearly a century."
If you want to keep up with this exhibit, you can find details and behind-the-scenes content at Disney.com/MickeyTrueOriginal—plus, follow @MickeyTrueOriginal on Instagram with #MickeyTrueOriginal.
Mickey Merch Mania!
Get ready to eat, wear, read, play, and more, all with the magic of Mickey! Show off your inner fashionista with new collections launching this week and beyond with fashion and footwear brands like Forever 21 and Vault by Vans. Enjoy candy as sweet as Mickey himself with special new delights from luxury candy company Sugarfina and Brooklyn-based ice cream company Ample Hills Creamery.
Other ways to show your Mickey mania include:
Capsule collections available exclusively at Disney stores and shopDisney.com
Commemorative titles from Disney Publishing Worldwide
A line of adorable plush and toys by Just Play
A new Mickey Mouse Brickheadz figure from LEGO®
And don't forget—earlier this year, Target released a Mickey Mouse collection that spanned apparel for the entire family, treats for pets, toys, summer entertaining pieces, bedding, beach and beauty gear, and more (Did you pick up those Instagram-famous Mickey sunglasses?), and just last month Marc Jacobs released a series of pieces all inspired by the world's most iconic mouse.
An Animated Tribute
Gather your family around your couch and grab your favorite Mickey sweets, because we've got the marathon for you: Walt Disney Animation Studios will celebrate Mickey's cartoon legacy with the release of Celebrating Mickey, featuring 13 classic short films on Digital and Blu-ray this fall.
The World's Biggest Mouse Party Comes to Disney Parks and Resorts
If that's not enough Mickey fun for you, start planning your next trip to your favorite Disney park, because everywhere in the world will be celebrating the World's Biggest Mouse Party—a limited-time, global celebration of Mickey and Minnie. Here's every way you can celebrate:
Walt Disney World Resort
Celebrate Mickey's birthday from November 16-18 with special merchandise and food & beverage items
Celebrate at Magic Kingdom Park during the Move It! Shake It! Dance & Play It! Street Party
Sing "Happy Birthday" along with the Dapper Dans on Main Street, U.S.A.
Join in a special birthday dance party at Rockettower Plaza Stage in Tomorrowland.
Get ready to party in 2019 when Walt Disney World will continue celebrating when World's Biggest Mouse Party comes to the resort
Disneyland Resort
Join in the celebration cavalcade for Mickey Mouse on November 18, featuring some of his special friends and the Disneyland Band, starting at it's a small world and pausing for a special moment at Sleeping Beauty Castle before continuing down Main Street, U.S.A., to Town Square
Get ready to party when the World's Biggest Mouse Party begins at Disneyland Resort in 2019
Disney Cruise Line
Celebrate at the World's Biggest Mouse Party, which takes to the seas in 2019
Shanghai Disney Resort
Kick off World's Biggest Mouse Party with a brand-new Mickey-themed float at the opening ceremony of the Shanghai Tourism Festival on September 15 to commemorate the Shanghai launch of World's Biggest Mouse Party
See a giant birthday card next to the "Storytellers" statue, featuring birthday wishes from Mickey's pals
Enjoy themed food and merchandise offerings from November 16-18, as well as the opportunity to sing "Happy Birthday" to Mickey just before the nighttime spectacular show each evening, all culminating with a special nighttime birthday spectacular at Enchanted Storybook Castle on November 18
Hong Kong Disneyland
Join the World's Biggest Mouse Party on Mickey's birthday, November 18, with commemorative park tickets, special food & beverage and merchandise, a hotel room overlay, and "We Love Mickey" projection show through the end of the year
Enjoy special birthday stickers, available only on November 18
Tokyo Disney Resort
Join the celebration this fall with special decorations and merchandise.
Disneyland Paris
Celebrate the World's Biggest Mouse Party this fall and into winter with new holiday season entertainment and special surprises