By Megan Deppe
Faith, trust, and a little bit of pixie dust was all it took for audiences to fall in love with the boy from Never Land who didn't want to grow up. Peter Pan has been one of Disney's most beloved characters for years, both on screen and in Disney parks. Here are some of the many ways that Peter and his faithful companion, Tinker Bell, spread Disney magic throughout Disney Parks.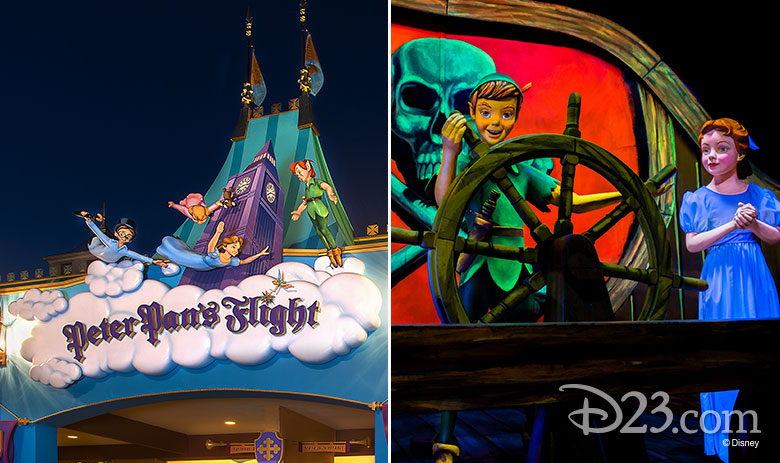 Peter Pan's Flight
One of Disneyland's most iconic attractions is Peter Pan's Flight—an original attraction that debuted on Disneyland's opening day. The dark ride takes guests into the story of Peter Pan via flying pirate ship, as they soar out of the nursery, above the darkened streets of London, and over Never Land. Peter Pan's Flight was so popular that it was re-created at Magic Kingdom, Disneyland Paris, Tokyo Disneyland, and Shanghai Disneyland, though each put their own touch on the magical story.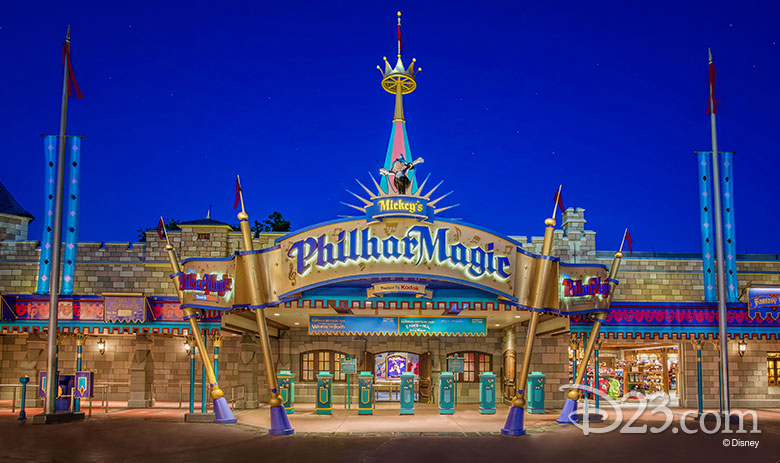 Other Attractions
You can find Peter Pan in other attractions at Disney parks, as well. The Storybook Land Canal Boats at Disneyland journey past the London Park that Peter and the Darling children fly over on their way to Never Land, and you can spot both Peter Pan and Tinker Bell in it's a small world at Disneyland and at Hong Kong Disneyland. For a musical adventure, join Peter as he takes Donald Duck on a flight through London during the "You Can Fly, You Can Fly, You Can Fly" segment of Mickey's PhilharMagic in Magic Kingdom Park at Walt Disney World, Disneyland Park at Tokyo Disney Resort, and Hong Kong Disneyland.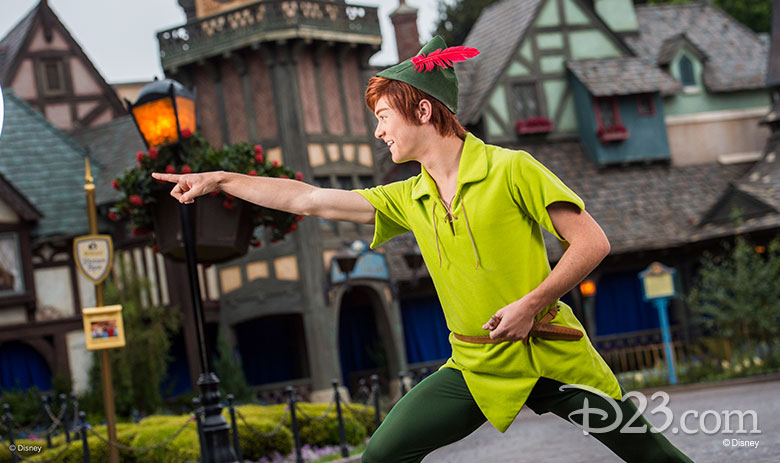 Meet Peter Pan
It's possible to meet Peter Pan face-to-face, if you know where to look! The leader of the Lost Boys greets guests in Fantasyland at Magic Kingdom Park, near Pirates' Beach in Adventureland at Disneyland Park at Disneyland Paris, at the main entrance of Tokyo Disneyland Park, and in Fantasyland at Hong Kong Disneyland.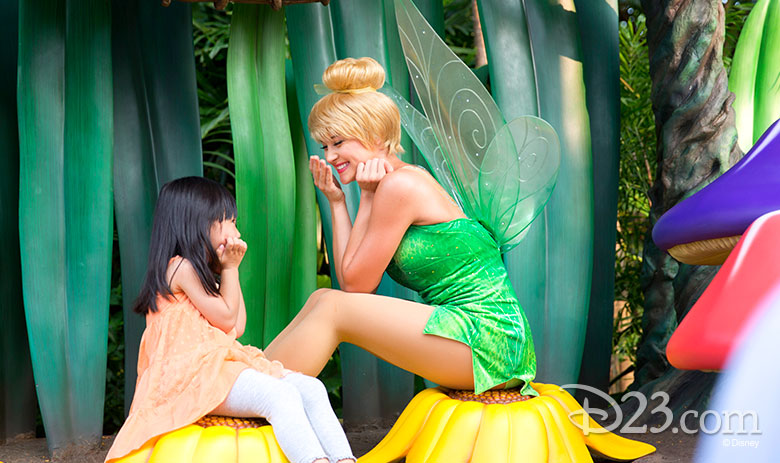 Pixie Hollow
Tinker Bell brings plenty of pixie dust to Disney parks, too. Tink and her fairy friends meet guests at Pixie Hollow in Disneyland Park, and you can find her at Town Square Theater on Main Street, U.S.A. in Magic Kingdom Park. At Hong Kong Disneyland, you can come face-to-face with your favorite fairy at Fairy Tale Forest in Fantasyland.
A Pirate's Life for You
If you're feeling really brave, you can encounter Captain Hook in Disneyland Paris' Adventureland, at the main entrance of Tokyo Disneyland Park, and in Fantasyland at both Magic Kingdom and Shanghai Disneyland. Captain Hook greets guests at Walt Disney World's Beach Club Resort, and at Disney's Contemporary Resort, you can meet Hook and Smee as you set sail on a cruise of Seven Seas Lagoon during the Pirates and Pals Fireworks Dessert Voyage. Live the life of a pirate as you sing sea chanteys and take in the salty air before watching the fireworks and, upon your return, look for a special guest waiting to welcome you back to dry land!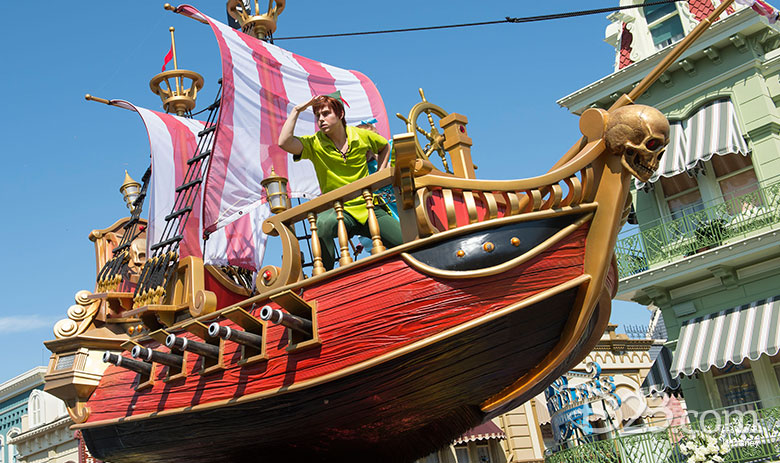 Peter Puts on a Show
No matter what Disney park you visit, there's always an amazing parade or nighttime spectacular to take your breath away—and Peter and his friends are right there to be part of the magic. You can count on Peter and pals sprinkling pixie dust on the Magic Kingdom's Festival of Fantasy parade, Tokyo Disneyland's glowing nighttime wonder Dreamlights, Hong Kong Disneyland's Flights of Fantasy Parade, Disneyland Paris' Disney Magic on Parade, or Shanghai Disneyland's Storybook Express Parade. Tinker Bell flies over Magic Kingdom's Happily Ever After castle projection show to share her magic with everyone!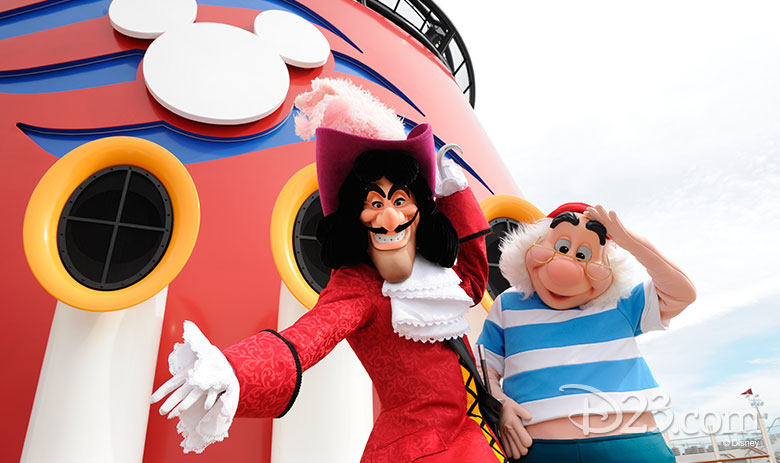 On the High Seas…
Guests sailing on the Disney Magic and Disney Wonder can enjoy a truly magical experience featuring Peter Pan: the musical Disney Dreams—An Enchanted Classic. Through stunning special effects and a collection of some of your favorite classic Disney songs, Peter and a host of Disney characters spotlight the power of dreams and family in the dazzling stage show (which also features a very special cameo appearance by Tinker Bell!). All of Disney's cruise ships also feature unique character experiences with Peter Pan, Tinker Bell, Captain Hook, and Mr. Smee, from a special send-off by Captain Hook, "Remember the Magic: A Final Farewell" on the Disney Magic; a Pirate Night with Captain Hook and Mr. Smee on the Disney Wonder; and an amusing apprenticeship, "So You Want to Be a Pirate" on the Disney Wonder, Disney Dream, and Disney Fantasy.