By Courtney Potter
D23 is celebrating the opening of Toy Story Land by bringing you along for an exclusive tour of this amazing new corner of Disney's Hollywood Studios park…
"Yeehaw!" Giddy up, partner—it's almost time for the grand opening of the newest land to delight the young and the young-at-heart at Walt Disney World Resort… a chance to play big as an "honorary toy," bringing the fantastical world of a child's imagination to life right before our eyes.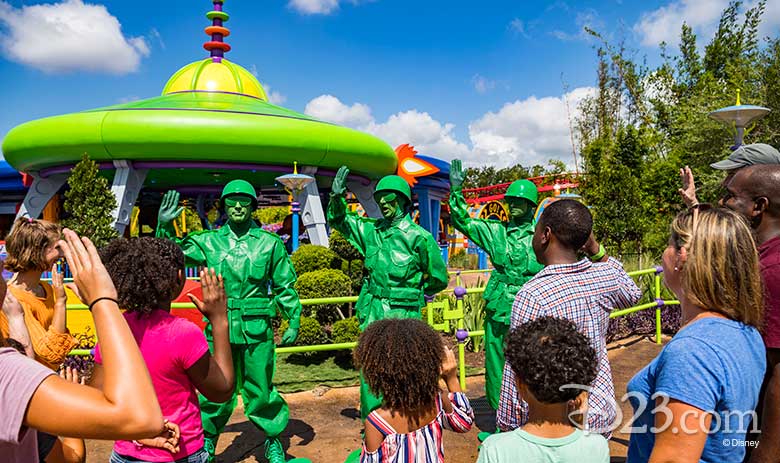 Nestled inside Disney's Hollywood Studios park is the brand-new Toy Story Land, inspired by Pixar Animation Studios' iconic Toy Story films. While the 11-acre land isn't officially opening to guests until Saturday, June 30, D23 was extremely fortunate to get a joyful, toy-full sneak peek. But that's not all: We were also lucky enough to have a quick chat with Liz Gazzano, Pixar Animation Studios' executive producer for theme parks—and got a few of her unique insights into what's in store.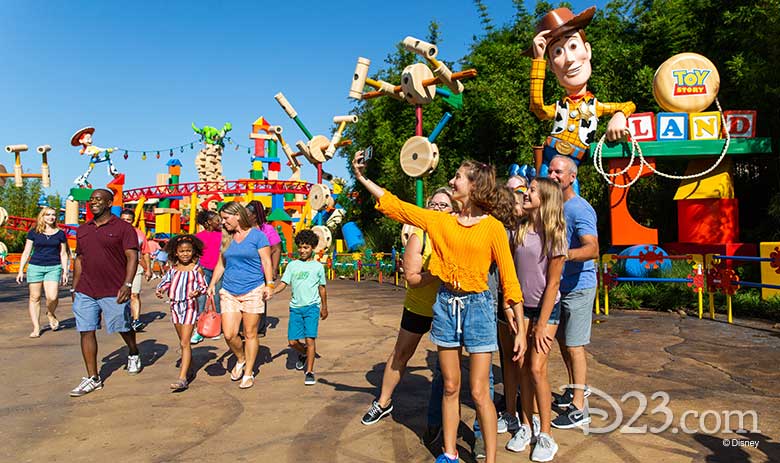 We honestly couldn't believe it—stepping into Toy Story Land was like stepping right into Andy's backyard! With a tip of his wide-brimmed hat, a delightfully giant Sheriff Woody was on hand to greet us as we enter. Soon, we're the size of a toy, and there's nothing but joy on the horizon. We couldn't help but start to explore… and suddenly found ourselves surrounded by all manner of adorable fun. Giant yo-yos, domino pieces, Crayola crayons, and Scrabble tiles—expressively strewn about the mega-tall "grass" where Andy left them. There are lampposts shaped like Tinkertoys, and even benches built from Lincoln Logs and K'nex pieces! The whimsical touches don't end there: Huge playing cards and jacks, a large balsa-wood glider, and (of course) a big Barrel of Monkeys all add to the incredible visual tapestry.
According to Gazzano, there's a nifty creative touch that visitors should be very sure to look for as they walk into the land: "Andy's sneaker footprint in the cement," she shares. "It's not something you would notice the first time you come through… details like that are things I love."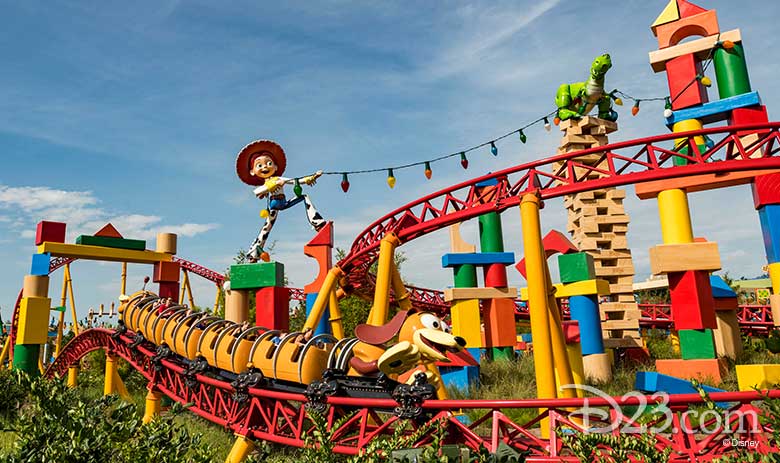 Slinky Dog Dash
The centerpiece of Toy Story Land is the new Slinky Dog Dash attraction. As this is Andy's domain, he's taken his Dash & Dodge Mega Coaster Kit and assembled his very own roller coaster—but instead of using the vehicle that came with the kit, Andy's put his adorable floppy-eared dachshund Slinky Dog toy on the track! The family-friendly thrill ride offers guests a bendy, bouncy view of the entirety of Toy Story Land atop tracks and supports of bright red and yellow, designed (with hand-drawn plans, of course!) by Andy himself. (Even Rex and Jessie get into the action, helping Andy by stringing lights above his ginormous stacked Jenga pieces.) "One thing that I think is really fun with Slinky Dog Dash is being in the back seat and seeing his little tail spring [bounce up and down]," admits Gazzano, "just like the real toy… it cracks me up every time!"
Sitting down in our row, we couldn't help but feel like we'd time-traveled back to our childhood—and it was the best! We laughed, we screamed with delight (especially about halfway through the ride; we don't want to spoil the surprise!), and we left with wind-swept hair and smiles a mile wide… We especially loved the tuneful finale featuring Wheezy, the hilariously squeaky penguin from the Toy Story films.
(Luckily, we were able to visit Toy Story Land again once the sun went down—that's when the entire area comes alive with incredible after-dark lighting and sound effects. Visiting soon? Be sure to ride the attraction at night too; it's a whole different, but equally as fun, experience!)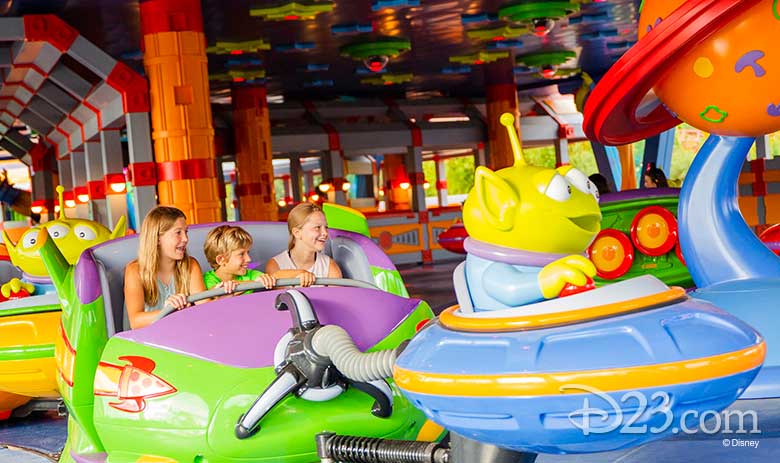 Alien Swirling Saucers
We only had a moment to catch our breath, post-Slinky Dog Dash, when we found ourselves in front of the land's other brand-new attraction—Alien Swirling Saucers. If you're anything like us, you've wondered what life is like for those adorable three-eyed green aliens… whiling away the hours inside one of those claw game machines at Pizza Planet. (C'mon, we know you've thought about it.) As the story goes, Andy won this alien playset during one of his many Pizza Planet trips—and now we get to reap the whirling benefits. This attraction was particularly memorable from Gazzano's point of view: "The process that I enjoyed the most was working with our production designer, Bob Pauley, who'd been a production designer on all three Toy Story movies," she explains, "and having him design the ride vehicles and work with engineers from Imagineering. We would meet three times a week with our modeler at Pixar [to] design that vehicle… it [meshed] science and art in a really great way."
We can safely say this attraction made all our Pizza Planet dreams come tr-"ooooooooohhh." Once we climbed into our "saucer", it was apparent that no detail was left in the proverbial pizza delivery truck; our particular alien (there are 22 in total) zoomed us 'round and 'round icons like Planet Pepperonia while the infamous claw loomed overheard. The attraction also includes lively, all-new music tracks based on the Toy Story films' themes. We'd be lying if we said we weren't giggling with glee the whole time!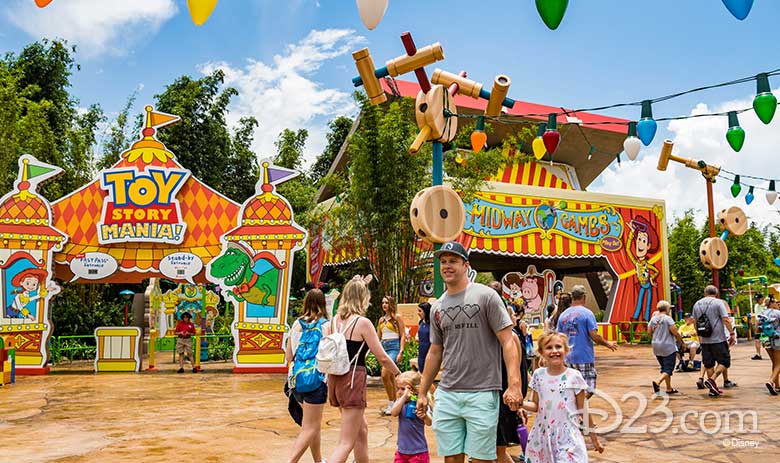 Toy Story Mania
Even before Toy Story Land's inception, no visit to Disney's Hollywood Studios park was complete without a twirl through Toy Story Mania—only now, with this new land's opening, the fan-fave attraction has an amazing new entrance right across from Slinky Dog Dash. The carnival-style gateway features a candy-striped marquee—which is based, so we're told, on the original box Andy's own "Toy Story Mania Midway Games Playset" came in. The queue has nostalgic new touches we really enjoyed, including a gigantic View-Master disc (remember those?) featuring scenes from Disney's Peter Pan… and don't worry, the hilarious Audio-Animatronics® figure of Mr. Potato Head is back as the "Boardwalk Barker," greeting guests with zingers a-plenty.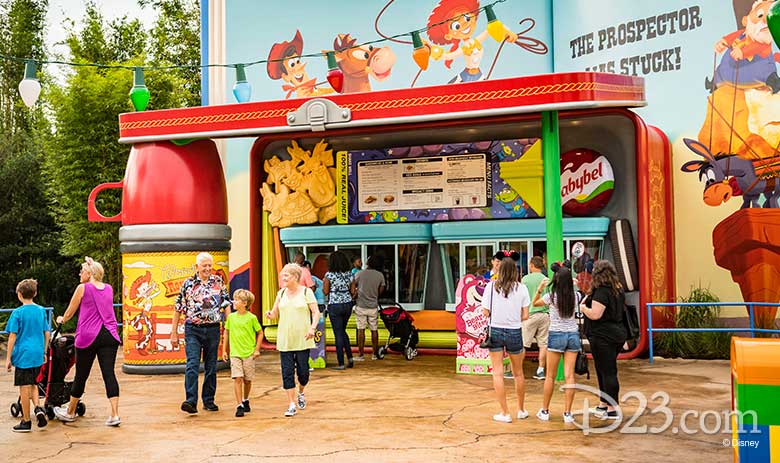 Woody's Lunch Box
We're happy to report the fun extends to food here at Toy Story Land, as diners are welcome to enjoy classic on-the-go fare from the new Woody's Lunch Box. Since even toys have to eat now and again, Andy took his old Sheriff Woody-themed lunch box and propped it open with its gigantic thermos, creating a picnic for all his Green Army Men… and us. We sampled a few of the delightful treats featured at the eatery, including S'More French Toast (so delish, we hoped for seconds); Totchos, a bite-sized snack with potato barrels, corn chips, chili, and queso (delectable); and Lunch Box Tarts, a modern—and extremely tasty—interpretation of a breakfast toaster pastry as a hand-held dessert! And we couldn't let this opportunity go by without trying the spot's Grown Up's Lemonade (for those 21 and over), created with cherry vodka, Odwalla Lemonade, and black cherry purée. So refreshing!
Toy Story Land Dedication
The next morning, we had the supreme pleasure of attending the spectacular Toy Story Land dedication ceremony, right in front of Slinky Dog Dash. After the Green Army Men "secured" the location, an "Andy's Toys" box-like curtain was dropped to reveal our Toy Story faves: Buzz Lightyear, Sheriff Woody, and Jessie the Cowgirl! They were soon joined by Disney Parks, Experiences and Consumer Products Chairman Bob Chapek, welcoming everyone who've "made a place for Toy Story in their hearts" to the immersive new land—a place where the young and young-at-heart can "play big." But the biggest surprise was yet to come… Chapek thrilled the crowd (and those around the world watching the live stream over at the Disney Parks Blog) by introducing the voice of Buzz Lightyear himself, Disney Legend Tim Allen! "I've been part of this great movie for 20 years," said Allen, "and you can't ever imagine that somehow you'd be able to play in Andy's backyard… This is amazing!"
With our time at the brand-new Toy Story Land now complete, we've been thinking back to something Gazzano had told us earlier—something that proved especially accurate once we'd experienced all the land had to offer. "The minute you cross that threshold," she explains, "where Sheriff Woody is standing there greeting you, and you see all these big plants that look like grass, you really feel like you're the size of a toy… Walt Disney Imagineering has done such an amazing job of bringing our characters to life, bringing our environments to life, building a back yard for Andy—making the guests feel like they truly can play here."
For us, this was absolutely true… and we can't wait to come back!