By Beth Deitchman
Beginning Saturday, June 30, guests of the Walt Disney World Resort will go to infinity and beyond in Toy Story Land, the latest addition to Disney's Hollywood Studios. Inspired by the iconic Toy Story films, the brand-new land features two new attractions (plus an update to a fan-favorite!), a delightful new dining establishment and a slew of surprises. Teams at Pixar and Walt Disney Imagineering have dug deep into their toy boxes to create an immersive world that celebrates play—and we can't wait to jump into the fun!
We want your first visit to Toy Story Land to be the best playdate ever, so we've compiled a rootin', tootin' list of experiences you simply have to take in while you cavort through the joy-filled, toy-filled world.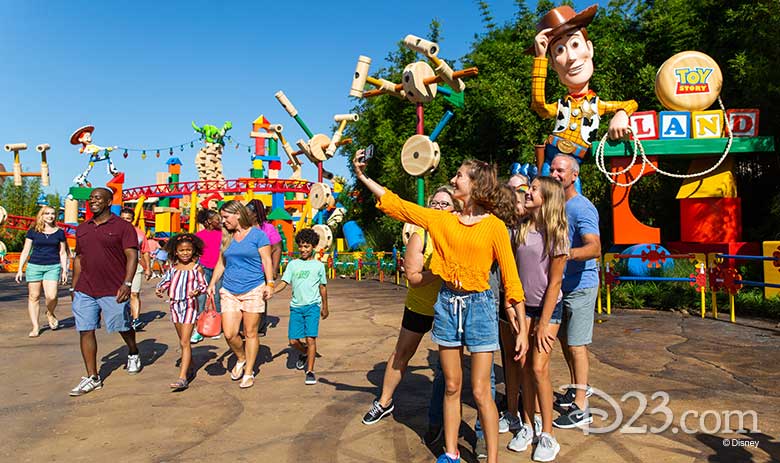 1. Spend a day as an honorary toy.
From our first visit to Andy's room in Toy Story in 1995, we've known one thing for sure: It's good to be a toy! When you enter Toy Story Land, you are transported to Andy's backyard where, as an honorary toy, you enjoy a unique, imaginative perspective on the world. Favorite playthings are part of the décor in Toy Story Land, which features lampposts shaped like Tinkertoys and benches fashioned out of Lincoln Logs and K'nex pieces.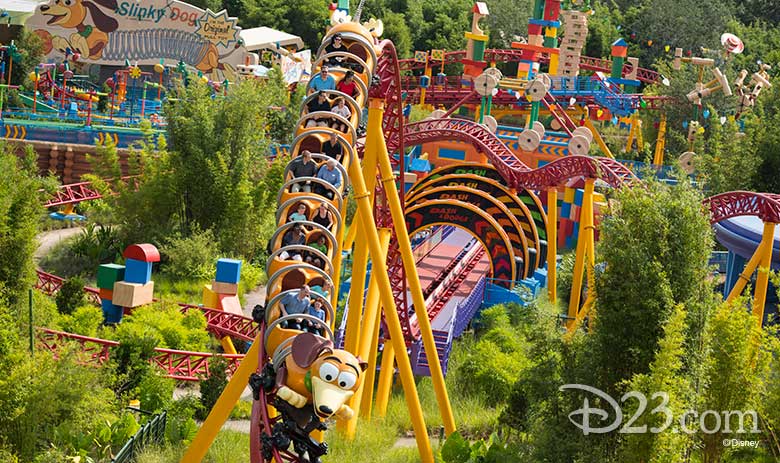 2. Take in the toy-riffic view while you ride Slinky Dog Dash.
The new family coaster appears to have been assembled by Andy from his "Dash & Dodge Mega Coaster Kit." But, of course, a creative kid like Andy couldn't help but stretch his imagination and replace the roller coaster vehicle that came with the kit with his old pal Slinky Dog. Guests ride within Slinky Dog's coils, dipping, diving and dropping on the delightful new attraction—which is the first Disney coaster to feature a second launch at its midpoint.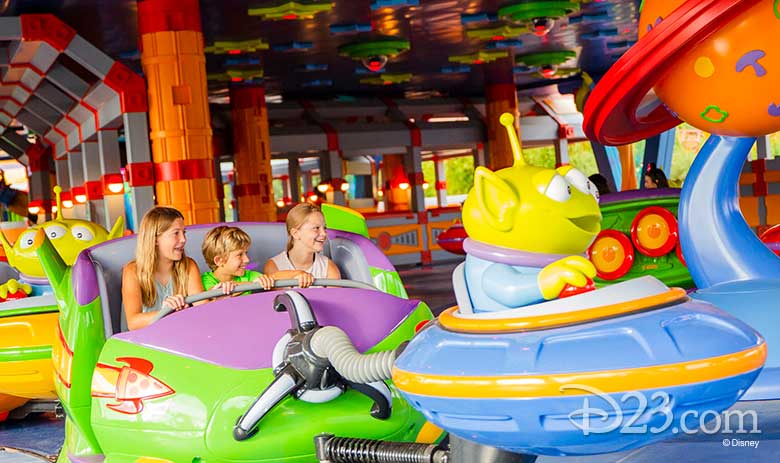 3. Twist and turn beneath "The Claw" on Alien Swirling Saucers
All together now: "Ooohh!" Our favorite green Aliens have their own attraction at Toy Story Land, and everyone gets to ride along. Alien Swirling Saucers places guests inside a playset won by Andy at Pizza Planet where they swirl about in toy rocket ships helmed by the three-eyed cuties themselves. Keep an ear out for a space-inspired soundtrack of familiar songs that you've never heard quite this way before.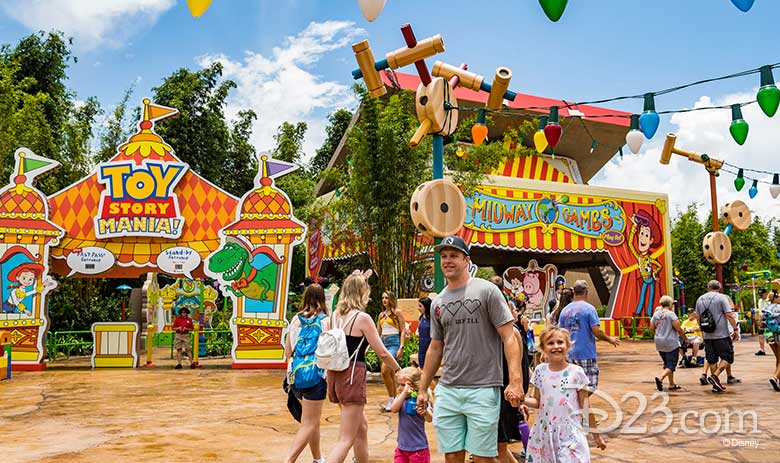 4. Enjoy new magic at Toy Story Mania!
Just in time for the opening of Toy Story Land, the popular attraction has a new entrance that's designed to resemble the box that Andy's Toy Story Mania Midway Games Playset came in. And with the addition of a third track, even more guests will be able to compete against each other in a series of virtual 3-D carnival games to see who will pop the most balloons, fire the most darts, and toss the most rings around the little green Aliens. But when it comes down to the question of who will have the most fun on Toy Story Mania!, that hasn't changed—it's always going to be a tie!
5. Savor new takes on old-fashioned eats and treats at Woody's Lunch Box.
If all of the Pixar play makes you a bit peckish, simply look to the giant thermos and all of your cravings will be satisfied. Woody's Lunch Box is a wonderful new walk-up window serving classic sandwiches, including a gleefully gooey grilled cheese, plus original snacks and sides such as the "Totchos," Potato Barrels that have been given the nacho treatment—all the better to tempt your tastebuds. Grab a Lunch Box Tart or soda float and dine at a Tinkertoy table while you take in the sights and sounds of the land.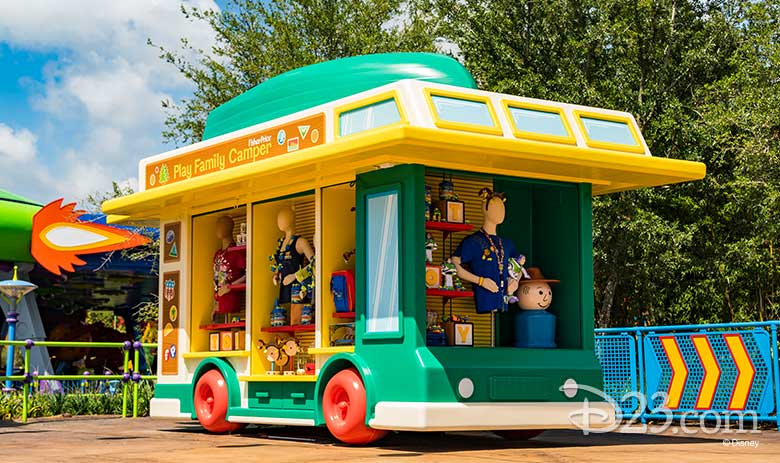 6. Assemble your own toy box at two merchandise locations.
Bring your favorite Toy Story pals home with you! A toy camper and a toy dump truck serve as enchanting emporiums where you can purchase T-shirts, replicas of the Alien Swirling Saucers and Slinky Dog Dash attraction vehicles, and more. We are eternally grateful for the new green Alien headband, and a cuddly Slinky Dog headband is available to "coil up" atop your noggin, as well. Slinky Dog also gets the high-tech treatment via a light-up version of the toy that can either be worn as a fashion accessory or brighten up a table or shelf once you're home from your Toy Story Land adventure.
7. Mix and mingle with your fellow toys.
As an honorary toy, you're one of the gang at Toy Story Land, where Woody, Jessie, Buzz and friends will be encountering guests throughout the land. Several times per day, Sarge and the Green Army Man Drum Corps will pause their march through Toy Story Land to play games with guests, such as "Sarge Says;" and you'll also have the opportunity see if you have what it takes to join their ranks in an interactive boot camp.
Watch a replay of the Toy Story Land dedication ceremony that was streamed live on the Disney Parks Blog on Friday, June 29. The land officially opens to guests on Saturday, June 30. Let's hear it for the toys!