By Courtney Potter
Woody and Buzz. Mike and Sulley. Joy and Sadness. Disney•Pixar has created some of the most beloved duos to ever grace the silver screen. But the latest pairing isn't in a movie theater (or on a streaming device) near you… it's at the Disneyland Resort! This past Saturday, June 23, Pixar Pier officially opened inside Disney California Adventure (DCA) park—and it's truly a "pier-fect" match! The fully reimagined area, located in the former Paradise Pier section of the park, will allow guests to experience Pixar stories and characters in incredible new ways, along the now-iconic DCA waterfront.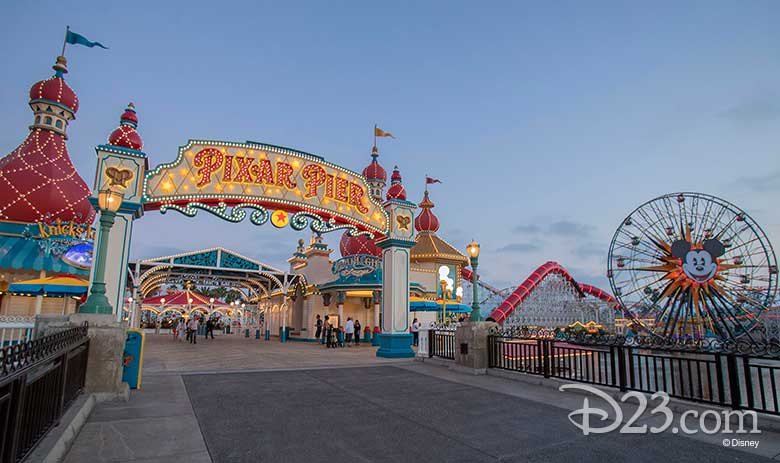 Divided into four imaginative neighborhoods—with memorable attractions, colorful merchandise, and delightfully fresh food and beverage options—Pixar Pier is the latest, greatest place to celebrate with friends and family. Just before opening day, D23 was lucky enough to get a sneak peek at all the candy-colored fun. Read on for our adventure "to infinity and beyond"!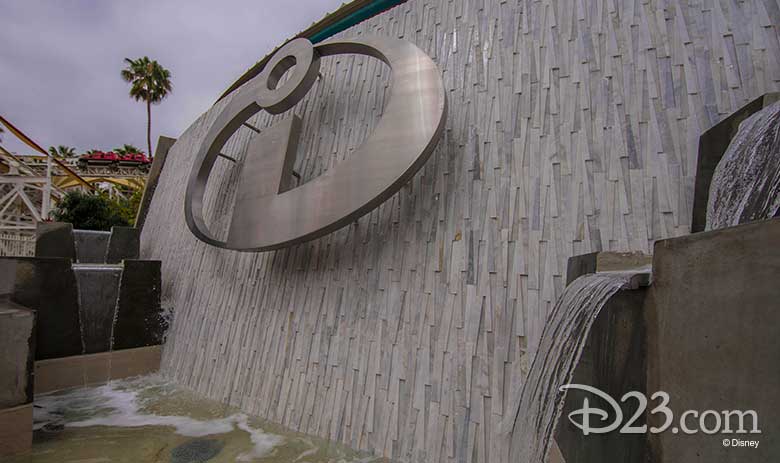 Incredibles Park
When guests first stroll through the old-fashioned gateway and onto Pixar Pier (past the brand-new Lamplight Lounge restaurant; more on that in a moment!), there's color everywhere… from the imaginative sign above the new Knick's Knacks merchandise location—make sure to check out the all-new Disney•Pixar apparel, artwork, and collectibles inside—to the Disney•Pixar-themed billboards lining the promenade. Keep walking a bit further and it's hard not to be enthralled by the gigantic white and red structure rising in the immediate distance; it's the reimagined Incredicoaster, and it's—well, incredible. The neighborhood where the coaster is located, Incredibles Park, welcomes guests with a cool "mid-century modern" aesthetic much like the two Disney•Pixar hits it's based on, 2004's The Incredibles and the just-released Incredibles 2.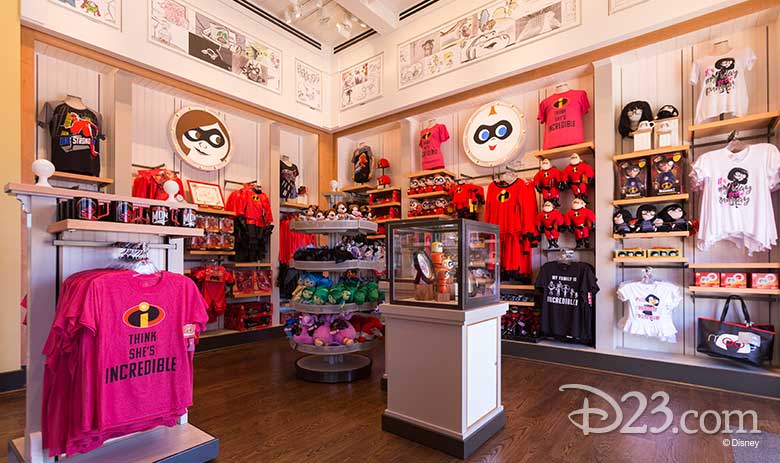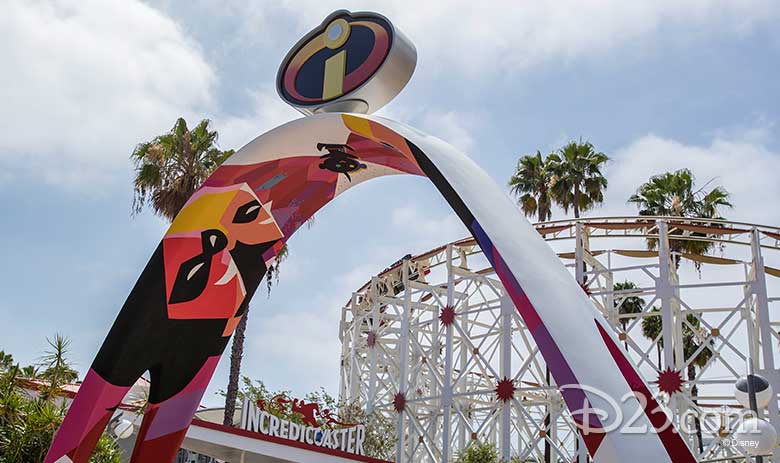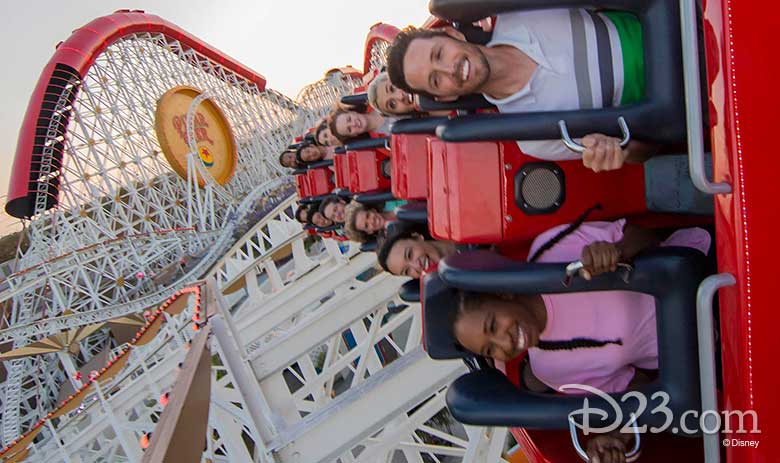 Ready to get super? An archway and a totally unique queuing area (one that, from the outside, resembles the Parrs' new house in Incredibles 2) guides guests right to the attraction—a thrilling race alongside the Parr family that includes fantastic new character figures; stunning lighting (make sure to visit the attraction at night for some added bonuses); an exclusive new soundtrack by Incredibles composer Michael Giacchino; and all manner of special effects. You don't want to miss it! As a reward after adventuring with Mr. Incredible, Elastigirl, and their super kids—and an appearance by none other than Edna Mode—treat yourself to a fresh baked treat at Jack-Jack Cookie Num-Nums. We tried all three options—and they were, in fact, "num num"!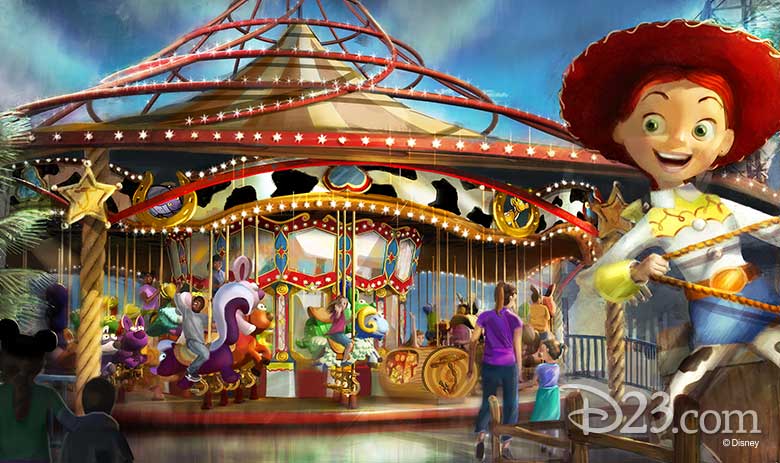 Toy Story Boardwalk
Is it just us, or have we suddenly shrunk to the size of a toy? Makes sense, because adjacent to Incredibles Park is Toy Story Boardwalk. Touches of whimsy from the Toy Story trilogy are in every nook and cranny! Fans of Toy Story Midway Mania! (hey, that's us!) will be delighted to know the attraction is the centerpiece of this Pixar Pier neighborhood—and it's now surrounded by several brand-new food establishments based on Woody and Buzz's world… Ready those taste buds for Poultry Palace (inspired by the Pixar short Toy Story Toon: Small Fry) and then satisfy your sweet tooth at Señor Buzz Churros. Both are seriously tasty.
There's more Toy Story Boardwalk fun to look forward to in 2019, when Jessie the yodeling cowgirl gets the spotlight with Jessie's Critter Carousel—a new spin on a classic boardwalk carousel, where more than 50 adorable wilderness critters (inspired by the Woody's Roundup TV show from Toy Story 2) welcome riders for a rootin', tootin' good time. Watch this space for info as the attraction's opening day gets closer.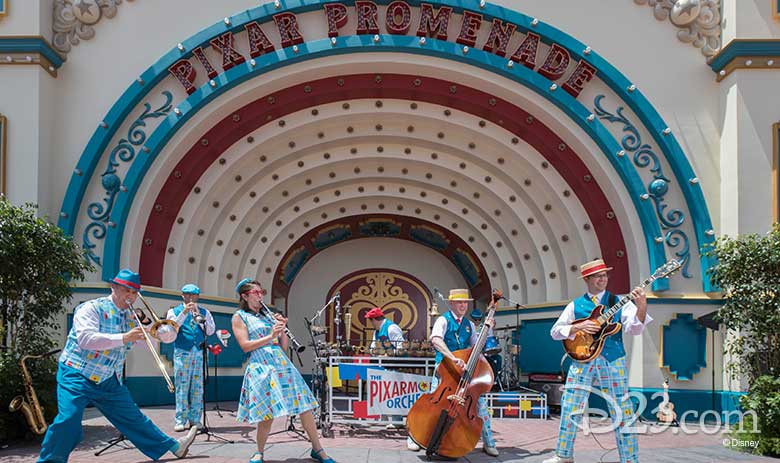 Pixar Promenade
We have an affinity for old-school boardwalks—like the ones found in Coney Island, New York, or Santa Cruz, California. So when we realized that classic turn-of-the-century-style games would still be a big part of the Pixar Promenade neighborhood at Pixar Pier, we were pleased as punch! The games have been rethemed with all kinds of charming Disney•Pixar characters, including a "candy corn toss" with Heimlich from a bug's life, the WALL•E Space Race, a "star catcher" game based on the Pixar short La Luna, and the Bullseye Stallion Stampede (featuring the beloved horse from Toy Story). All four are barrels of fun—and you might just get to take home a prize! Right nearby are two brand-new food and snack locations themed to Inside Out: Angry Dogs, where dear ol' Anger helps heat up yummy (if "somewhat annoyed") hot dogs, and—opening later this summer—Bing-Bong's Sweet Stuff, where the lovable character offers up the delicious sweets like rainbow cotton candy.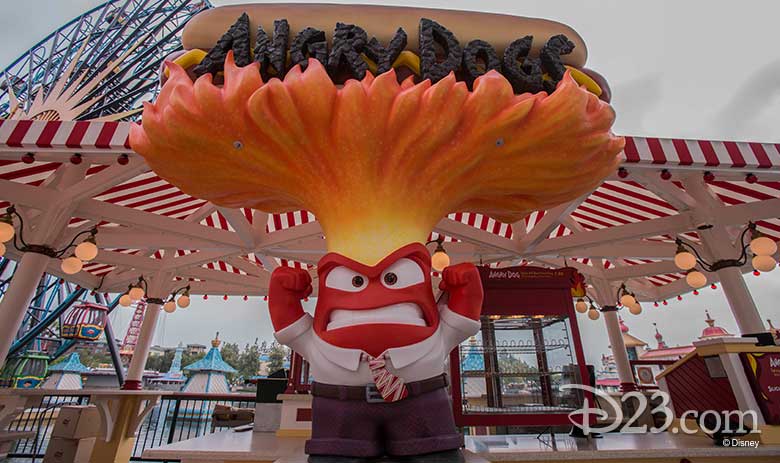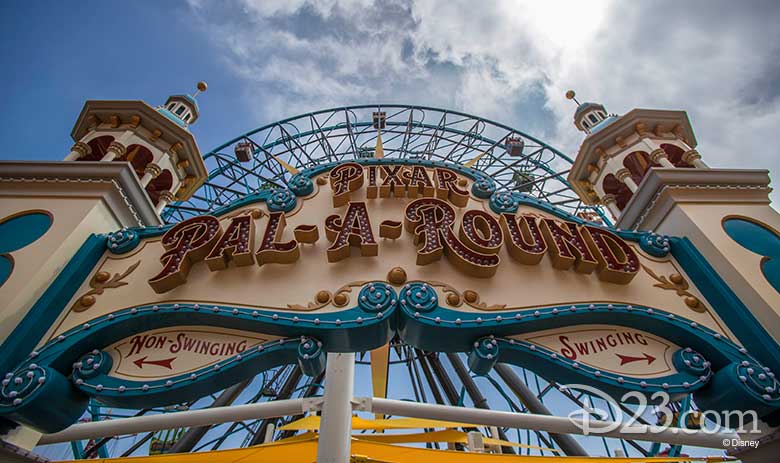 But the magical focal point of Pixar Promenade is the Pixar Pal-A-Round; the fan-favorite wheel still welcomes all who come to Disney California Adventure park with that iconic Mickey Mouse face—but now, each of the 24 gondolas features different combos of Disney•Pixar pals. Our favorites include Lightning McQueen and Mater from Cars and Miguel and Hector from Coco! And there's the added bonus of a beautiful bird's eye view of both the Pier and the park.
Inside Out Headquarters
The fourth neighborhood at Pixar Pier is not quite complete—which just means we have even more to look forward to! Inspired by the Oscar®-winning Disney•Pixar film Inside Out, this lush area will soon include a whimsical new attraction, Inside Out Emotional Whirlwind, fit for the whole family. We can't wait to come back when it's completed!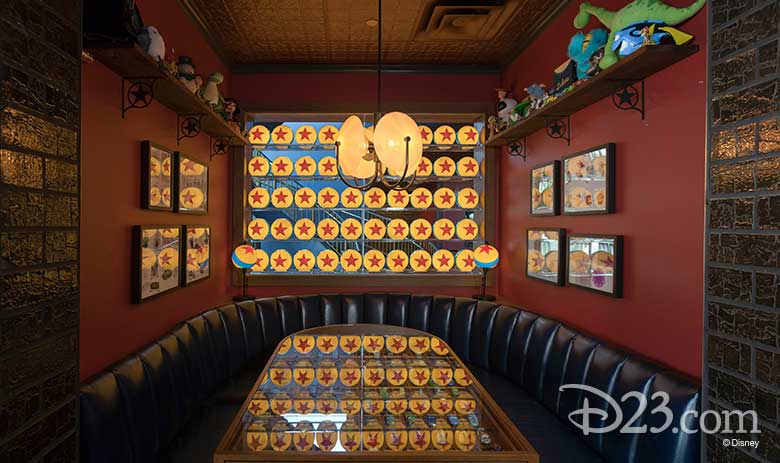 Lamplight Lounge
As we mentioned earlier, there's a stylish new eating establishment right at the fore of Pixar Pier. We can safely say that—having had a very special chance to enjoy its fare—the food is delicious… and the décor equally memorable. Lamplight Lounge offers "gastro-pub"-style cuisine that's great for kids and adults alike; we were particularly fond of the crab & tuna sushi rolls and the delectable ratatouille dish! Plus, the location has a full bar—so those over 21 can indulge in artisan signature cocktails. As the story goes, Lamplight Lounge is housed in a converted warehouse originally called The Brooklyn Building—a location that just happens to have the same name as a building at Pixar Animation Studios in Emeryville, California. (Is it a coincidence? We think not… ) Known as the local haunt for a host of Pixar artist "regulars," the lounge features nifty little mementos they've left behind—from concept art and other filmmaking collectibles to amazing sketches (featuring the animators' signatures) on the drink coasters. And fans of the former venue's lobster nachos, never fear: They're still on the menu!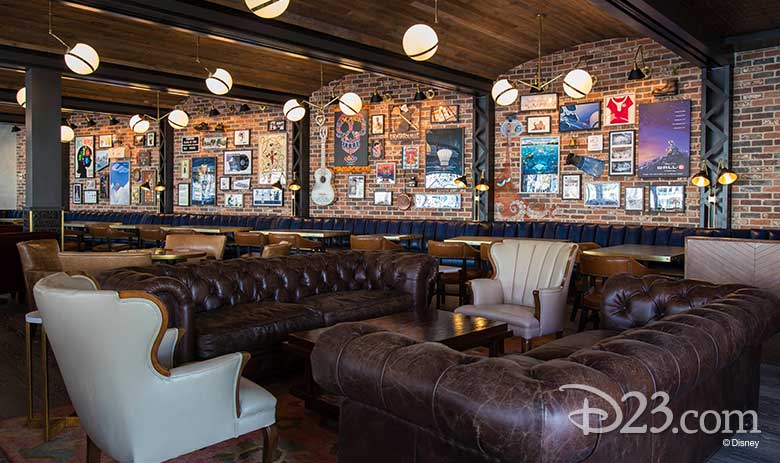 Planning a visit to Disneyland Resort this summer? Don't miss your chance to experience everything that the new Pixar Pier has to offer… And here's the best news: Pixar Fest is still entertaining guests, through September 3, with the new Together Forever – A Pixar Nighttime Spectacular at Disneyland park and brand-new floats in the Pixar Play Parade and Paint the Night. It's a Pixar feast for all the senses, and we can't wait to go back!