By Savannah Salazar
School's out, and summer camp is in session. Disney Channel's fan-favorite series BUNK'D is back for another summer, well… season, of hilarious antics as former Woodchuck counselor Lou Hockhauser takes up the mantle as the new owner of Camp Kikiwaka. Along with returning campers Destiny, Finn, and Matteo, she welcomes three new additions to the Kikiwaka family: counselors Ava and Noah and Gwen—who may be new to the camp, but she's a veteran when it comes to "roughing it." (More on that later!)
We recently went to Camp Kikiwaka (by way of the series' Hollywood set), where we spoke with the BUNK'D cast. The live-action comedy just kicked off its fourth season, which airs Thursdays (8 p.m. EDT/PDT) on Disney Channel and DisneyNOW.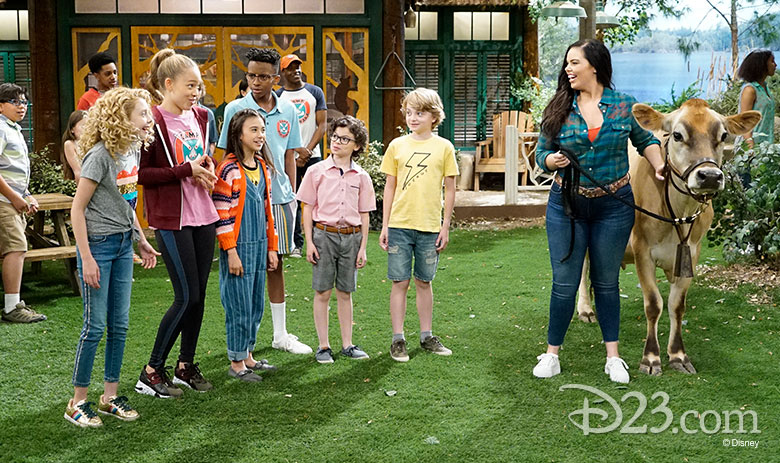 Miranda May stars as Lou, the always enthusiastic and newly minted camp director. After buying Camp Kikiwaka last season for a whopping one dollar from the Ross kids, May shares that despite the excitement, her character struggles with the transition. "For Lou, the biggest challenge is taking on a different kind of responsibility," she says. "It's her first time not being a Woodchuck, so handing over that baton has been difficult for her."
Lou isn't the only one adjusting to a new role on BUNK'D this season. After three seasons as a central supporting character on BUNK'D, May is now the lead actress of the series. "It didn't even hit me that that was what I was doing until our first episode aired last week, and I saw my name go across the screen first," she says with a laugh. "As strange as that is, that was the moment I was like oh, I'm supposed to be leading this show!"
Actress Shelby Simmons joins in on the fun of Kikiwaka, taking over Lou's position, as the new Woodchuck cabin counselor named Ava. This city girl may seem intimidating but that's not always the case for Ava. "She came to it not really knowing what she was getting into, but I love how it grows. Ava really bonds with her campers and becomes not quite a mom, not quite a leader figure, but a big sister," Simmons says.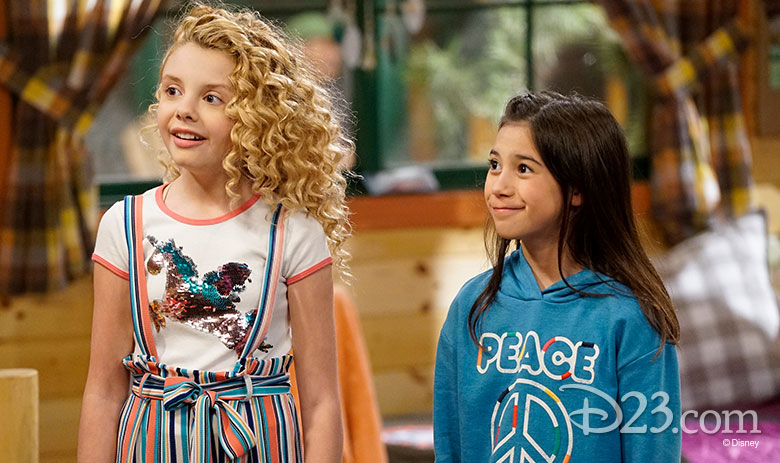 Ava's campers are Gwen (Scarlett Estevez)—a new camper who has lived her life entirely off-the-grid—and Destiny (Mallory James Mahoney). On-screen, the two form a tight bond as Destiny teaches Gwen about life on-the-grid—from a simple light switch to the World Wide Web. "She becomes one of Gwen's really close friends. They go through a lot together," Estevez says, and she promises that the season features a lot of wacky adventures for the Woodchuck pair.
Woodchuck cabin isn't the only cabin with a new counselor. Noah is played by Israel Johnson—a talented actor who is having a blast playing an actor who might not be quite as talented. "Noah is a terrible actor. He is bad on a whole different scale but I knew I could do Noah as a bad actor because when I was young, I would be super cringe-y at auditions," he shares. "So, I took my younger self and put it into Noah."
The first episode of the season finds returning campers Matteo and Finn—played by Raphael Alejandro and Will Buie Jr., respectively—a little resistant to their new Grizzly counselor. Johnson understands, explaining that Noah doesn't know if he's a good counselor or not. "It's tough being a counselor. It's a real job!" he says with a laugh. "It's interesting because my campers, Finn and Matteo, are both so different."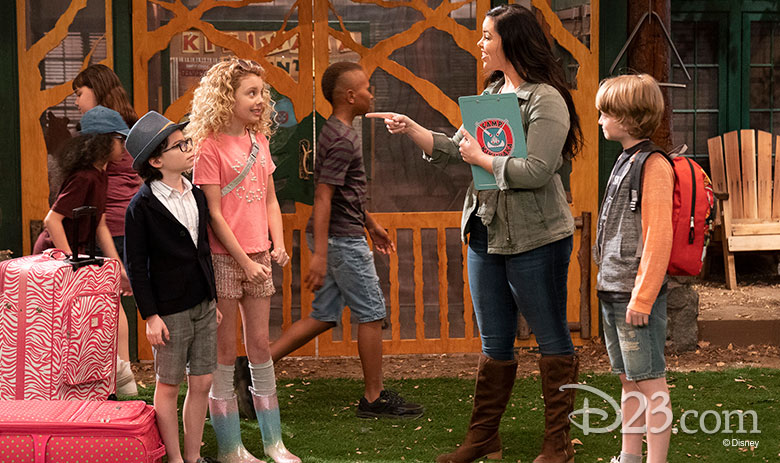 Matteo has a more cautious demeanor while Finn doesn't think twice. "He is maturing a bit, but he does still have his wild moments," Buie says. They bring out the best in each other, but Alejandro and Buie say they still have a lot to learn this season. "He gets to grow and learn more about friendship while bonding with the new campers and counselors at camp," Alejandro says of Matteo.
The series may have a few new kids on the trail but the cast is in agreement that it hasn't taken long to form that familial camp bond. "It's kind of interesting walking into this like the new kid at school," Simmons explains. "It's weird the first day but you always meet those one or two people that welcome you and that's what happened with everyone here." Johnson laughs, stressing, "They're really open. They were like, you're here now, you're part of the family!"
Speaking of family, when asked which Disney characters would be great camp mates, the cast brought up some fun suggestions. "I've been watching Disney Channel since The Suite Life of Zack and Cody. We've actually had Phil Lewis direct for us, and it'd be awesome for him to come to Camp Kikiwaka as Mr. Moseby," Mallory James Mahoney says. The first person on May's list is Cadet Captain Jennifer Stone, Christy Carlson Romano's character from the popular Disney Channel Original Movie Cadet Kelly. "It would be so funny to see the kids with that sort of intense structure," she says. And Buie's choice may be a sentimental favorite for some BUNK'D fans. He shares, "I've been a super-huge fan of Jessie since it first came out, so having Jessie herself at camp would be super fun."