By Jim Frye
You'd be forgiven for thinking that Sofia Wylie is a lot older than her 15 years. That's because her resume is already stuffed with fan-favorite projects, her passport is filling up fast, and her ambitious schedule and sophisticated conversational style make her seem like a seasoned veteran of TV and film. And, in a way, she is.
Wylie is perhaps best known for her role as Buffy Driscoll in Disney Channel's critically-acclaimed Andi Mack, which begins airing its final episodes on June 21 (8–8:30 p.m. ET/PT). She is currently filming the role of Gina in the upcoming High School Musical: The Musical: The Series for the direct-to-consumer streaming service Disney+. She is also the voice of Riri Williams (AKA Ironheart) in the animated series Marvel Rising: Heart of Iron and made her music debut with the single "Side By Side," part of the animated special Marvel Rising: Chasing Ghosts. Wylie also has her own production company, AIFOS, and a newly launched IGTV series Dancing with Sofia Wylie, where she shares her love of dance with her 1.5 million followers.
Up next is the Disney original movie Back of the Net, debuting Saturday, June 15, at 8 p.m. EDT/PDT on Disney Channel and DisneyNOW, where she stars as Corey Baily, an ace science student who eagerly sets out for Sydney to embark on a semester at sea aboard an advanced research vessel. But when she lands in Australia, the wrong bus and a missed boat put her at Harold Soccer Academy, where she's stuck for the summer despite her disinterest in soccer. Corey, undeterred by conflicts with mean girl Evie, is able to apply her unique strengths in science to end her team's losing streak—and she just may make some friends along the way.
D23 caught up with Wylie to find out all about her favorite moments from the film, saying goodbye to Andi Mack, and which Disney characters she'd choose for her soccer team.
D23: How does it feel to be involved with so many great Disney projects?
Wylie: Really incredible. I have always been a big fan of Disney. When I worked with them for the first time on Andi Mack, it was like a dream come true. They've been so welcoming and the whole Disney community has become like my family, so I wanted to work with them as much as possible and I hope to continue to.
D23: Where did you film Back of the Net?
Wylie: It filmed in Australia, which was the cherry on top of being able to film a movie, first of all. I'd been to Australia once before, but the cast was super-welcoming and they taught me all the phrases that they use. It was really fun and such a beautiful place.
D23: Tell us a little about Corey Baily, your character in Back of the Net.
Wylie: Corey is a girl who only sees herself as a science geek, who's always in her books. She's flying to this semester at sea, which is the most exciting thing for her. What I love about her is that she realizes throughout this movie that she could be so much more than she thought she was. With the help of her friends, maybe a possible love interest, and competition, she realizes that she can do anything she puts her mind to. She doesn't have to be in just one specific box. I learned a lot from her. She's a real fun character and I can't wait for everyone to fall in love with her.
D23: How does science help Corey with her soccer skills?
Wylie: That was such a cool part of the movie, because so many people think that sports and school can't go hand-in-hand. There's so much that education can do to help with sports and dance… and everything is kind of numbers in a way, so she's able to help her team out and make calculations and equations about what soccer is. It's a combination of athletic abilities plus what's in her brain, and making the calculations to get the ball and make it curve. And she's able to help her team. She gives so much to her team—she may not be the most athletic girl, but everyone has a place, has their niche.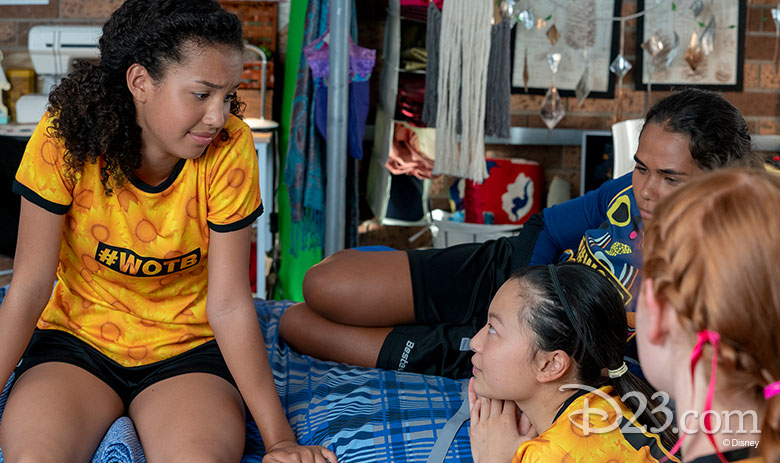 D23: Did you play soccer before this film?
Wylie: I played when I was about 5 years old, so basically, I had no soccer experience. But most of the characters I've played have been very athletic. On Andi Mack, I was a basketball player and a track runner at one point. Most have had athletic abilities, so going into this where Corey is not very coordinated was a lot of fun for me. I was learning things as much as Corey was, so it was fun.
D23: What can viewers take away from Back of the Net?
Wylie: That you cannot go at it alone. Corey's never had real friends before. Having that group of people who can support you during the tough times is always important. Realizing that you can be anything and that you don't need to be in the same category your whole life. If you're intelligent, you can also play sports. If you're an athlete, you can also be very intelligent. You can be a fashionista and also be a tomboy as well. There's no one way that anybody is supposed to live.
D23: How is Corey different that than Gina, the character you play in High School Musical: The Musical: The Series?
Wylie: The characters are very different. I think Corey definitely finds her voice throughout the movie, but Gina comes into High School Musical: The Musical: The Series with that voice completely in place. Gina is the prima donna of the school, and she has this huge performing experience that she comes into the auditions with. She is confident like no other, and that's something that Corey struggles with, is her confidence.
D23: How do you feel about saying goodbye Buffy, your Andi Mack character?
Wylie: It was very difficult. I grew up with Buffy for the past three years. It's been a very formative time of my life. Being with anything that long, it's very difficult. I cried, and we all cried together, and we cried even more. But I think we're all very excited about the next stuff we get to do. I'm so excited for all my castmates—they're all doing incredible things. I'm very happy that Andi Mack will be able to live on forever. Those three amazing seasons will never go away. I love Buffy, and I hate to say goodbye, but I'm excited to say hello to many new characters.
D23: Which Disney characters would you choose to be on your soccer team?
Wylie: Oooo, okay. I think I would have to go with Mickey Mouse, because he's just the boss of all bosses. I'd have to have him on my team. My next character might not do very well, but she's my favorite Disney princess of all time—Ariel. She doesn't know how to walk when she first gets on land, but I think with enough time she would definitely be a pro soccer player. I think I would want Buffy on my team—she's just mega-competitive. And lastly, I would definitely go with Ant-Man, because he would be super-small, and nobody would know how or why the ball was moving.