By Jocelyn Buhlman
We're less than 50 days away from the 50th anniversary of Walt Disney World Resort, and to help ring in that golden milestone, we're taking a look at some of the iconic characters of Walt Disney World. Today, we're celebrating five characters from Magic Kingdom Park that are featured in our limited edition "Most Magical Kingdom" pin set, available exclusively to D23 Gold Members. Read on to get to know these beloved characters who've helped put the "magic" in Magic Kingdom throughout the years.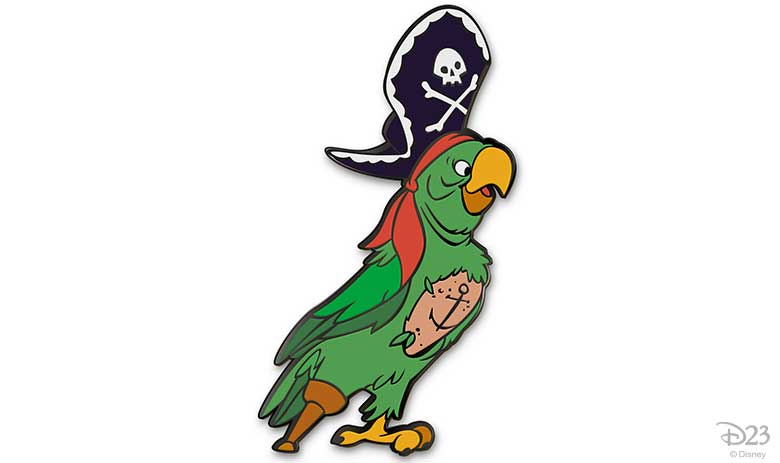 Peg Leg Parrot from Pirates of the Caribbean
Piracy and parrots have a treasure trove of history together, so it's only natural that this buccaneer bird would make his perch outside Magic Kingdom's Pirates of the Caribbean attraction for many years, before briefly nesting inside the World of Disney store in Disney Springs. In his jaunty pirate hat, boasting a peg leg and rugged tattoo, the Peg Leg Parrot has become an icon synonymous with the beloved version of the attraction at Magic Kingdom.
The Peg Leg Parrot was a "barker bird," inspired by carnival barkers who would call out to patrons to entice them into attractions. The first instance of a "barker bird" was a parrot perched outside of Walt Disney's Enchanted Tiki Room at Disneyland Resort, who would squawk while guests walked, announcing what wonders were in store if guests stopped to watch the show. Similarly, the Peg Leg Parrot sat outside of the Pirates of the Caribbean attraction at Magic Kingdom, promising swashbuckling adventure to passerby. While we can no longer visit the Peg Leg Parrot at Walt Disney World Resort, he's been immortalized in our pin set, still dressed in his buccaneer best.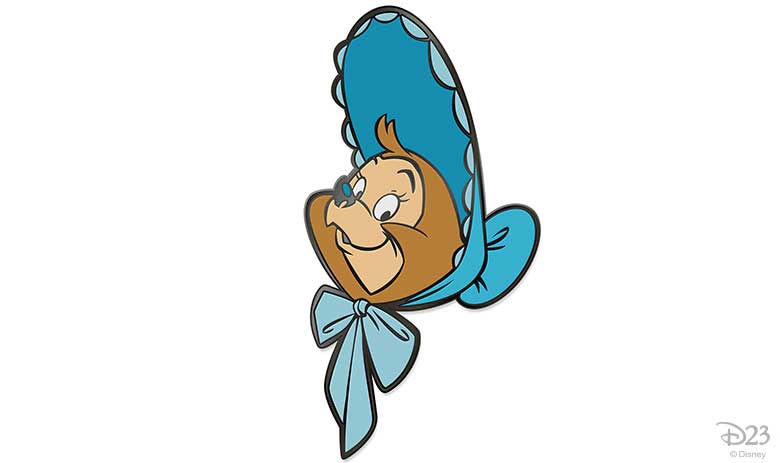 Bubbles from The Country Bear Jamboree
One of the three little Sun Bonnets from the sunshine state, Bubbles has been performing in a trio with her fellow Sun Bonnets—Bunny and Beulah—since Walt Disney World opened in 1971. The talented trio is part of the roster of musicians and singers shaking up the stage of Grizzly Hall at Magic Kingdom's Country Bear Jamboree, an Audio-Animatronic® show that serves up a dose of Americana and country music to park guests every day.
Bubbles, voiced by singer Loulie Jean Norman, performs with the Sun Bonnets to sing and dance to the ditty "All the Guys That Turn Me On Turn Me Down" before returning to the stage in the finale for a rousing, all-cast rendition of "Ole Slew Foot." She and her fellow Sun Bonnets are known for wearing, well, a blue sun bonnet—which is included in her design in the pin set. If you can't bear to stop learning about Country Bear Jamboree, check out this spotlight article from our friends at Walt Disney Archives, which dives into the history of the Country Bear Jamboree soundtrack and vinyl record.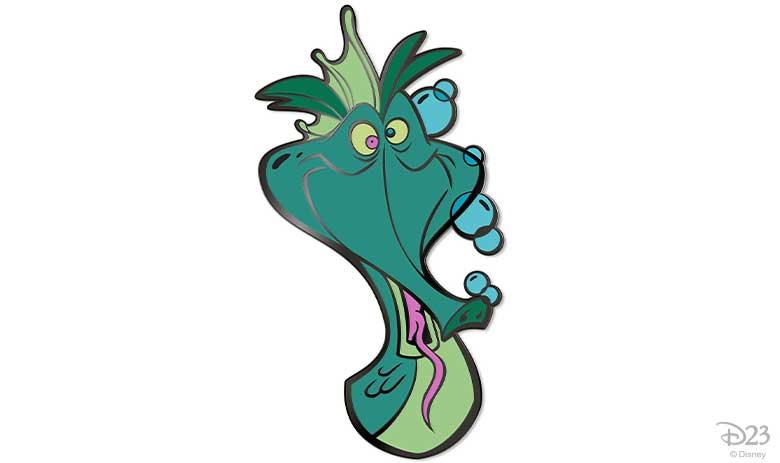 Sea Serpent from 20,000 Leagues Under the Sea
What's long, green, and has giant googly eyes? Why, it's the fearsome sea serpent from the 20,000 Leagues Under the Sea attraction at Magic Kingdom! While he's more goofy than gruesome, this sea serpent was one of the many wonders guests could observe while adventuring through "liquid space" in submarines inspired by Captain Nemo's Nautilus from the film version of 20,000 Leagues Under the Sea. Making his home in the lost city of Atlantis, the Sea Serpent was tended to by friendly mermaids while he relaxed amongst the ruins—and startled intrepid submarine captains! Don't let his goofy visage lull you into a false sense of security, because the next stop on your voyage is a run-in with the terrifying giant squid!
While the 20,000 Leagues Under the Sea attraction is no longer voyaging at Magic Kingdom, the beloved Sea Serpent lives on in our pin set.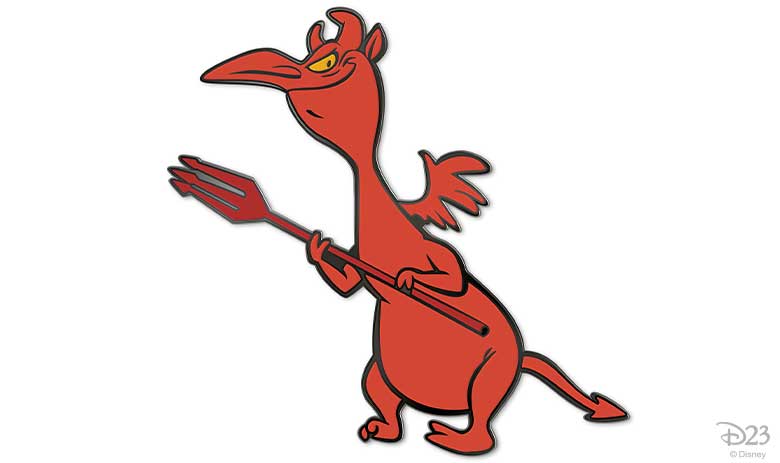 Red Demon from Mr. Toad's Wild Ride
From his devilish grin to his wicked wings, the Red Demon from Mr. Toad's Wild Ride has captured the imagination of Disney fans everywhere. A key character in the surreal finale of the attraction, the Red Demon appeared multiple times throughout the final scene as you zip through "The Inferno" in your motorcar before finally re-emerging into the safety of Toad Hall.
While you can no longer visit Toad Hall at Magic Kingdom, sharp-eyed fans can spot many toad-ally awesome tributes to the attraction, including a ghoulishly delightful detail by Haunted Mansion—plus, the Red Demon carries on his mischief as part of our pin set.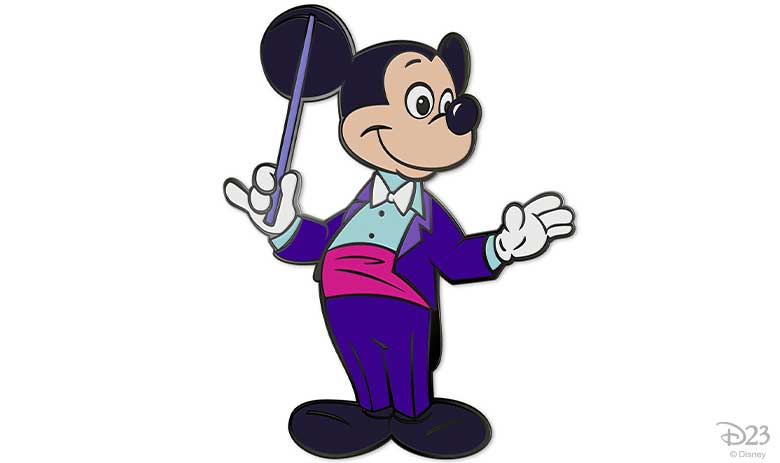 Maestro Mickey from The Mickey Mouse Revue
When Magic Kingdom opened in 1971, guests could sit down and enjoy an enchanting concert featuring musical performances from Audio Animatronic® versions of favorite Disney characters, all conducted by the leader of the club himself, Mickey Mouse! Maestro Mickey led the show—featuring performances by Snow White, Alice, the Three Caballeros, and more—until 1980, when The Mickey Mouse Revue moved to Tokyo Disneyland to perform for guests when that park opened in 1983. While the show gave its final performance at Tokyo in 2005, guests can still spot the Three Caballeros singing and samba-ing in the Gran Fiesta Tour Starring the Three Caballeros at EPCOT; you can read more about how the historic Audio Animatronics® made their return to Walt Disney World here. Maestro Mickey continues his conducting in his new pin form, joining the rest of these beloved characters in our "Most Magical Kingdom" pin set.
Now that you've gotten to know these silly, scaley, and sometimes spooky characters of Magic Kingdom, make sure to check out the "Most Magical Kingdom" pin set to bring these friendly faces home. Not a Gold Member yet? Join today to get the complimentary 2021 D23 Gold Member Collector Set, celebrating 50 years of Walt Disney World. Character connoisseurs will be delighted to discover the Collector Set includes a D23-exclusive pin set featuring five more Walt Disney World Resort characters!