By Beth Deitchman
A crowd has assembled at a park in North Portland, not far from the city's iconic St. Johns Bridge. A rainbow of picnic blankets fills the grassy lawn, and in keeping with local culinary tradition, colorful food trucks are parked at the edge of the celebration while scores of kids and families work up an appetite. Many are in costumes inspired by wild animals, and there's even a polar bear in our midst (more on that later!). Though a light mist falls over the location, the cast of the Disney+ original movie Timmy Failure: Mistakes Were Made (along with a sizeable group of Oregonian extras) prepares to begin their day of filming. "You're from Portland—you can do it!" cheers the film's assistant director as they get started, and the weather has no impact at all on the mood of the crowd. In fact, it's invigorating to them, and only underscores the filmmakers' decision to base this quirky story in a city that celebrates being different.
The fifth grader at the heart of Timmy Failure: Mistakes Were Made truly marches to the beat of his own drum. Winslow Fegley stars as Timmy, a bit of an outsider at school with a hilarious deadpan sense of humor. Timmy enjoys a warm relationship with his overburdened single mother, Patty, and he has an equally close but complicated dynamic with his business partner in Total Failure Inc.—the detective agency he runs with Total, a 1,500-pound polar bear. (We told you it was complicated.)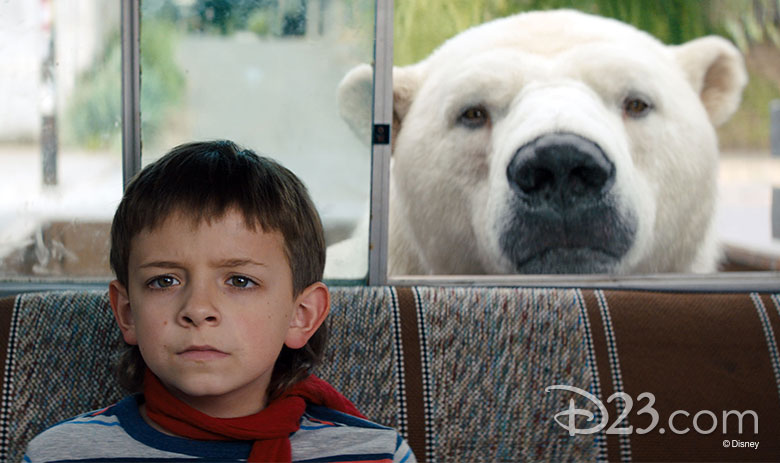 The film—which premieres on Disney+ this Friday, February 7—is based on the first in a popular series of books by Stephan Pastis, creator and illustrator of the syndicated comic strip Pearls Before Swine. When Pastis embarked upon writing his first novel, he was drawn to the idea of a great detective who might not actually have much of a clue. "It made me laugh to think of someone who's very arrogant and thinks he's the world's best at something. That dichotomy, between how he saw himself and how he really was, made me laugh," Pastis tells us.
Pastis' book, Timmy Failure: Mistakes Were Made, became a New York Times bestseller when it was published in 2013 and it also found a fan in Tom McCarthy—director of acclaimed films such as The Station Agent, Win Win, and Spotlight (for which he received an Oscar® for best original screenplay). McCarthy came on board as director and co-wrote the screenplay with Pastis, who shares that seeing his novel come to life is "just like the inside of your brain has exploded." During an action sequence filmed earlier in the production—which involved a car driving into a house—he marveled, "That's only happening because one day I typed that."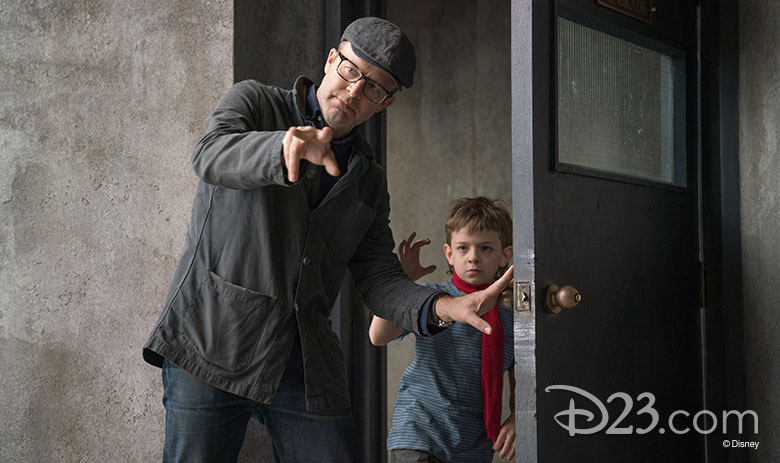 The author shares that he and McCarthy veered somewhat from the book as they envisioned bringing it to the screen, but it was imperative to both of them to retain Timmy's unique voice. The character appears in literally every scene of the film, and the production looked at thousands of young actors before Fegley was cast. Timmy Failure producer Jim Whitaker (A Wrinkle in Time) says of Fegley, "He was just Timmy Failure. He's got this certain quality of being his own unique soul. You can feel it. You can see it in his eyes." Whitaker explains that Fegley intrinsically understood Timmy's belief that he is a brilliant detective. "He plays the part in the way of not knowing the irony of the fact that [Timmy] is a failure. He's not the greatest in the world, but he truly believes he is," Whitaker says, "and in the end, he's really not wrong because he is who he is."
Though some might think of Total as a product of Timmy's imagination, Whitaker emphasizes, "Total is a polar bear in real life to us." To realize the character, the filmmakers studied polar bears in captivity and enlisted Oscar-winning visual effects supervisor Rich McBride to help bring Total to the screen. McBride is no stranger to bears, having won the Academy Award® for designing and creating the bear that terrorizes Leonardo DiCaprio's character in The Revenant. "That's the standard we're holding [McBride] to and that he wants to hold himself to," Whitaker explains, stressing that McBride shares their commitment to making Total a real polar bear that Timmy—and viewers—will adore. "It's not an anthropomorphized polar bear. It's not a polar bear that talks," Whitaker notes. "He shows up in unusual places—in the middle of scenes he'll pop up—he'll kind of show up in a closet. He shows up wherever Timmy's imagination wants him to show up."
In McBride's first conversation with McCarthy, the director shared that his vision for the movie was that it have quirky, "indie" sensibilities, but with a giant visual effect—aka a real polar bear—in the middle of it. They talked about using costumes, but according to McBride, "McCarthy wanted it to feel like a real bear. He kept referencing his dog, Georgia. So it's like a sidekick, someone who is always following [Timmy] around and does quirky things but still acts like a real bear." McBride and his team digitally created a complete skeleton, a full muscle system, and a full skin system that will drive the behavior and movement of the fur on the surface by the time Total comes to life on screen.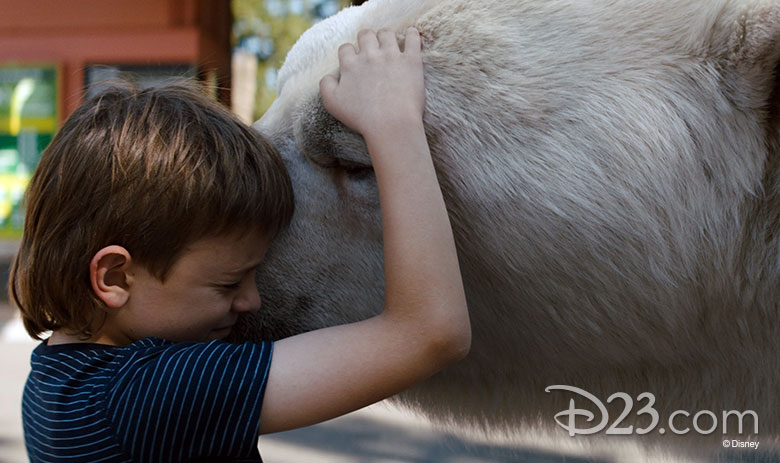 To create a foundation for these incredible visual effects that will be added in post, Michael Adamthwaite is on set to provide motion capture reference. He's suited up in what he refers to as "a bear-shaped canoe" and walking on all fours. "It's blown out all the possibilities for what they can do for every shot," he says of the marriage of technology and performance capture that's turning an imaginary polar bear into a realistic on-screen sidekick.
"Polar bears have a lot of charm and they're funny and quirky and they do silly things," McBride says. "I think we can incorporate their real behaviors within the action that we have within the movie."
Total may be adorable, but that's not why Pastis chose a 1,500-pound polar bear companion for Timmy when he first put pencil to paper. "The true answer is I don't really think stuff through," he laughs, but acknowledges that Total is symbolic of Timmy's father, who left before the events of the story start to unfold. "It's because it's big and strong and he's missing a dad in his life. To some degree [Total is] probably a substitute for a father who would normally be a protector, but also be sort of soft and gentle," Pastis shares.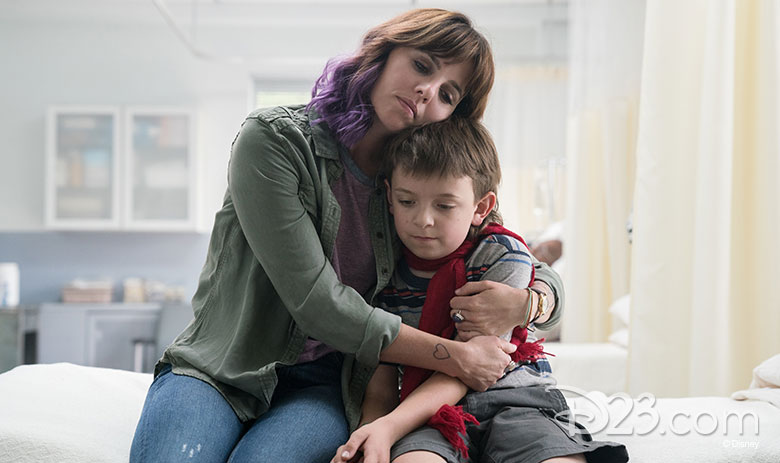 And while some parents might try to put the kibosh on an imagination as active as Timmy's, Patty Failure is happy to let it be. "She doesn't discourage it. She doesn't encourage it either. She just allows it to kind of cultivate," says Ophelia Lovibond, who plays Timmy's equally quirky mom. Patty doesn't worry until she finds her son watching TV after a bad day, rather than living in his own creative world. She sees Timmy and Patty as a "dream team." "It's not a mother telling her son what to do all the time. It's just that they're in this together," Lovibond says. "She's really open with him about the fact that cash flow is a bit of a problem. She doesn't stress him out about it but she's honest about things. She's like, 'C'mon, you've got to help me out here. We're going to do this together.'" They're friends, as well as mother and son.
Pastis believes that audiences will relate to the story of Timmy, a young boy who is struggling in a difficult situation at home. "All he really has going for him is his imagination," the author says. And it's Timmy's imagination—not to mention that of Pastis and McCarthy—that makes Timmy Failure: Mistakes Were Made a film like none that you've seen before.
"There's a tendency in the world that we live in to say, oh, the film is 'this-meets-this.' This is not 'anything-meets-anything.' It's its own unique film," Whitaker says of Timmy Failure: Mistakes Were Made, emphasizing, "I think [the film] will feel very different in a good way." And that estimation couldn't be more apt for a story that celebrates individuality, set in a city that is also very different in a good way, where a little rain and the first-ever fifth grader-polar bear detective duo would both receive a totally warm welcome.