By Jocelyn Buhlman
There's no better way to spend Valentine's Day than at a Disney theme park—and there are so many ways to enjoy that Disney magic. To help you plan that perfect day with your sweetheart, our love experts at D23 suggest these date ideas to take your Valentine to a whole new world!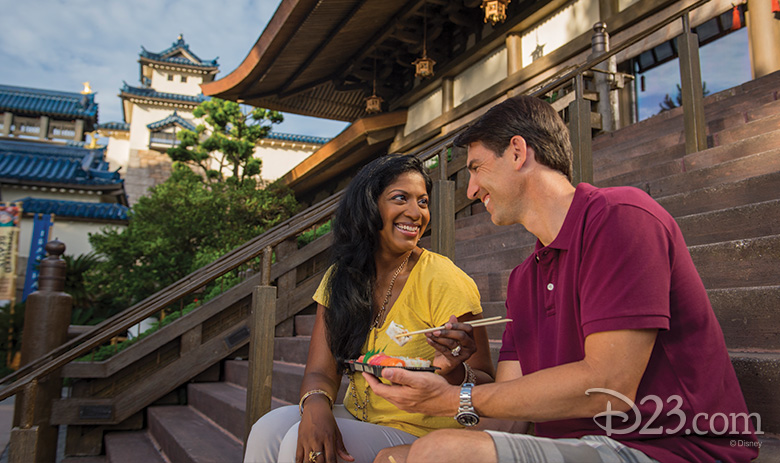 Disney Foodie Feast
If you both have an appetite for more than just romance, head over to your favorite Disney theme park for a day full of dining and deliciousness. No matter whether you're "eating around the world" at Epcot or dining all day on turkey legs, churros, and Dole Whips—you know you'll be in for a delicious Disney date!
Must-See Attraction: Walt Disney's Enchanted Tiki Room is the perfect spot to kick back and enjoy a Dole Whip float together.
Ideal Souvenir: Stop by your favorite candy shop in the park and pick up a treat to bring the Disney delights home with you!
The Perfect Picture: Once you've loaded up on your tasty treats from all over the park, make sure to take a picture of your deliciously-packed table for two.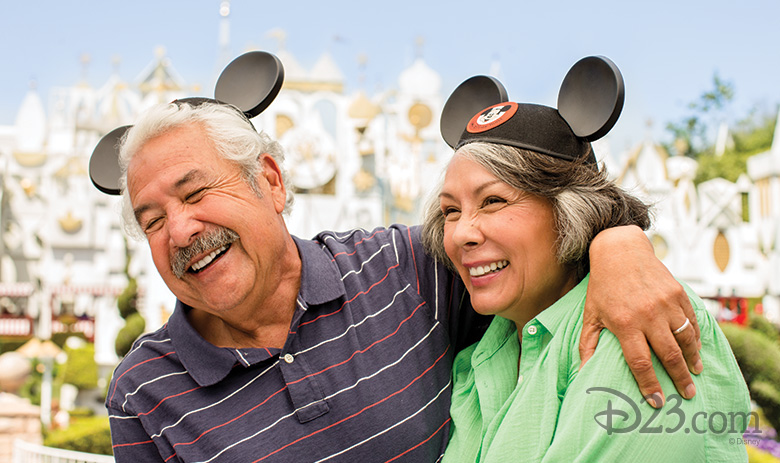 Picture-Perfect Date
Make some memories together by planning a date of photo fun through your favorite Disney theme park. Try getting pictures with all your favorite characters, pulling silly poses on in-ride photos, and taking photos wearing matching mouse ears. At the end of the day, you'll have a perfect collection of memories from a magical date!
Must-See Attraction: It's not a photo date without a picture in front of a landmark attraction, so grab your cutie and stop by the castle, Tree of Life, or Spaceship Earth, and get ready to say "Cheese!"
Ideal Souvenir: A photo frame from your theme park of choice will be perfect for displaying that sweet picture of your day.
The Perfect Picture: No matter which park you visit, you can always find time to take a selfie with Mickey. Nothing is more appropriate for a photo date than saying "Cheese!" with the Big Cheese himself.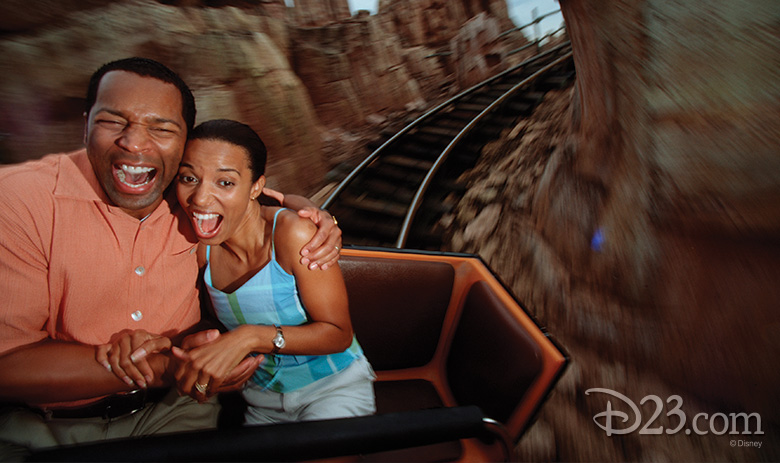 A Thrilling Date
Your sweetheart already makes your heart race, so why not plan a whole date around that thrilling feeling and seek out your favorite fast-paced Disney attractions? Spend the day gripping tight to your date's arm while you scream with excitement on your favorite Disney attractions.
Must-See Attraction: No Disney thrill-seeker's day is complete without scaling a mountain or two. Whether you're bobsledding through the Matterhorn, expeditioning through the Forbidden Mountain of Expedition Everest, or riding the rapids down Roarin' Mountain at Shanghai Disneyland, you'll be sure to experience heart-racing thrills!
The Perfect Picture: To remember exactly just how much of a scream your ride was, many attraction offer in-ride photos, like Space Mountain, Splash Mountain, or California Screamin'. Keep your eyes out for the flash of a camera and strike a pose!
Ideal Souvenir: Love the way one of your in-ride photos came out? Why not purchase it to commemorate your day of thrills and adventure?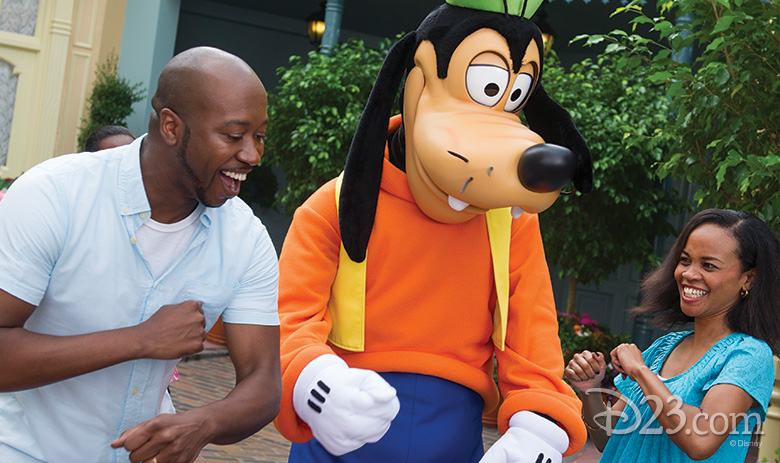 Character Celebration
Go on an adventure through the world of Disney and meet all your favorite characters. Stop by meet and greets, enjoy a meal with character guests, and enjoy a day full of making new Disney friends!
Must-See Attraction: Whether you book a princess breakfast at Ariel's Grotto in Disney California Adventure or enjoy a royal meal at Cinderella's Royal Table at the Magic Kingdom, no character day is complete without a meal with the princesses.
Ideal Souvenir: An autograph book is an easy way to commemorate the cast of beloved characters you visit with throughout the day.
The Perfect Picture: Have you been practicing your royal posing? Clasp your hands over your heart and point your toe, and you'll be looking as regal as the Disney princesses you meet!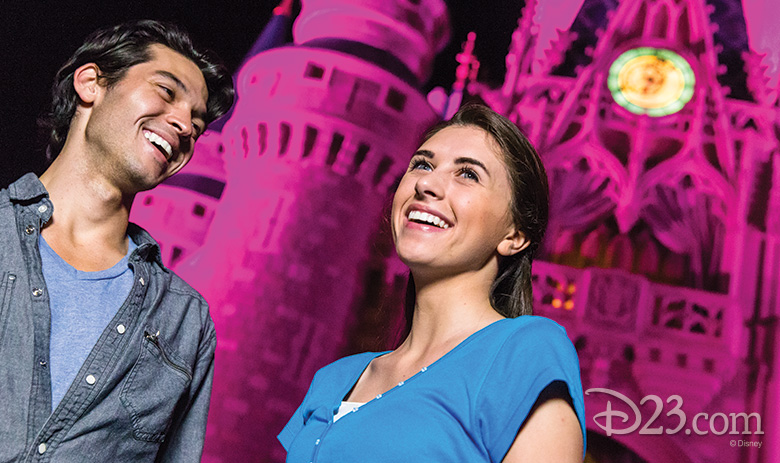 A Glowing & Glittering Night
If you take the term "Date Night" seriously, why not make the most of the glowing ambiance of a Disney theme park? Watch a nighttime spectacular, enjoy the lights of Main Street, U.S.A., or experience some of your favorite outdoor attractions at night!
Must-See Attraction: Now that the Main Street Electrical Parade is shining its way down the streets of Disneyland again, find your favorite parade-viewing seat and get ready to enjoy the spectacular festival pageant of nighttime magic and imagination with your sweetheart.
The Perfect Picture: Capture the essence of your magical night with a picture in front of the lit-up castle!
Ideal Souvenir: If you want to be able to "glow with the show," grab a pair Made With Magic Mickey Ears, so that no matter where you walk in the park, you'll be enjoying magical glowing lights.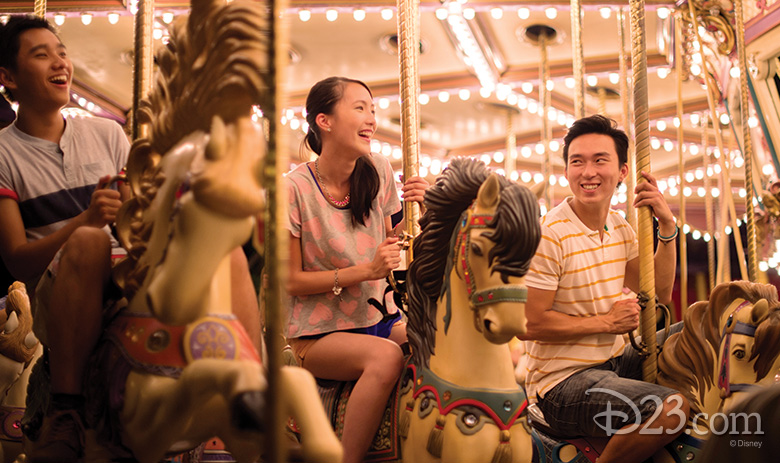 The Classic Disneyland Date
You've seen it so many times: The cute couple posing in front of the castle, grinning on the carousel, and sharing matching Mickey Premium Ice Cream Bars. There's a nothing more charming than taking a Disney parks date the classic way.
Must-See Attraction: Make sure to ride Dumbo the Flying Elephant and enjoy the view. A peaceful ride over Fantasyland lets you soak in the sights of the park and enjoy some quality time with your sweetheart.
The Perfect Picture: If you're at Disneyland, take the time to throw a penny in Snow White's Wishing Well and then snap a picture of the two of you in front of the well to remember your wishes that have already come true! If you're at Magic Kingdom Park, you can do the same at Cinderella's Wishing Well.
Ideal Souvenir: The perfect way to commemorate a classic day of Disneyland fun is, of course, with matching Mickey and Minnie Mouse Ear Hats.