By Courtney Potter
Learn about the new worlds of The Last Jedi, and read up on Disney's recent Golden Globe nominations… See more, along with other news from around Disney, in this week's news briefs!
New "Worlds" Featurette from Star Wars: The Last Jedi
Listen, y'all: The holidays are upon us and that's very nifty, but here's what's really getting us excited… the fact that Star Wars: The Last Jedi light speeds into theaters this Friday! Mere hours from now! We almost can't contain ourselves, honestly.
Thankfully, the good folks at Lucasfilm have been providing some great behind-the-scenes "featurette" content to keep us happy these last few weeks—and just this past weekend, they released a brand-new clip, all about the incredible worlds of The Last Jedi (and what real-life locations were employed to become them).
Check out the featurette, above… then get your cosplay ready; make sure you have your tickets; gas up the car (or figure out your public transport/ride-sharing route); and we'll see you at the cineplex on Friday!
Save the Date!
Be sure to mark these upcoming Disney events on your calendar:
D23 and Walt Disney Archives


December 15, 2017


A Force-Filled Star Wars Evening on the Lot


December 17, 2017


Exclusive D23 Holiday Gingerbread House Workshop


January 12, 2018


Lunch with a Disney Legend—Bob Gurr


January 13, 2018


The Official Walt Disney Studios Tour—Presented by D23


February 2, 2018


D23 Member Night at Disney's Aladdin at the Hollywood Pantages Theatre


February 20, 2018


D23 Member Night at Disney's The Lion King in Orlando
Parks


November 9, 10, 12, 14, 16, 17, 26 and 28. December 1, 3, 5, 7, 8, 10, 12, 14, 15, 17, 19, 21 and 22




Mickey's Very Merry Christmas Party at Walt Disney World Resort




November 10–January 7




Holidays at the Disneyland Resort




December 16


Star Wars: Galactic Nights returns to Disney's Hollywood Studios


February 28–May 28, 2018




Epcot International Flower & Garden Festival




April 13, 2018




Pixar Fest begins at the Disneyland Resort




Summer 2018


Star Wars: Pixar Pier opens at Disney California Adventure


2019


Star Wars-Themed Lands Opening at Disneyland and Walt Disney World



Studios




December 15, 2017


Star Wars: The Last Jedi opens in theaters


February 16, 2018


Marvel Studios' Black Panther opens in U.S. theaters


March 9, 2018


Disney's A Wrinkle in Time opens in U.S. theaters


May 4, 2018


Marvel Studios' Avengers: Infinity War opens in U.S. theaters


June 15, 2018


Incredibles 2 opens in U.S. theaters


Television




December 1–25, 2017


Disney|ABC's 25 Days of Christmas

Disney's Big Nominees for the 75th Golden Globes®
Awards season is in full swing, and the Hollywood Foreign Press Association recently unveiled all the TV and film nominees for their upcoming 75th Golden Globes—to be presented on January 7. Check out Disney's nominees, including Disney•Pixar's sumptuous Coco, right here at D23.com.
Disney On Broadway Brings Star Power to Epcot Festival of the Arts
Epcot at Walt Disney World Resort is already an incredible place to visit (don't get us started on the amazing fish and chips at the Rose & Crown Pub in the United Kingdom pavilion)—but they somehow go about making it even cooler by offering several fabulous festivals throughout the year. Example: the Epcot International Festival of the Arts, running from January 12 to February 18! After last year's inaugural—not to mention successful—outing, the Fest returns to celebrate all things art… performing, visual, and even culinary.
And this just in: As part of their "12 Days of Disney Parks Christmas," our pals at the Disney Parks Blog recently made a big Fest-related announcement… Disney On Broadway performances will once again thrill visitors each weekend (Friday through Monday) during the 2018 event!
Broadway stars Ashley Brown (Mary Poppins), Josh Strickland (Tarzan), Kissy Simmons (The Lion King), Kevin Massey (Tarzan), and Alton Fitzgerald White (The Lion King) are all returning—and they'll be joined for the first time this year by Kara Lindsay, known for her role as Katherine Plumber in Newsies. To find out more about the Disney On Broadway performance schedule during the Festival of the Arts, or about the Fest itself, visit disneyworld.com/ArtfulEpcot.
The Lion King Releases First Dual-Language Music Video
Speaking of Disney On Broadway, Disney's The Lion King has been stunning audiences on the Great White Way for 20 years… and now, the show has released its very first dual-language music video, for the show's epic ballad, "Can You Feel the Love Tonight"… or, in Spanish, "Puedes Sentir El Amor." Delight your senses by taking a gander at the charming clip, above.
Performed in Spanish and English, the video features Agustín Argüello, who plays Simba in the Mexico City production (now playing at the Telcel Theater), and Adrienne Walker, who currently stars as Nala on Broadway. It's all in celebration of the show's 20th anniversary on Broadway at the Minskoff Theatre—as well as the show's whopping 24 productions around the globe. Find out more about The Lion King's incredible history on the musical theater stage right here.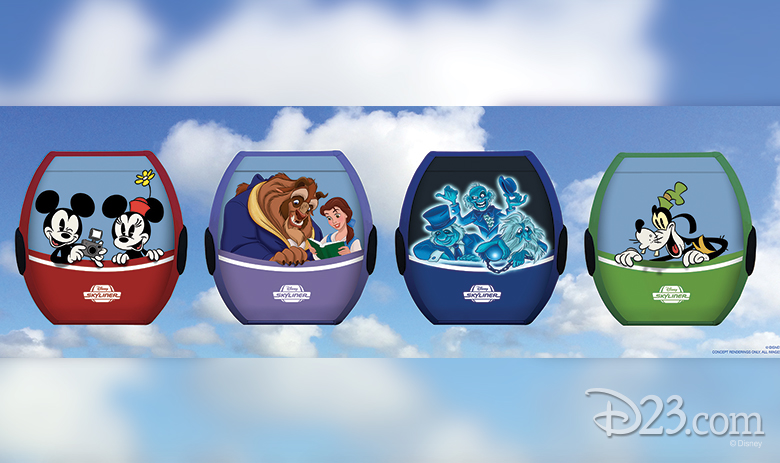 Read Up on Walt Disney World's New Disney Skyliner System
Another recent announcement from the Disney Parks Blog's "12 Days" event concerns the brand-new transportation system—first disclosed at D23 Expo 2017—coming to Walt Disney World Resort. Soon, you'll be able to take an exciting airborne trip, in a cool Skyliner cabin, from select resort hotels to either Epcot or Disney's Hollywood Studios. Check out some of the colorful renderings if the Skyliner System here at D23.com.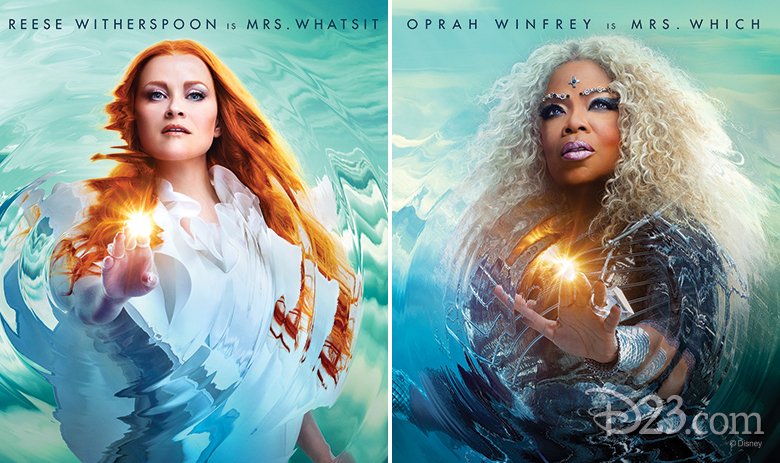 Intriguing A Wrinkle in Time Character Posters
The classic Madeleine L'Engle book comes to life this spring at your local movie house, courtesy of Disney and director Ava DuVernay… and now, thanks to the recent release of four new character posters, we're getting an intriguing close-up look at the film's stars.
The images above feature Oprah Winfrey as Mrs. Which and Reese Witherspoon as Mrs. Whatsit, while the posters below feature Storm Reid as Meg Murry and Mindy Kaling as Mrs. Who.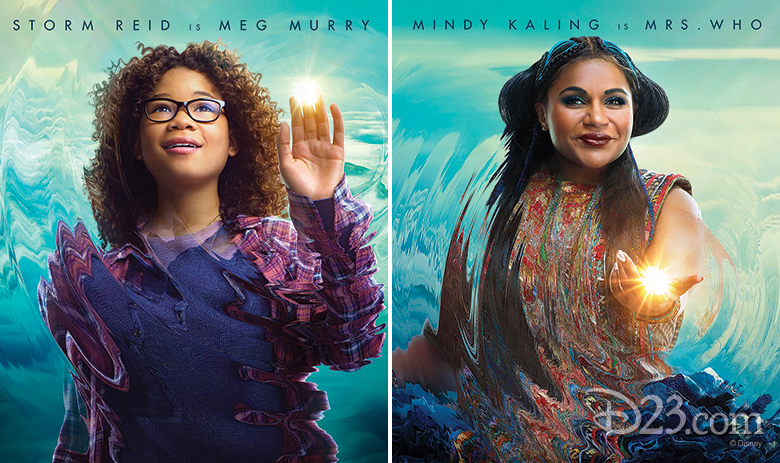 A Wrinkle in Time is an epic adventure based the timeless classic, in which audiences will travel across dimensions of time and space, examining the nature of darkness versus light and, ultimately, the triumph of love. Through one girl's journey—led by three mysterious celestial guides—moviegoers will discover that strength comes from embracing one's individuality… and that the best way to triumph over fear is to travel by one's own light. Also starring Chris Pine, Gugu Mbatha-Raw, and Zach Galifianakis, the film debuts March 9.