By Jocelyn Buhlman
Journalists jumped to lightspeed to attend a global press event at the Intercontinental Hotel in Los Angeles to learn more about Star Wars: The Last Jedi. The event, hosted by Anthony Breznican, featured a majority of Star Wars: The Last Jedi cast members, along with the film's writer and director, Rian Johnson. And while the movie will remain shrouded in secrecy until its release on December 15, the cast and crew were able to tell us a little of what we can expect from this next chapter in the story of the galaxy far, far away.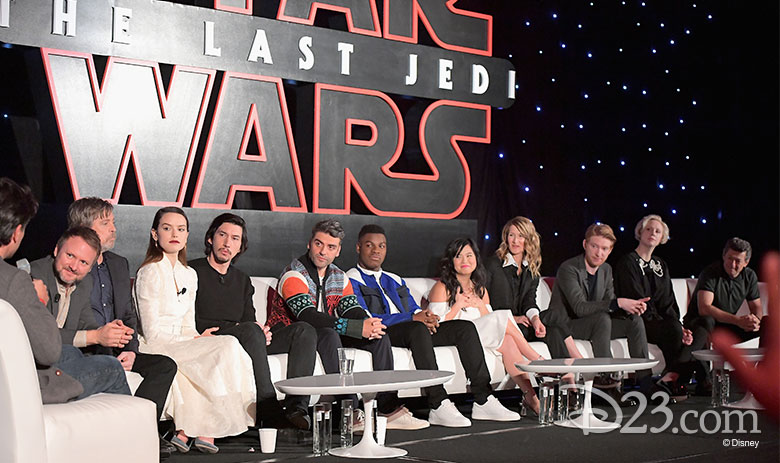 1. With a cast this big, there's plenty of adventure for everyone.
Between our three heroes from Star Wars: The Force Awakens —Rey, Finn, and Poe—as well as the film's three villains—Kylo Ren, General Hux, and Captain Phasma, there is no shortage of characters for fans to love in Star Wars: The Last Jedi. But with newcomers to the saga such as Rose Tico (Kelly Marie Tran), DJ (Benicio Del Toro) and Vice Admiral Amilyn Holdo (Laura Dern), there are now almost enough characters to fill a galaxy—and each plays an important part on this intergalactic journey.
Director Rian Johnson emphasized that he wanted every character to have a complete arc in The Last Jedi. As Oscar Isaac (Poe) puts it, "He's challenging everyone, including the droids."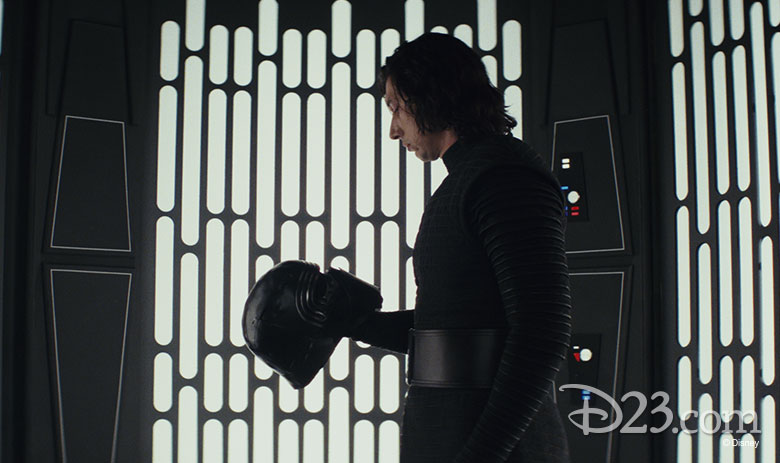 2. It's going to be darker than The Force Awakens, but just as much fun.
Lifelong Star Wars fans who were thrilled by the transition from Star Wars: A New Hope to Star Wars: The Empire Strikes Back can't help but wonder if The Last Jedi follows in those foreboding footsteps. Johnson explains, "It's the second movie in the trilogy, and obviously we've been trained to expect that it will be darker."
If that has you worried that this film will be all dark side and no smiles, fear not! Johnson understands the balance of the Force when it comes to creating a great Star Wars film: "For me, this is a Star Wars movie, so first and foremost you want it to feel like a Star Wars movie. You have the intensity and you have the opera, but it also means you come out of the theater wanting to run in your backyard and grab your spaceship toys and fly around. That's a key ingredient to it."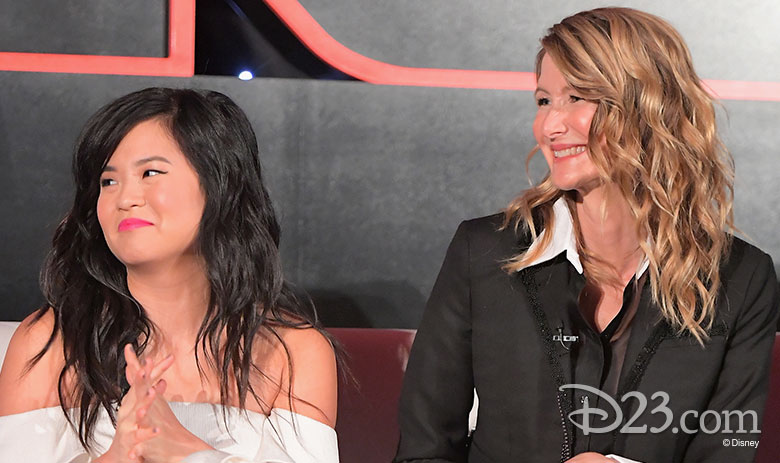 3. We don't know a lot about the new characters, but we do know the actors who play them love Star Wars as much as we do.
Who are Rose Tico and Admiral Holdo? Well, we won't really find out until we finally get to see The Last Jedi, but until then, we can at least get to know the actors behind the characters.
Laura Dern portrays mysterious Admiral Holdo, who Johnson can only describe as, "a glorious, purple-haired wonder." We might not be able to tell you much more than her hair color, but we can confirm that Dern geeked out at "every part!" when she watched The Last Jedi. She recalls breathlessly, "Suddenly, you're an obsessed fan." And Dern wasn't alone in that feeling.
Newcomer Kelly Marie Tran had starred primarily in online content before she landed her life-changing role as Resistance maintenance worker Rose Tico. When asked about her experience on set, Tran had to stop and collect herself. "I'm trying not to cry right now," she explained, a feeling that many fans can relate to when they start to think about the significance of the Star Wars franchise.
While Tran tried to view her role as a job, she couldn't help but also act like a fan while she was on set. She'd try to focus on her work, as she describes, "But then C-3PO comes out and you're like, 'Oh! Wow!'" We can completely relate.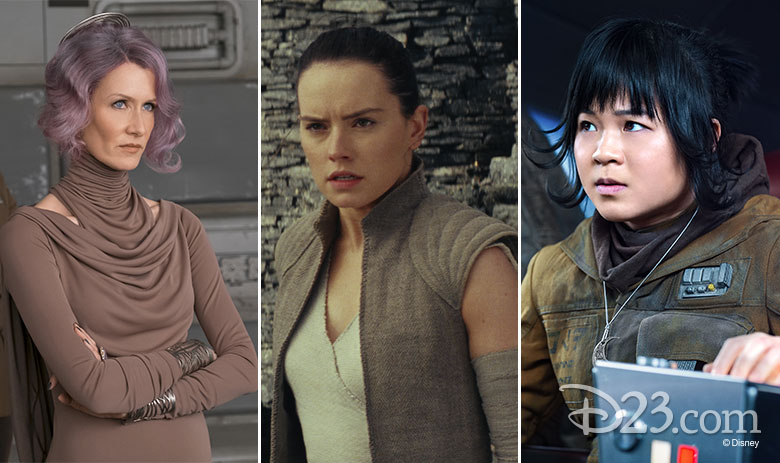 4. The ladies rule the galaxy.
With five major female characters in the film, it's a great time to be a woman who loves Star Wars. Ridley expresses her awe at fan reaction to Rey and all the great women joining the Star Wars universe. "I knew it was a big deal," she says, "but the response was so beyond everything I ever imagined."
Tran understood the impact of her character as well. "It feels like both an honor and a responsibility at the same time," she says, in reference to portraying Rose. She grins, adding "The girls in this movie kick some butt, and it's going to be so good."
Of course, it's not just female fans who are rejoicing. Isaac, for one, is excited to see an intergalactic world that better reflects his life on Earth. He tells us, "The most influential people in my life have been women. That has shaped my destiny so much, so seeing that in film is really unique."
5. It's a hero's journey, but it's not about becoming a hero.
It's no secret now that the classic monomyth of the hero's journey, the traditional path many legends and stories follow, has inspired the path of Star Wars' heroes throughout the ages. It's a path that Johnson finds especially interesting. He elaborates, "If you look back, [George] Lucas famously drew from The Hero's Journey that [Joseph] Campbell wrote about, and The Hero's Journey is not about becoming a Hercules. It's about adolescence, and it's about that transition from childhood to adulthood and finding your place in the world."
Does that sound familiar? It's a path that Luke Skywalker famously followed in the original Star Wars trilogy, although his path for The Last Jedi is less clear. Mark Hamill (Luke Skywalker) explains, "I think a line from the script that epitomized my reaction was 'This is not going to go the way you think.'"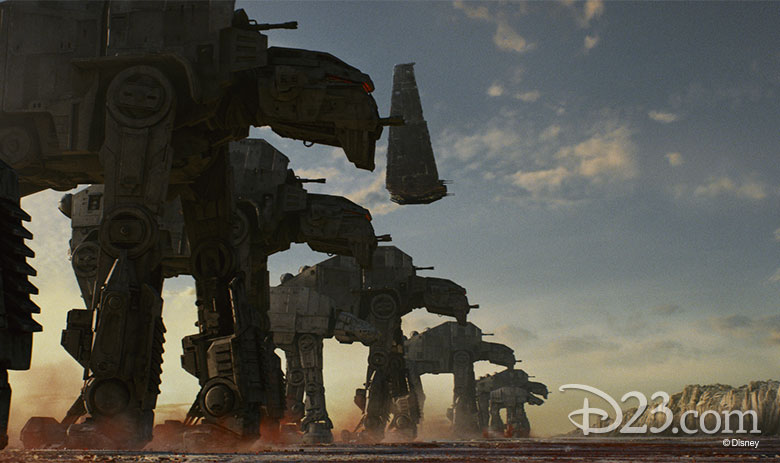 6. Star Wars will be exploring, well, war!
It's right there in the title. Fundamentally, Star Wars follows the effects of war on the galaxy. From Rogue One: A Star Wars Story to Star Wars Rebels, war is an essential part of the plot and themes of Star Wars stories. John Boyega (Finn) explains that this theme is very present in the new film: "There's commentary on war. There hasn't been a Star Wars movie yet that explores war the way The Last Jedi does. It's very messy. The categorizing as good or evil is all mixed together."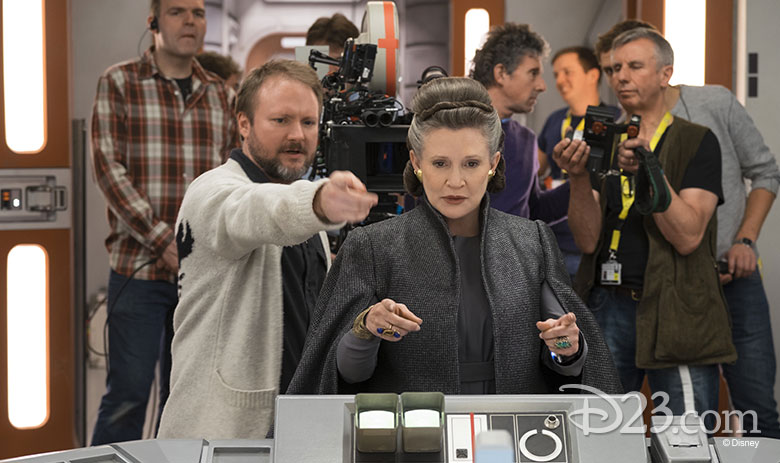 7. Carrie Fisher is forever a legend.
While most of the cast was present to discuss the movie, one member was missing, and everyone felt the loss. Carrie Fisher, the Disney Legend and icon who portrayed Princess Leia, passed away last year, but her spirit is still strong amongst the cast. From a young age, Gwendoline Christie (Captain Phasma) felt Fisher's impact. She recalls, "She was very significant, because I was first shown A New Hope when I was six and I remember thinking, 'Wow! That character is really different.' I watched TV and film excessively as a kid and it stayed with me throughout the years that she's really interesting, she's smart, she's really fun, she's courageous, she's bold, she doesn't care what people think, and she's not going to be told what to do."
But beyond the role of Princess Leia, Fisher represented something that remains with Christie as well: "You could be an individual and celebrate yourself."
Dern agrees with that assessment. "We always had Carrie, not just Leia," she explains. "That's what moved me the most about the icon she gave us, [as well as] who she was individually and personally: to carry who she was so directly and to be without shame and to share her story, and to expect nothing less from any of us."