By Beth Deitchman
Twenty years ago, Rafiki's stirring call rang out through Broadway's New Amsterdam Theatre for the first time. Julie Taymor's groundbreaking adaptation of Walt Disney Animation Studios' beloved film The Lion King used puppetry, masks, and innovative staging to bring the African savanna to the Great White Way. "When we came down the aisle during the first number, 'Circle of Life,' people were in tears. It was amazing. You saw people happy… crying… screaming… It was all at once and it was extremely overwhelming," remembers Lindiwe Dlamini, who was part of the company on November 13, 1997—the show's official opening night—and who remains with The Lion King to this day.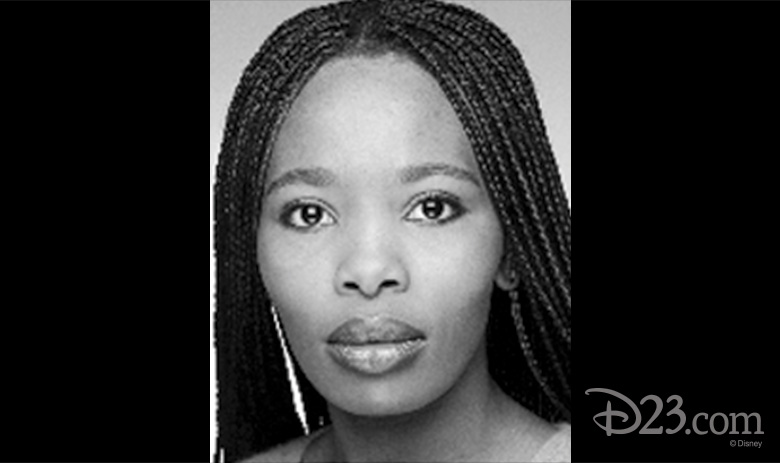 Lindiwe Diamini, who has been with The Lion King since it opened in 1997.
Diamini was a 19-year-old actress when she first learned of auditions for the new musical. She had come to the U.S. from her native South Africa for the show Sarafina!, but opted to remain in New York and see what she could make happen. "At first when they said, 'We're going to do The Lion King, I really didn't understand how human actors could do it; it should have animals," she recalls thinking. Diamini's reading and movement skills landed her a part in the company, and then she began to understand Taymor's vision. "I really had no clue until we saw the amazing, amazing costumes," she recalls, and she was also fortunate to learn from the puppet master himself, Michael Curry. "We weren't puppeteers," she shares. "But that's when we learned how to move with the hyena legs, walking like you have four legs. It was such an amazing experience."

Bonita Hamilton is a 13-year veteran of the musical.
By the time Bonita Hamilton joined the cast of The Lion King in 2004, the show was a blockbuster. Just out of graduate school, Hamilton was in Albany performing in a production of Ain't Misbehavin' when she learned she'd booked two auditions for her day off. Near the end of a whirlwind day that included a six-hour round-trip drive to New York City, two auditions and two callbacks, she learned that she was cast in both shows. "It was a good drive," Hamilton laughs, "even though I was stopped by the police." In her excitement, Hamilton may have been driving just a little over the speed limit—but when she eagerly told the officer she was going to appear in The Lion King, he issued her a warning, rather than a ticket, and told her he hoped to see her on Broadway one day.
Her opening night in the role of Shenzi the hyena was magical. "I had goosebumps," Hamilton says, of the moment when she first heard "Circle of Life" from a performer's perspective. And 13 years later, that iconic moment still resonates with her in every performance. "There is something that connects people about the opening of the show. It transcends all cultural barriers, racial barriers—it's just transcendent," she notes.
"I'm one of the bird ladies, and when I come down the aisle I see almost the same reaction [from the audience] from the time we started the show 20 years ago," Diamini says. "Every time it's a different audience member, but it's almost the same reaction. And then people tell you that they've been here 12 times, coming to see the show. They saw it when they were kids and now they're bringing their kids."
The cast has become an extension of the actors' families. Hamiton performed throughout her two pregnancies and she says that her children, now 9 and 12, have had a strong connection with the music of The Lion King from the time they were babies. The actors have watched each other's children grow up, Diamini shares. "They come around and you see them—this little bitty thing that you did a baby shower for—and they tell you they're graduating or going to college. To me, those memories are my happiest experiences," she emphasizes. "We have grown to be a family. We experience each other's sorrow and happiness."
The company members helped each other through the tragedy of losing a fellow cast member, 11-year-old Shannon Tavarez, who played Nala in 2009. "We just came together as a unit," Hamilton says, organizing bone marrow drives and rallying behind the young actress as she battled leukemia. And it was more than a simple case of "the show must go on" for the actors following the events of September 11, 2001. "I remember coming back in the show, and you saw all these people who were just lost—there was so much loss at the time," Diamini remembers, "and we were able, for three hours, to take that away from people. It was intense and scary, but we were able to make people feel that at the end of the day we're going to move on. It's not the end."
Diamini has come to understand the impact the show still has on fans. "Sometimes an audience member has lost a family member and they come see the show, and they'll often tell you how watching The Lion King made them feel better," she says, noting that the human elements of the show resonate with audiences of all ages. "You can relate to the story. You can relate to the loss of someone through the show, you can relate to the birth of someone through the show. The excitement of new life is in the show. I think that people can find so many relatable experiences in The Lion King."
"I understand that I have a responsibility every time I hit that stage, because this may be someone's first time experiencing theater," Hamilton says. "And this may be someone's last time experiencing theater. And carrying that has changed my perspective a lot." The Lion King invited audiences to look at theater differently, and it's had an equally dramatic effect on the actors who have been part of it. After more than 5,000 performances, Hamilton puts it simply: "I just look at the world differently since being in the show."